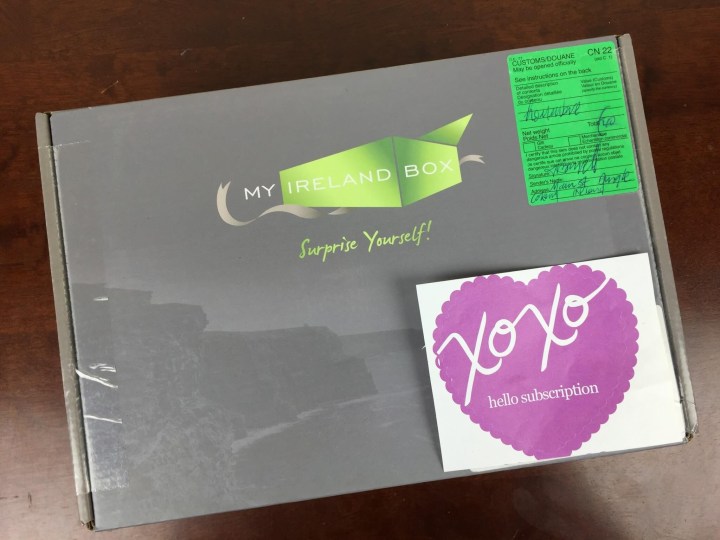 My Ireland Box is a monthly subscription box from Ireland filled with the best of Irish-made craft (artisan goods). You can expect to receive Irish made jewellery, homeware, craft and beauty products. They ship to the US, Canada, EU & Australia (anywhere with a significant proportion of people with Irish last names live!). This box ships from Ireland!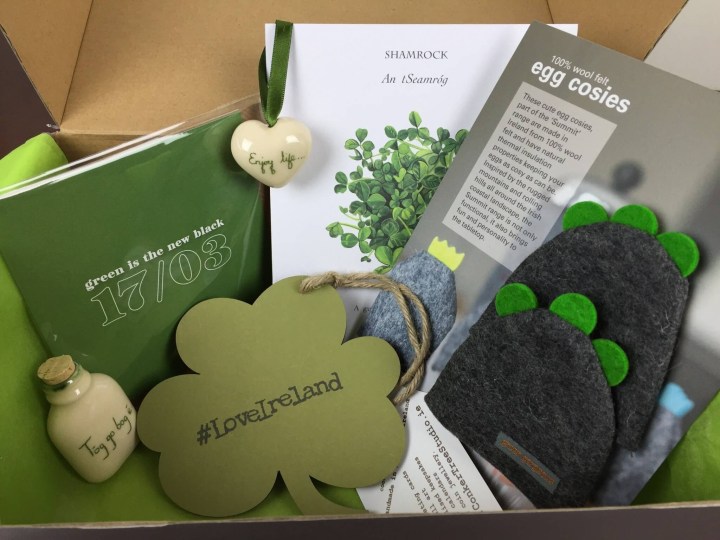 Everything in my March MyIrelandBox! This would make a fun gift for anyone of Irish heritage or that loves beautiful artisan products from Ireland.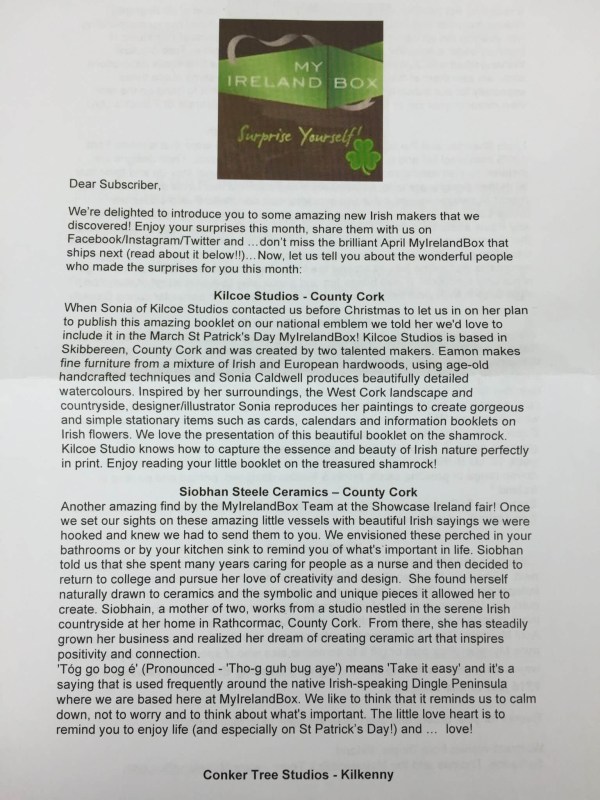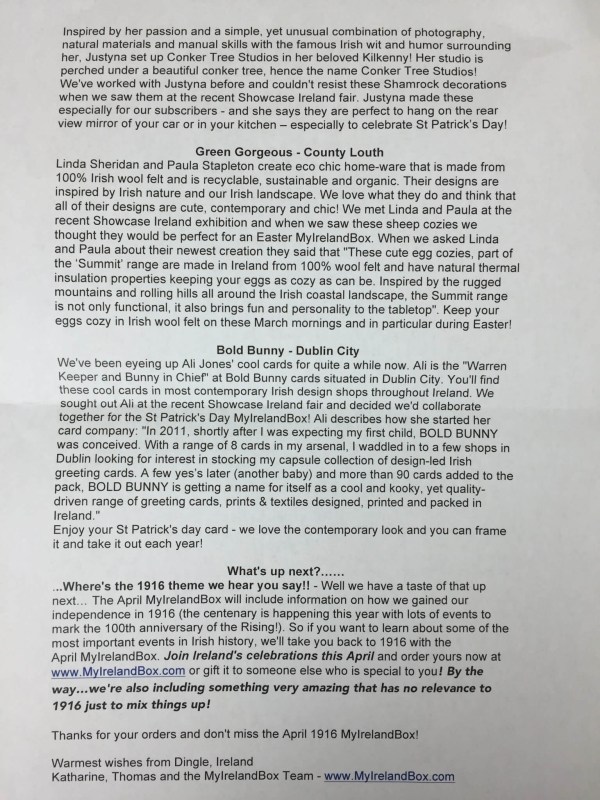 Extensive information about each product and its maker/designer comes with the box. We really like their information sheet because it gave each item a real sense of place and we got to learn about the influences of each item, the inspirations of the designer, and more!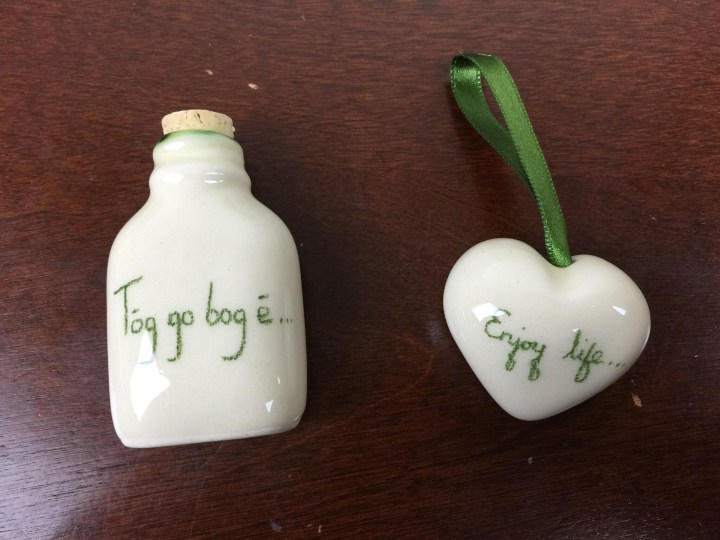 Siobhain Steele Ceramics Message on a Bottle Small (€10, roughly $11) & Siobhain Steele Ceramics Heart €20, roughly $23):  These cute little ceramics (approx. 2″ and 1″ tall) make a perfect decoration for any small area.  They have little reminders to stop and smell the roses, printed with the Gaelic version of "Take it easy," and also "Enjoy life…"
Conker Tree Studio #LoveIreland Hang Tags (€8.50, roughly $10):  This simple, handmade wooden tag declares your love for the Emerald Isle.  This is the perfect size to take the pace of that old air freshener hanging from your rearview!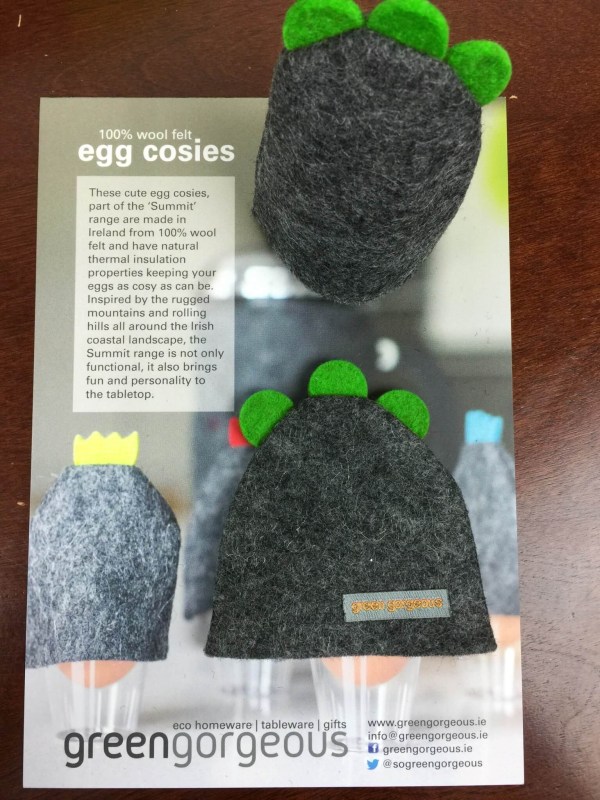 I must confess, I am not entirely familiar with the proper use of an egg cosy.  I presume that they keep your soft-boiled eggs warm when brought to table!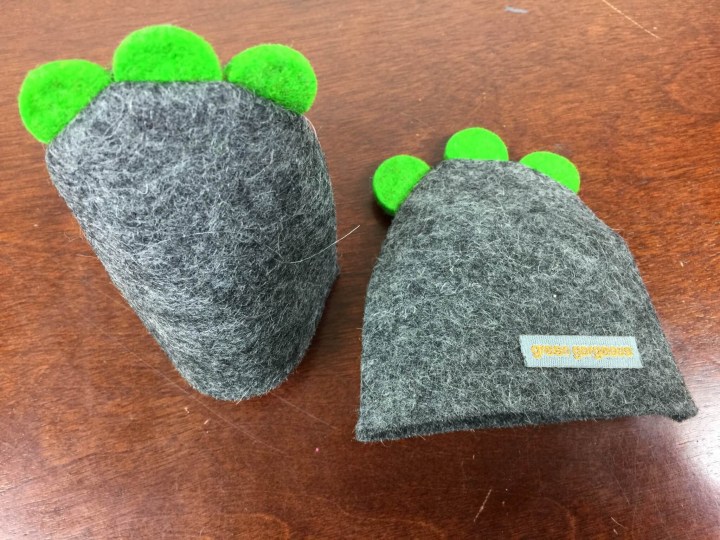 Green Gorgeous Egg Cosies:  Made from Irish wool, these felt cosies make any egg both fashionable and comfortable.  I will probably use them, not for prepared eggs (we typically do soft-boileds), but to hold my recipe eggs and keep them cushioned and immobile while I get ready to mix my wet ingredients.
Kilcoe Studios Shamrock Booklet (€8.50, roughly $10):  This pamphlet sized book shares some insight into the famous Irish shamrock, or young clover.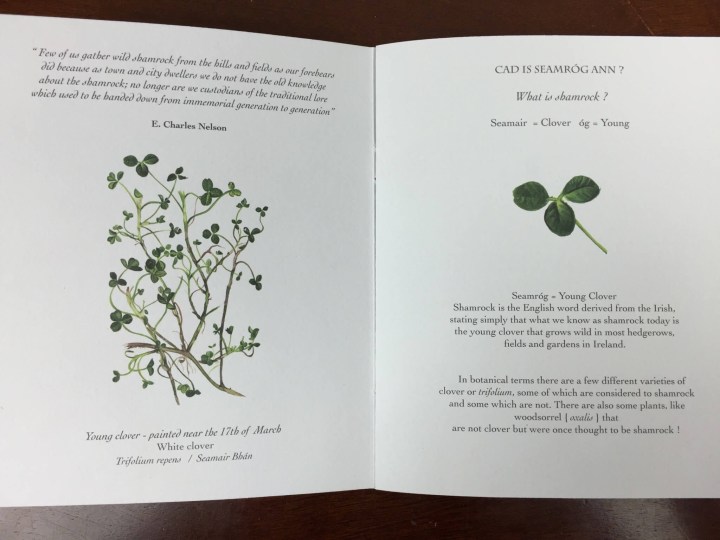 The book shows illustrations of the species of clover most often identified as "shamrock," even including a statistical breakdown of percentage of Irish believing each species to be shamrock in the past and present.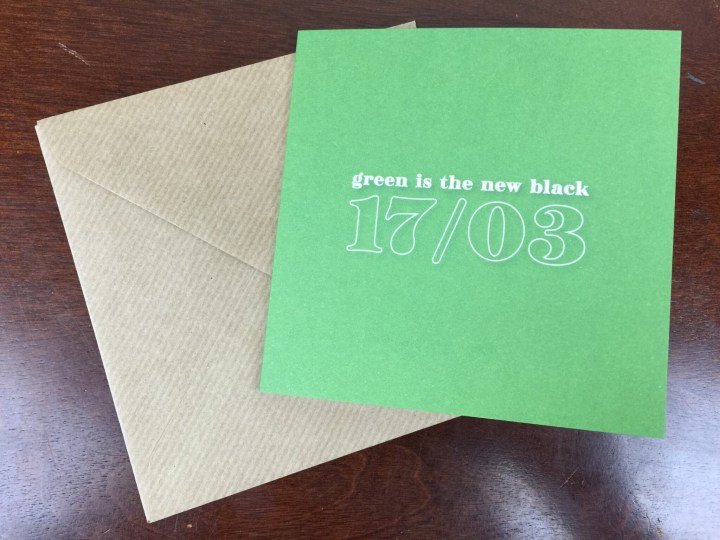 Conker Tree Studio Green is the New Black St. Patrick's Day Card:  This card is a modern and quirky offering from a studio specializing in lovely greeting cards.  That is March 17th, for those Americans who may be completely confused by the European date format.
This was another great box, and a totally unique subscription! The decorations were tasteful, the book was adorable, and I loved that the practical item (egg cosies) was something I don't already have!
Visit My Ireland Box to subscribe or find out more!
The Subscription
:
My Ireland Box
The Description
: MyIrelandBox curates the best of Irish made craft: jewellery, homeware, craft, and beauty products, delivering a monthly box of surprises to your door!
The Price
: $45, €6.20 to Ireland & Great Britain, $10.50 internationally