IndyStash is a subscription box dedicated to independent creators.  This is a great box to show support for up and coming creators, writers, artists and the like.
I opened the box and saw that everything inside was neat and orderly.  I also liked the art on the box from "Stakes."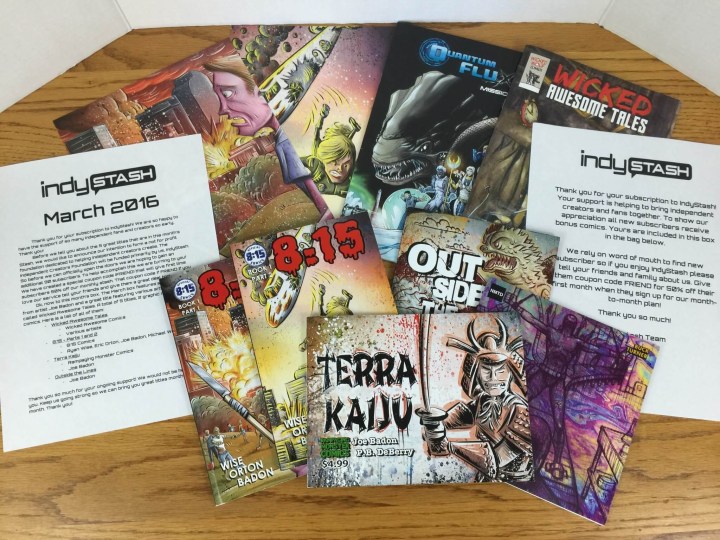 Indy Stash includes many books and pieces of artwork from artists from all over.
The description sheet explains what Indy Stash is all about and also lets you know what is inside the box.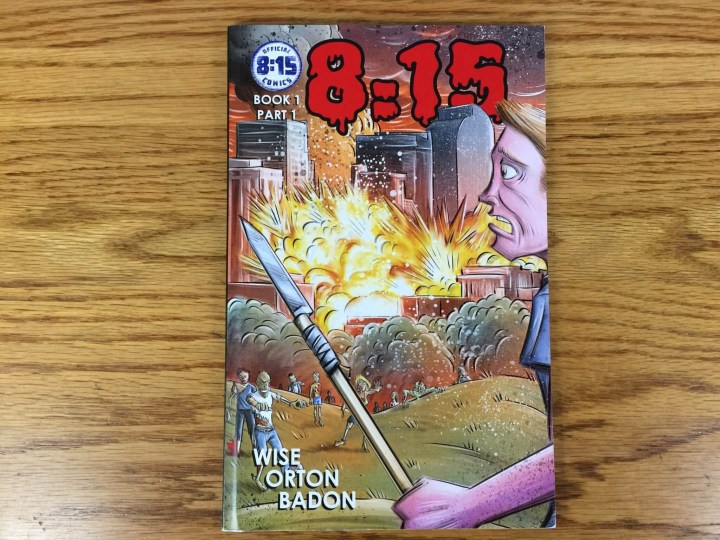 8:15 Book 1 Part 1 is written by Ryan Wise and Eric Orton with art by Joe Badon.  This book is action packed and violent!
The city of Denver erupts with a sudden catastrophe. Undead, blood-thirsty zombies begin to flood the city, where panic and destruction reign down, and there is little hope, and no mercy. A Pestel Drugs employee (Drew) finds himself in the midst of all the chaos, as he attempts to keep other survivors alive, and rescue his best friend from the zombie-filled theater next door. Find out what else happens in Part 1 of the series. Start practicing your head-shots, the zombie apocalypse has begun!
8:15 Book 1 Part 2 is written by Ryan Wise and Eric Orton with art by Joe Badon and Michael Webber.  The next part has more action and violence for you!
Terra Kaiju from Rampaging Monster Comics includes the story and art by Joe Badon.
Terra Kaiju is a One-Shot comic set in feudal Japan. An endless, embittered battle between two neighboring villages ravages Japan's countryside. The battle will be decided by pitting the village gods against one another.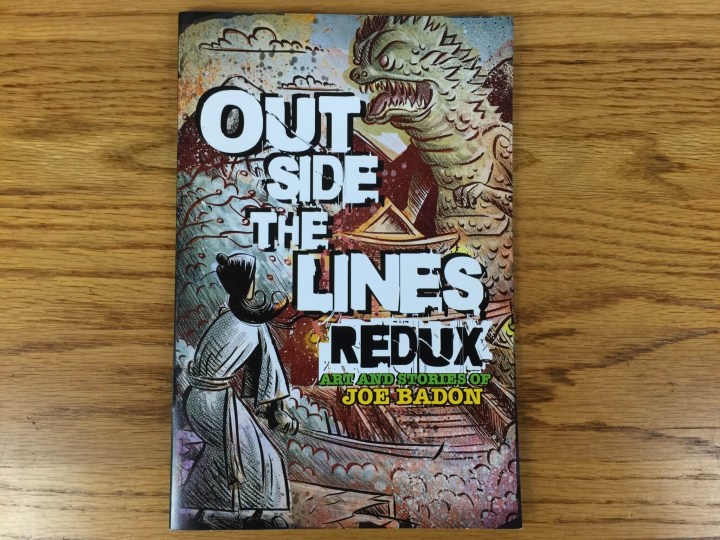 Outside the Lines Redux includes art prints and short stories by Joe Badon.  The book lets you know how you can order the artwork.
From Joe Badon:
Half of the book is full of my art prints, sketches, concept art and private commissions that I've done over the last few years.

The other half of the book is a collection of short stories that I have illustrated for various writers over the last few years.  Some of the writers and creators included in the book are Joey Esposito (Senior Editor at IGN.com Comics) writing a short story for the character Vic Boone (created by Shawn Aldridge), James DiAngelo (Red Moon Comics) and Chris Charlton (Assailant Comics).
Wicked Awesome Tales from Wicked Wolf Comics is a collection of five short stories by various writers and artists.  The stories are all in black and white and all have a really cool feel to them.
Art Prints by Joe Badon.  The prints are from the 8:15 Book 1 Parts 1 & 2 cover and show Badon's personal art style.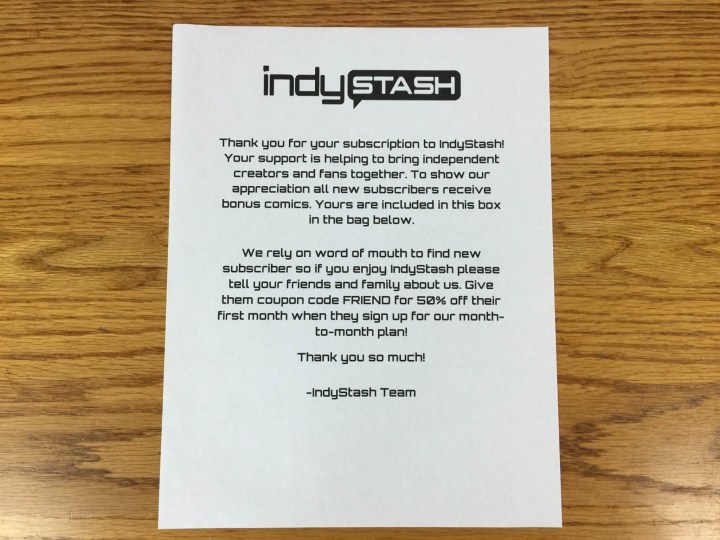 Indy Stash was kind enough to include bonus comic books for a new subscriber.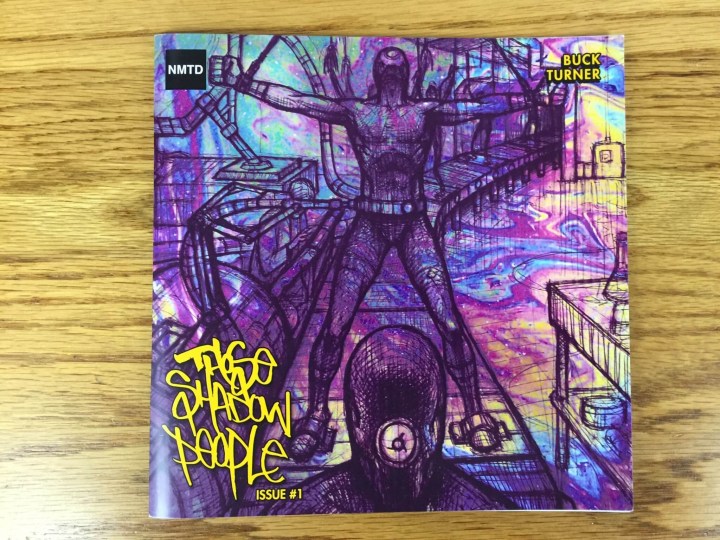 Those Shadow People # 1 – NMTD.  This book is written by Phil Buck and includes art by Erik Turner.
Those Shadow People is a project that encompasses a story told through music and comic books about a struggle between our world and an alternate reality known as the Shadow Realm. There are forces of good and evil at work in both worlds. There are many mysteries behind the origins of the Shadow Realm and its inhabitants
Quantum Flu: Mission #1 – 8:15 Comics.  The interior is black and white with art by Michael Yakutis and written by Eric Orton.
I'm quite impressed by the amount of content included with Indy Stash.  I am a huge fan of supporting art and Indy Stash is a great way to not only do that, but get exposed to different comics that may not be part of the normal everyday variety.
Visit IndyStash to subscribe or find out more! Save 50% on your first month! Use coupon code  FRIEND.
The Subscription
:
IndyStash
The Description
: IndyStash is dedicated to supporting independent creators. It curates a collection of 4 or more comics every month at a retail value of $20 or more. that feature some of the highest quality art and story telling anywhere in the industry.
The Price
: $28.00 per month