Green Chef is a weekly meal kit delivery service that sends recipes along with organic and sustainable ingredients to your home. Green Chef estimates that 95% of the included ingredients are organic.
Examples of ingredients that are not organic include fish, which currently have no organic designation option. Instead, the fish included is sustainably raised. The beef is grass fed.
While this service is more expensive than other meal kit delivery services (prices range from $10.49 to $14.99 per serving, depending on the type of food you choose), when compared to buying and cooking organic ingredients from Whole Foods, Green Chef ends up being considerably cheaper.
Each week Green Chef produces between 6 and 9 recipes, so there is some choice in what you receive. Unlike services like Home Chef, however, your choices are not unlimited: you may choose the vegetarian option($10.49/serving), the carnivore option ($13.49/serving), the omnivore option ($11.99/serving), the gluten-free option ($13.49/serving) or the paleo option ($14.99/serving).
The omnivore option includes two preset meals from the carnivore options along with one preset meal from the vegetarian options. I've elected the carnivore options, which include a very hefty amount of veggies and either legumes or grains with each meal. This is where Green Chef really shines. While I have enjoyed many meals from Home Chef, I'm always left wanting twice as many veggies as they provide. Green Chef includes roughly twice the amount of veggies and legumes or grains that Home Chef does. And they're all organic! I think this makes for delicious, very well-balanced meals.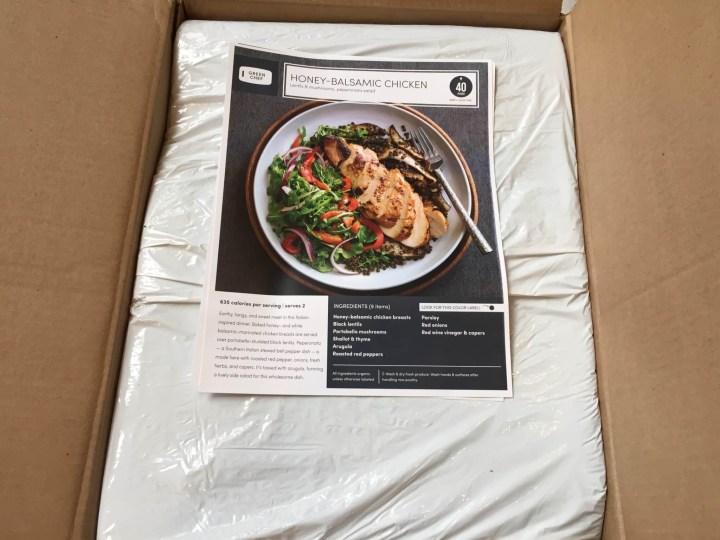 Each week's package arrives well insulated, sandwiched between ice packs. The ice packs are separated from the food by cardboard to help protect the vegetables, which I appreciate.
All the ingredients come color-coded for easy coordination with recipes. I appreciate this. I think it offers great flexibility for storage. If you'd like to group them all together by recipe in your refrigerator, you're free to put them in a zip lock bag. If you only have a little space here and a little there in your refrigerator, you can store them individually. The recipe cards tell you how many ingredients to look for if you need to store the ingredients individually.
This week I received ingredients for the following recipes: lemon-dill broiled salmon with snap pea, kale and radish salad and bulgur wheat and feta (35 minutes); ginger-tamari steak with veggie and black ramen salad and peanut sauce (20 minutes); honey-balsamic chicken with lentils and mushrooms and peperonata salad (40 minutes).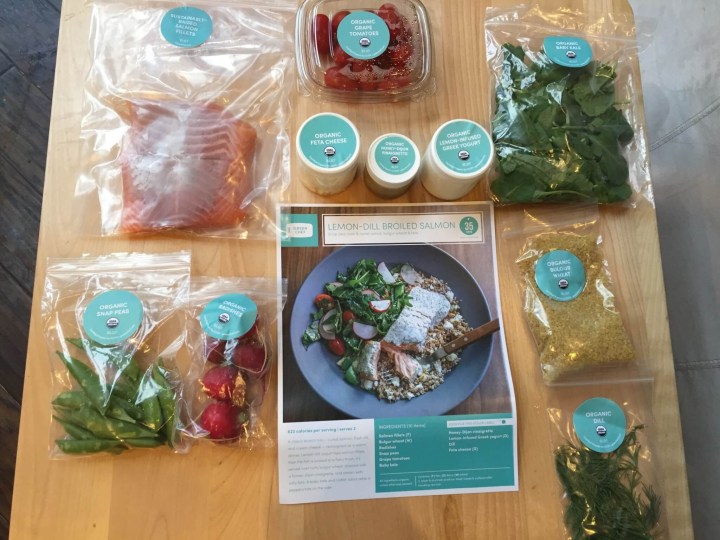 This lemon-dill broiled salmon was easily the easiest dinner I've made from a meal kit, and it was absolutely delicious. The yogurt and dill topping was unbelievably easy to make and complemented the salmon perfectly. The bulgur and feta added a nice dimension of flavor and texture to the salmon.
The salad had a lovely crunch to it, which was a nice contrast to the salmon and bulgur. When I make this again, I'll play around with the salad a bit for variety's sake, but I would happily eat this meal again as-is repeatedly.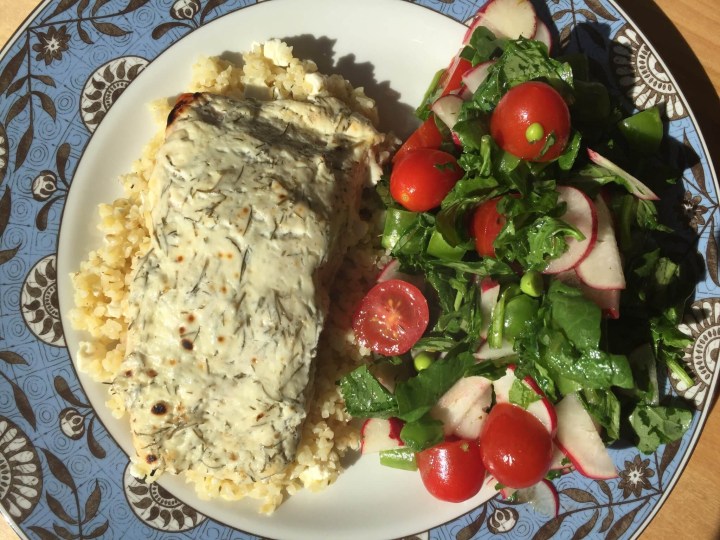 Since my son isn't a huge fan of salads, my husband and I shared the next meal for lunch.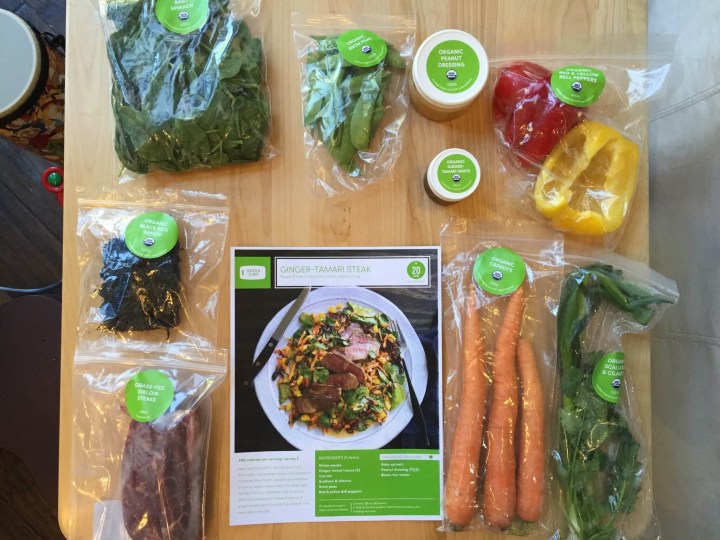 The ginger-tamari steak salad was delicious. While relatively easy to make, my chopping and grating skills aren't great, so this meal took me considerably longer than 20 minutes to make. It probably took me 20 minutes just to grate the carrots. Still, we loved the salad and would make it again.
The upside to taking so long to make was that the steak was well-marinated by the time I started cooking it. The end result was fantastic! When combined with the peanut sauce, I could happily eat this any time any day. I also appreciated how the salad contained green, yellow, orange, red and black/purple ingredients.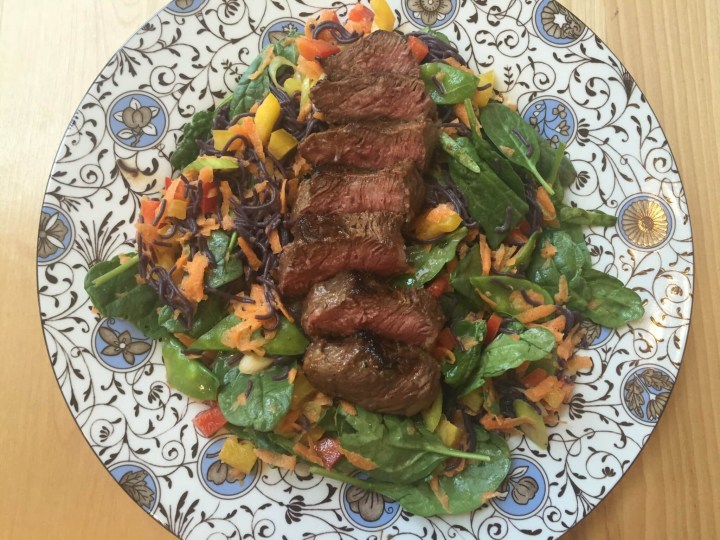 Our last meal of the bunch was a honey-balsamic chicken.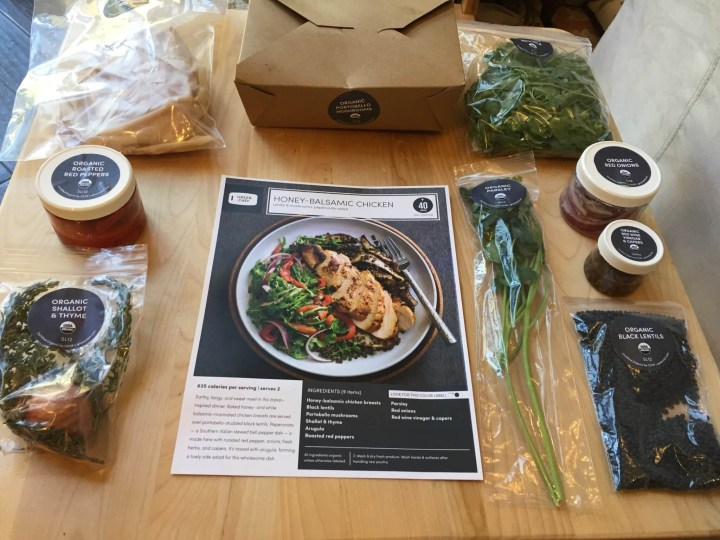 When I ordered the three meals this week, I thought this would be the most accessible meal of the bunch. While it was very good, my husband and I preferred the previous two to this one.
That's actually one thing that has me very excited about this subscription: this is our second week trying out their food, and both weeks the fish options have been outstanding. Last week, the Rainbow Trout Veracruz was probably the best fish dish I have ever eaten. This week's salmon dish was fantastic as well, and neither my husband nor I typically eat salmon. Before Green Chef, my husband might have eaten fish once a year. Now he looks forward to our fish meals. I couldn't be happier.
But back to the chicken. I enjoyed this dish very much. Between the honey and balsamic in the marinade (the chicken arrived pre-marinated, but the recipe for the marinade is available online), the chicken ended up being somewhat sweet. My daughter was thrilled; she couldn't stop eating it!
The lentils with thyme, shallots and portobello mushrooms were very earthy and provided a nice (and filling!) contrast to the chicken. The arugula salad with caper red wine vinaigrette was delicious. I loved how Green Chef recommended using their small plastic container to shake up the dressing.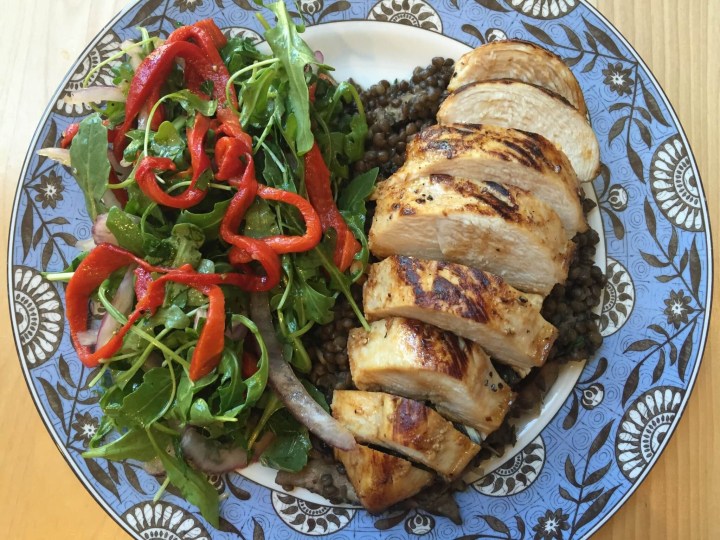 This is my second week receiving Green Chef, and I would make any of these recipes again happily. I love how filling the serving sizes are, and I'm happy knowing that I'm feeding my family using organic, sustainable ingredients. I look forward to many more weeks of cooking with Green Chef!
Visit Green Chef to subscribe or find out more! Get four free meals when you subscribe – no code needed, just use this link!
The Subscription
:
Green Chef
The Description
: Each Green Chef delivery comes with the recipes and ingredients you need to cook three meals for the week. Some of the ingredients are prepared for you so that you can cook dinner in 20 – 30 minutes. Each recipe is color coded for easy sorting and contains easy to follow directions. Each meal is designed to be well-balanced and healthy. There are vegetarian, omnivore, carnivore, gluten-free and paleo meal options. All ingredients are fresh and sustainably sourced. The only thing you need at home is olive oil, salt, and pepper.
The Price
: $71.94 every week