Goulet Pen's Ink Drop is a monthly fountain pen ink sampling subscription. Every month you'll receive 5 new samples of fountain pen ink, usually themed in some interesting and unique way.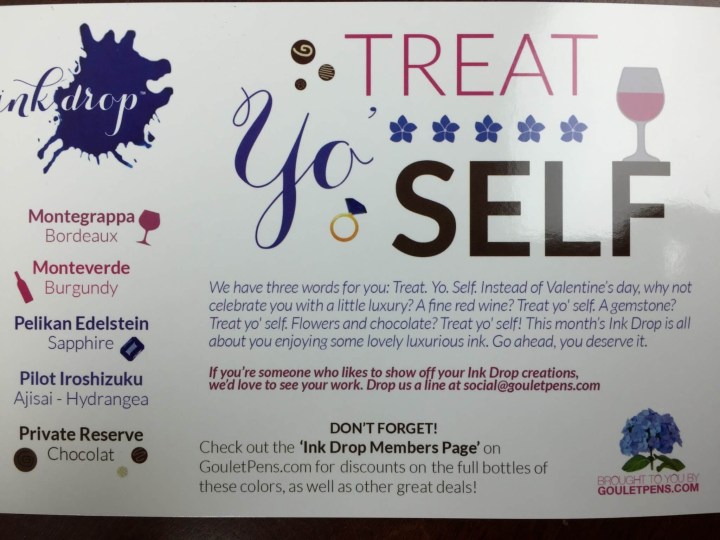 This month's ink drop theme of Treat Yo Self is represented by various inks named for indulgent comforts.  Break out the chocolates and let's take a look the ink offerings from Goulet Pens.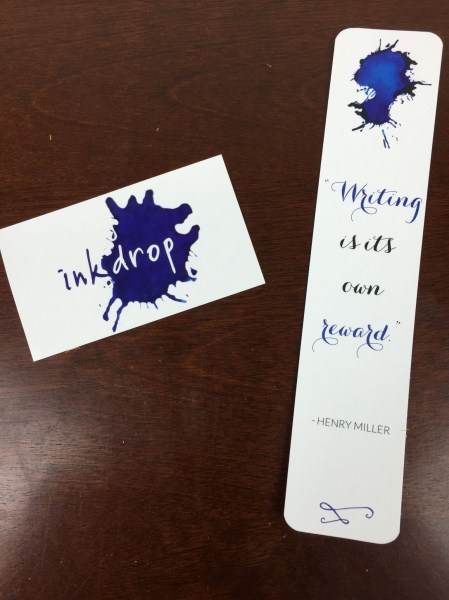 The box includes a sticker and a bookmark.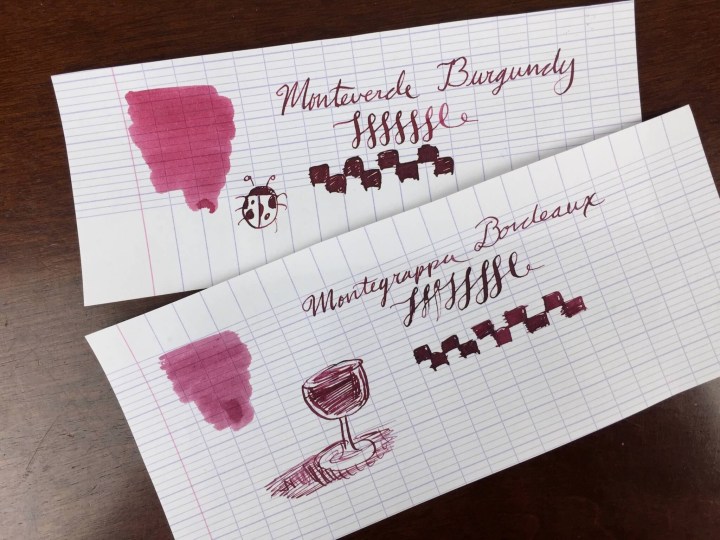 Montegrappa Bordeaux ($1.75): Similar in name, color and comfort reference, this ink again mimics its namesake well.  The ink has a rosier look to it and is a tad bit lighter as a swab where the Burgundy has more red.  Both inks look very similar and a handwriting sample produces only minor variations.  
Monteverde Burgundy ($1.25): Likely chosen for its reference to the Burgundy wines of France, this ink mimics the lovely shade of rose red that you would expect to see swirling around in your glass.  It looks very handsome on paper and though dark, is light enough to give interest to your writing.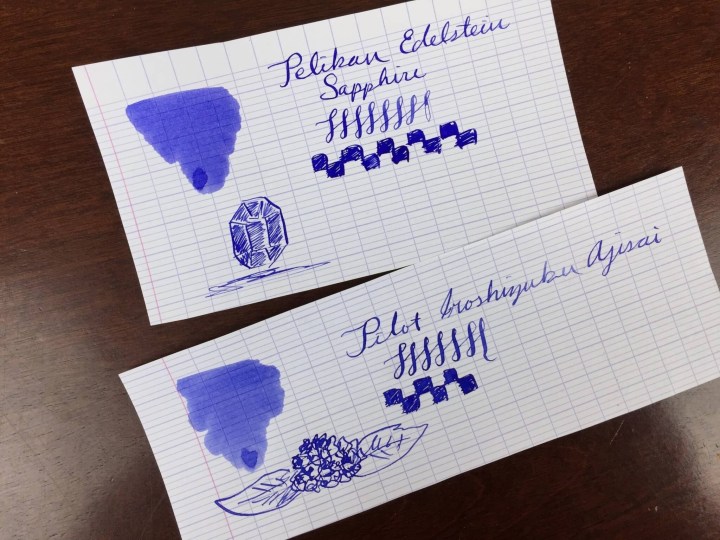 Pelikan Edelstein Sapphire ($2.50): Like the previous two selections, the Ajisai and the Sapphire are very similar in color and writing sample.  Sapphire is light, but is a stronger blue and to my eye, may even hold some slight undertones of purple.  It looks good on paper and 'popped' a little more than Ajisai.  Both are a nice choice for someone who wishes for a more vibrant blue ink.
Pilot Iroshizuku Ajisai ($2.50): Not all of life's simple pleasures are consumables.   Pilot's Iroshizuku Ajisai, or Hydrangea, is a representation of the joy that a simple flower can bring.  This lighter blue does a good job of calling to mind the petals of its flower namesake and makes a strong showing on paper.  While not what I would necessarily call a stand out, the blue is bright and noticeable and the ink lived up to the good reputation that the brand has garnered for itself.  
Private Reserve Chocolat ($1.25): The final ink stands alone in its coloring among the samples and provides us with the last comfort food reference: Private Reserve Chocolat.  This ink looks incredibly dark on paper- almost black in fact- and it would likely take a broad or flex nib to reveal its well-hidden lighter tones.  This would be a nice choice for occasions where a black ink is appropriate, but something a little more is desired.  
As a member you also receive access to a special discount page where you can purchase bottles of the sampled ink at a discount. I will be taking advantage of this deal for the irresistible Gray Flannel.
FYI – This box made our list of subscription boxes $10 and under every month!
Visit Ink Drop to subscribe or find out more!
The Subscription
:
Ink Drop
The Description
: You'll receive 5 fountain pen ink samples from Goulet Pens as well as access to a special club page with extra discounts and promotions.
The Price
: $10.00 per month