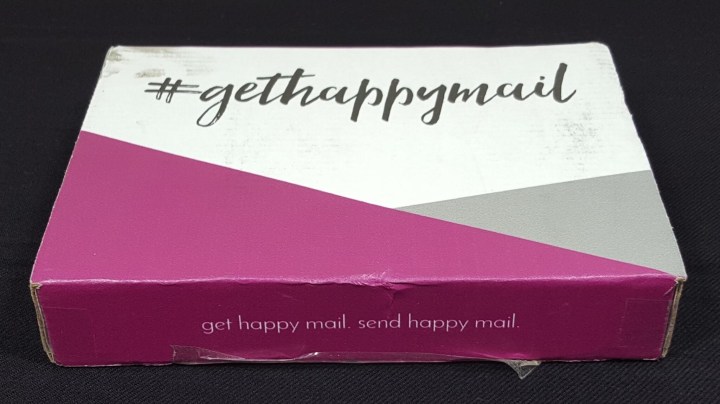 Get Happy Mail is all about the feeling you get when you send and receive mail. There's something about a hand addressed letter, a beautifully colored envelope, or a unique card that you've never seen before.  Not only are you provided with gorgeous stationery and cards to send to others, but you also get to be giddy with excitement each month when your new box arrives! For $19.99 per month plus S&H (discounted costs for 6 and 12 month prepaid plans), each signature box comes with of 4-6 paper goods, including greeting cards.  Additional items may include stickers, gift tags, magnets, and more.  Box values are approximately $30+ each month depending on goodies!  The subscription is skippable and ships to US, Canada, and select European countries.
FYI – Get Happy Mail is now known as Magnolia Crate!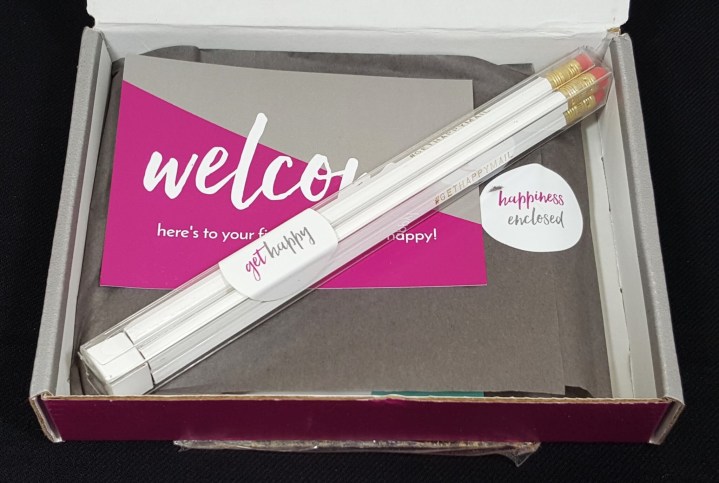 My first look in.  Pencils!!!  They've won me over already.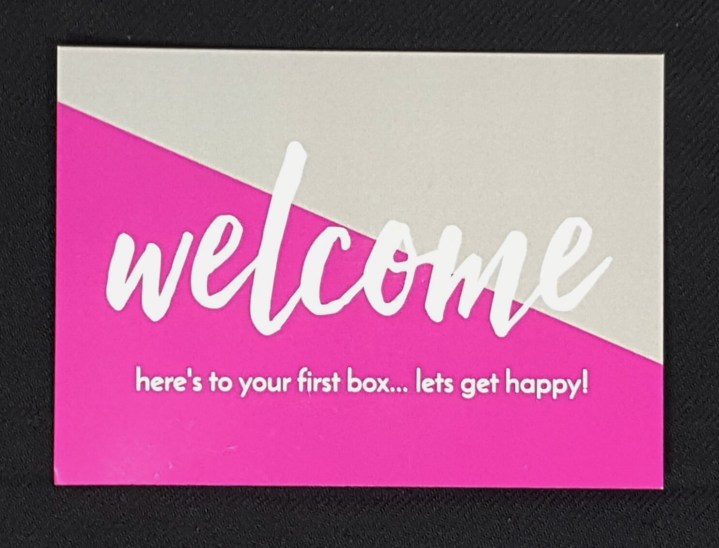 As a new subscriber, I received a welcome card with a note from the #gethappymail team explaining what they are all about.
Sending mail is a passion of ours, and since you're getting this box we're guessing its one of your passions too.

We love to be different, fun, and daring.  Thats why each collection we put together is different that what you'll find at he big box stores.  We're hand selecting items from the best and brightest designers in the industry.

We're also including a little something extra for you to say welcome.  Just think of it as a little extra happy mail from us!

xoxoxo,

the team at #gethappymail

Don't forget, we love to hear from you!  as you're opening your box and seeing stuff you love be sure to share on Instagram and tag us:  @gethappymail or #gethappymail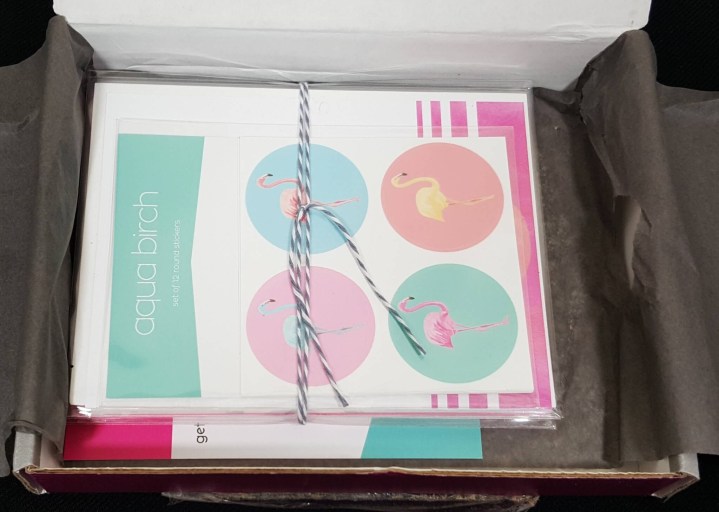 Everything is neatly bundled and packed in cellophane holders.
The information card lists each item, along with its price and designer.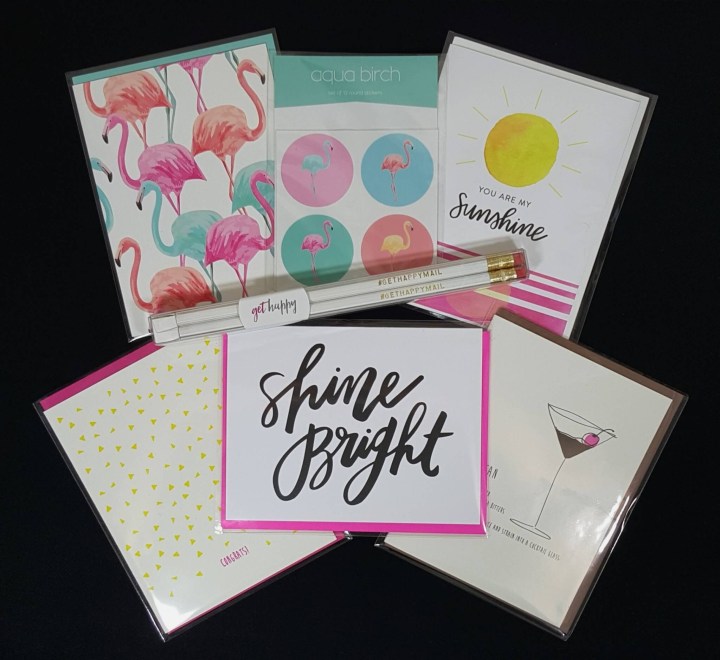 Here's everything all laid out.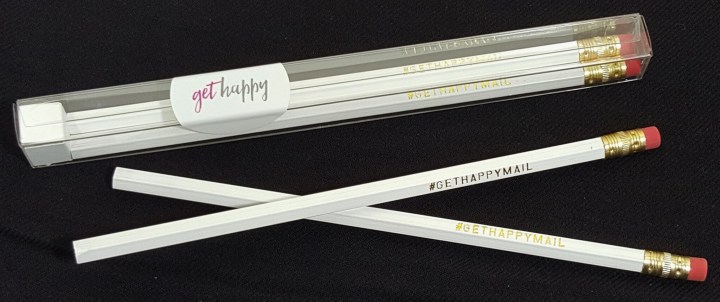 #gethappymail Wooden Pencil 4-pk (bonus):  These were my Welcome bonus gift.  At work, I go through pencils like crazy, making these a perfect item for me.  I like that they are hexagonal – no rolling off my desk.  Plus, they write with a heavier graphite, so no thin/faint lines on my notes or sketches.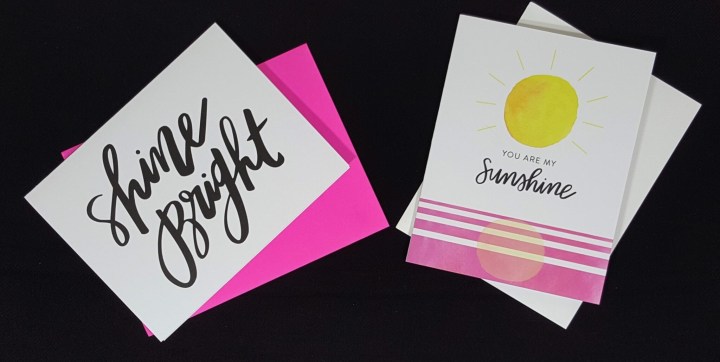 From Little Print Design – "Little Print Design is a boutique paper and stationery company located in San Diego, CA specializing in hand lettered paper goods."  Both cards were from the Friendship collection and had blank insides, allowing me to come up with my own tailored "glad we're friends/thinking of you" message.
Shine Bright Card ($4.50):  Hand lettering paired with a neon pink envelope – the perfect everyday card to send to your girlfriends.
You Are My Sunshine Card ($4.50):  A hand water-colored sunshine and sunset, for the sunshine in your life.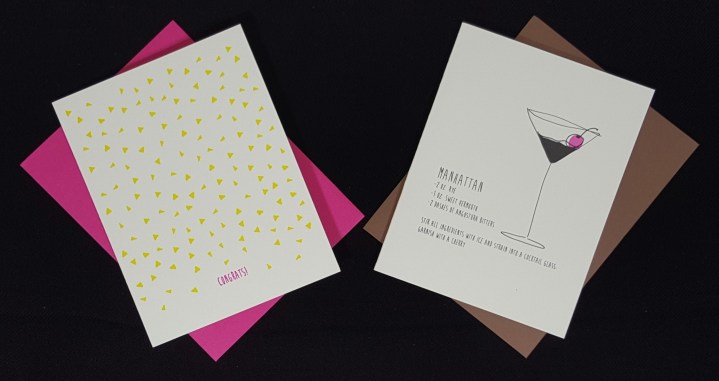 From Underwood Letterpress – "We're paper artists.  We're snail mail enthusiasts.  We create handcrafted modern nostalgia for the effortlessly stylish paper lover."  Both cards featured blank insides and fun celebration designs on the front.
Yellow Confetti Congrats Card ($5.50):   Letterpress printed on 100% cotton paper.  Hand drawn and hand printed in California with yellow ink.  I'm assuming that this card is no longer available for purchase.  I couldn't find it on the Underwood Letterpress site, and the only items with the same design are coasters.
Manhattan Card ($5.50):  This card is part of the Speak Easy collection and features a classic cocktail recipe for that classically cool friend to celebrate with.  Mint julep, negroni, and old fashioned are other options in this group.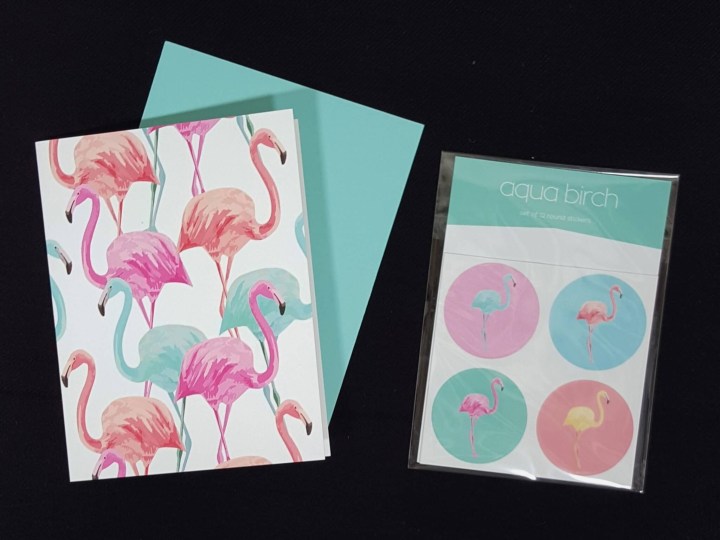 From Aqua Birch – "Aqua Birch is a line of greeting card, stationery, and paper products for the modern, bright and fun person."  These particular items feature water-colored flamingos.
Flamingo Brights Card ($4.00):  I could not find this on the Aqua Birch site, so I am assuming that it is only available in the #gethappymail shop.  A small snippet of this card was the spoiler for the April box.  It is also blank on the inside, and I know just who will appreciate flamingos.  One of my native Floridian besties has been dealing with Wisconsin winters, and this will remind her of home and sunny days.
Flamingo Bright Sticker Set of 12 (bonus):  These stickers are a #gethappymail exclusive.  The design and colors are very pop art and will be fun to dress up summer time correspondence.
The box had a listed value of $24, making it worth slightly more than the cost plus shipping.  However, factoring in the sticker set and pencils would bring it closer to $30.  I like that each month is themed and that the cards are fun and suited for everyone.  Plus, if you like what you receive, active subscribers can purchase additional quantities of featured cards in the #gethappymail shop with a 10% discount (limited quantities available).  This subscription reminds me of how much fun it is to get something in the mail – well, something that's not a bill.
Get free shipping on the first subscription! Use coupon code  HELLOSUBSFREESHIP. Don't pay for shipping again until your subscription renews (if you get a monthly sub you'll get one month free shipping, but free shipping on all 6 boxes in your first 6 month subscription, etc.).
Visit Get Happy Mail to subscribe or find out more!
The Subscription
:
Get Happy Mail
The Description
: Don't just send an email, send a memory. Send that joyful feeling that can only come with a hand addressed stamped envelopes. get happy mail. send happy mail. Each box comes with a set of 5 digitally printed
greeting cards
with coordinating envelopes.
The Price
: $22.74 per month