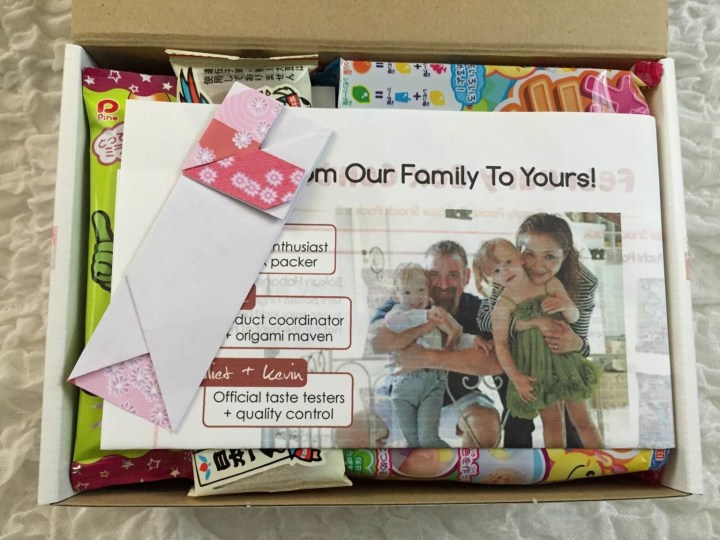 Another snack box was handed to me this morning by my cheerful postal carrier, who, if she's confused about how much mail I've been getting, is too nice to say anything. Freedom Japanese Market is here, and it looks awesome! FJM are a family-curated box run out of Japan, and all the snacks are hand-picked and selected. The prices are reasonable, include shipping, and all of the goodies come right from Japan, not warehouses which import them in. They offer three sizes of box, and what I really like is that FJM and other snack boxes are offering one-time boxes to see whether they like it before doing a full subscription.
Plus, they have a box just for umaibo! You all know how much I love umaibo by now.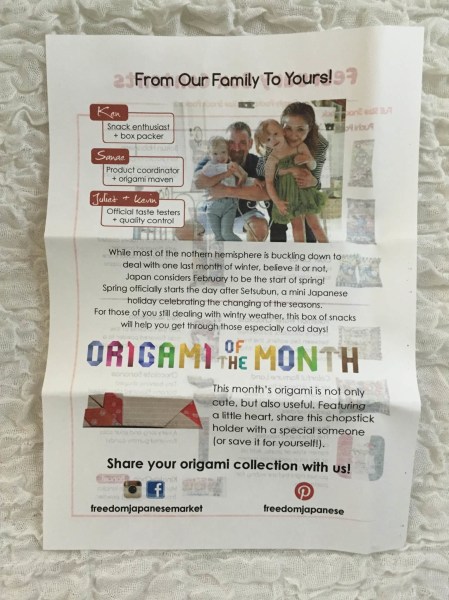 I love actually being able to put names and faces to the people behind the boxes I subscribe to. Every box includes an origami gift done by Sanae, and this month it's a chopsticks holder! I'll have to use it when I try the ramen they included in the box!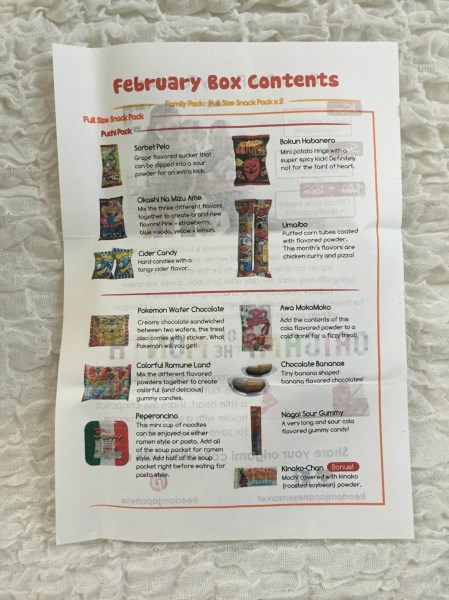 The back of the sheet has the products included. I see some old familiar favourites here as well as some new ones to try!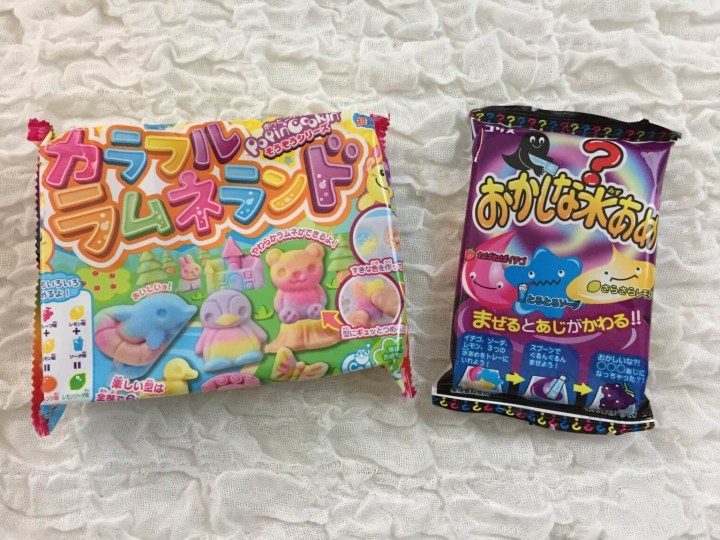 Two DIY kits are included!
Colorful Ramune Land I received this same kit in Candy Box Japan last week, and it was fun to make even if my attempts at creativity were terrible. You mix different colours of ramune-flavoured dough and press it into the molds to make the animal candy.
Okashi no Mizu Ame This one is new to me and I can't wait to try! I had to find a YouTube tutorial for this one, and it looks like you have three different flavoured gels you mix together to create a fourth flavour! Pretty sure this one will be grape flavoured in the end.
Bokun Habanero I have tried these before, too! They're a potato chip shaped like a ring and they're habanero pepper flavoured. The heat is sneaky — you don't notice it the first little while until it hits you! I got these in a TokyoTreat box a couple of months ago and really enjoyed them, so I'm happy to see them again.
Peperoncino Ramen This is cool! You can either eat it as a ramen or as a pasta with the sauce on top. I did mine in the traditional ramen style — instead of a soy soup base, it's all Italian herbs. It's still quite spicy. Also this is a mini sized ramen, so it's not very big or filling, but it tasted great!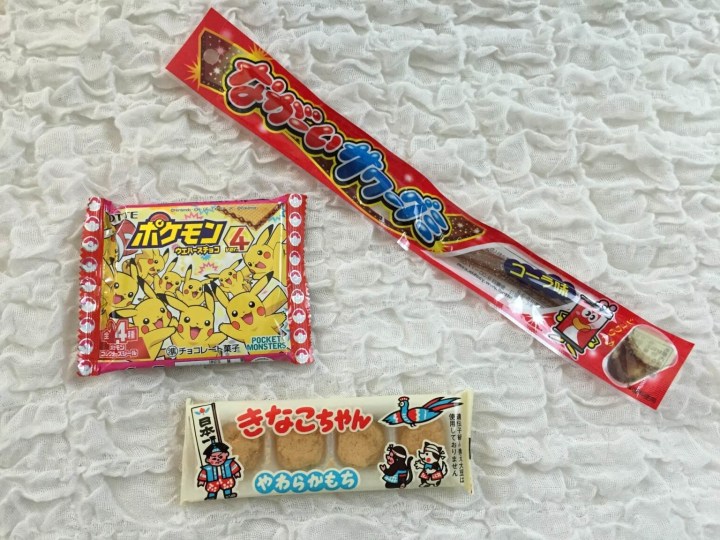 Nagai Sour Gummy A super long cola candy! This was sour and chewy and definitely tasted like cola.
Pokemon Wafer Chocolate I'm taking this to work on Wednesday for my boss's kids who love Pokemon! I've earned major cool points with them.
Kinako-chan I'm not a huge mochi fan unless it's something sweet, and a soy allergy prevents me from eating kinako. But these will find a good home with a coworker who I recently discovered is a closet Japan fan. Mochi are soft treats made of rice paste and these ones are dusted with soybean crunch.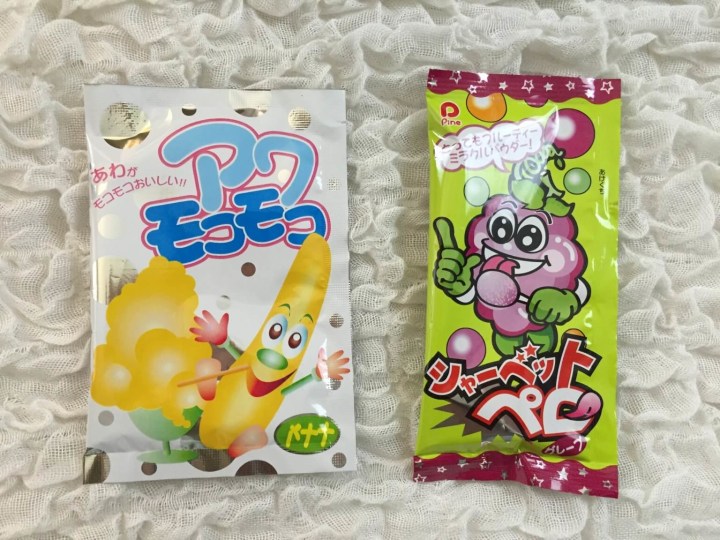 Awa MokoMoko It looks like different flavours of this were sent out! My sheet says cola, but this is clearly banana. I would be happy with either. You mix this with cold water to make a fizzy drink.
Sorbet Pelo A grape lolly that you dip into sour powder.
Umaibo Chicken curry and pizza flavoured! I've tried both of these before and they're great. They're big corn puffs with a hole down the middle.
Cider Candy Japanese cider is different from the cider we think of here in North America. It's more of a carbonated soft drink than an alcoholic drink. (They have regular cider, too, but these are of the fizzy variety.) There's a softer chewy center in the middle of the hard outer shell.
Chocolate Bananas Oh my gosh how cute are these? And they really do taste like chocolate bananas!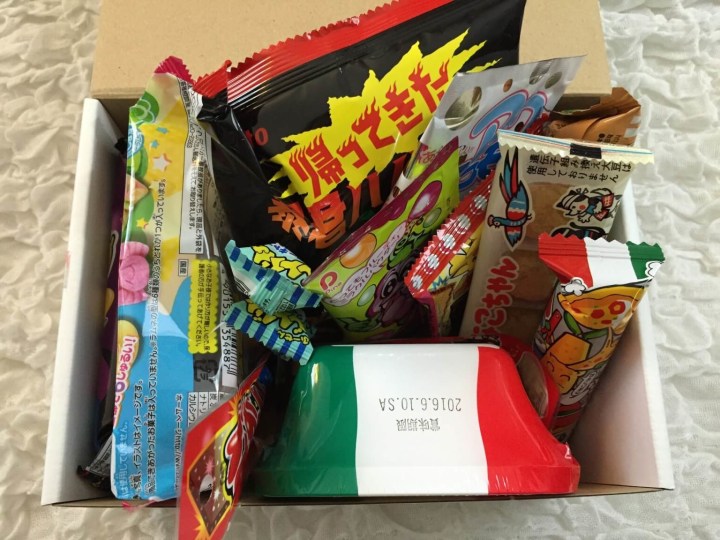 This has been one of my favourite boxes to open! The mixture of savoury and sweet, the DIY kits and even a little package of ramen. It's just a well-rounded box overall, and the personal touches are nice as well. And since you can order a one-time box to check out their different boxes, I would definitely recommend giving Freedom Japanese Market a try!
Visit Freedom Japanese Market to subscribe or find out more!
The Subscription
:
Freedom Japanese Market
The Description
: We are Freedom Japanese Market and our family business can bring the unique snacks and candies of Japan straight to your doorstep every month at an affordable
price.Sweet
, savory, sour, salty, seasonal snacks—these are some of the things you can expect to get every month. Shipping is free WORLDWIDE and you get a handmade origami in every box! You can't get your hands on many of these snacks anywhere outside of Japan.
The Price
: $24.99 per month