Faith Box is a subscription box meant to, "inspire daily Christian living by helping you grow in your faith, impact your community, and discover meaningful products from companies that do good."  Every box that is purchased provides a meal for three hungry kids through a partnership with Rice Bowls.  (Feeding hungry people is always a plus.) "We hand-pick items from companies and organizations who respect God's people and His creation. That's why everything is made ethically, is eco-friendly, and has a positive impact on the world."
A subscription to Faithbox is $20 a month (plus $5 shipping) if you pay for one month at a time.  The price drops to $19 a month (plus shipping) if you purchase 3 months at a time or $17 a box (plus shipping) if you purchase by the year.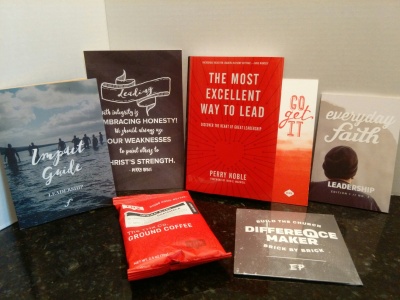 The Faithbox we received is a limited edition Perry Noble's Leadership Faithbox which was sent out as the March box for subscribers.  All this was in the box.  Plus the Bearded Brothers Energy Bar which I may have been eating when I took this picture.
There was a neat little mini poster in the box with a quote from Perry Noble, the author of the included book, "Leading with integrity is embracing honesty!  We should always use our weakness to point others to Christ's strength." It's small enough to sit on your desk or stick on the fridge for a dose of daily encouragement.
This Impact Guide gives an in-depth description of all the items in the box and the companies that they come from.   Faith Box endeavors to bring you products from companies and organizations who respect God's creation and his people.
It's a whole product description booklet.  There is shiny pictures, detailed product descriptions that include an applicable verse for every product and a challenge to be more active in your local community.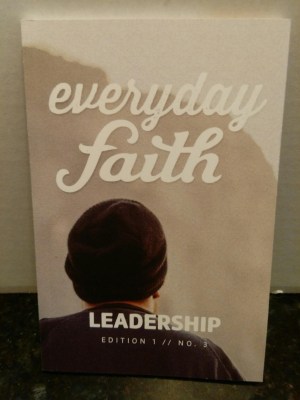 This is the daily devotional booklet that Faithbox includes in every box.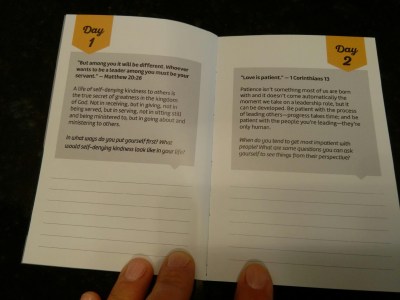 The days are not specifically dated, but numbered 1-30 so you can start on your own schedule.  Each day shares a verse about leadership, an interpretation of that verse and a challenging question that encourages you to apply the verse to your life.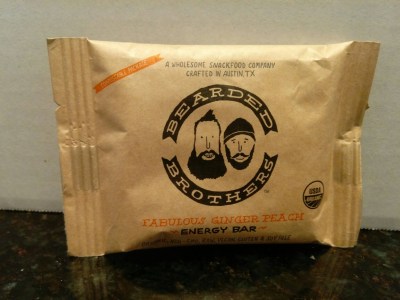 An organic, non-GMO, raw, vegan, gluten and soy free Bearded Brothers Ginger Peach Energy Bar was in the box.  The Bearded Brothers Company has partnered with 1% of the Population (an alliance of businesses committed to creating a healthy planet) and a local non-profit, Boneshaker, who has the goal of inspiring kids to participate in more physical activity and to have a healthier lifestyle.  You can buy a case of 12 for $39.48 on their site (plus taxes and shipping), which comes out to $3.29 per bar.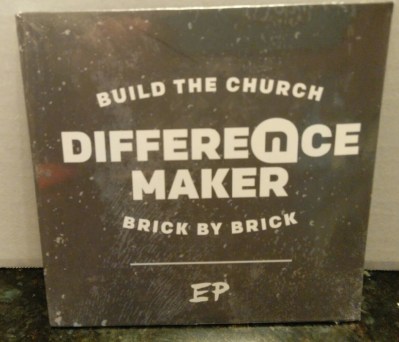 This CD of Newspring worship music  was in the box.  It includes four tracks, "Now and Forever", "Love Me Like That", "Every Line", and "It is Well."  Newspring is an actual church with multiple locations across South Carolina and this is their worship music that is meant to, "captivate you, draw you in, and prepare your heart to encounter Jesus!"  I'm more of an old fashioned hymn kinda person, but the lyrics were catchy and I enjoyed listening to it as I wrote this review.  You can find a digital version of the album on Amazon for $4.99.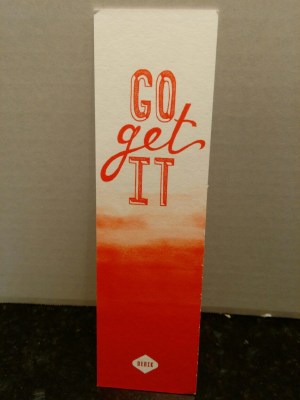 The book mark is handy to mark your place in the book included in the box, but has a deeper meaning as all the items in the box do.  It is made by a company called Denik.  They find talented artists from around the world and put their work onto stationary products which you can purchase on the Denik website, a portion of every sale goes to building schools and of course to support the artist whose work is on the product.  Denik completed their first school for middle school aged children in Zambougou, Mali in 2015.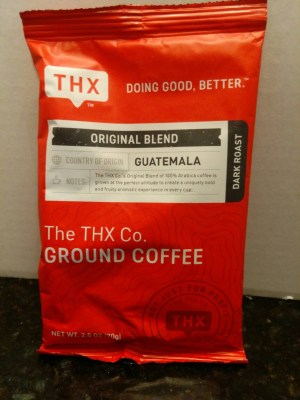 Coffee.  Oh how I love thee, let me count the ways.   You had me at coffee.   But seriously, this particular coffee is by The THX Co.  They specialize in sustainable coffee that is grown by independent micro-farmers.  It's also all direct trade, single origin 100% Arabica coffee.  And get this, THX gives away 100% of their profit to the social cause of your choice.  That'll make your coffee taste even better!  I mean, you don't have to feel guilty about the third cup of the day if it is going to help someone in India have access to clean water.  Right?   The pack in the box is a dark roast grown in Guatemala.    I haven't poured a cup yet, but I am looking forward to helping someone by drinking this.
Also, on another glorious side note.  They have subscription boxes.  That's right, you can get the "I'm helping people so I can drink more and not feel guilty" THX coffee delivered right to your door.  And, you get to choose who your subscription helps from a list of worthy causes.  You can purchase a 1 lb bag for $9 (one dollar off the top is an automatic donation), or subscribe to a pound a month for $9 per month (plus shipping).  They have medium roast, dark roast and French vanilla to choose from.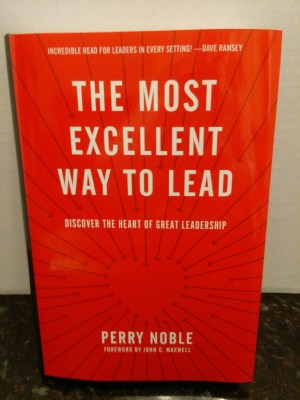 And lastly, the book, which this month's box is based on is entitled, "The Most Excellent Way to Lead," by Perry Noble.  The book is all about the leadership principles that Noble has learned from the Bible and more specifically 15 leadership qualities of an excellent leader.  Noble is the senior pastor at Newspring Church (where the CD in the box is also from).  He ministers to and leads 35,000 people!    So, I am looking forward to reading about his take on leadership.  I did flip through the book and found a quote I liked on the first page I looked at.  "The truth is that 99.9 percent of leaders are highly competitive (the other .1 percent are liars)."  You can order a copy of the book on his site for $17.99 or on Amazon for ~$13.
Faithbox is a subscription box meant to increase and hone your faith while helping others at the same time.  All the products are about doing good (Galations 6:9) and that is what we are supposed to strive for.  Putting others first.  And this box will encourage you to get better at that.
Visit Faithbox to subscribe or find out more! Save $5 on your first box! Use coupon code  SAVENOW.
The Subscription
:
Faithbox
The Description
: Faithbox inspires positive Christian living by helping people grow in their faith, impact their community, and discover meaningful products. Faithbox hand-picks the products from companies and organizations who share our vision of a triple bottom line: people, planet, purpose.
The Price
: $25.00 per month