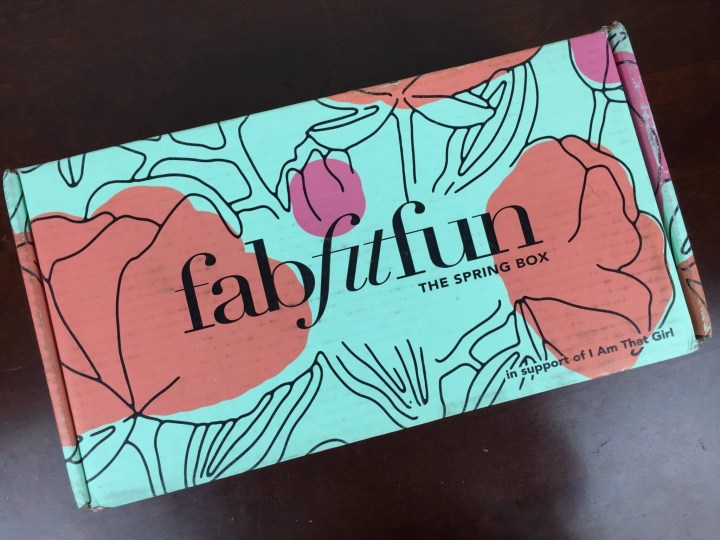 FabFitFun Box is a quarterly women's subscription box that promises fabulous beauty, fashion, and fitness items every quarter. This box is still available for purchase!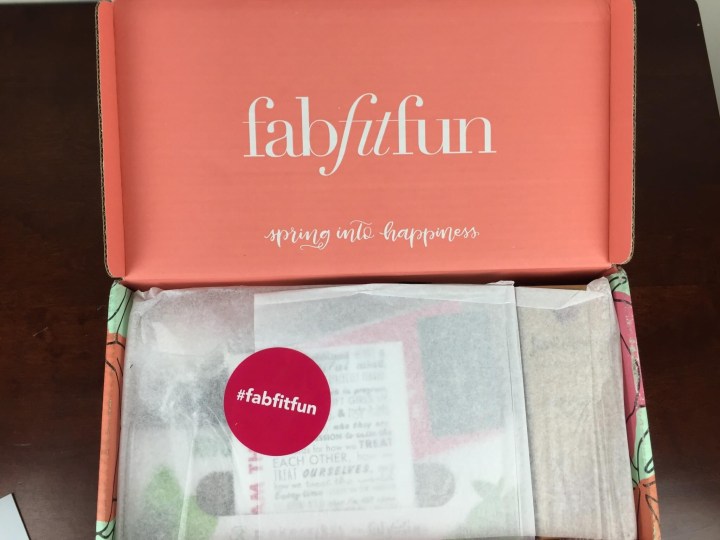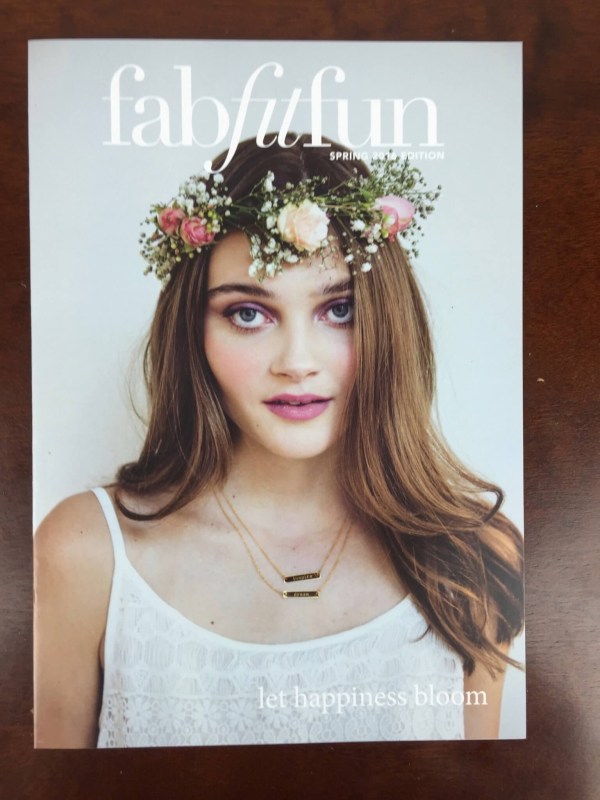 A large format mini-magazine comes in the box – it provides all the details on the products, plus fun lifestyle articles too!
Product information, editor's note, artist information.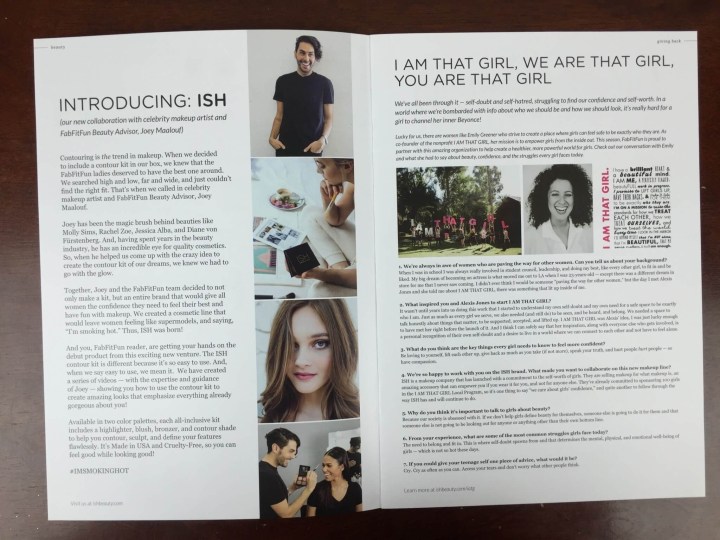 There's a spread on Ish (FFF's new beauty brand with Joey Maalouf) and I am That Girl, the quarterly charity.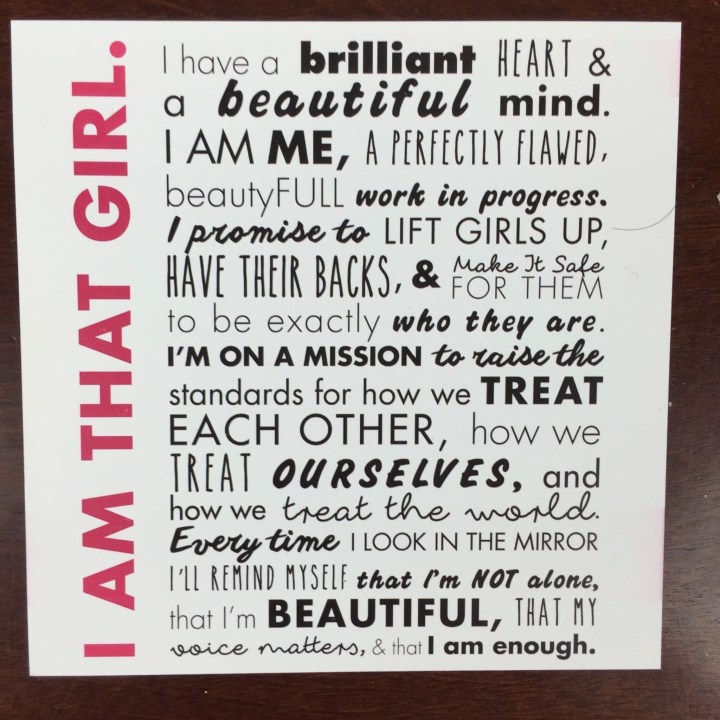 The included card is perfect to put in a mirror and there's information on sponsoring girls through the organization on the back!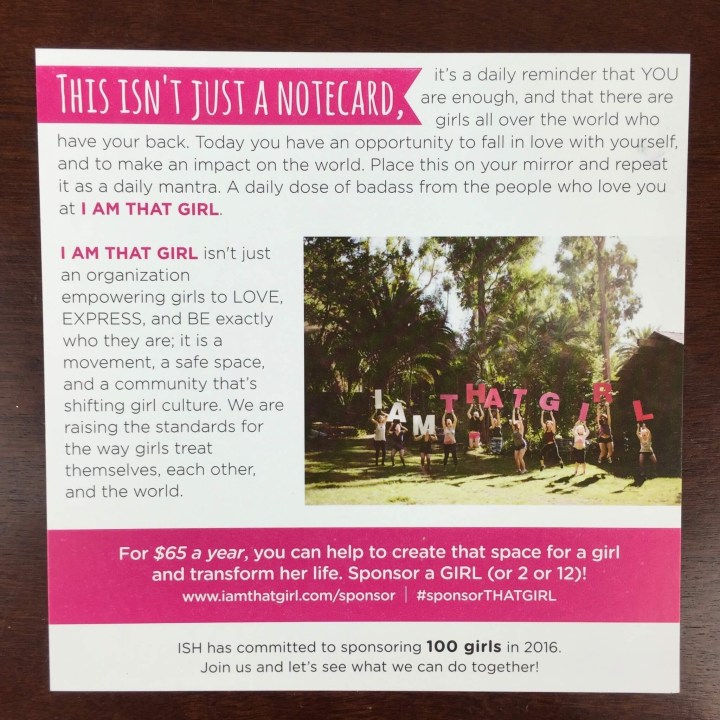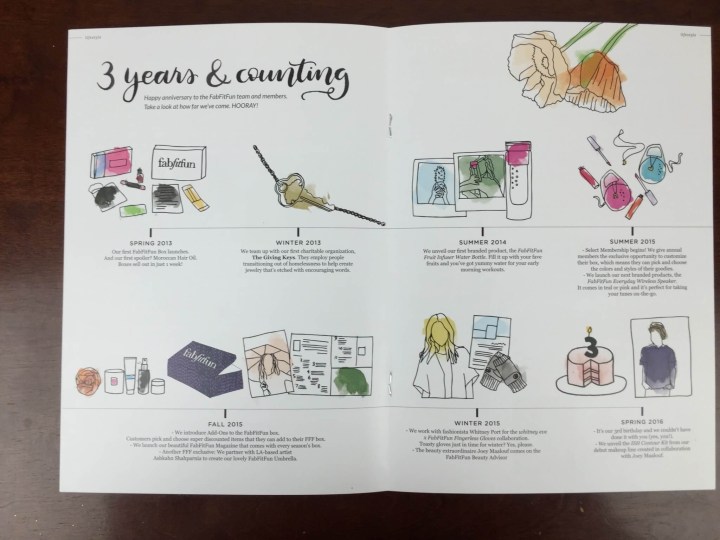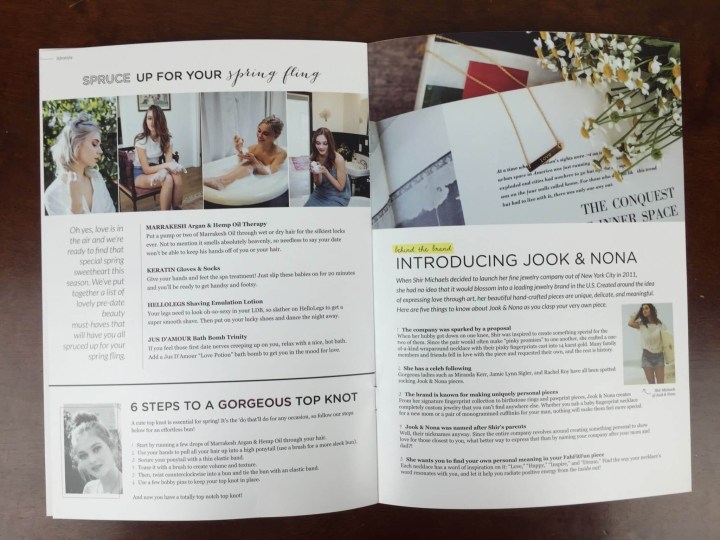 Everything in the FabFitFun VIP Box for Spring 2016!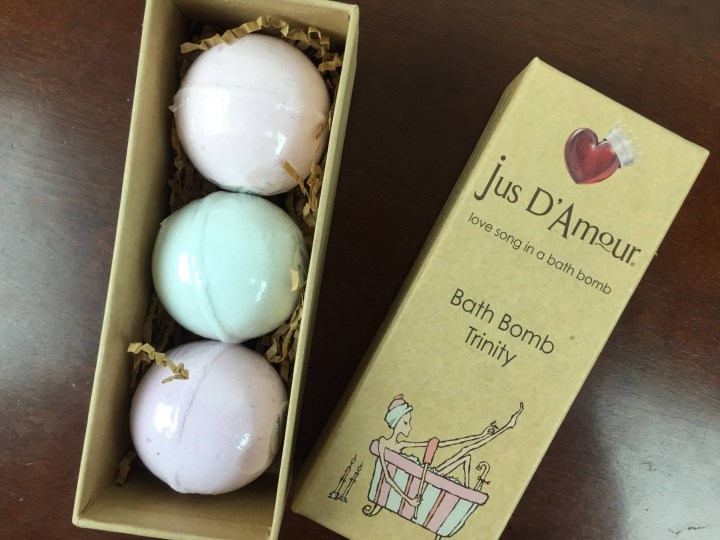 jus D'Amour Bath Bomb Trinity ($28) 3 fun bath bombs! Here are the scents – they're made with essential oils:
Love Potion – Jasmine, Rose & Sandalwood
Wake Up – Eucalyptus, Peppermint & Lime
Deep Breath – Lavender, Chamomile & Ylang Ylang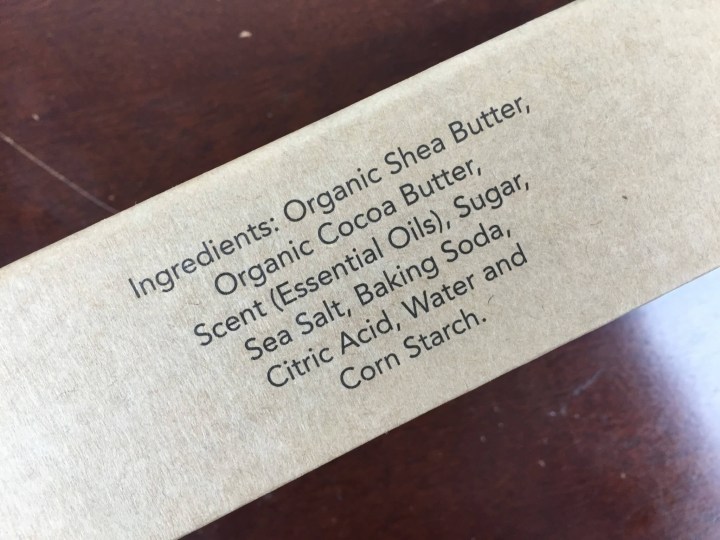 They're even made with organic ingredients. They all smell great and it's hard to choose a favorite.
Merrithew Mat Strap Plus ($14.99) This is a cool multifunctional device – carry your yoga mat, or use it as a resistance device. Our entire family (kids included) were testing this one out. The kids (7 & 5) settled on it being an awesome ninja training device. Parents determined it was great for gentle resistance stretching. It's a keeper!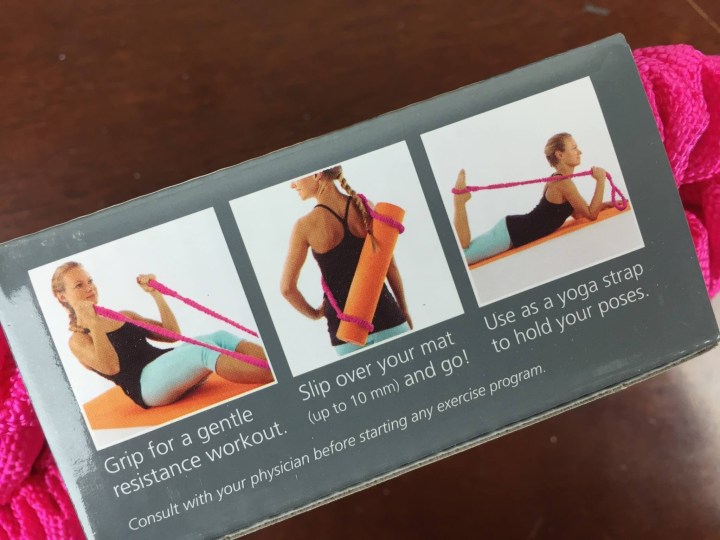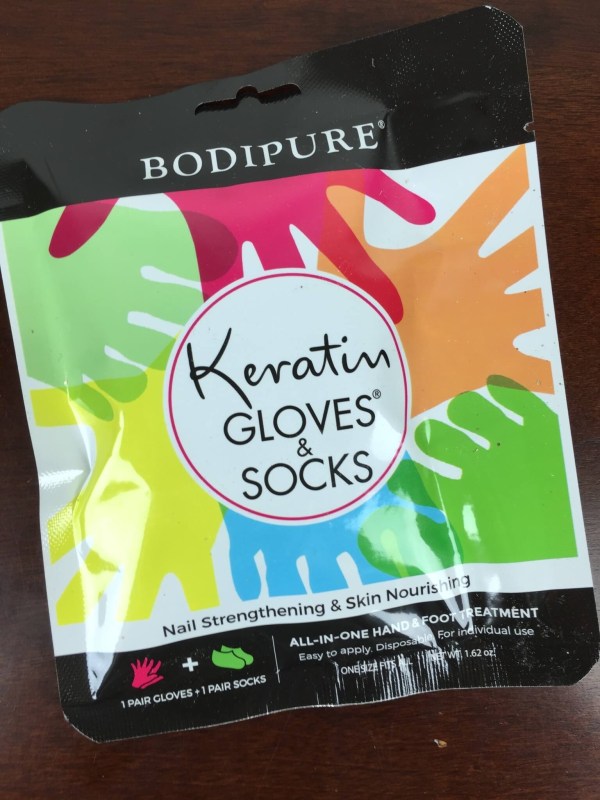 Bodipure Keratin Gloves and Socks ($9.98) A little set of nail strengthening and skin nourishing hand and foot treatment masks!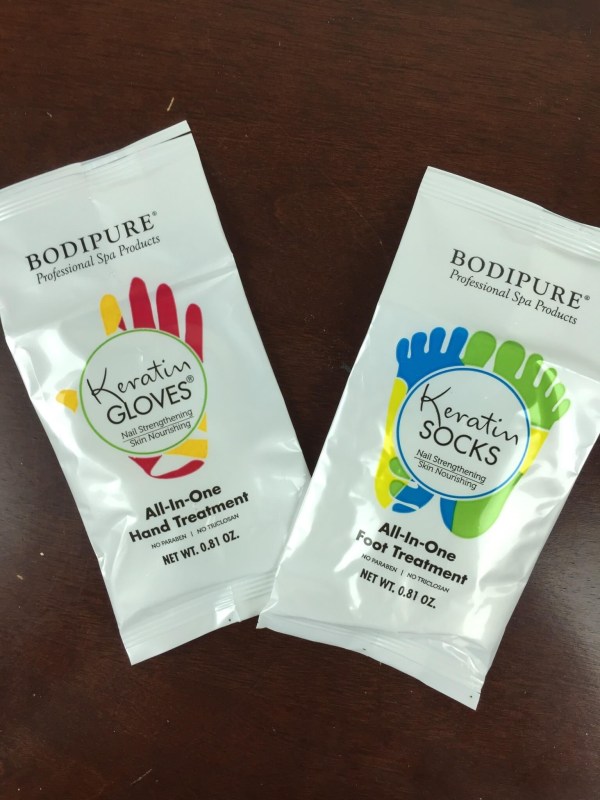 Inside the larger pouch there's one hand treatment and one foot treatment – perfect for an at-home spa day!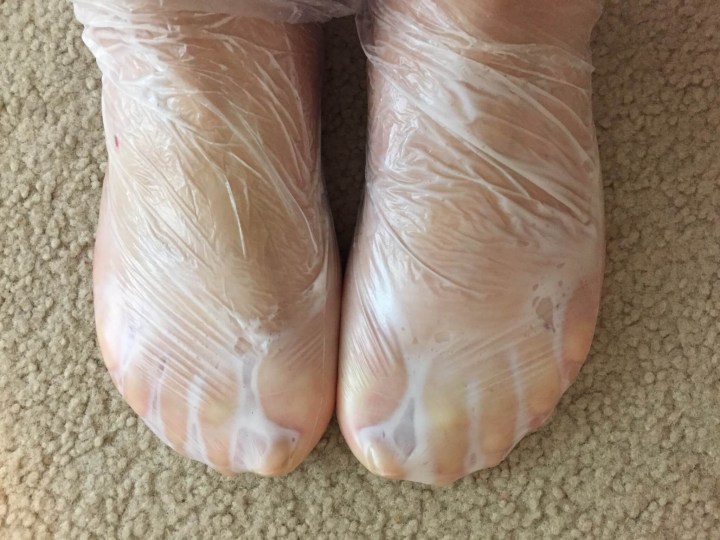 I did my feet immediately. You slip the (giant) "socks" on (they're really plastic bags), massage everything in, and let them cook. I was a huge fan of this for my feet – No getting all messy just to get my feet softened!
Marrakesh Hair Oil ($22.99) This smells so amazing – after I used it I kept on getting wafts of the scent as I moved around and kept on asking myself what's that smell?! It's so good! Oh, it's me!  It's a very thick "oil" and not oily at all. I felt it worked really well on my fine/thin hair, which is pretty amazing.
HelloLegs Shave Cream ($15?) I have no idea why you wouldn't have your site ready before your brand new product goes out to thousands of people in a subscription, but… they have no website! It's ok because I tested out this new shave cream and it works beautifully. I thought from the spoilers it would be a cream because of the small bottle, but it's a shave cream, and you need only a tiny dot for it to work great, so use sparingly. Hours later my legs feel soft and moisturized – and they're actually shaved! For some reason I only have a crappy razor hanging out in my shower and my legs have been half-shaved, but it worked beautifully with the HelloLegs "blade butter!"
This is a real keeper for me!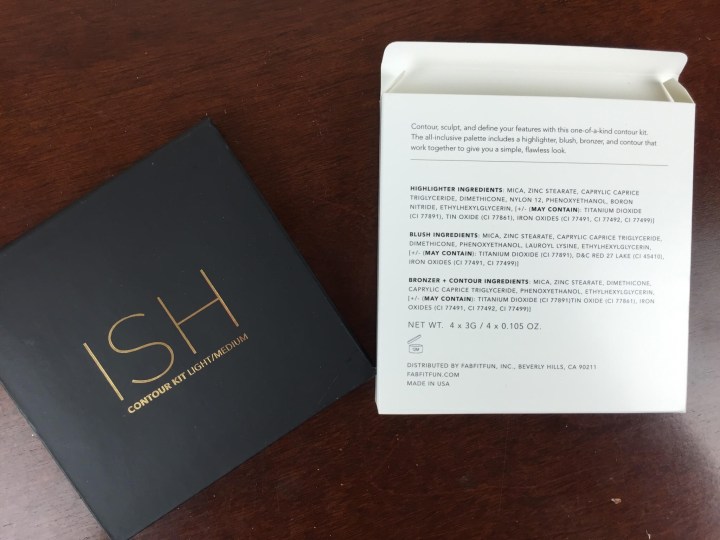 ISH Beauty Contour Palette ($32) I love palettes in subscription boxes, and I'm really happy that this box included a contour set! Subscribers received either light/medium or medium/dark, according to their skin tone preferences in their profiles.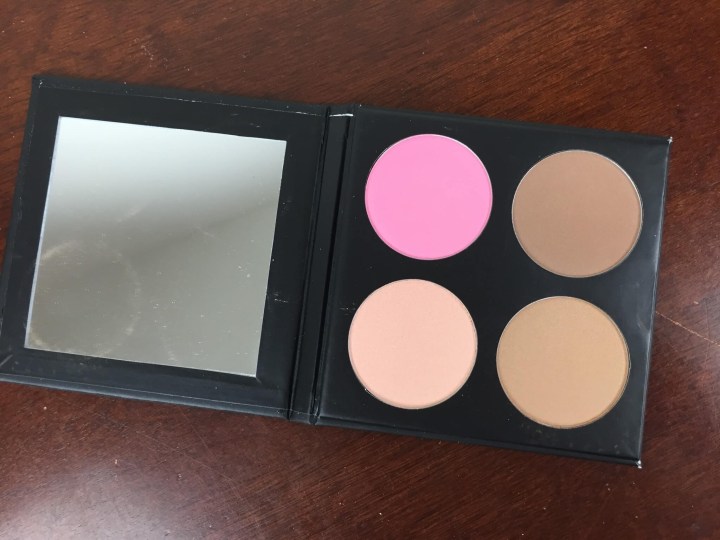 Even better, the site has night and day looks you can achieve using your set (and with models representing light, medium, and dark tones).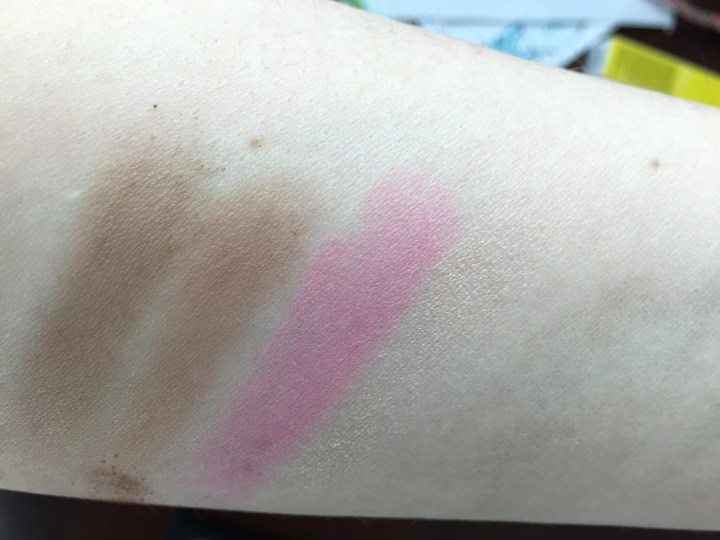 I wanted to swatch it so you could really see the pigments, but the swatch below is blended out. You won't look like a clown!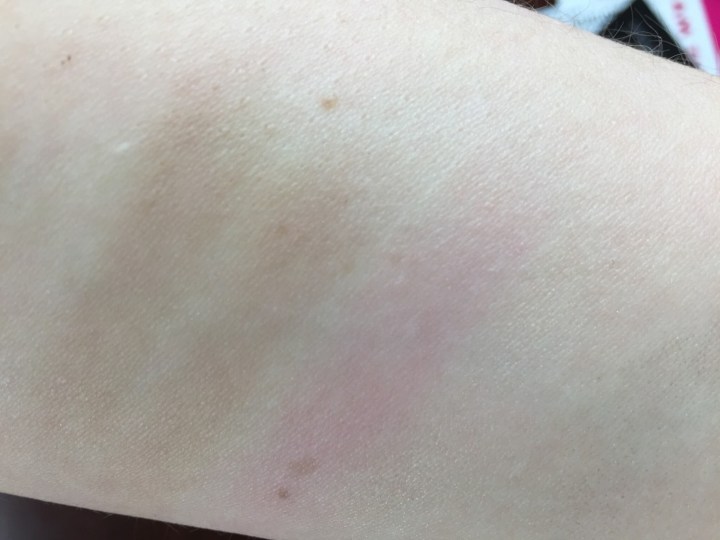 I think this is a great versatile palette and I'm hoping to see more beauty items from ISH in future boxes!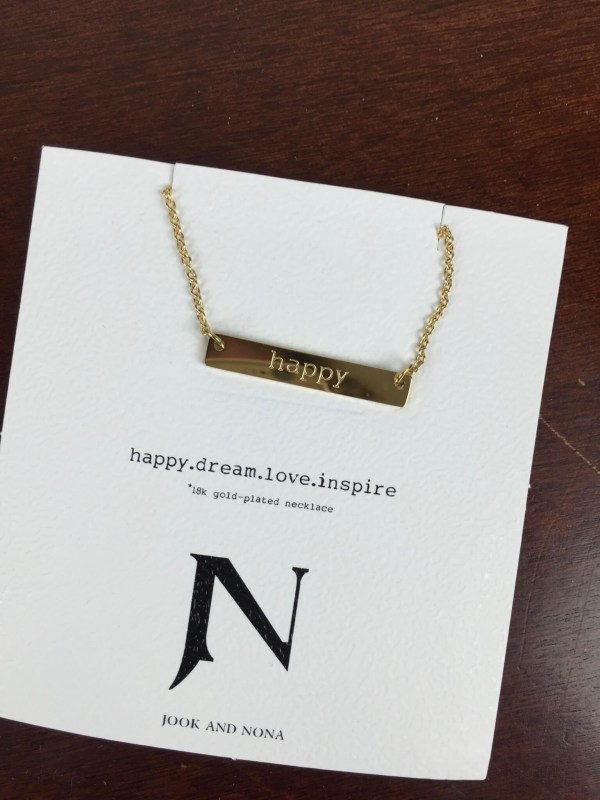 Jook and Nona Gold Plated Tag Necklace ($65) A super pretty 18-k gold plated necklace (and I thought that the plating was high quality). I'm an annual subscriber and selected happy – I intend to pass this one along to my daughter, though I think any word would have fit her well!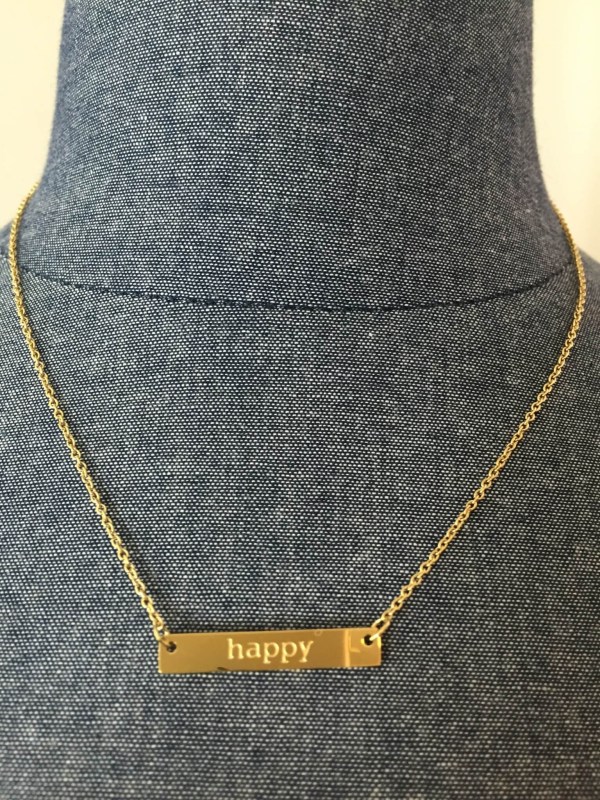 It has a good length on it – not too short – and of course is a cute trend!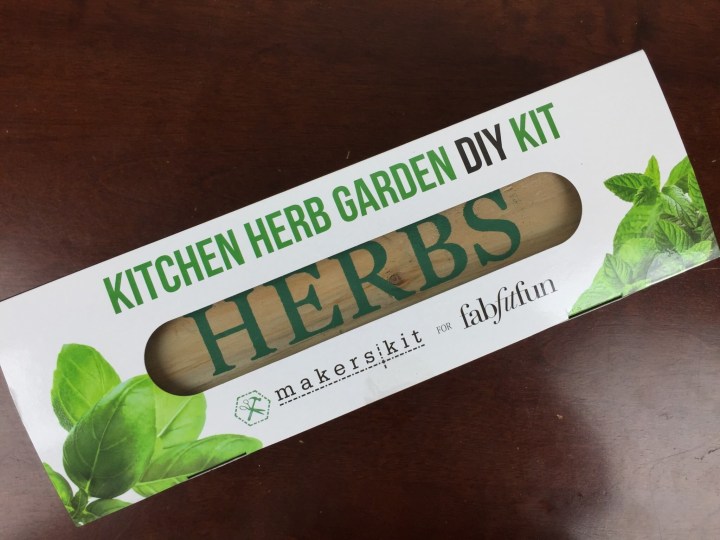 MakersKit Kitchen Herb Garden DIY Kit ($35) This is a really fun addition to the box, and I set it up right away.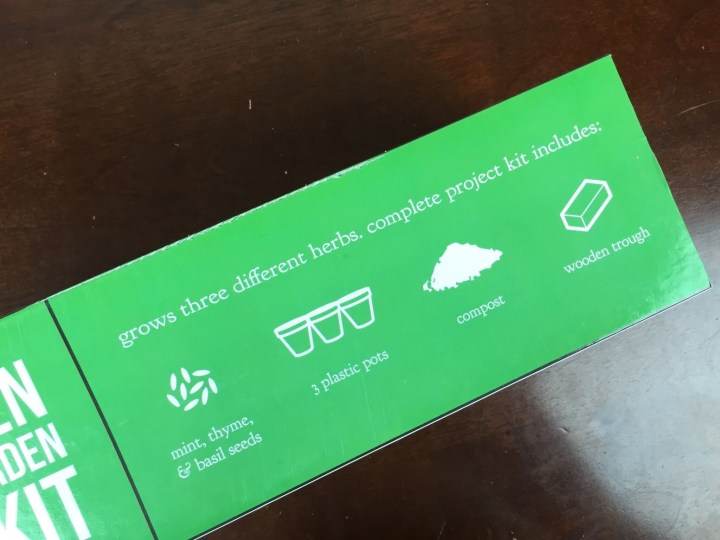 You get everything you need to grow 3 different herbs in your windowsill.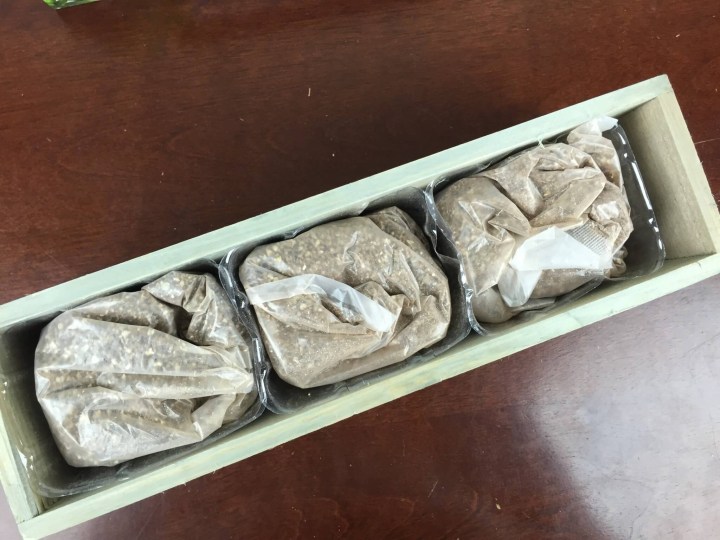 And no worrying about the water – there are plastic pots inside.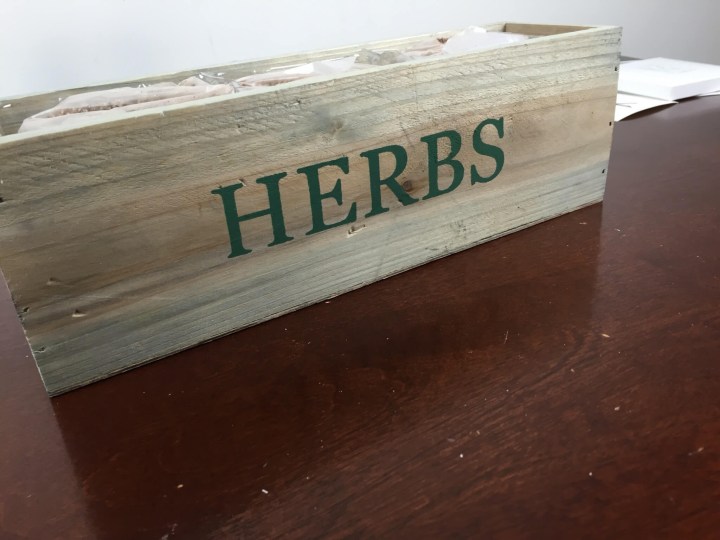 I wish it had come with little stakes because I totally forgot to keep track of what order I put them in – oh well, they're herbs, I'll figure it out!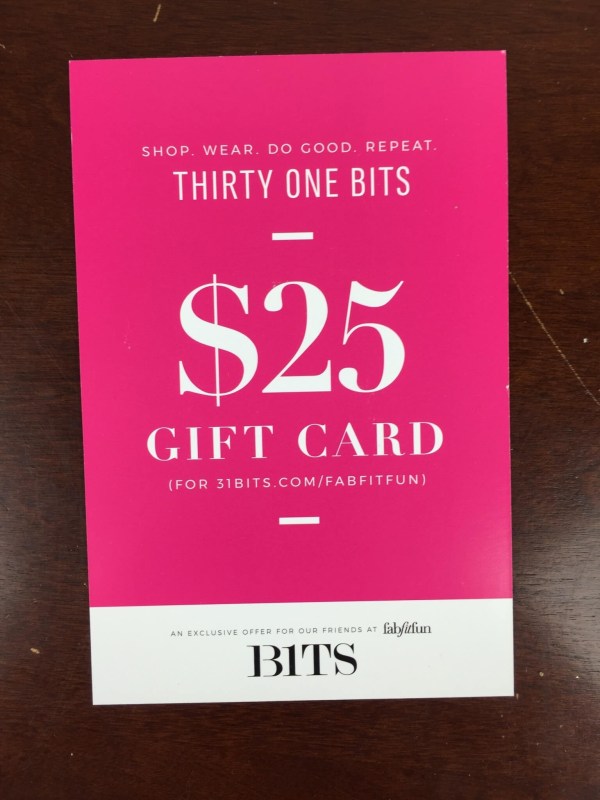 31 Bits $25 gift card ($25) This gift card is good for anything in their store. The shipping isn't free but the value of the card will apply against shipping ($6). There's plenty there to pick up if you don't want to spend anything else.
Our model is to empower people through the fashion industry. We work with our beneficiaries in Uganda to create fashionable, quality products. They earn an income enabling them to provide for their families. We care for them holistically through counseling, health education, finance training, and business mentorships. After five years in our program, our beneficiaries are ready to graduate. A graduated beneficiary has her own business and is educated, healthy, and confident. She is empowered.

And guess what? Everything we do is funded through product sales. That means every time you make a 31 bits purchase, you have a direct impact on women's lives in Uganda.
31 Bits sent along an item for me to check out!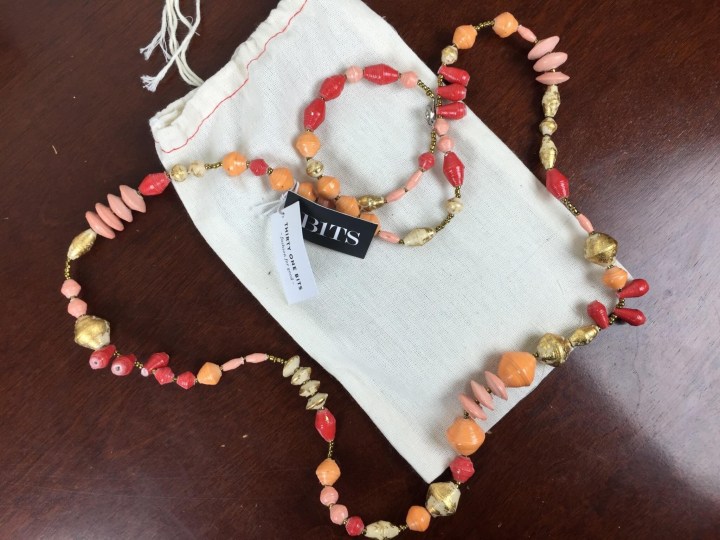 I didn't see this necklace on their site, but it's a relatively simple necklace and the price on this one was $42.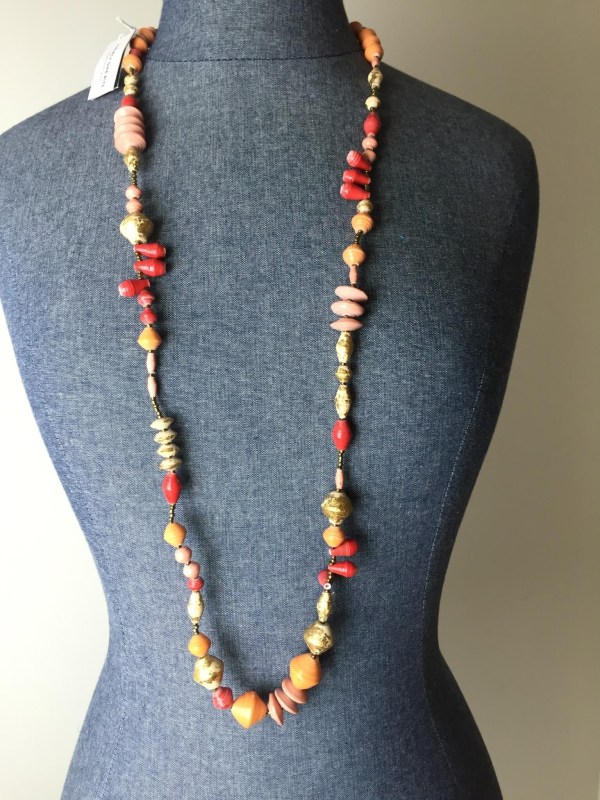 It's super gorgeous!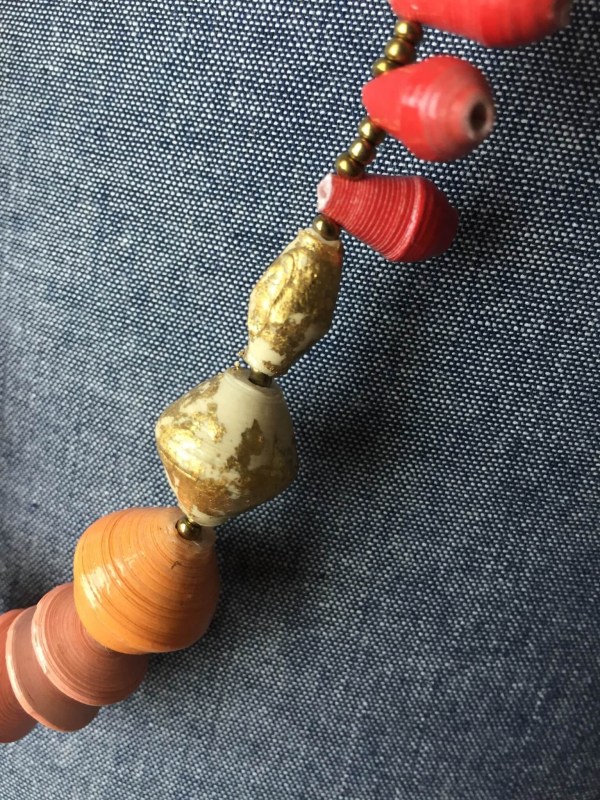 I love the antiqued gold leaf look.
It also has an easy to use clasp.
FYI – you can sort by price on their site, so it's easy to find something to spend your card on!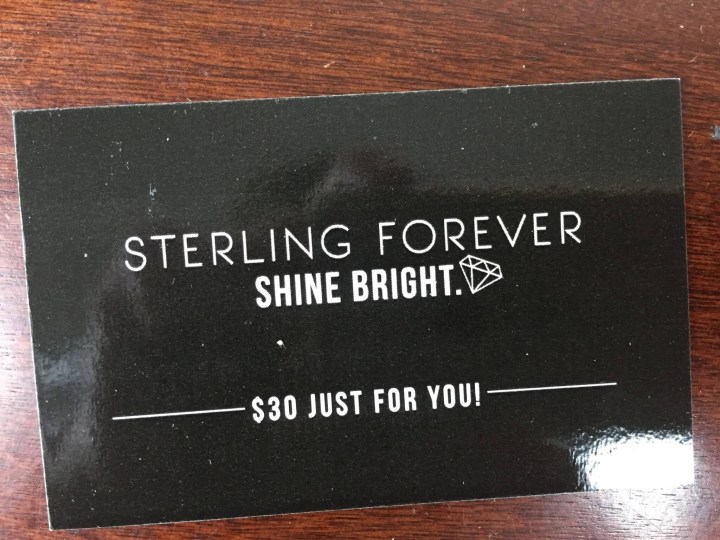 Sterling Forever Coupon Card ($30 + free shipping!) Unfortunately all the sale items I was interested in for $30 and under were all sold out :/ I'll save it and check again later. This card will apply $30 to your order but will not save a balance, so use it all at once!
This was such a FUN box! I'm definitely in the mood for spring and these items really delivered for me. The total value was about $223, exclusive of the gift cards, which is amazing for a $50 box ($40 for your first – and this box is still available!). I always love FFF – they're one of my personal favorite subscriptions – but it might be a first for me to say that I'll actually use everything in the box! Now please bring me coconut and fabulous eyeshadows for summer!
Visit FabFitFun VIP Box to subscribe or find out more! Use coupon code FUTURE10 to save $10 on your first box!
The Subscription
:
FabFitFun VIP Box
The Description
: FabFitFun VIP subscription box is a quarterly lifestyle subscription box from FabFitFun. The VIP box features a mix of beauty, fashion, fitness, wellness and home products that help you feel good from the inside out. The box includes full-size products and premium items.