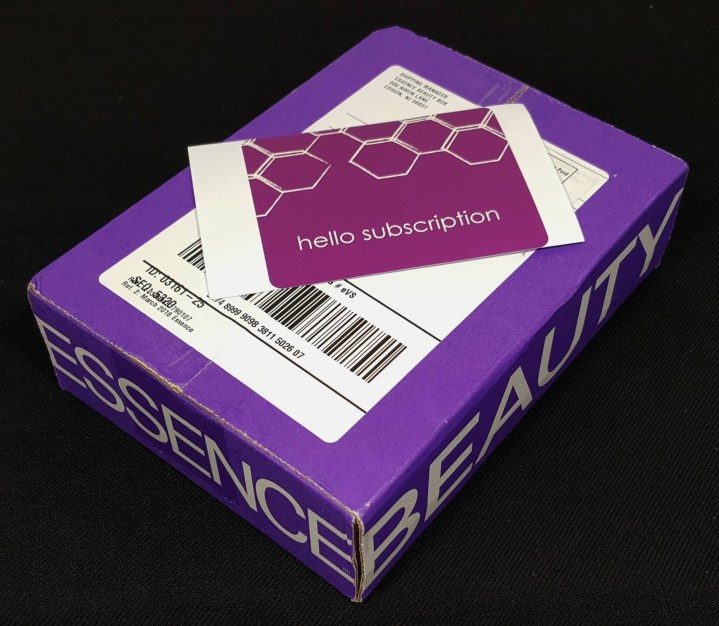 The Essence BeautyBox theme for March is Transform Her Every Day.  Essence BeautyBoxes are curated by their trusted beauty experts and deliver 5 luxe samples to your door each month starting at $15 for a single box.  For recurring 6 or 12 month subscriptions, the price drops to $12.50 per box.  You'll have the opportunity to test some of the latest and most innovative products, as well as proven favorites.  Additionally, to honor and support beauty entrepreneurship in the Black community, Essence BeautyBox also strives to feature a product from a Black-owned business in each box.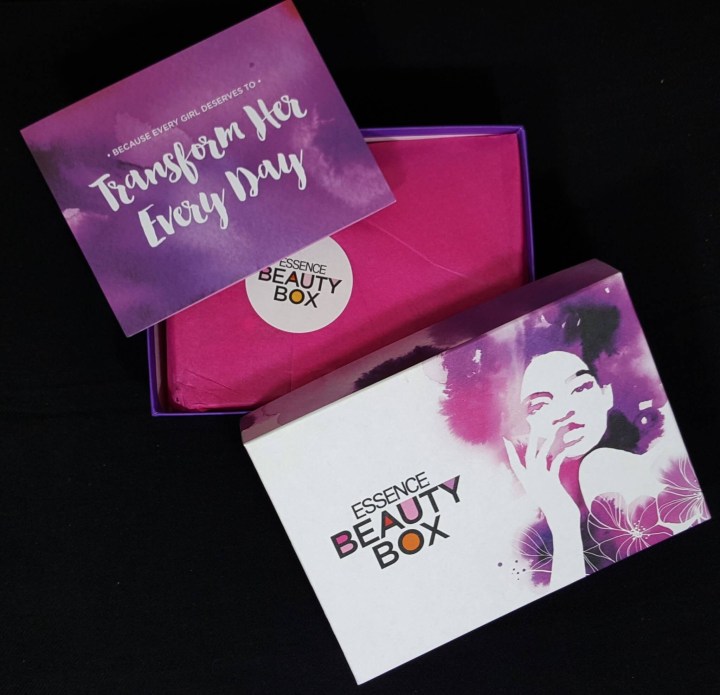 Love that everything is coordinated – box, info packet, and tissue.

The information packet contains a note from the Essence BeautyBox Team explaining the theme, as well as information on each item and the Essence beauty editors who chose it and why.
Hey Gorgeous!

We all have those moments when we're in a pinch and need a quick fix, like running from brunch with your friends to date night with your sweetie or heading to the office after a morning session at the gym.  Where's that quick beauty fix when you need it?!  Good news, we've got you covered.

Our March box quickly transforms your look from day to night, work to party, or casual to sultry.  You'll be delighted by how easily you can freshen up your look with a few simple products, and this box has it all!  Morph frizzy edges into a sleek ponytail, illuminate your lips with a few swipes of shimmering gloss, and turn dry winter skin smooth like silk.  Looking your fiercest this month is easier than ever.

Don't forget to snap a selfie and use the hashtag #ESSENCEBeauty.

XOXO,

The ESSENCE BeautyBox Team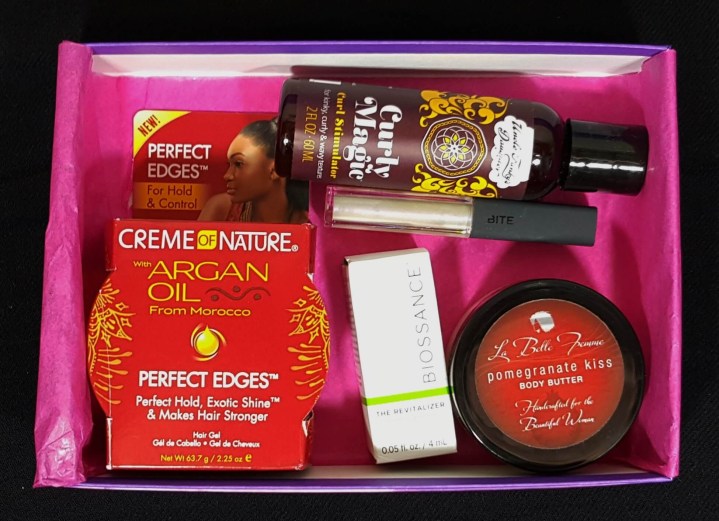 My first peek in!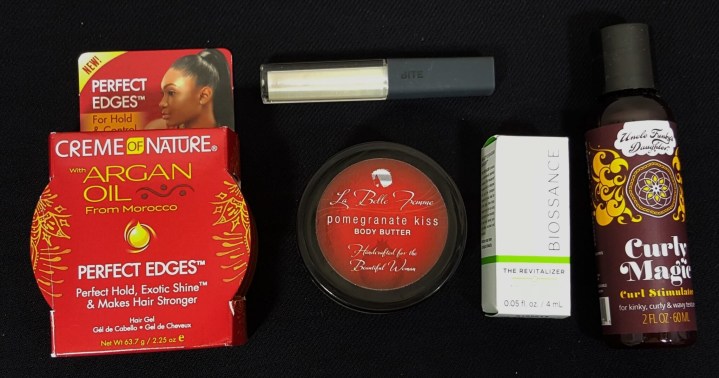 Everything in the box.  Let's get this transformation started!
Bite Beauty Opal Lipgloss (approx. $9.50): Bite Beauty products are created with natural and food-grade ingredients.  According to Beauty Editor Nykia, "a swipe of this over any matte or glossy shade is a total dimension-adding game changer."   This shade can be worn alone or on top of any lip color to add high-shine and shimmer.  I tried it alone and felt it looked too young on me.  It is also stickier than what I prefer.  Swatch picture is at end of review.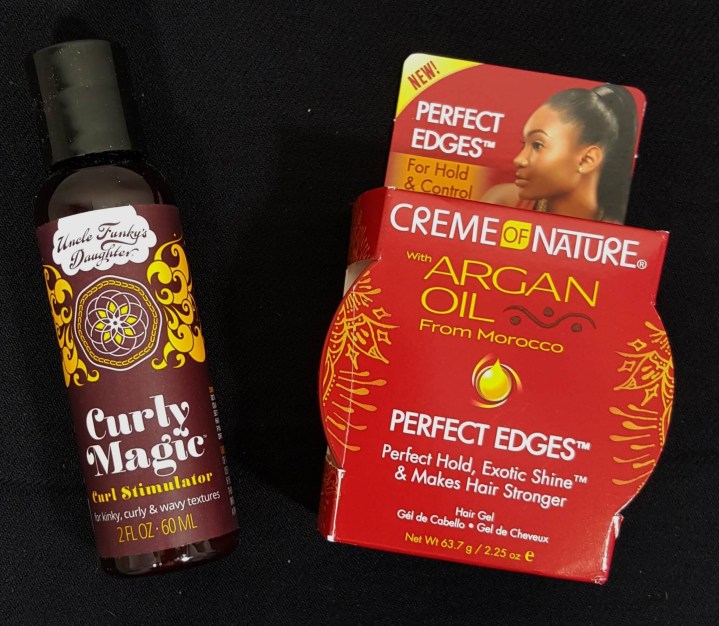 Uncle Funky's Daughter Curly Magic Curl Stimulator (approx. $2.75):  I read that the formula was changed at one point, but now it's back to the original.  So, if you are a long-lost fan, c'mon back!  This is not only supposed to make curls more manageable and defined, but also elongate them.  Mind blown!  It contains horsetail (strengthening), nettle (improve hair's appearance and combat dandruff), and aloe (healing and hydrating) just to name a few ingredients.  I haven't had a chance to try this cream-gel just yet, but am in love with the scent (kind of a citrus herb) and can't wait.
Creme of Nature Perfect Edges ($5.49 Walgreens.com):  If you've read any of my other reviews, you'll know that I've gifted every single package of edge gel to come my way.  So why, pray tell, did I decide to use this particular one?  I don't know either, but I was surprisingly pleased.  I wanted a sleek ponytail, and this did wonders on holding down the shorter hairs at my hairline all day.  Asst. Beauty Editor Virginia suggested using a quarter size amount for the perimeter of your head, but I only needed a pea-sized amount (if that) for my fine hair.
La Belle Femme Body Butter in Pomegranate Kiss ($6-$9?):  The 8 oz jar is $25, and I figure this sample is between 2-3 oz.  La Belle Femme is an artisan line of handcrafted, small-batch products created from natural ingredients such as raw vegan oils and butters, herbs, pure essential oils and fragrances.  A little of this truly does go a long way.  A real butter, this melts into an oil from the warmth of your hands and leaves you with long lasting moisture.  The scent is lovely – top notes of pomegranate with lemon verbena, cinnamon, and vanilla.  It smelled good enough to eat.
Biossance The Revitalizer (approx. $5.00):  This is pricey.  The full-sized bottle (1.7 oz) retails for $58!  Made from 100% plant-derived squalane (a natural component of skin and a good emollient that has antioxidant and immune-stimulating properties), this is a weightless universal moisturizer that can be used from head to toe on a daily basis.  2-3 drops are all that is needed to cover your face and neck.  It absorbed easily and left my skin feeling very soft.  Downside to this is that I have slightly oily skin, and by the end of my work day my face was very shiny.  I think I'll stick to using this on my neck and decolletage.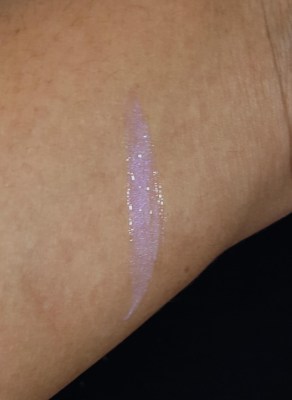 Swatch of the Opal lipgloss (alone).
This box had a value around $30, give or take.  The ESSENCE BeautyBox team continues to impress me with their finds.  I like that the March selections work together to give you a head-to-toe transformation, even if it is just a small change to your beauty routine.  My favorite item this month is La Belle Femme's body butter.  Let me know what yours is or what you think of the box by leaving a comment below.
Visit Essence Beauty Box to subscribe or find out more!
The Subscription
:
Essence Beauty Box
The Description
: The ESSENCE BeautyBox celebrates your unique beauty and delivers coveted beauty finds directly to your door each month.Receive 5 luxe samples monthly, along with beauty info, tips and tricks from the ESSENCE experts.
The Price
: $15.00 per month