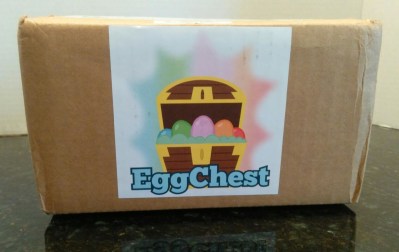 Egg Chest is a monthly subscription box for the kiddos or for the kid in you.   The box is especially appropriate at Easter, but available all year round for your enjoyment. I found this description of what they do on their website: "EggChest is an owner operated business run by family.  We love surprising our kids, and when our children discovered surprise eggs we went on the search to find awesome stuffed eggs for them.  If you've ever done this you were probably just as disappointed as we were in the options available.  So we went about making our own surprise eggs for the little ones and soon EggChest was born.  Our goals are to not only inspire fun, but creativity, imagination, and discovery.  EggChest strives for diversity in product to ensure that you aren't receiving the same items over and over.  We are constantly bringing in new stock.  EggChest surprise eggs are all hand curated to ensure that the eggs are stuffed to the hilt."
Our box had one Jumbo surprise egg, two large surprise eggs and 4 small surprise eggs along with a double sided Easter coloring sheet (bunny on one side and egg chest on the other.)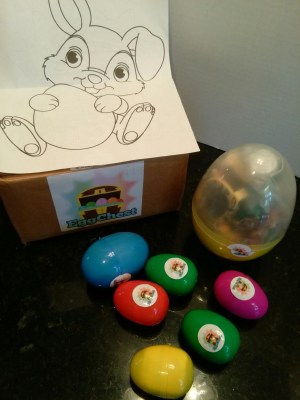 Egg Chest offers two subscriptions rates in addition to several surprise eggs you can purchase as one time buys.  For $44.99 you can purchase the Large Egg Subscription Box.  It contains 6 surprise eggs, 6 large surprise eggs and 2 (6 inch) jumbo surprise eggs.  The second subscription choice is the one we received, the Egg Chest Surprise Egg Subscription Box, is priced at $19.99.  Items vary (thus the surprise), but you are able to choose whether the items are more for a girl, boy, or mixed and whether or not the box contains candy.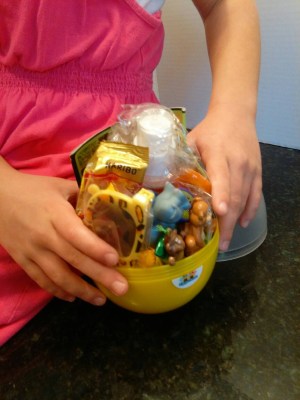 All the eggs were absolutely stuffed to overflowing.  The Jumbo Egg had a refillable pouch (like you put apple sauce in), stamps, sunglasses, lots of little plastic animals, Haribo gummy bears (mama claimed these, sorry kids!), candy, bubbles, stickers, crayons, an activity book, and a little toy camera.  Yeah, they stuffed all that in one egg!  Daughter number 3 got to open this one and giggled all the way through.
 The stamps were a big hit.  But, "No you cannot stamp your face.  Because I said so."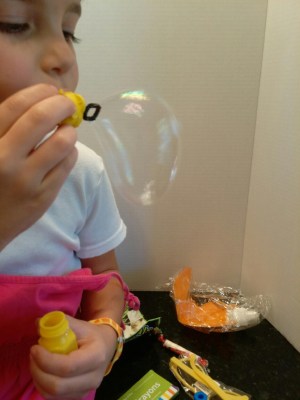 The bubbles worked really well.  Which was nice, because sometimes these little bottles of bubbles won't make bubbles and then 3 year olds cry and throw a fit and nobody wants that.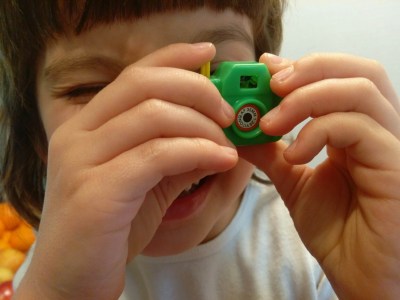 The little toy camera had real pictures of animals in it when you looked through the view finder.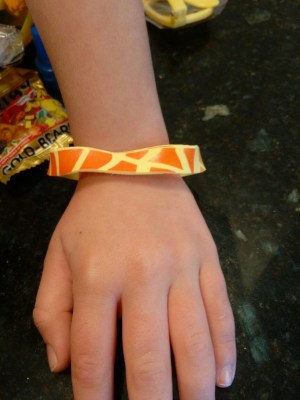 A giraffe bracelet when immediately on the arm.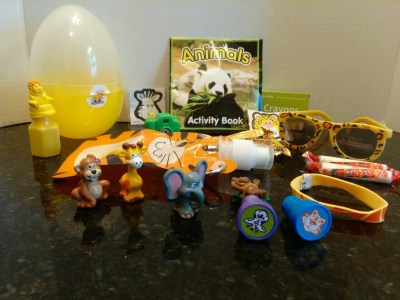 This was everything that was in the Jumbo egg.
This is everything that was in the red surprise egg.  If that was banana laffy taffy it would have also been claimed by mama, but I am willing to share sour apple.  Lucky children.  Isn't the little dino guy cute?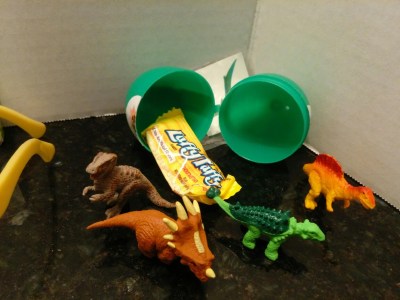 This is everything that was in the green surprise egg.  Dinosaurs galore!  And yes, this banana laffy taffy did get claimed by the mama.  It's only fair.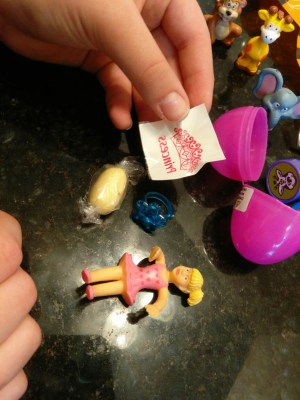 The pink surprise egg was a little more girly and had this cute little bendable doll in it with a ring, some candy and a princess tattoo.
The large yellow surprise egg had more little dinos, a tattoo, a bracelet, and these weird little stretchy guys.  The large blue surprise egg's contents can be seen in the big pic bellow.   It had a Swedish fish candy, stickers, tootsie rolls, and sea related plastic animals.   Also, I'm not sure which egg it came out of (I had 5 kids all opening eggs), but there was also an, awesome to whop your sister over the head with, blowup light saber in one of the eggs.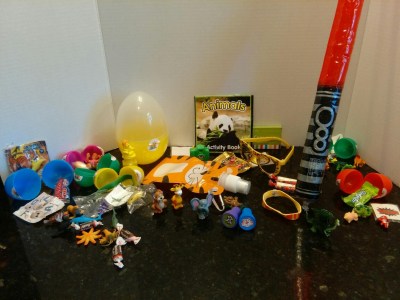 All these joy inducing trinkets were included in the box. None of the items are worth a great amount monetarily, but the items created an afternoon of joy for 4.5 kids (the teenager wasn't really interested except he did claim the Swedish fish).
Visit EggChest to subscribe or find out more!
The Subscription
:
EggChest
The Description
: Hand Curated Surprise Eggs for ages 3-11. Our surprise eggs are stuffed with novelty, educational, and licensed toys. We have 3 sizes of eggs and 2 options for our subscription service. Our large box is great for multiple children!
The Price
: $19.99 per month