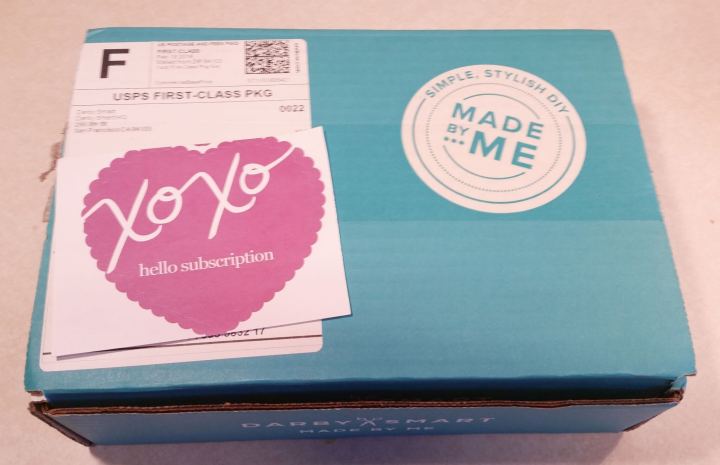 Darby Girl is a product of the DarbySmart DIY site (in conjunction with Girls' Life magazine).  Aimed at tweens and early teens (Girls' Life is directed to 10-15 year old girls), this subscription box provides "dazzling DIY materials, cinchy step-by-step instructions, awesome inspiration, and more."  Sent every other month (February, April, June, August, October, and December), Darby Girl sends craft projects "from fashion accessories to room decor and more" and is "carefully curated just for GL readers and inspired by our favorite new trends."  The cost is $19/box with discounts for paying for 6 months or 12 months at a time.
I reviewed this box with my 11 and 14 year old daughters.  Let's see what was in the box!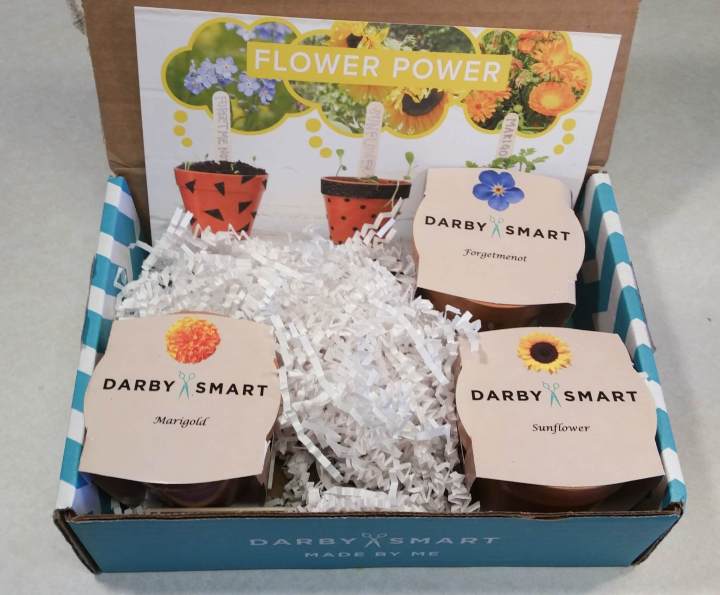 This box's theme was "Flower Power" – this looks like a lot of fun.

Here's everything that was in the pretty teal box.  (The blurry flower pots?  They were moving!  Just kidding – but sorry for the bad picture.  I didn't realize until after the girls had finished the project that they were blurry!)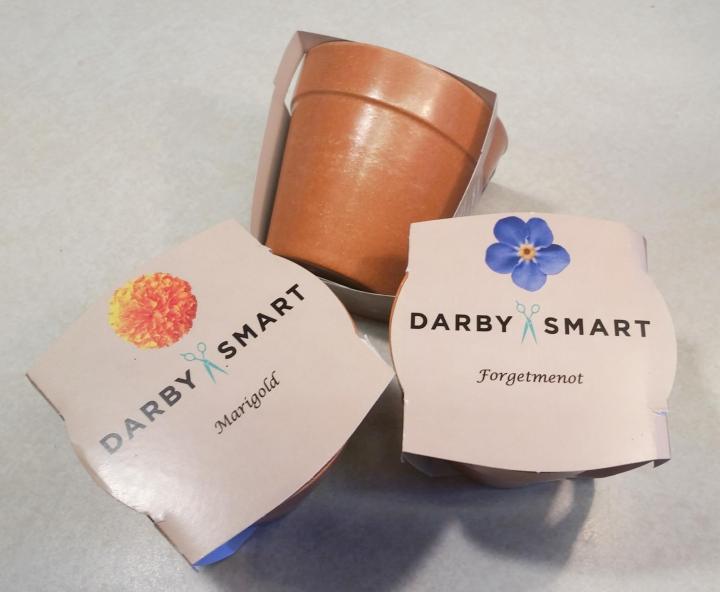 The project this month was decorating little flower pots.  There were three pots and three types of seeds — sunflower, marigold, and forget-me-not.  Also included were three little peat pellets to plant the seeds in.  
Also included in the box were wooden sticks (to label the flowers), a purple glitter marker to write on the wooden sticks, and washi tape to decorate the pots.  As with all Darby Girl projects, the instructions are available online.  The instructions are clear and covered everything from preparing the peat pellets to decorating the pot to planting the seeds.  The girls were able to complete this project start to finish without any assistance or guidance from me.
Here is a picture from partway through the project.  The girls were a little frustrated working with the washi tape on the rounded flower pots.  Also, the project only came with one design/color of washi tape (the black and white stripes).  The girls dug into their own stash of washi tape to supplement what came in the box so they would have some additional colors.  The picture above, however, is made using only the supplies provided by Darby Girl.
Here are the finished flower pots (in my kitchen windowsill).  As you can see, the two on the right were made using our personal washi tape (in addition to that supplied).  We're hoping to see little plants in the next week or so!
Bottom Line:  The girls did not like this project as much as the emoji magnet project that was in the starter box.  The project was a bit simple.  Also, the "artsy" part of the project really just consisted of decorating pots with tape; as my older daughter said, "this is more of a plant project than an art project."  To be fair, Darby Girl promises an "amazing DIY project" – decorating pots and planting seeds certainly qualifies as DIY.  But my girls really wanted to do more crafting.  Also, this project, like the Amigami project in the starter box, skews to the young side of Darby Girl's stated demographic (10-15 year olds).  My 11-year old daughter enjoyed this project (and enjoys washi tape generally) much more than my 14-year old.  All that said, it kept the girls busy for a little while and hopefully will give us some pretty flowers to look at.
Visit Darby Girl to subscribe or find out more! Get 1 month free with an annual subscription! Deal applies automatically, just visit and subscribe.
The Subscription
:
Darby Girl
The Description
: From fashion accessories to room décor and more, every project is carefully curated just for Girls Life readers and inspired by favorite new trends. Each Craft Club box contains everything you need to make something amazing.
The Price
: $19.00 every other month