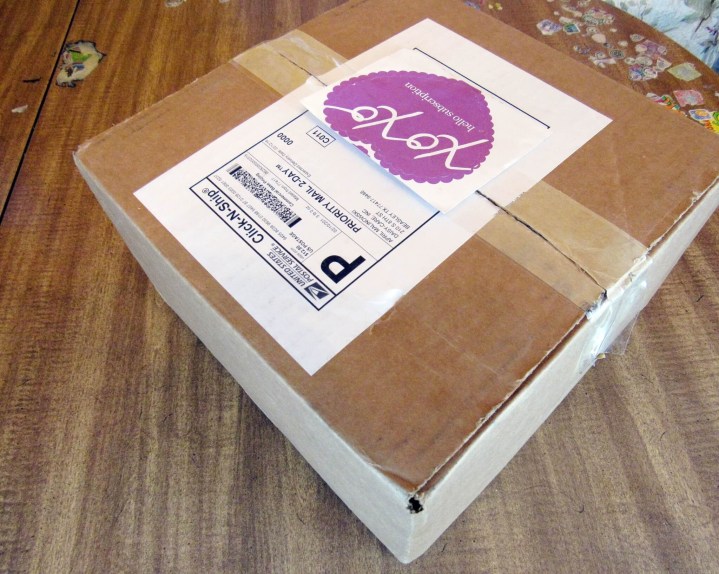 Daisy-Care focuses on the bonding experience between you and your dog with Everyday Subscription Care Packages which include delicious treats for your doggy! Daisy-Care boxes have two options. Option one is a Treats Subscription available in Small, Medium, and Large sized dogs. Option two is a Treats & Toy Subscription available for Small, Medium, and Large size dogs. The Treats & Toys Subscription is further customized with a Gentle or Ruff Toy. All dog treats are made in the USA. There is a toy sizing chart if you are unsure what size to order.
I wasn't sure what to expect because the subscription is new to me. I knew it had to be delicious tasting because Daisy, our English Shepherd, and a couple of our cats were waiting for me to open the box.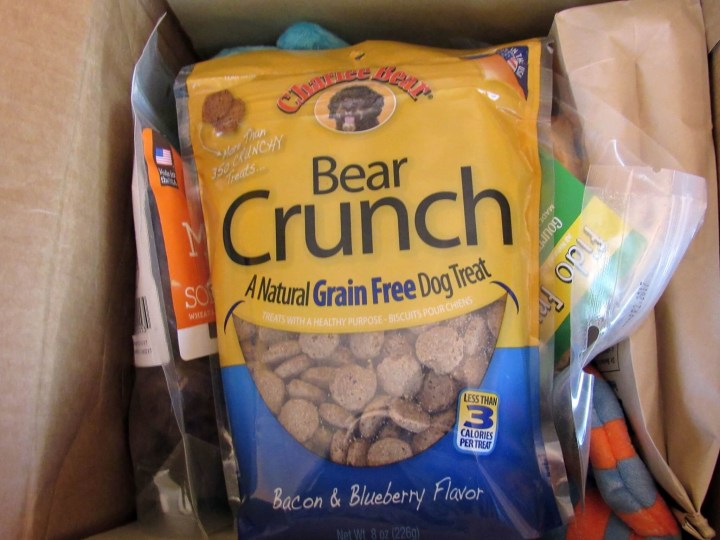 The first thing I noticed was the top treat bag was huge!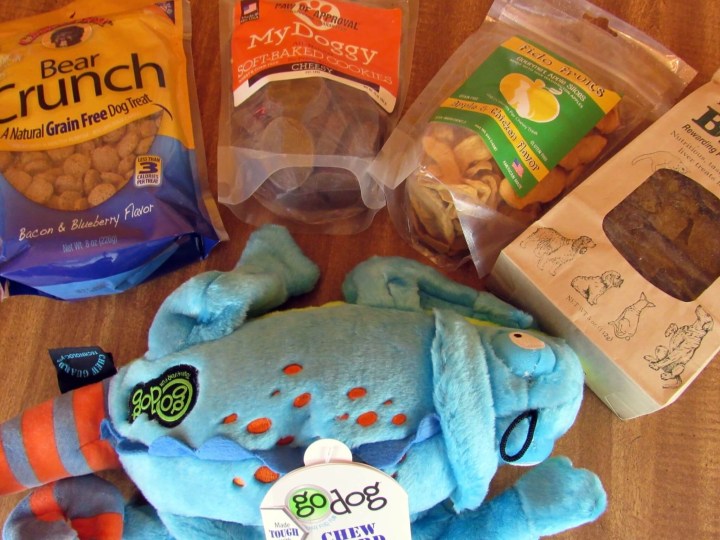 My first thought as I pulled out the items was that April Malinowski, CEO of Daisy-Care, understands my large dog needs. No small snack bags in this box. There's enough for Daisy, our English Shepherd, Odie, our Borader aka half Border Collie and half Labrador, and Bella, our Rat Terrier, to share. This review is for the Everyday Treats and Toy Subscription Care Package – Ruff Toy Option.
Daisy-Care provides a variety of subscriptions and care packages. An information card was not included in the box, as the box is customized!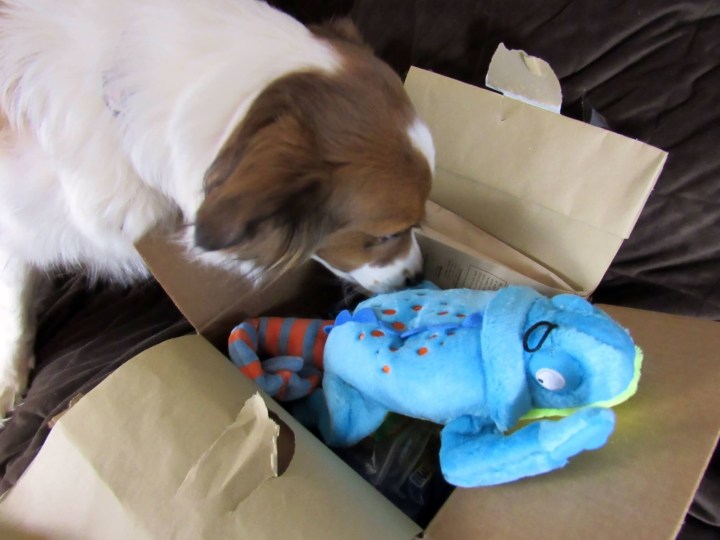 Daisy is our official reviewer today while Odie and Bella play at the farm. I take pictures on the love seat because I find it easier to capture those great shots.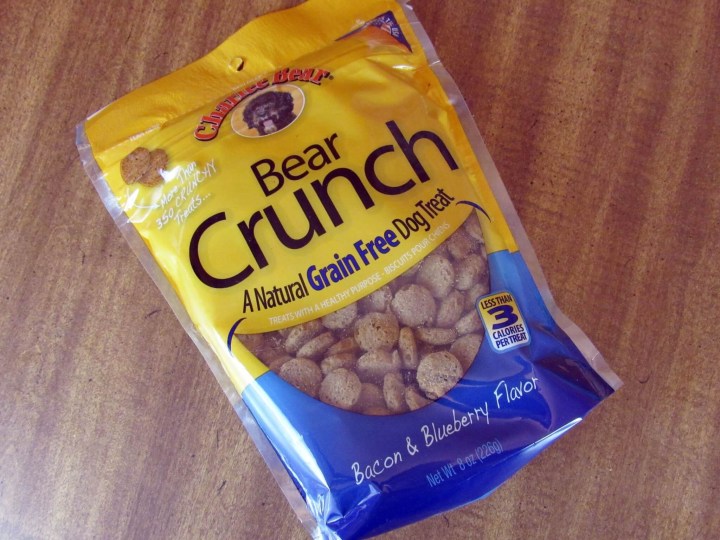 Daisy loved the Charlie Bear Bear Crunch Treat ($5.09) in Bacon & Blueberry. Each package contains over 350 treats and are a great training treat size. The treats are made in the USA with major ingredients from the USA and Canada. The Palm Oil and Cinnamon are from Southeast Asian islands.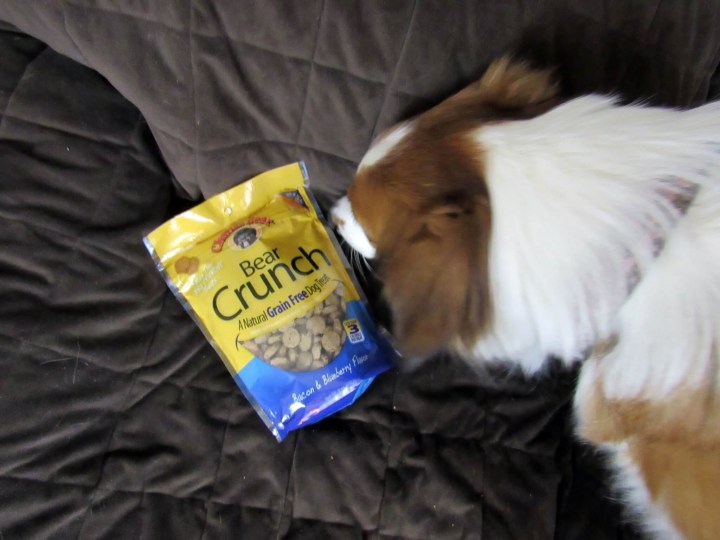 I will bring this package up to our farm for my sister to use with Odie, our Borader. He's working on his farm doggy training.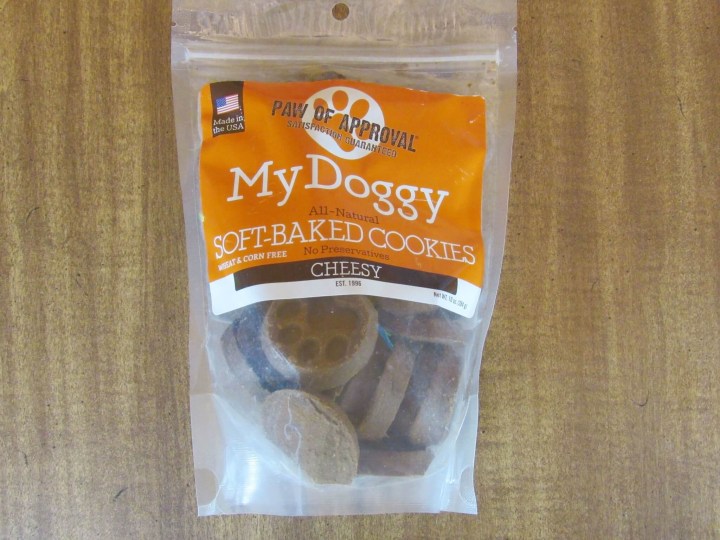 Daisy agrees that the My Doggy Soft-Baked Cookie – Cheesy ($9.50) has the Paw of Approval. The cookies are made with real ingredients – rye flour, molasses, vegetable oil, cottage cheese, egg, and ginger. That's it. I asked my husband if he would try one. He said no.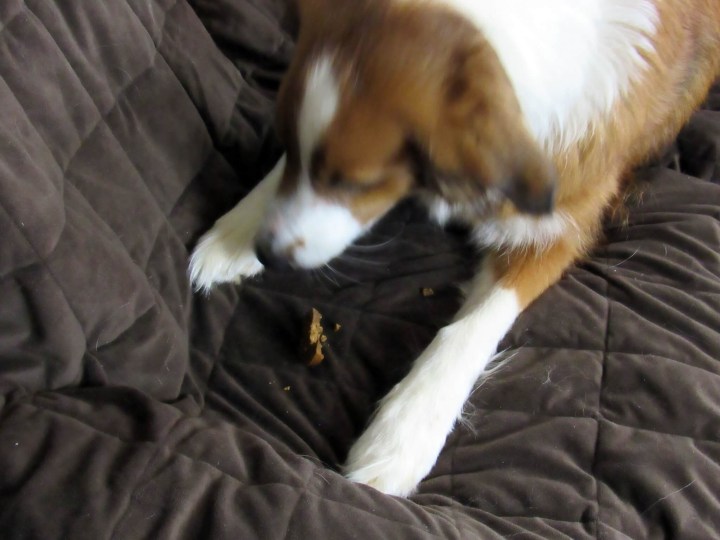 It took Daisy a little time to eat the cookie. She found it to be chewy which makes sense with the ingredients listed. It is an excellent choice for dogs with allergies.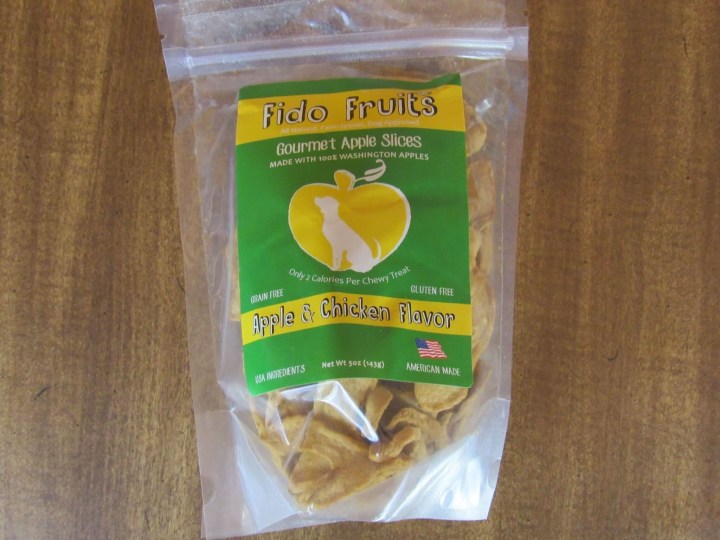 Fido Fruits Gourmet Apple Slices ($9.99) are made from 100% Washington State Apples. The company is run by two apple grower families. Daisy gobbled it up right away before I took a picture. One of the cats grabbed a sliced too.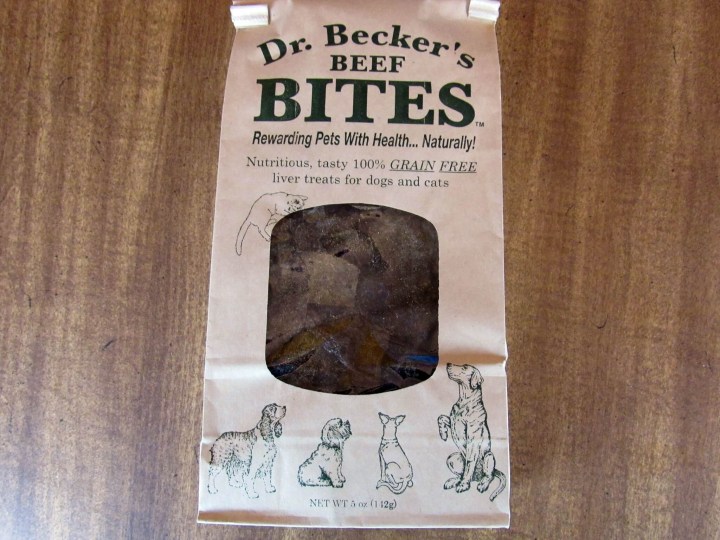 The Dr. Becker's Beef Bites ($14.50) are made from 100% USDA beef liver which is the only ingredient. The liver was baked on January 26, 2016.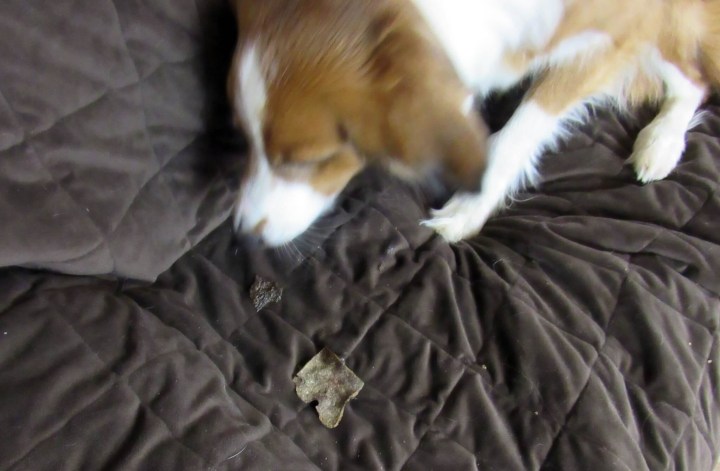 Daisy is worried that I will take away her treat because she is on the love seat. I let her finish her snack in peace after taking a picture.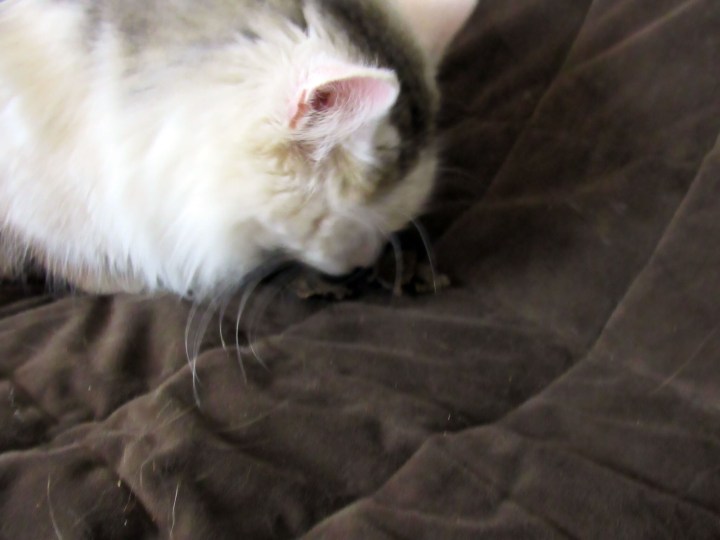 I had to test out the claim that cats like the beef bites. Little Lamb meows yes! The treats are under his chin and whiskers.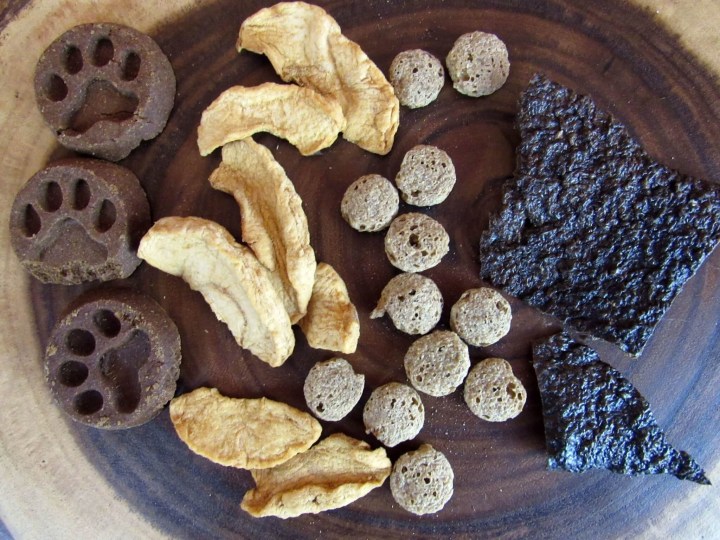 Daisy was eager to try out the treats.I forgot to take photos of the individual treats. Here they are from left to right – My Doggy Soft Baked Cookies, Fido Fruits Gourmet Apple Slices, Charlie Bear Bear Crunch Treat, and Dr. Becker's Beef Bites.
Onwards to the Toy part of the subscription.
There are two toy options – gentle or ruff. We received the ruff option. The Go Dog Blue Chameleon ($16.99) is huge! It's 16″ long! As soon as I saw it, I knew it was a good choice for Odie. Unfortunately, I have no pictures of him enjoying the toy because he is at the farm right now and will be back later this month. I will be dropping the toy off to him in a couple of days.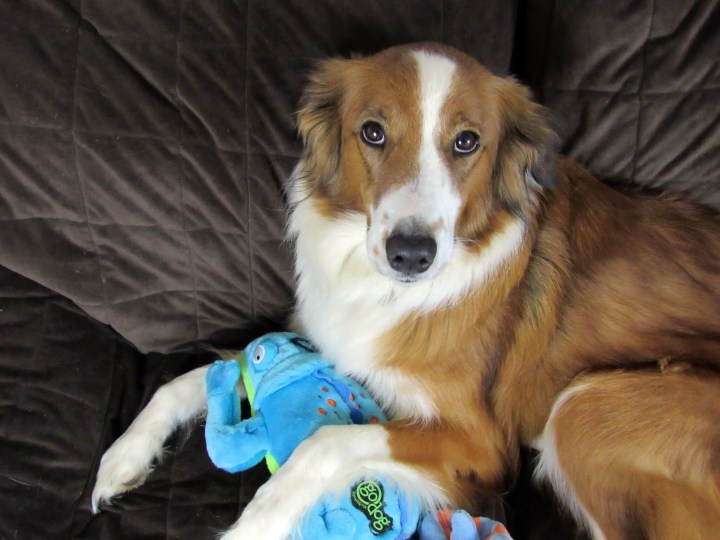 The toy is sturdy and will last for a good bit. Daisy prefers gentle toys.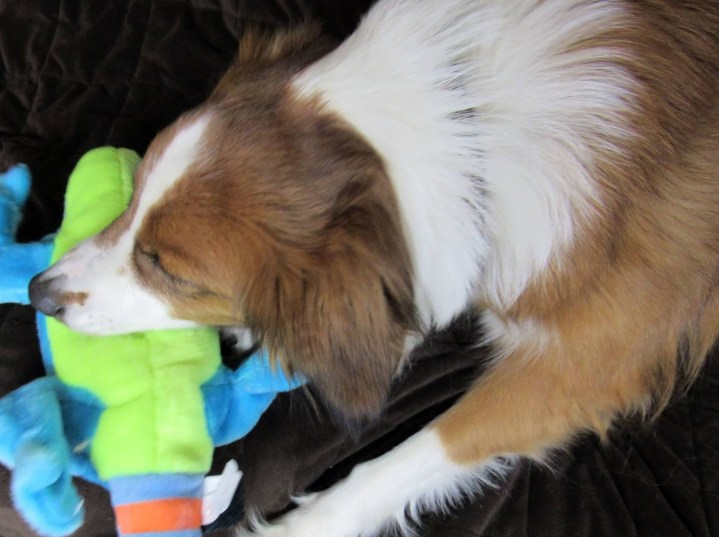 She decided it was OK to play with the toy. It will be a great toy for her to play with Odie because of the size. The two Collies like to play together.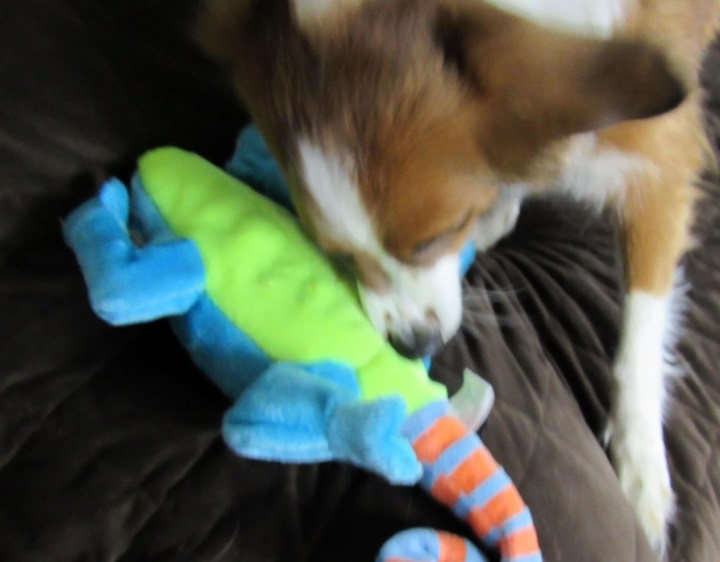 I cannot wait for Odie to play with the toy. He destroyed a bunch of his toys last month. Don't worry. I make sure he has a supply of toys at both the main house and the farm house.
UPDATED:
My sister sent me a picture of Odie playing with the toy. He is a Borador – half Border Collie and half Labrador Retriever.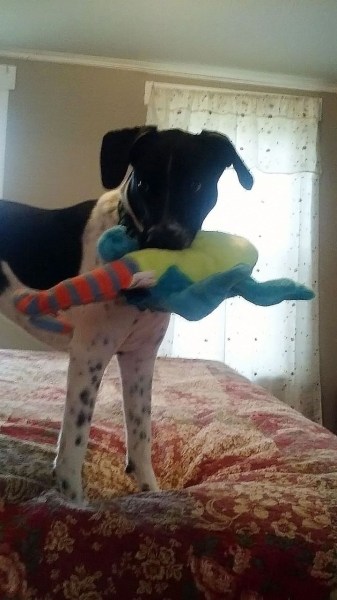 My sister said he went for the toy right away. He loves to play with toys and inadvertently destroys them.
I am impressed with the Everyday Treats and Toy Subscription Care Package by Daisy Care. The treats are made in the USA as promised. The ingredient lists were simple. Daisy and the cats that kept sneaking over loved the treats! The toy is sturdy enough for Odie to play with for awhile. It's a great size for him and large enough for both Collies to play with together.  The value is around $56.07, which I am happy with because of the quality of the treats. I prefer high-quality treats because our dogs are our family pets and also are our working dogs on the farm. They need healthy treats to enjoy life. We give the box four paws up!
Visit Daisy-Care to subscribe or find out more! Save 10% on any purchase with coupon code  WELCOME.
The Subscription
:
Daisy-Care
The Description
: Create Everyday Moments with your dog through a care package of paw-picked toys & USA-made treats. Daisy-Care is always there for you and your dog; from every day moments, to special occasions and everything in-between. We are committed to changing the way people think about their lives with their pets by helping create a safe and positive bonding experience between every human and their dog.
The Price
: $37.95 per month