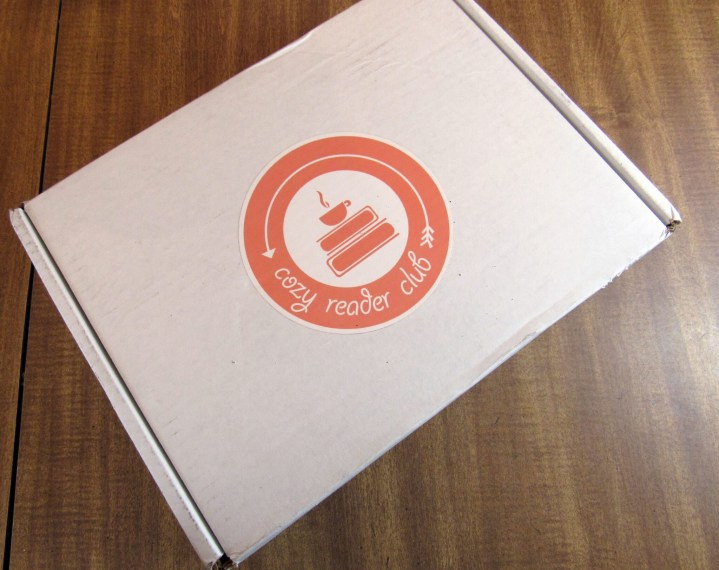 The Cozy Reader Club is a new monthly book subscription that is much more than a book subscription.  Each month you will receive a recently released women's fiction novel, artisanal coffee, tea or hot chocolate, a beautiful handmade item, and gourmet handcrafted treats. Sounds amazing to me!
Yay! The March box is here. I can't wait to see what is under the tissue paper!
Ooh! Something to unwrap, yummies and a book that is new to me!
The information Card lists the items in the box. I appreciate that the font is easy to read!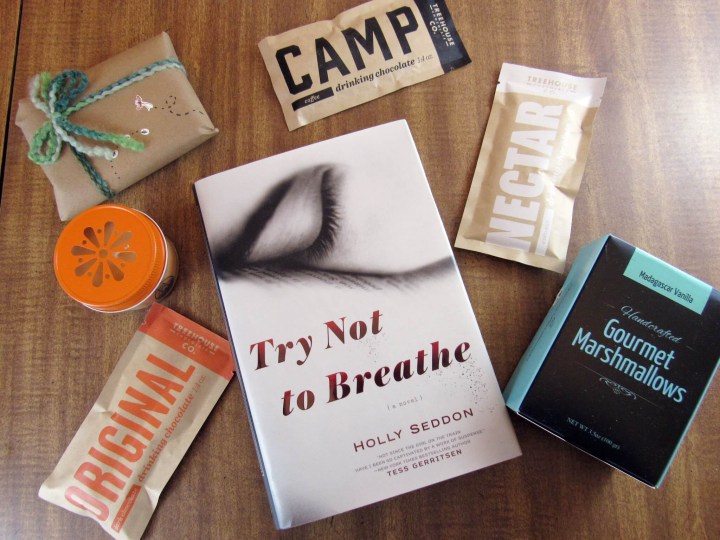 The March box looks great! I can't wait to read the book and try everything out.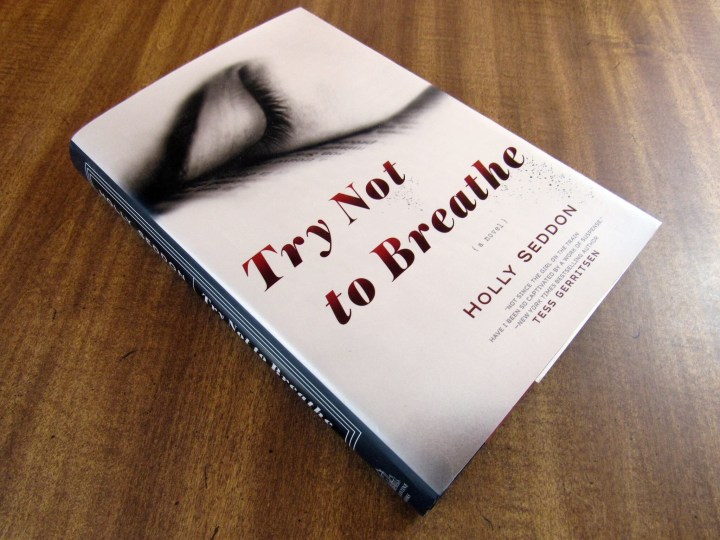 The March book is Try Not to Breathe by Holly Seddon ($17.77). Sssh! Don't tell Brandy that I read the book as soon as I was done taking pictures instead of writing the review. I couldn't resist. The snow was falling, the book sounded interesting; I had to get cozy and read the entire book last night. I found it to be sad in some ways. What I like is how both Amy and Alex progressed at the same pace to the realization of what happened in their lives. I do like the book and can see it continuing as a series if the author chooses. I will now seal my lips to not give anything else away!
Alex Dale is lost. Destructive habits have cost her a marriage and a journalism career. All she has left is her routine: a morning run until her body aches, then a few hours of forgettable work before the past grabs hold and drags her down. Every day is treading water, every night is drowning. Until Alex discovers Amy Stevenson. Amy Stevenson, who was just another girl from a nearby town until the day she was found unconscious after a merciless assault. Amy Stevenson, who has been in a coma for fifteen years, forgotten by the world. Amy Stevenson, who, unbeknownst to her doctors, remains locked inside her body, conscious but paralyzed, reliving the past.

Soon Alex's routine includes visiting hours at the hospital, then interviews with the original suspects in the attack. But what starts as a reporter's story becomes a personal obsession. How do you solve a crime when the only witness lived but cannot tell the tale? Unable to tear herself away from her attempt to uncover the unspeakable truth, Alex realizes she's not just chasing a story—she's seeking salvation.

Shifting from present to past and back again, Try Not to Breathe unfolds layer by layer until its heart-stopping conclusion. The result is an utterly immersive, unforgettable debut.
The owner of Treehouse Chocolate Co. ($9.00) could write a book about his adventures. Sailing through pirate territory, being struck by lightening, and falling in love with the cacao bean while working on a cacao farm in Hawaii. The single sourced organic cacao is from the Oro Verde farmer own cooperative in Northern Peru. Three delicious choices are provided: Camp which is single origin dark chocolate with organic coffee, Nectar which is single origin dark chocolate with coconut milk and coconut nectar, and Original consisting of rich dark chocolate.
The beautiful Viveltre Marshmallows with Madagascar Vanilla Caviar ($6.99) pairs well with the drinking chocolate. 6 gourmet marshmallows made with Madagascar vanilla bean awaits you. There is no caviar in the marshmallows. I am a fan of Madagascar Vanilla and feel it adds that extra special burst of taste. The marshmallows are good until 3/30 so freeze them up to 3 months if you are not going to eat them right away. The marshmallows are real food!
The Red Fingerless Gloves by Warmer Style ($14.00) is handmade with knit sweater fabric. The result is fingerless gloves that are great for the spring and fall. I wore them last night because it was cold and snowing! It is still snowing today!
The Peaches and Ginger Bridge Nine Candle ($12.00) has a light peachy scent with ginger undertones. The 100% soy candle has a cotton wick and offers about 20 hours of burn time. The scent lingers in the background creating an atmosphere that says read a book!
I am ecstatic about the March Cozy Reader Box! It came on the perfect weekend when it was cold and snowing. The items selected are of excellent quality. I enjoyed reading this book and had to finish it in one night! The book comes in right at the price of the box depending on the Amazon price for the book. Be sure to use the COZYREADER coupon to save $10.00 for life!  It's still a great value because most book subscriptions don't meet the cost of the box.  It's a great second month for the Cozy Reader Club. Be sure to subscribe to April's offering!
Visit Cozy Reader Club to subscribe or find out more! Save $10 off every month in your subscription! Use coupon code COZYREADER.
The Subscription
:
Cozy Reader Club
The Description
: Cozy Reader Club is a monthly subscription box service delivering cozy reading straight to your door! In each box, you'll discover a recently released women's fiction novel, artisanal coffee, tea or hot chocolate, beautiful handmade items and delicious gourmet treats. Treat yourself to some "me" time.
The Price
: $64.95 per month