The Cate & Chloe VIP program is a jewelry subscription box delivered to your front door once a month. Each box contains on point and on trend Cate & Chloe pieces!  Boxes are customizable and always come with extra goodies to keep our VIPs extra happy.  To ensure that you get pieces tailored to your style, Cate & Chloe have a VIP Style Quiz  to gauge your tastes.  Choose between 3 subscription options starting at $19.99 – The Starter Package (1 item), Double the Fun (2 items), and Full VIP Status (3 items).  The cost per box drops with extended subscription terms, so the longer the subscription, the more you can save!
Quick look at the VIP Style Quiz.  You choose your favorite metals, colors, and looks to help stylists choose pieces that suit your personal style.
First look in… well, second really.  I removed the information card to show you the pretty oak leaf tissue paper.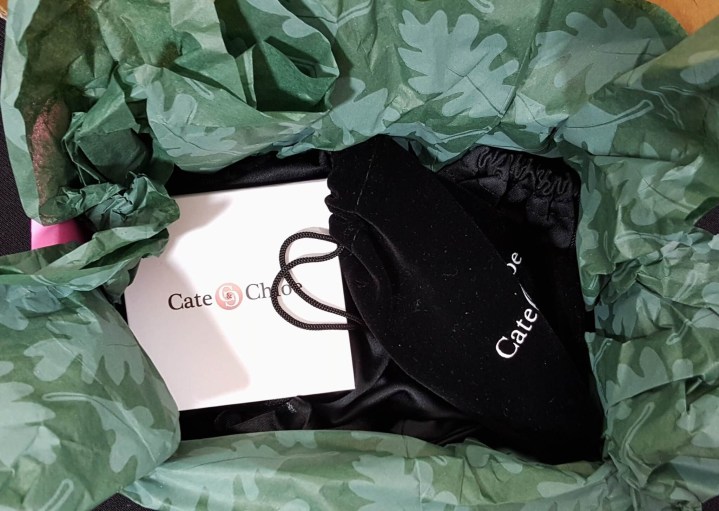 Everything comes packaged in its own fabric pouch or gift box.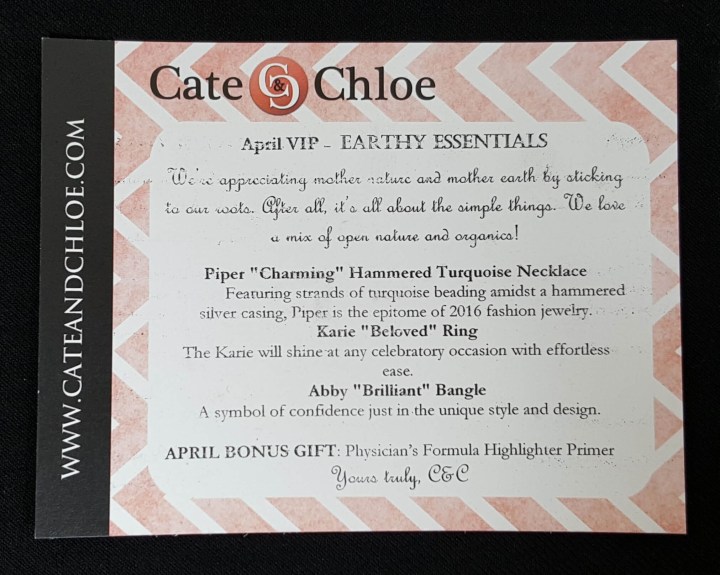 The aforementioned information card – this has a brief description of each item in the box.  It's a little hard to read, but here's what it says:
April VIPs – EARTHLY ESSENTIALS

We're appreciating mother nature and mother earth by sticking to our roots.  After all, it's all about the simple things.  We love a mix of open nature and organics!

Piper "Charming" Hammered Turquoise Necklace

Featuring strands of turquoise beading amidst a hammered silver casing, Piper is the epitome of 2016 fashion jewelry.

Karie "Beloved" Ring

The Karie will shine at any celebratory occasion with effortless ease.

Abby "Brilliant" Bangle

A symbol of confidence just in the unique style and design.

APRIL BONUS GIFT:  Physician's Formula Highlighter Primer

Yours truly, C&C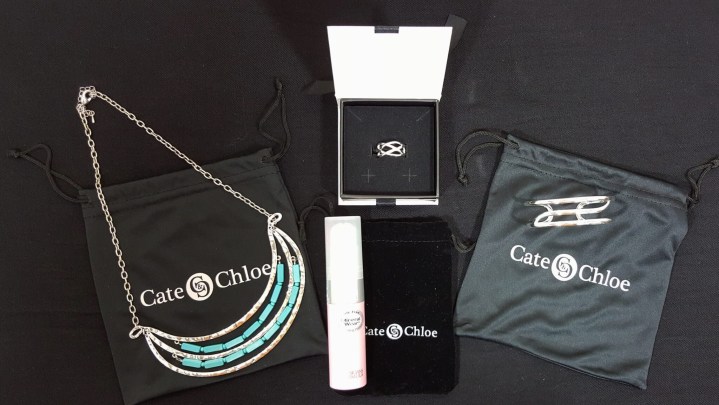 And here are my lovelies!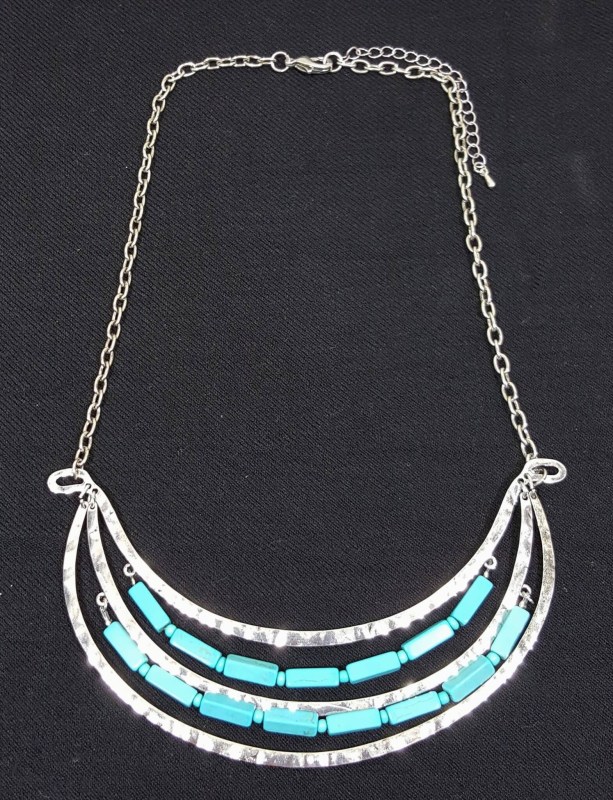 Piper "Charming" Hammered Turquoise Necklace ($59.00):  This is a silver plated zinc alloy necklace with a 19″ chain (plus 3″ extender).  The color pop is modest, making this an easy statement piece for first-timers. The hammered detailing keeps things rugged and earthly.
I have yet to master the art of layering jewelry, so I am a huge fan of statement necklaces.  Plus, I absolutely love the silver/turquoise combination with the hammered detail and actually have a pair of silver hammered earrings and a bangle that will match this perfectly (although they might be a bit much if worn altogether).  Although large, this piece is not overwhelming, and its beautiful simplicity makes it easy to wear.
Karie "Beloved" Ring ($?):  This is a silver plated, designer-inspired style featuring a simple, thin woven design.  I could not find this ring on the C&C site, so am not sure of the value.  The link is for the matching ring that C&C have.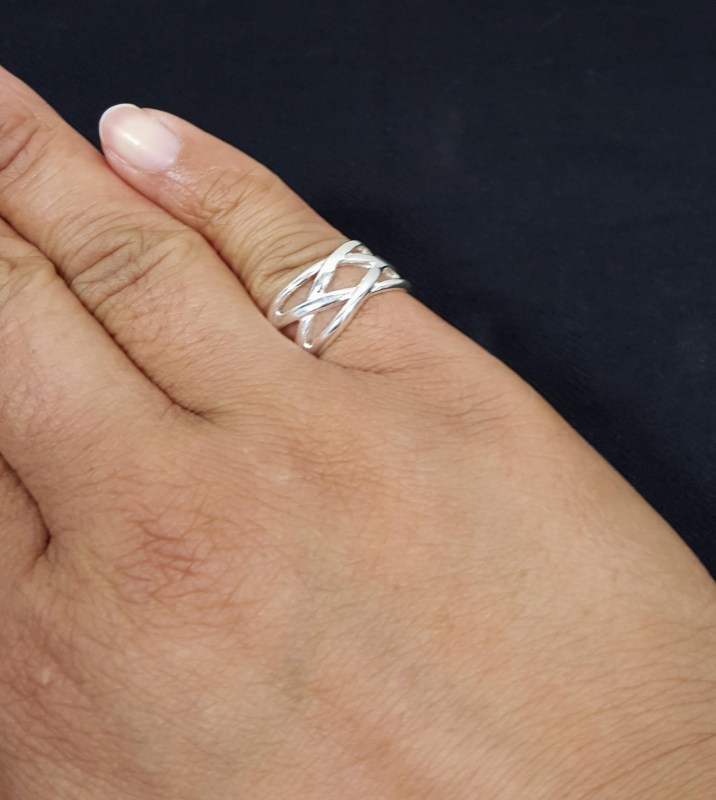 I don't the size of this ring.  I have large fingers and wear a 9 on my ring finger, so I'm assuming that it is around a 7.  My teenage niece is just starting to develop a taste for jewelry, and this ring is in line with her tastes.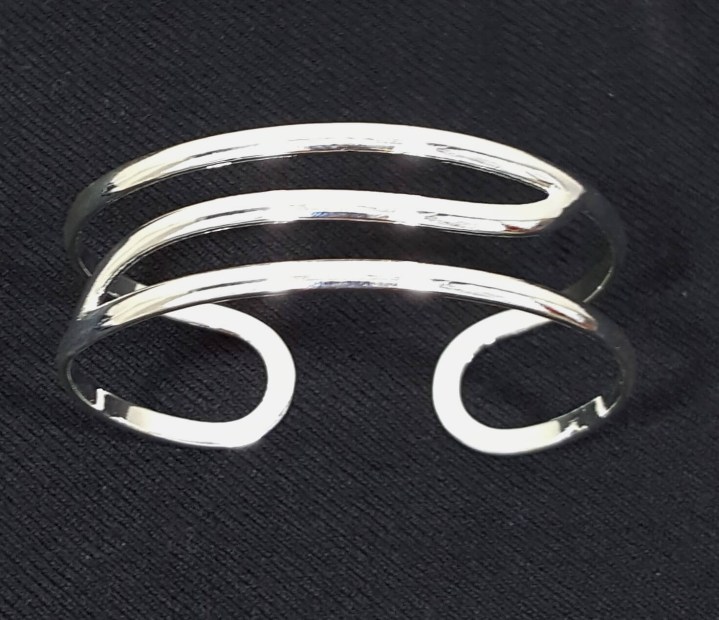 Abby "Brilliant" Bangle ($99.00):  This is a silver plated cuff bangle with a simple, yet elegant design.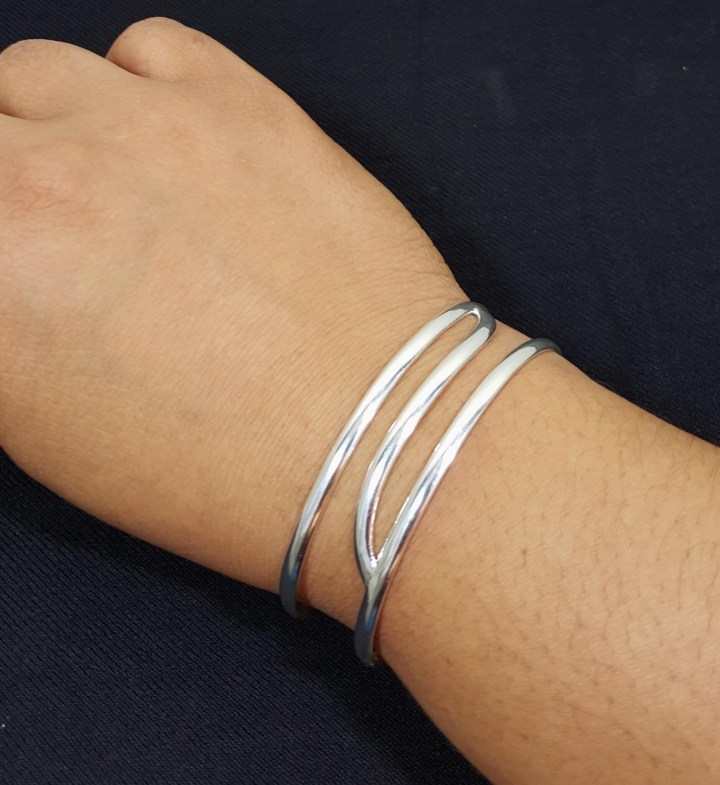 I am so grateful that this is a cuff.  My knuckles and wrists are large, so I have a hard time getting true bangles on.  This bracelet is perfect for me because I hate having things move around on my arm – it's a little distracting and they have a tendency to get caught on things when work.  I think I have to adjust this some more, it looks a little tight in the picture (it wasn't).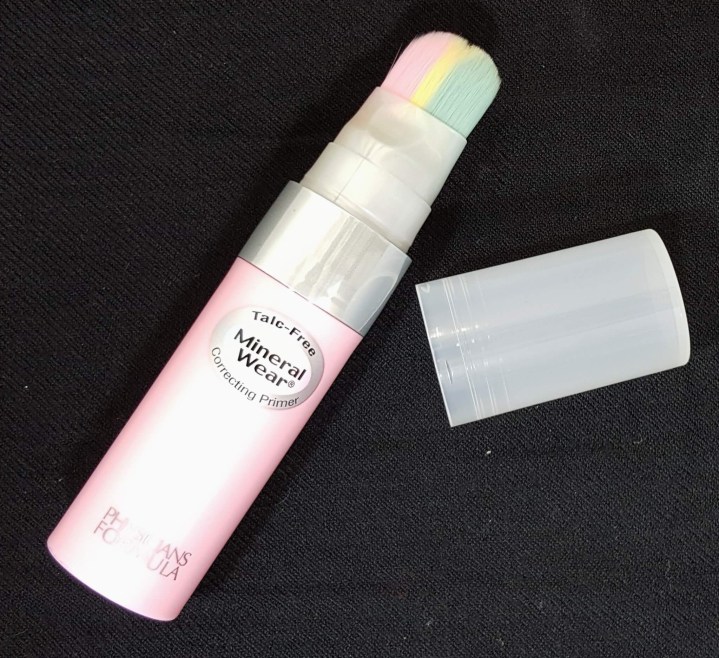 Physicians Formula Correcting Primer ($10.95):  This is my April bonus gift.  It comes in either nude or green – I got the nude.  In one simple step, this versatile primer color-corrects imperfections, smoothes skin texture, fills in fine lines and boosts makeup's staying power.  For the first application, it takes about 10-15 twists to get the product into the brush.  I think mine had an air pocket because it spurted out when it finally hit the brush!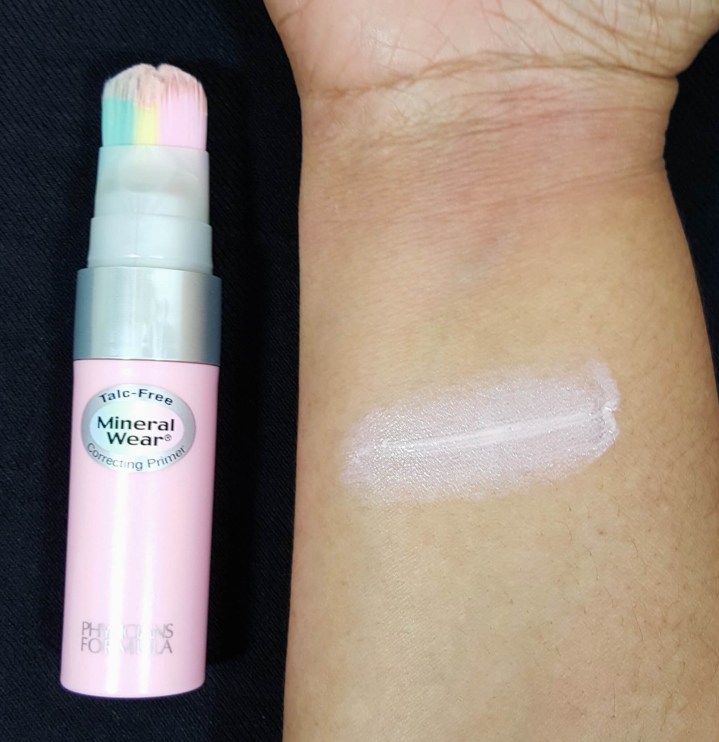 So, I'm not sure that this is a universal primer and will have to try it underneath my foundation to see how it works with my skin tone.  The brush is super soft, but I didn't feel that it was effective at blending the primer onto my skin.
Even without a price for the Karie "Beloved" ring, the Cate & Chloe VIP box had a value of $158!  That is nearly 4x the cost of a single month (this box is $39.99), and with the ring, the value more than likely goes up to or over the $200 mark.  While some of the retails seem a bit inflated, I feel the convenience of the service and the quality/style/selection of the items makes it a draw.  Plus, the pieces that I received have some versatility.  They can be worn together for an overall look, alone for a little dazzle, or easily mixed with pieces in my jewelry collection.   FYI – you can request any item from the Cate & Chloe shop in your box and if they have it in stock, they'll put it in.
Check out the Cate & Chloe VIP box and let me know your thoughts.
Through April 5 with code HELLOAPRILVIP20 new members will receive the following for only $15.99:
1 piece of designer Cate & Chloe jewelry
Physician's Formula highlighter primer
Free shipping
Visit Cate & Chloe VIP to subscribe or find out more!
The Subscription
:
Cate & Chloe VIP
The Description
: Jewelry of the month club. Get 2 of Cate & Chloe's most popular pieces in the mail monthly (a $200 value!)
The Price
: $39.99 per month