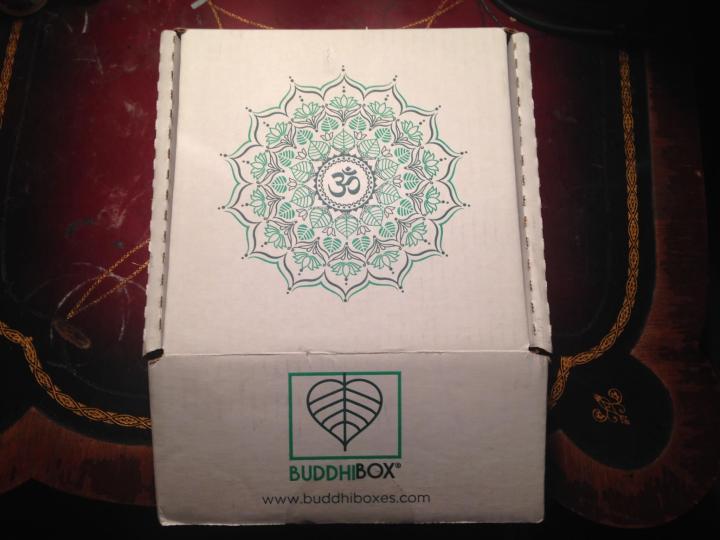 BuddhiBox is a monthly box meant to enhance yoga practice and encourage healthy living. BuddhiBox is $30.95/month for a curated mix of 4-6 samples and full size products. They also offer a sample size box for $11.95/month. BuddhiBox ships via USPS on the 10th of each month. This is a great box for anyone that is new to yoga or even those who are dedicated yogis.  And the box has some really cool designs.
All the items in the February 2016 Buddhibox.
Vata Lip Balm – Hurraw ($4):   This creativity inspiring Vata (wind) balm is made from cold-pressed organic sesame oil and featuring an infusion of ashwaganda scented with almond, Guatemalan cardamom and Turkish rose.  It smells delicious.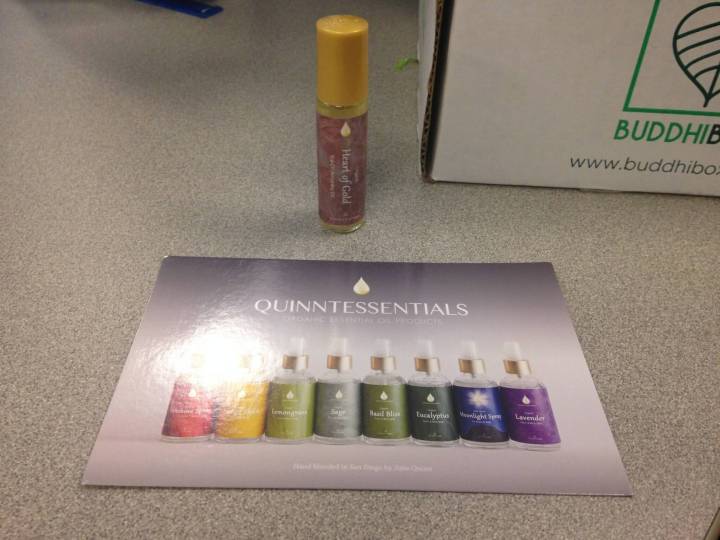 Heart of Gold Blend-Quintessentials ($30):  I use these oils all the time but this one is pretty special.  It is handmade in small batches with the finest organic and vegan ingredients. The Heart of Gold blend features fragrant jojoba, lavender, geranium, cedarwood, clary sage, petitgrain and ylang ylang essential oils.  I felt it working its magic to open my heart chakra immediately.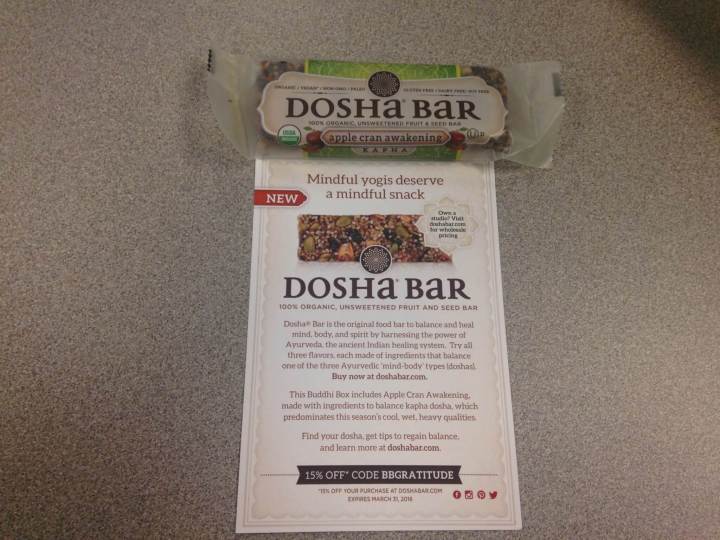 Dosha Bar ($4):  Harnessing the power of Ayurveda, this organic, unsweetened Kapha apple cran awakening fruit and seed bar is made without added flavoring, preservatives, fruit powders, lab made protein powders or fiber supplements.  It's a perfect snack.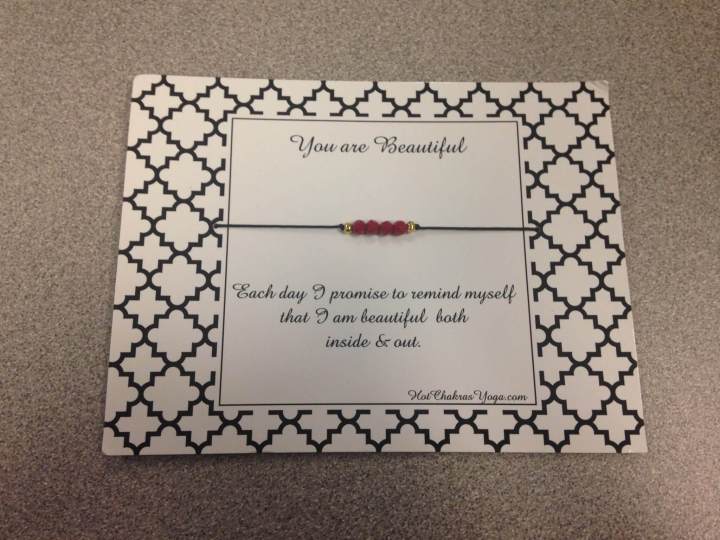 You Are Beautiful Bracelet – Hot Chakras Clothing  ($20):  This unique bracelet is a reminder to tell yourself everyday that you are beautiful inside and out.  It is simple and lovely.  It also comes with a 20% off coupon.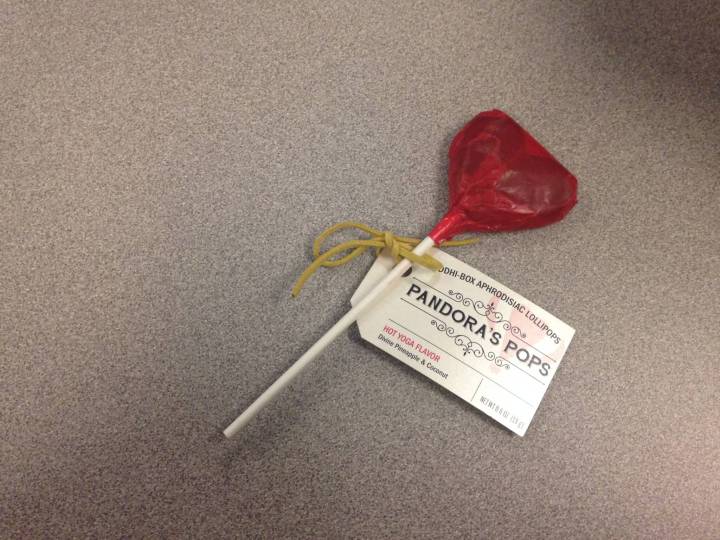 Aphrodisiac Hot Yoga Lollipop – Pandora's Pops ($8):  This handcrafted organic, vegan and gluten free lollipop is designed to spark relationships and enhance romance and is made from herbs that support the desire and reproductive response of women and men.  It is flavored with divine pineapple and coconut.  I'll try this one out on my next date…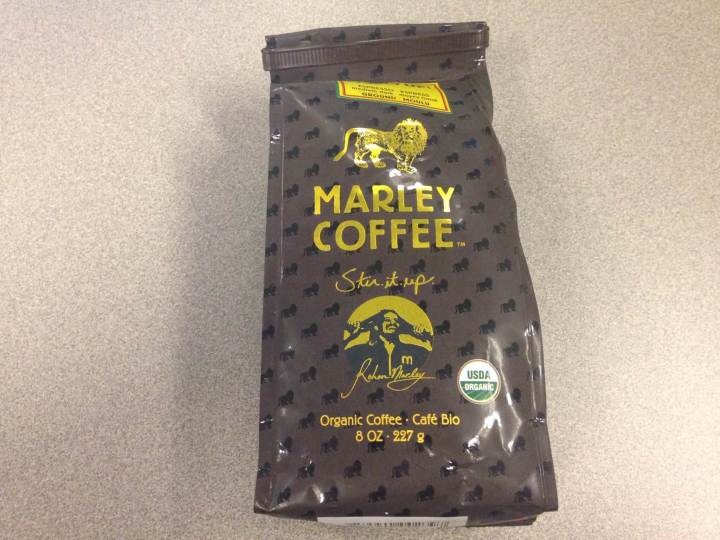 Buddhi Bonus ($10):  This 100% organic Lively Up espresso blend is made by Rohon Marley and a portion of the proceeds from the sale of this coffee go towards youth soccer programs kicksforcause.  Yummm I can smell this through the bag!

Eka Pada Rajakapotasana Asana Card:  The card provides a concise overview of the pose both spiritually and physically and it also includes a "How to:" section.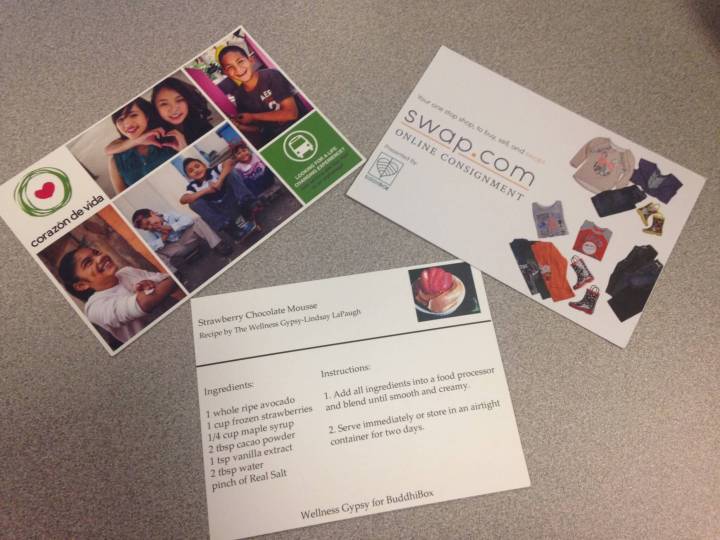 Strawberry Chocolate Mousse Recipe by The Wellness Gypsy-Lindsay LaPaugh:  Um, yes!
Reminder to keep the heart open.
A percentage of boxes sold by BuddhiBox during the month of February will benefit Corazon de Vida, a for-purpose organization providing life changing support for orphaned and abandoned children in Baja, Mexico. Their mission is to end child abandonment by breaking the cycle of poverty.
February's BuddhiBox total value is approximately $76.  I really love how they ties all the items to the heart.  I also really appreciate the quality of the items in this box.  BuddhiBox has an interesting assortment of products that are both practical and useful.  It's really awesome that they donate a portion of their proceeds to charity.
Visit BuddhiBox to subscribe or find out more!
The Subscription
:
BuddhiBox
The Description
: A box to enhance your yoga practices and lifestyle. Items will include healthy food, supplements, beauty products and yoga accessories. Boxes will consist of a mix of 4-6 samples and full-size products.
The Price
: $31.00 per month