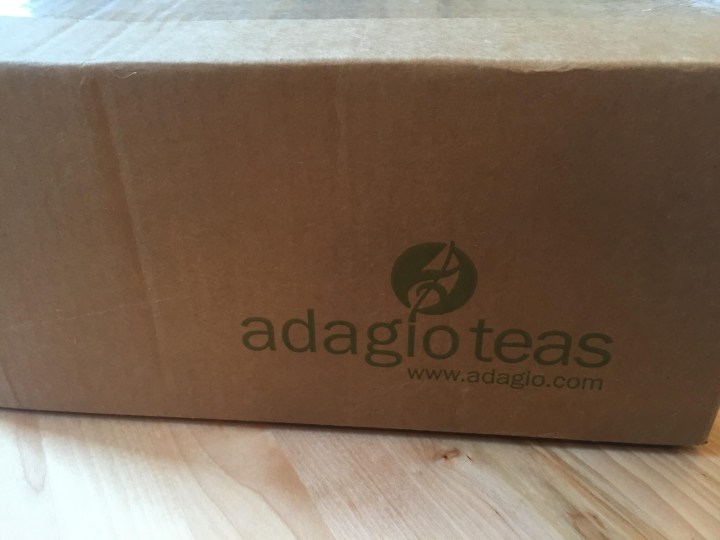 Adagio Teas Club is a bimonthly tea subscription service that sources its teas from the most delicious ingredients currently available. It allows you great flexibility in specifying what you would like for them to deliver: black, flavored, decaf, herbal or green/oolong teas. Once every two months, you will receive two bags of loose leaf teas that match the general type of tea that you select. I selected herbal teas.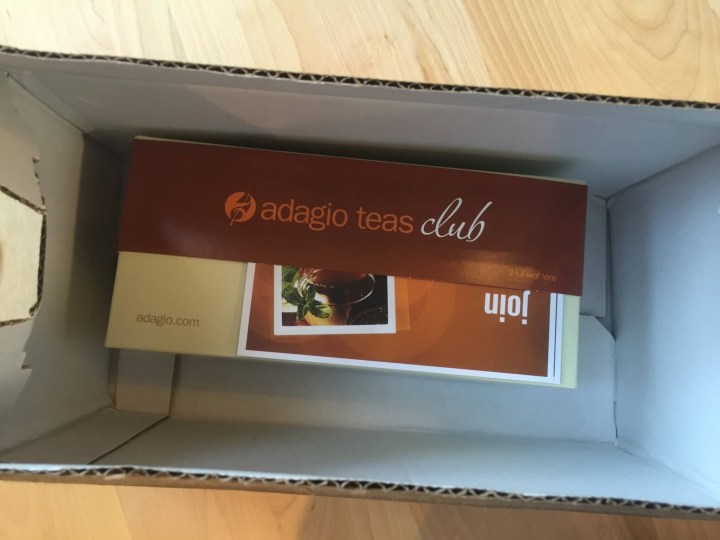 My two teas arrived in a lovely box inside another box. Clearly the people behind Adagio Teas put some thought into presentation.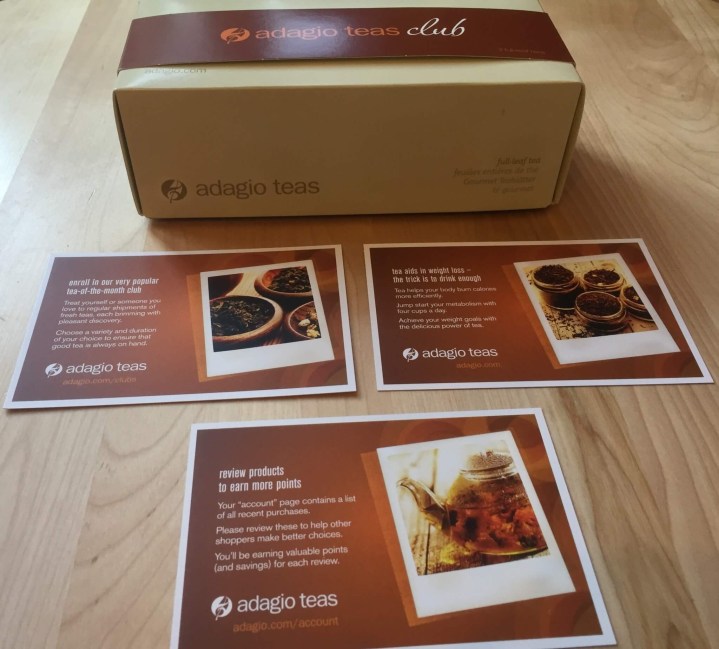 In addition to the box of teas itself, I was delighted to find cards welcoming me to the club and inviting me to "lose weight deliciously" by drinking tea.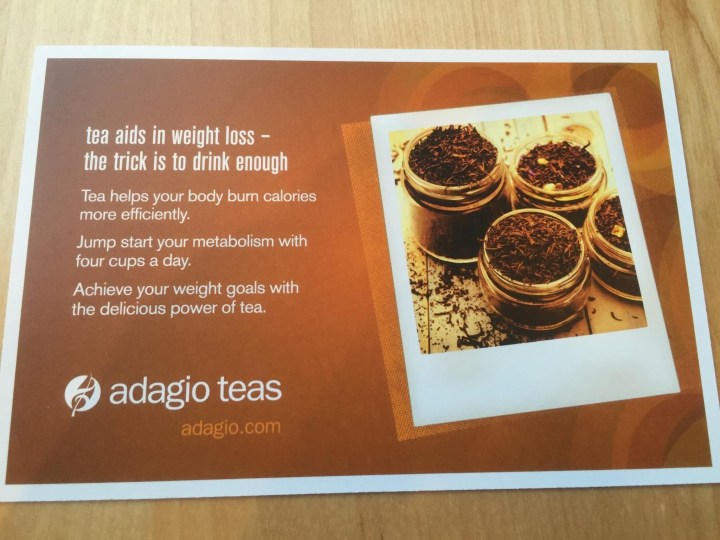 I was excited to try the two teas contained in this shipment: citrus mate and chamomile. Each tea arrived in a 3 oz bag, each of which makes approximately 38 cups of tea. Since I drink roughly 4 cups of herbal tea each day, these two bags put together should last me about 19 days.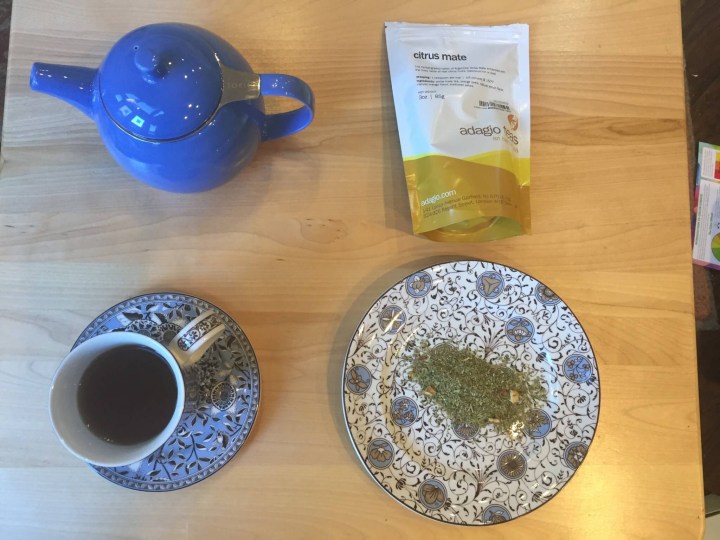 Adagio's citrus mate tea tastes of grass with slight hints of orange and lemon. Produced from Argentine Yerba Mate, this herbal tea contains caffeine, so I won't be drinking much of it. It's too bad for me, though, since Yerba Mate is such a nutrient-dense plant. Its leaves contain 24 vitamins and minerals, 15 amino acids and loads of antioxidants. As a tea, though, I wish the citrus notes were more pronounced.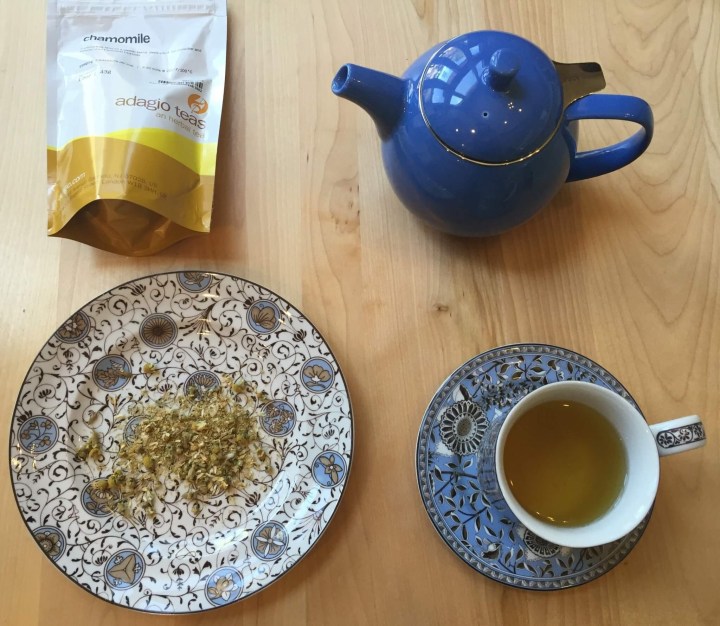 Adagio's chamomile tea was delicious. While Adagio claims that this chamomile tea harkens back to Earl Greys, I don't taste it. It has no discernible bitterness. Instead, this chamomile, produced from flowers found in the Nile River Valley, tastes of sweet apples and flowers. Chamomile is widely praised for its calming, nutritive effects.
By prioritizing taste above all else, Adagio has produced wonderful teas that I would be happy to enjoy daily. I look forward to exploring more of their herbal offerings as the year progresses. Adagio Teas Club is one of the least expensive tea subscriptions – $59 for 6 months of herbal tea or $99 for the entire year (the black, decaf, and green tea subscriptions cost a tad bit more). Still, as others have noted, you'd do just as well ordering their teas directly from them. The monthly subscription cost is roughly equivalent to the cost of their teas plus shipping and handling.
Visit Adagio Teas to subscribe or find out more!
The Subscription
:
Adagio Teas
The Description
: Twelve months of healthy living through tea is surprisingly affordable. Fresh loose teas will arrive at your doorstep like clockwork, inviting you on a journey of discovery with each shipment.
The Price
: $59 per half-year