Threads Monthly is a subscription box for "women who love clothing and accessories."  Each month promises one t-shirt, one or two pieces of jewelry, and a themed accessory, all for $20 a month.  We had never gotten a Threads Monthly box before, so we were excited to when the pretty purple envelope showed up in our mailbox.  (I reviewed this box with the help of my budding fashionista daughters, aged 14 and 11.  The box is aimed at women, but my girls wear adult clothes and the items in the package were perfect for tweens, teens, and grownups too!)
Here's a picture of everything in the bag.  (Sorry, my camera had a hard time focusing with all the shiny!)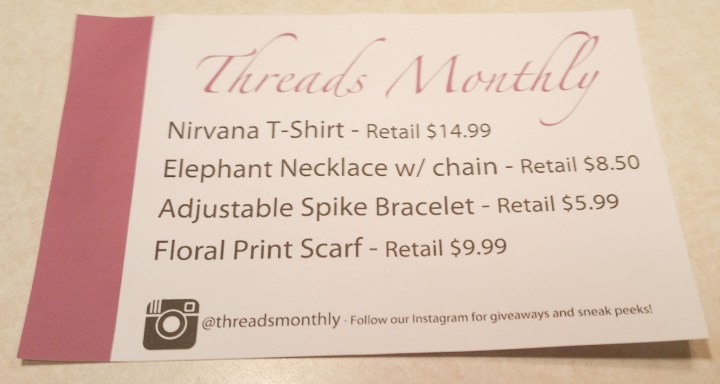 The card enclosed listed the contents of the bag, along with their retail prices.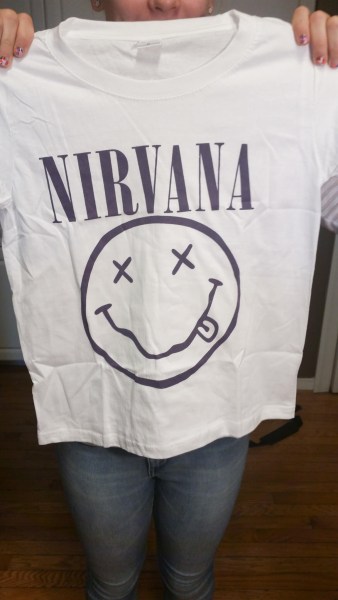 The T-Shirt:  The t-shirt in this month's bag was a super fun throwback to Nirvana.  My girls are lucky (or cursed) because they've grown up listening to music from the 1980s and 1990s, so they know who Nirvana was.  But even without being fans of the band, the shirt has a fun vibe and, even though it's hard to tell, is a pretty dark purple color on white.  Verdict on the shirt – two thumbs up.  They loved it.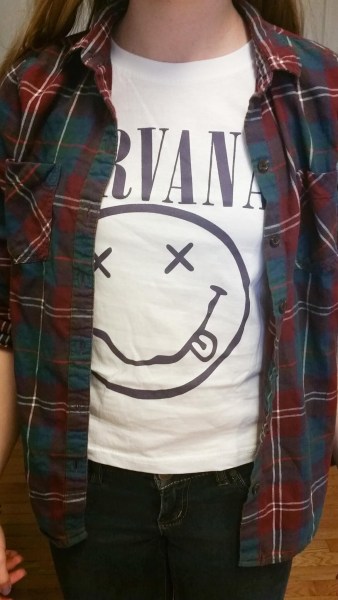 Here's a picture of my older daughter, rocking the Nirvana t-shirt in a totally appropriate grunge fashion…under her plaid shirt.  (I think the shirt was out of the bag for about 5 minutes before it ended up on her.  Clearly a product that will get used!)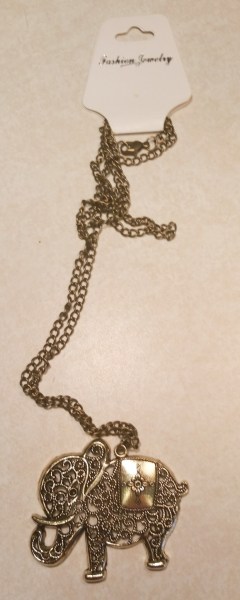 Jewelry Piece #1:  The first piece of jewelry in the bag was an elephant necklace.  It's a nice golden color with a long chain and an intricate elephant pendant.  I figured this would be a big hit with my older daughter, who has some other elephant jewelry, but she passed on this necklace because she has a similar one already.  My younger daughter was happy to take this, although I plan on borrowing it!  Clearly trendy since my older daughter already has one like it!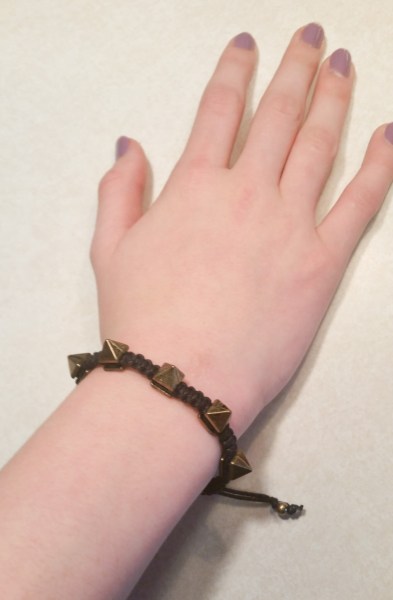 Jewelry Piece #2:  The second piece of jewelry was an adjustable spike bracelet.  This is a braided leather bracelet with little copper-colored metallic spikes or studs on it.  I thought it was cute.  My daughters were a bit more lukewarm on it.  However, I've seen tons of bracelets like this out and about – trendy even if it isn't in my daughters' usual styles.    Verdict on the jewelry:  mixed…but isn't that always the case with jewelry?  Since it is a bit more personal, not every piece is going to be spot on.  But both of the pieces included in this month's bag are definitely in style!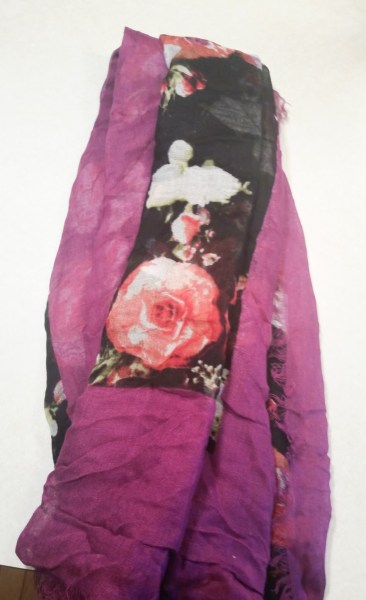 "Themed" Accessory:  The site claims the last item will be a "monthly themed accessory."  I wasn't sure what the theme was, but the accessory was a gorgeous scarf.  Part of the scarf is a nice burgundy color and the rest is black with red and white flowers.  Not only is the scarf really pretty, but it is also super-large, maximizing the different ways it can be used.  My daughters and I had a great time testing it out as a scarf, a shawl, a wrap, and even a kimono vest (who knew?)!  Verdict on the scarf – a favorite!  This is a great accessory and all three of us have plans to use it.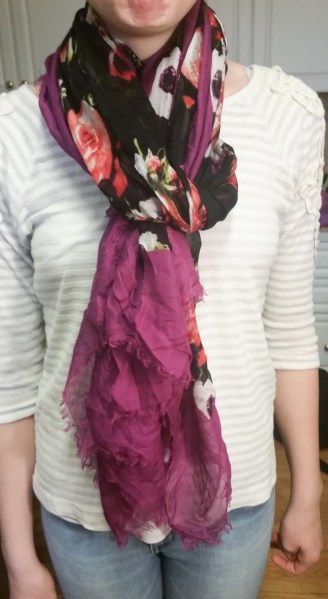 We had a blast with this month's box from Threads Monthly.  Every item was trendy and cute and will definitely make it into our wardrobe and accessory rotations.  This is a fun box, appropriate for teens and grownups, as well as older tweens who wear grownup sizes (subscriptions from adult S to adult XL, subject to inventory availability).
Visit Threads to subscribe or find out more! Save 20%! Use coupon code HELLO.
The Subscription
:
Threads
The Description
: Included in every month's subscription is one T-shirt, one or two pieces of fantastic jewelry, and one "Monthly Themed" accessory.
The Price
: $20.00 per month