Simple Loose Leaf is a monthly tea box, which promises to delivery anywhere from 12 to 24 hand selected, loose-leaf teas each month, based on your subscription level. Subscriptions range from $12.99/mo. for a three month plan to $11.99/mo. for a six month plan. They are currently also running a special on their monthly plan, regularly $13.99/mo. to receive your first month for $3.99.
The box I received had five varieties: Citrus Hibiscus Herbal, Ginger Peach Rooibos, Jade Oolong, Japanese Sencha Saga, Kenilworth Ceylon Black. They include a handy description card with the teas, which includes some information about proper brewing, and the individual pouches have brewing times as well. Each package is re-sealable and has about 8 grams of tea, which is enough to make a pot of tea, or if you are like me and brew a cup at a time, around 3-4 cups.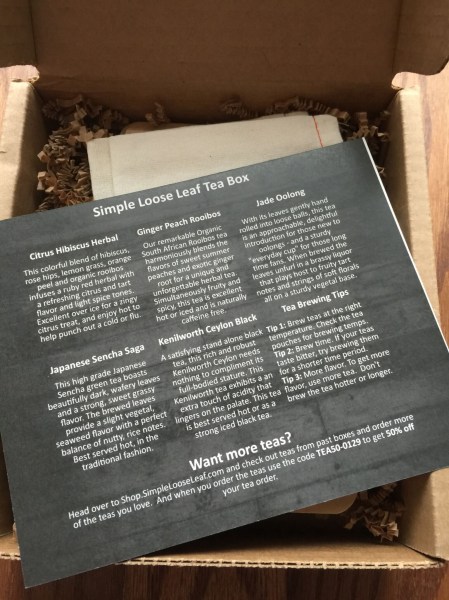 The box also came with a couple packets of organic cane sugar–which is nice if you like a little sweetness in your tea. I've found that a single packet, especially in herbal or fruity teas makes a big difference without adding a ton of sweetness. They also throw in a couple of muslin bags, presumably for steeping, but there are six varieties, and they are a pain to clean-out and re-use. If you drink a lot of tea like me, you probably have your own bags or strainer/infuser, so these are pretty useless.
But now, on to the teas!
Citrus Hibiscus Herbal
The Simple Loose notes read, "This colorful blend of hibiscus, rose hips, lemon grass, orange peel, and organic rooibos infuses a ruby red herbal with a refreshing citrus and tart flavor and light spice tones. Excellent over ice for a zingy citrus treat and enjoy hot to punch out a cold or flu."
My take: I am not a fan of herbal teas, especially ones that are overly floral. This one wasn't bad–the lemon grass and the heavy hand on the citrus helped keep it a little more balanced, but also probably overwhelmed the rose hips/hibiscus a bit. It definitely needed the sugar to help take the edge off (I used two packets of my own). I don't think I could take this one with any regularity, but it was definitely better iced than hot.
Ginger Peach Rooibos
The Simple Loose notes read, "Our remarkable Organic South African Rooibos tea harmoniously blends the flavors of sweet summer peaches and exotic ginger root for a unique and unforgettable herbal tea. Simultaneously fruity and spicy, this tea is an excellent hot or iced tea and is naturally caffeine free."
My take: When I say I don't like herbal teas, generally, I make a huge exception for ginger-peach. I still put some sugar in this (again, two packets) but that's just to really bring out that lovely peach taste. And oh, the aroma… I loved this one. I enjoyed it hot, but this one really makes an excellent iced tea. It's without a doubt made it into my regular tea rotations.
Jade Oolong
The Simple Loose notes read, "With its leaves gently hand rolled into loose balls, this tea is an approachable, delightful introduction for those new to oolongs and a sturdy 'everyday cup' for those long time fans. When brewed the leaves unfurl in a brassy liquor that plays host to fruity tart notes and strings of soft florals all on a sturdy vegetal base."
My take: I am a fan of oolongs in general, much more than the ceylon blacks. The Simple Loose notes were pretty spot on–it did have fruity notes (but not overpowering) and the floral notes are very subtle–it's much more vegetal than floral. It's an easy drinking tea, too. It feels clean and refreshing, without being overly tannic. This was a good middle ground between the green tea and the black tea. Another favorite.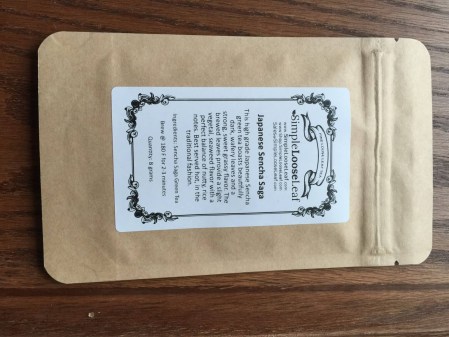 Japanese Sencha Saga
The Simple Loose notes read, "This high grade Japanese Sencha green tea boasts beautifully dark wafery leaves and a strong, sweet grassy flavor. The brewed leaves provide a slight vegetal, seaweed flavor, with a perfect balance of nutty, rice notes. Best served hot, in the traditional fashion."
My take: A very decent green tea. Like most green teas, it definitely had the 'grassy' vegetal notes that you would expect from a lighter tea, and I did pick up on the seaweed taste. Not sure I got the "nutty rice" notes, but on the whole this is a solid green tea, and if you enjoy green tea (which I do) you will not be disappointed.
Kenilworth Ceylon Black
The Simple Loose notes read, "A satisfying stand alone black tea, this rich and robust Kenilworth Ceylon needs nothing to compliment its full-bodied stature. This Kenilworth tea exhibits an extra touch of acidity that lingers on the palate. This tea is best served hot or as a strong iced black tea."
My take: This was another one that I was not a huge fan of–its a solid black tea, I just tend to favor oolong, and I found this to be a bit 'in your face' for my tastes. If you like your English breakfast teas, then this is definitely the one for you.
Overall I think the Simple Loose Leaf is a great box. I could do without the extras–since they are things you're likely to have anyway and don't really add anything to the box. But the key to this subscription is that you get a great variety of high-quality teas, which lets you sample from the literally thousands of tea varietals available without any hassle. The teas in this box were well selected, exceptional teas, even if they didn't all fall into my personal tastes–that's half the fun, being exposed to things I wouldn't normally try. A very good value and a great subscription box.
Visit Simple Loose Leaf to find out more or to subscribe–take advantage of their 3.99 first month introductory offer! Just use coupon code 399TEABOX at checkout!
The Subscription
:
Simple Loose Leaf Tea
The Description
: Each month you will receive a box of wonderful and unique loose leaf teas. Every month we make sure you have everything you need to get the perfect cup of tea brewing right out of the box!
The Price
: $16.98 per month