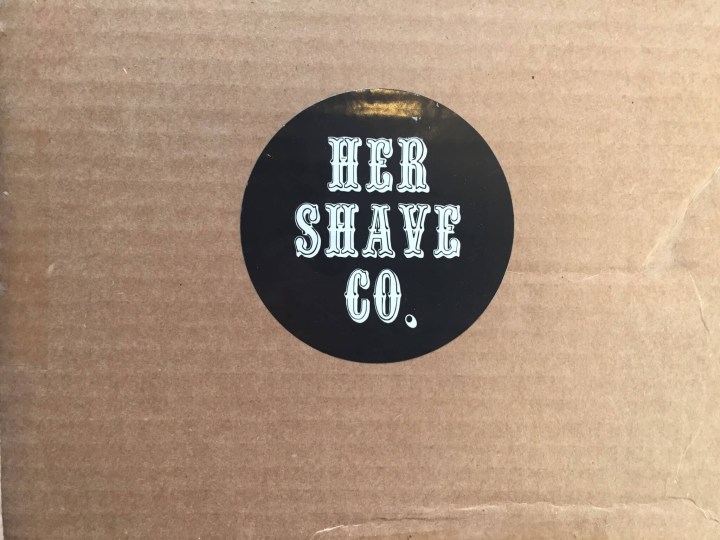 Her Shave Co. is a monthly subscription box bringing a high-end traditional wet shave experience to women everywhere.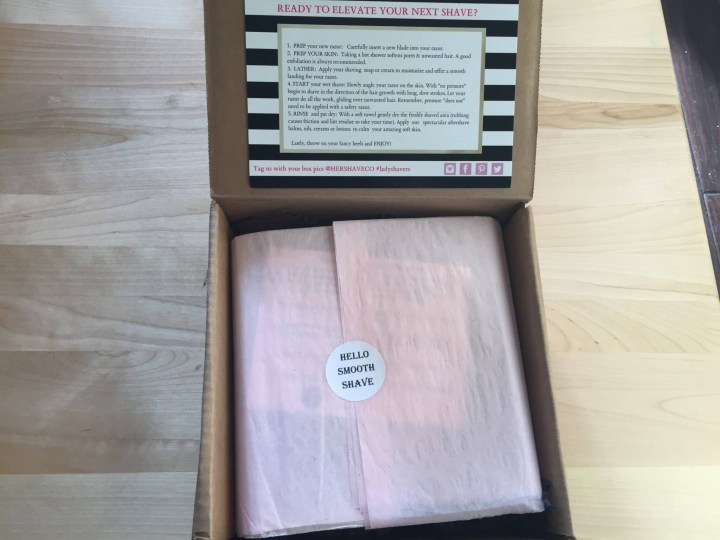 Each month you will receive a beautifully wrapped box containing an assortment of items to make your shaving experience an indulgent luxury. While your first month's box will contain a razor, 10 blades, a brush, at least one skin care product and some helpful shaving tips, future boxes will contain 10 blades, 2-3 full-sized skin care products as well as samples of other products. As this was my first box, it contained the razor!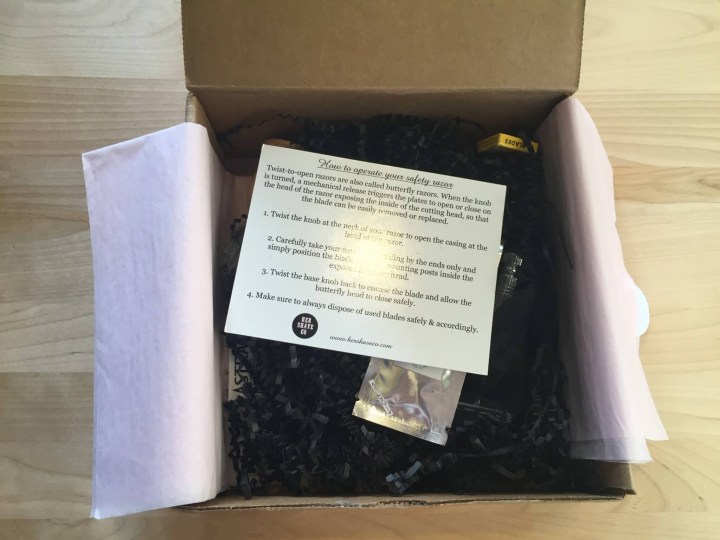 Her Shave Co. promises that each month the value of your box will exceed what you paid for it. If for some reason you need to skip a month, you can easily put your account on hold without being charged by sending an email to that effect. They really do try to make signing up a no-brainer.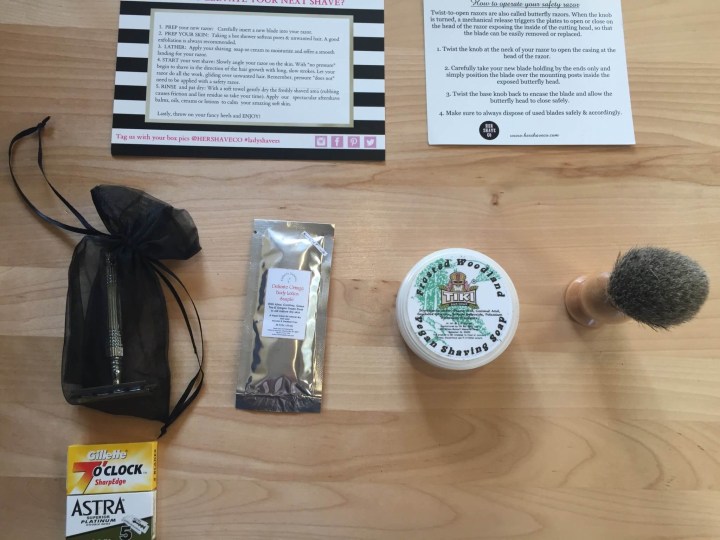 This first box contained a butterfly razor, replacement blades, a brush, vegan shaving soap, body lotion and instructions and tips on wet shaving.
I really appreciated all of the instructions and helpful tips! I'm a total newbie to wet shaving–so new that I didn't even realize that what I've been doing all this time wasn't considered wet shaving! Needless to say, I studied the directions thinking, "What have I gotten myself into?"
The razor was not only beautiful, but surprisingly easy to operate, thanks to the handy dandy instruction card. Once I got over the blade installation hump, I was beginning to get excited about finding out what all the fuss was over.
My first box arrived with two different types of blades. I used the Gillette ones this go-round. Next time, I plan to switch it up and use the Astra blades. Each blade comes individually wrapped inside the box, which I appreciate. My only question now is how to dispose of the blades. I'm thinking about getting a small plastic container to store the used blades in. Then, once I've used up all the blades in a box, I can move the used ones into the old box for disposal. Can anyone experienced in wet shaving offer up a better solution?
Although I'm not sure what type of bristles these are, they are super soft and fluffy. My husband's brush is made from badger. Are all brushes made from badger? I have no idea, but I know that I liked using this brush!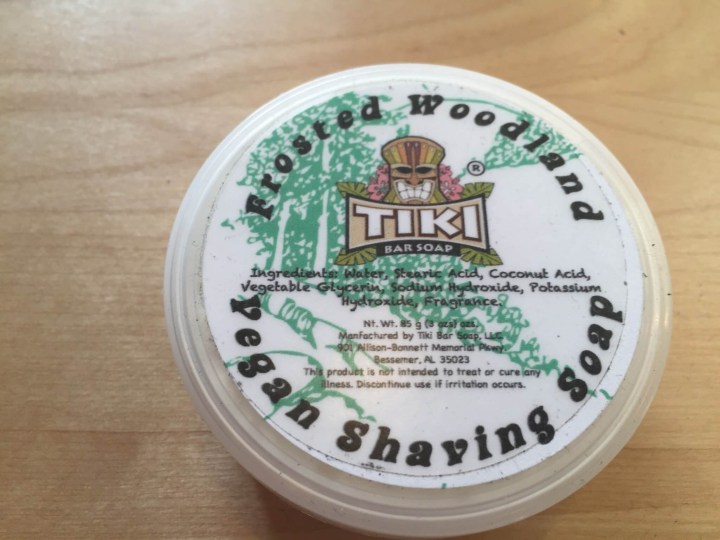 Tiki Bar Soap's Frosted Woodland Vegan Shaving Soap (although I couldn't locate this scent specifically, their shave soaps retail for $14-$28 each) has a pleasant, light, soap meets citrus scent. I have sensitive skin, yet this soap did not give me any problems.
For those who are on the fence about wet shaving, I can attest that using the provided razor, blade, soap and brush, I did achieve the closest shave I ever have. I couldn't stop touching my legs after I had used these products. I had no razor burn afterward (and I always get razor burn!). I did cut myself a couple of times, especially on my first leg, which I attribute to learning the ropes. I did much better on my second leg. I just have to remember: no pressure, especially when first applying the razor to the skin. After shaving my legs, I applied the enclosed body lotion sample to my legs and feet.
Flaherty Naturals Delicate Orange Body Lotion ($1.50 for the sample) is my new favorite body lotion for my super dry, stressed skin. My skin sucked this in as if it were Gatorade after having run for 50 miles. I used the entire sample on my legs and feet. I wish they had sent a gallon of it! The scent is lovely and light, and the lotion made my legs feel AMAZING. Between the shave and this body lotion, I felt like I had just walked out of the St. Regis spa (as if I knew what that would feel like!). I immediately scoured the Her Shave Co. website for options to purchase more of this, but alas, they don't have that feature. Still, I was able to locate the company online here. They sell on Etsy, and use only Certified Organic botanical oils and essential oils in their products. They produce a complete line of skin care products, which I can assure you I'm going to check out!
I can't tell you how much fun I had with this box! I can't wait to experience the products they will send next month! If they're anything like what I received this month, I'm sure to continue on my new journey of indulgent luxury shaving.
Visit Her Shave Co. to subscribe or find out more! Save 20% on your first month! Use coupon code SHAVE20.
The Subscription
:
Her Shave Co.
The Description
: HER SHAVE CO. is the first "women's only" shave club designed to save us time, money and offer a swanky shaving experience delivered to your door every month! Exclusively for women who desire the world's best shave in all the right areas~
The Price
: $24.95 per month