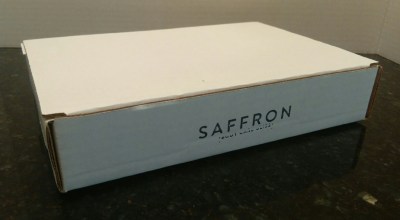 Saffron is a monthly subscription box of carefully selected handcrafted artisan soap and body care products.   They have three subscription options.  For $13.99 you can choose The Essentials Box with 2 excellent soaps or another bath product such as body butter, bath bombs, lip scrubs, and more.  For $19.99 you will receive The Premium Box with three soaps or a combination of soaps and bath products.  And, for $29.99 you can get The Family Box with five bars of soap or a combination of soaps and bath products.  There is an additional shipping fee of $2.99 for each box.  Also, their FAQ page says that on occasion boxes will contain bonus items from other suppliers such as scrubbies or bathroom decor items.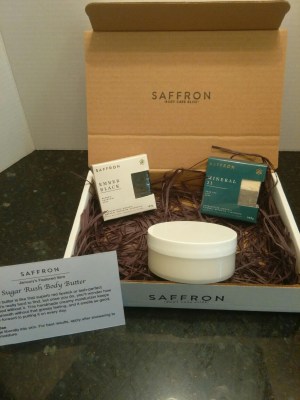 They also have a Saffron Soaps Store site where you can purchase extras of your favorites that you discover in your box.  Single Bars are priced at $6.99 and a box of four can be purchased for $27.99 (plus shipping).  We received three items in our box.
These two beautiful bars of handmade soap were in the box.  Aren't they pretty??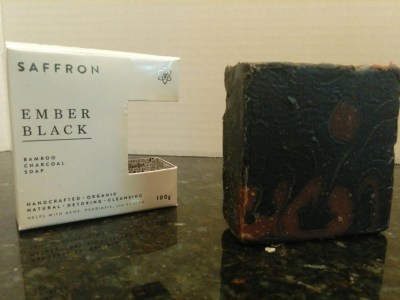 This is a bar of Ember Black – Bamboo Charcoal soap.  It contains extracts of bamboo charcoal that has been known to reduce or eliminate acne, breakouts, and other skin irritations.  It has a very light blackberry scent.  I have been washing my hands with this one for a couple days and they have never been softer.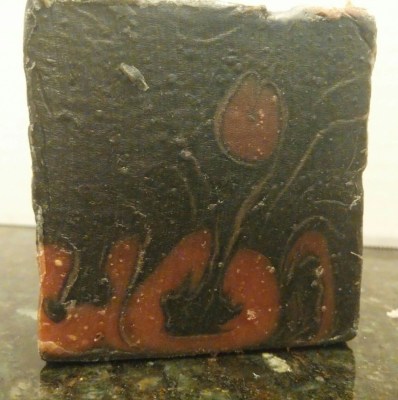 Look at the lovely swirls of color.  I usually don't care for fruity scents (at least fake ones), but this smelled so much like real blackberries that my husband threatened to eat it.  It smelled delicious.
The inside of both boxes is printed with this delightful doodling.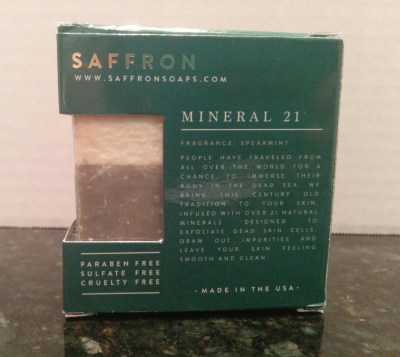 The second bar in the box was Mineral 21 – Dead Sea Mud Soap.  Their site says that the bar is, "Infused with over 21 natural minerals designed to exfoliate dead skin cells, draw out impurities and leave your skin feeling smooth and clean. Benefits: Relief from skin disorders including acne, eczema and psoriasis."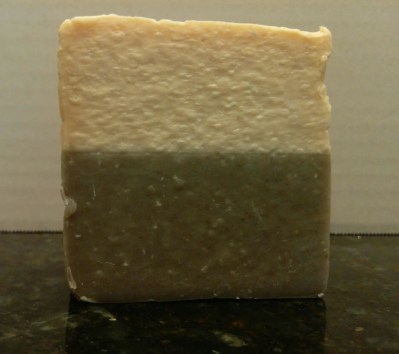 Again, the bar is lightly scented, but this one is a soft minty scent with Eucalyptus and Spearmint Essential Oils.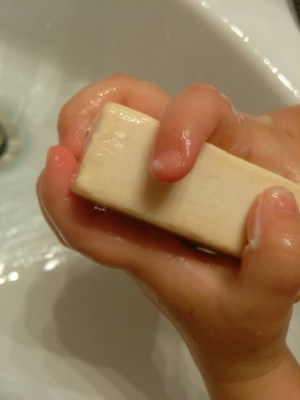 Two of my littles tried it out.  It had a rich lather and left their hands feeling really clean.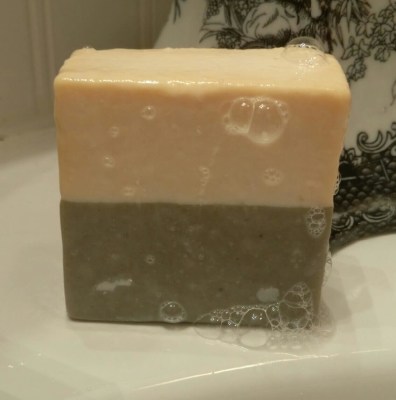 Check out those bubbles!!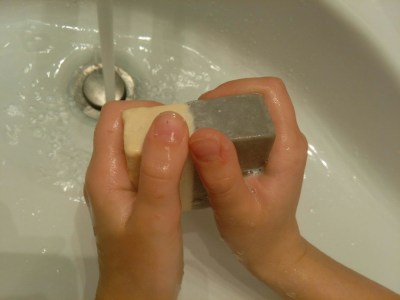 Daughter #2 has sensitive skin that breaks out with most popular name brand liquid soaps.  So, she was a perfect test subject for this all natural soap.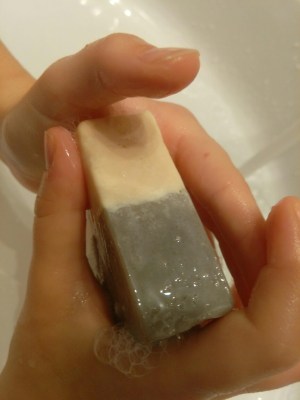 It was very gentle on her hands and left them soft and smooth.  (Woohoo!)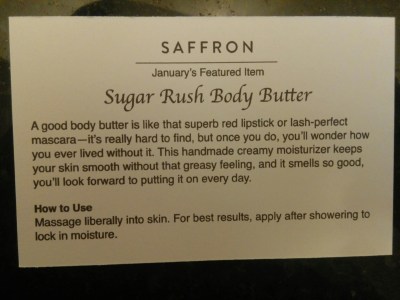 There was a product card for the third item in the box, Sugar Rush Body Butter.

The body butter is so new that they didn't even have product labels for it yet.  I appreciate an honest company that lets you know when something doesn't go just right.  I am glad that they went ahead and included the body butter.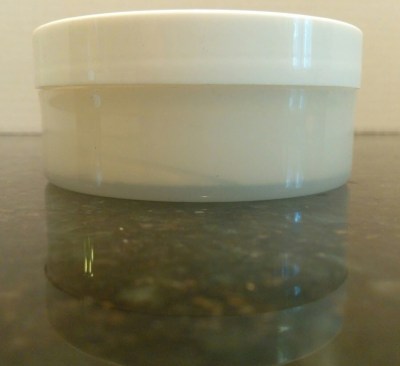 See, no label.    It is not even on their website yet.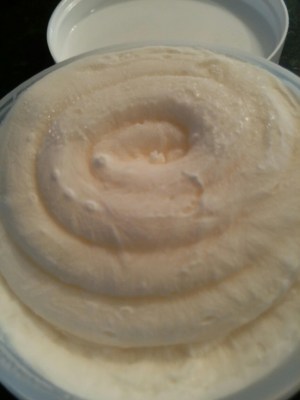 Just simple creamy white goodness.  It really is not greasy, just like the product description card says.  The scent was a little stronger than in the soaps, but not overpowering.
These were lovely soaps and a very nice body butter.  It's nice to be able to pronounce all the ingredients on a label.  Their products are also vegan and cruelty free.
Saffron Soaps also promises to be releasing a new product every month.  The new products will include moisturizers, bath bombs, bath salts, body butters, lip scrubs and more.  I love surprises!! This is a very nice subscription box of handmade artisan soaps and you really can't beat the price for the high value products.
Visit Saffron to subscribe or find out more! Get 30% off your first subscription box! Use coupon code  WELCOME.
The Subscription
:
Saffron
The Description
: We believe in better living. That's why we created Saffron, a monthly surprise packed full of artisan-crafted bath and body products. You will love what Saffron soaps can do to inspire happy, healthy skin.
The Price
: $16.98 per month