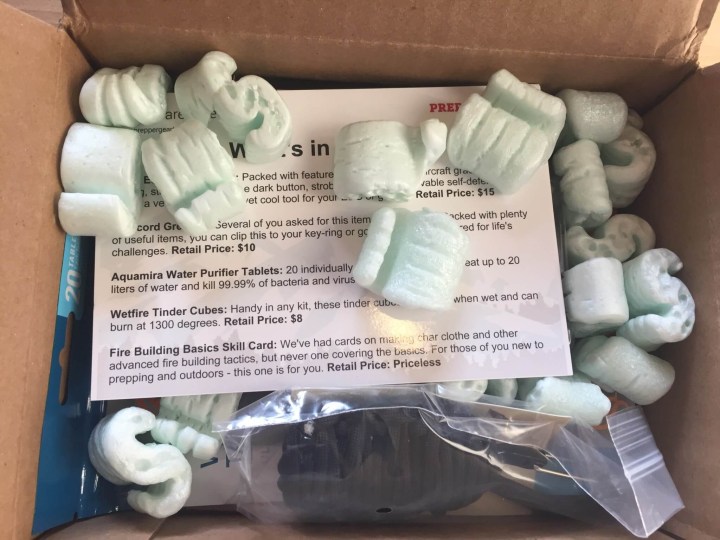 Prepper Gear Box is a subscription box that delivers, on average, 2-3 items of practical survival gear plus an information card to help you learn and practice new survival-related skills each month. Prepper Gear Box wants its subscribers to be prepared for any situation or emergency that may arise. As such, it's an ideal subscription for outdoor enthusiasts, hunters, hikers, campers, backpackers and survivalists. As a company, they try not to waste money on fancy packaging so that your money goes as far as it can into what matters most: gear and information.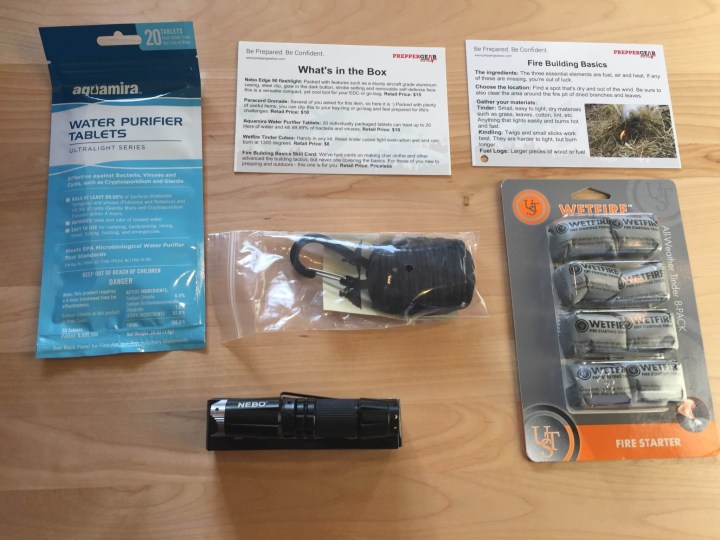 This month's box contained a flashlight, paracord grenade, water purification tablets, tinder and a fire building basics skill card.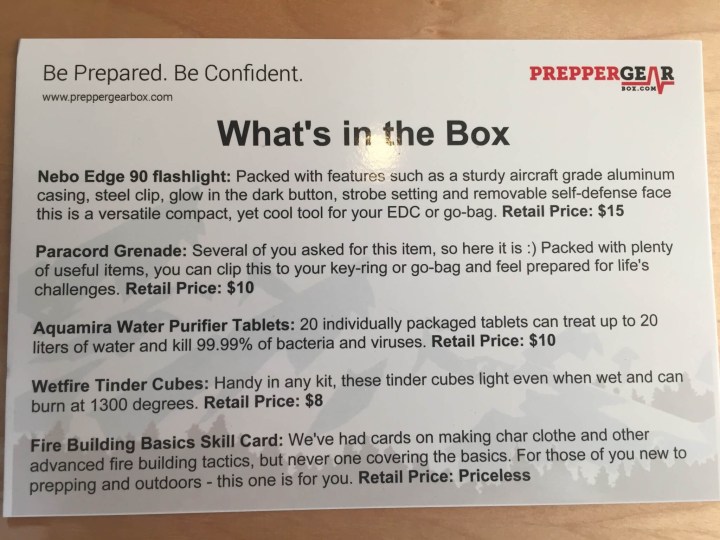 I love how the curators included notes as to the importance of each item in the box and why the items were included in this month's shipment.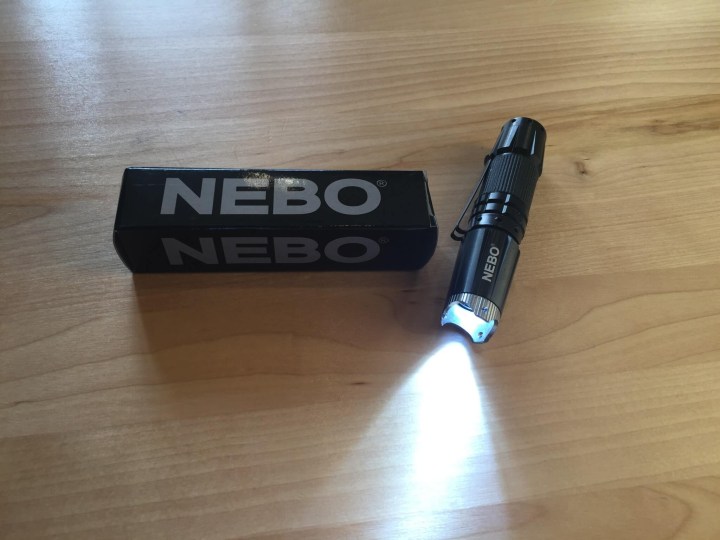 The Nebo Edge 90 Flashlight ($12.99) is a compact, rugged, water-resistant tactical flashlight. With only 1 LED, it has an output of 90 lumens. 1 AA battery will provide either 3 hours of continuous light or 5 hours of strobe lighting. I appreciate how small and light this flashlight is. The belt clip is especially convenient, whether it be for securing it to your pocket or the inside of your tent.
The Paracord Grenade ($10) is really a miniature survival pack rolled up into paracord. Each "grenade" contains: two fishing hooks, fishing line, two weights, two floats, two swivels, a flint rod, an alcohol pad, tinder, tin foil, a knife blade, a carabiner, 9 feet of paracord, iron wire, safety pins and a needle. The notes on the bottom of the enclosed packing list recommends keeping the "grenade" intact until used as it is very difficult to reconfigure the paracord once it has been untied. I love how convenient this tool is and how the carabiner can easily clip onto a belt buckle or the outside of a pack until needed!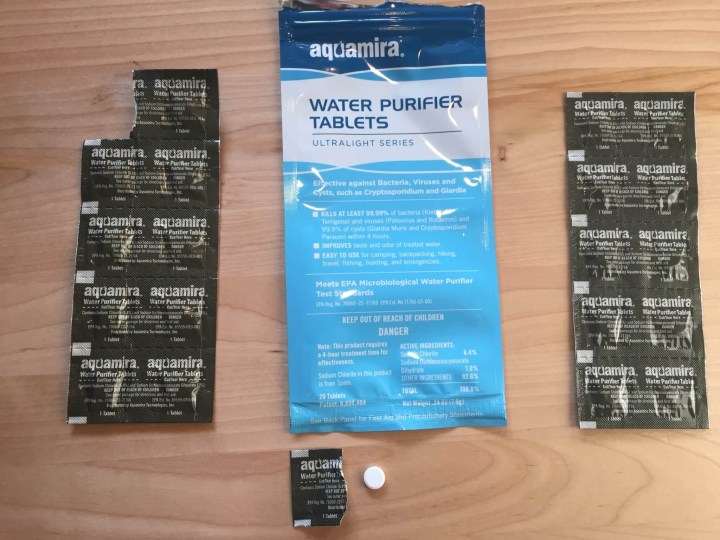 Aquamira Water Purification Tablets, 20ct ($10.99): When paired with a water filter, these tablets will yield safe, clean drinking water. Each tablet will purify 1 Liter of filtered water. Assuming you drink 4 Liters/day on your adventures, this pack will last for 5 days. Each tablet is individually wrapped and sealed for longevity. When compared to iodine, these tablets yield better-tasting water with fewer microorganisms. Although my water treatment teacher at REI claimed that purification was unnecessary in the US, if given the opportunity, I will always purify my water after filtering it. These are a great, easy, mess-free way to get delicious, safe drinking water!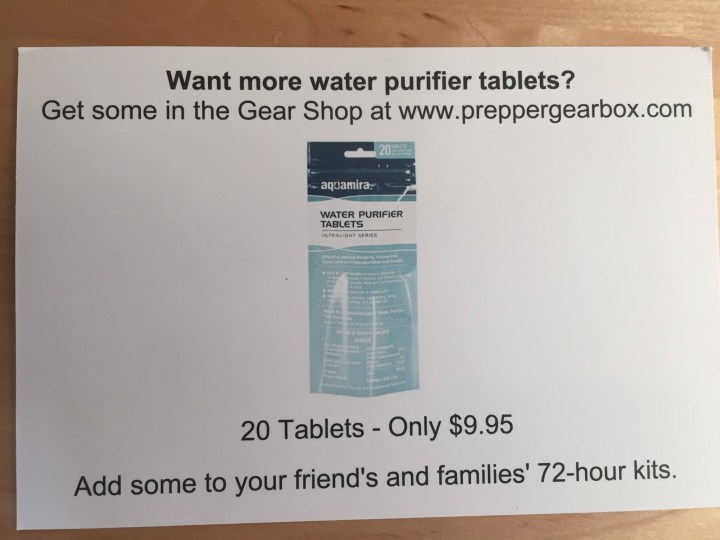 I especially appreciate how easy Prepper Gear Box makes it to order more purification tablets!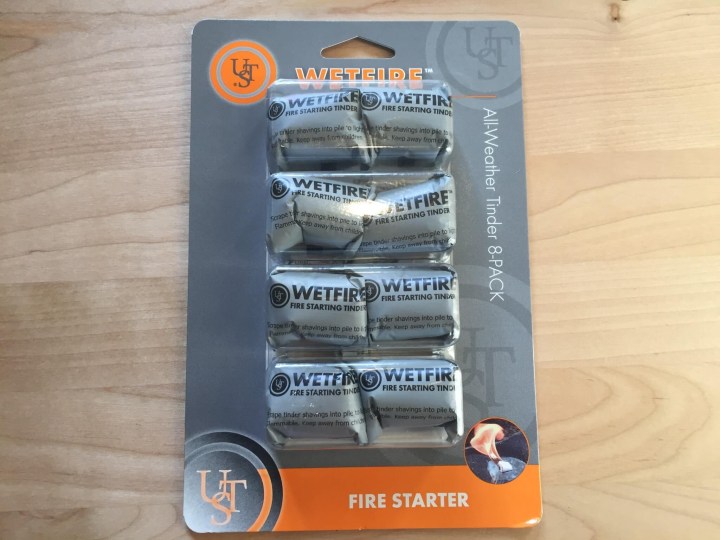 UST's Wetfire Fire Starting Tinder ($8) is great to have on hand for times when you'd rather not use your knife, when all the available tinder is wet or when it's very windy outside. It's a no-brainer for family camping. Depending on pack weight, you might be inclined to include some in your pack as well. Each sealed package of tinder has a five-year shelf life.
Finally, this month's Prepper Gear box included some good, useful information about building fires. Although I was familiar with it already, it can never hurt to get a quick refresher! Fuel, Air and Heat are key!
This month's Prepper Gear Box included loads of helpful tips and cool, useful gear. I can't wait to see what they have in store next month!
Visit Prepper Gear Box to subscribe or find out more! Save 10% on your first box with coupon code CRATE10
The Subscription
:
Prepper Gear Box
The Description
: A new monthly subscription box service for those who like survival gear and
education. Every
Prepper Gear Box contains 2-3 (or one very cool) carefully selected, high quality survival gear and preparedness items. Plus each box will have helpful tips, instructions and challenges to grow your survival skills and confidence in any situation.
The Price
: $25.00 per month