NatureBox is a monthly snack subscription box. Every month you'll receive 5 snacks and can add on additional premium snacks (or sometimes sale snacks!). You can create a "pantry" of snacks that will dictate what snacks you receive. We recently resubscribed to this box after a hiatus (as one of the oldest subscriptions out there it was one of our first boxes) because we enjoy the snacks so much!
We didn't receive an information card this month, but it doesn't really matter, since we picked out our snacks ourselves. The amount of snack varies depending on what you select — our selections came in 3 to 5 oz packs.  The box is pretty tall, and it's a  good thing — we ordered extra snacks, and it was fully packed.
For some reason, it is even more fun to unpack the box when its not a surprise!  Having selected our own assortment of snacks, we knew that we liked everything we ordered.  After you've tried a bunch of their huge selection of offerings, you can order up a box with confidence that it will be 100% awesome!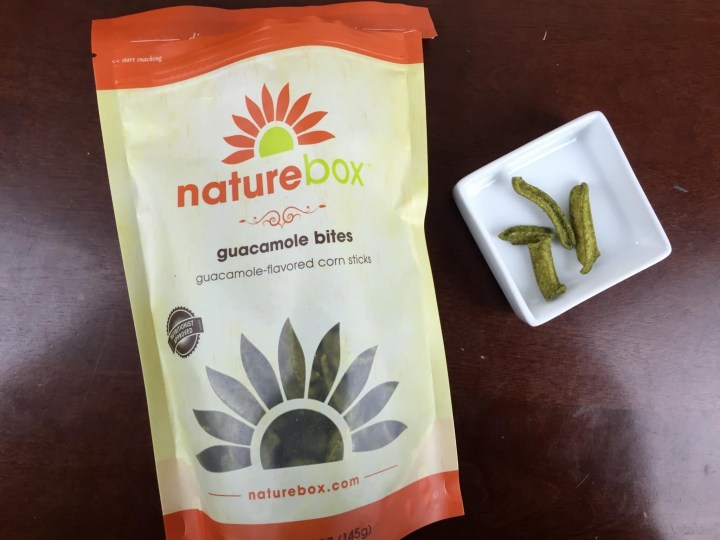 Guacamole Bites:  These have the texture and crunch of Fritos, but are just a tad crunchier, plus they have a rich and savory avocado flavor.  They are heavily seasoned, and we find them a bit salty for mass consumption — but our toddler absolutely loves them (it's OK, he's number three, so we are allowed to phone it in — but it's NatureBox, so we know there is nothing horrible in these)!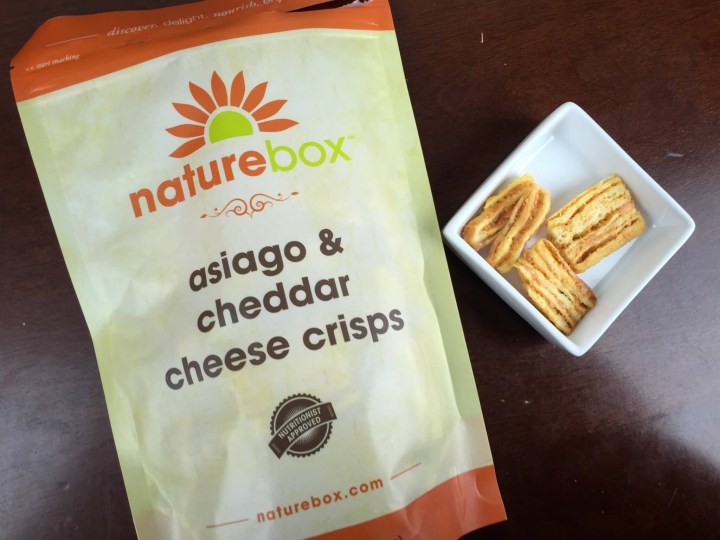 Asiago & Cheddar Cheese Crisps:  The nutty and sharp-style cheeses make this savory palmière-style crisps satisfying without being sweet.  We love them for satisfying a crunchy craving — they are perfect without adding anything to them.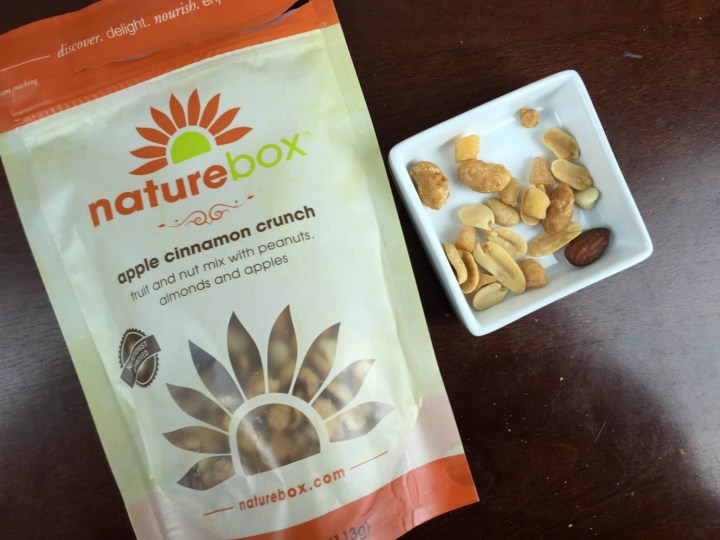 Apple Cinnamon Crunch:  Perhaps the best part about this mix is the near-uniformity of color and size among most of the ingredients — it makes it really difficult to cherry-pick, so you maintain a balanced mix of ingredients throughout the bag.  The roasted peanuts and big almonds are crunchy and good in their own right, but the cinnamon glazed peanuts and dried, sweetened apples are the bomb!
Strawberry Greek Yogurt Pretzels:  yogurt-covered pretzels are a great way to satisfy so many snacking needs at one time — sweet, salty, crunchy, creamy — this version adds a nice dose of strawberry flavor to keep things interesting.  These go really fast at our house – our 7 year old daughter loves to eat pink snacks!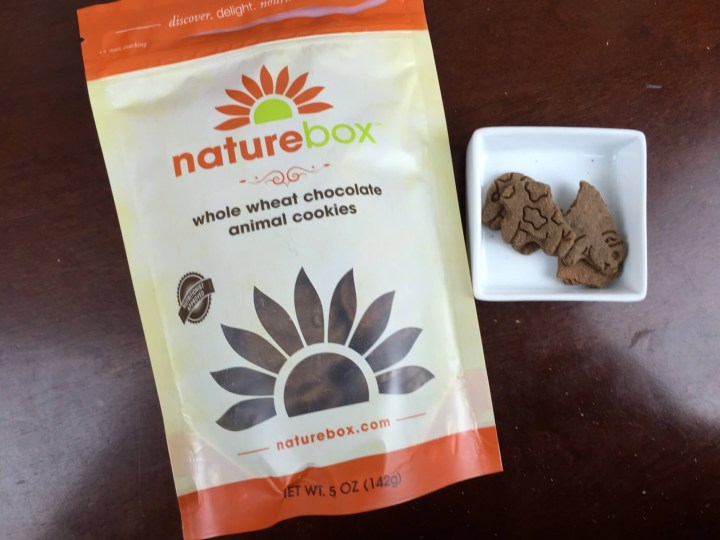 Whole Wheat Chocolate Animal Cookies:  I like the effect the whole wheat has on the consistency of the cookie.  It makes it crunchier without giving it the dry taste you get in most animal cookies.  It also complements the cocoa flavor exceptionally well.  The nice crunch and deep flavor make these standout from your typical animal cracker.
Crispy Coconut Squares:  These are a bit hard to describe, as they have no direct analogue.  Though they look a bit like Rice Crispy Treats, they are not gooey or overly sweet, and the texture is light and a bit flaky.  The taste is really addictive — I love that the coconut flavor is just a tad greasy or oily (in a good way), making them all the more decadent.
Dried White Peaches:  A simple snack, these have a nice, concentrated peach flavor.  They are slightly chewy, but not rubbery or tough.
Kung Pao Pretzels:  A long-standing favorite of ours.  Waffle-style pretzels are coated with a tangy and spicy coating that packs just the right amount of sweet and heat.  There are always a few in the bag that are absolutely blasted with the coating — we fight over these!
Nature box modifies its catalogue of snacks, adding new snacks all the time.  We look to check if anything new speaks to us, as it's always nice to discover new favorites.   Some snacks, like the Kung Pao Pretzels and Asiago Cheddar Crisps, always make their way into our selections!
Visit NatureBox to subscribe or find out more! You'll save half off your first month with this link – no code required.
The Subscription
:
NatureBox
The Description
: In each Naturebox Discovery Box you get 15-20 servings total from 5 different seasonally themed natural snacks. No HFCS, no artificial sweeteners, colors, or flavors! No partially hydrogenated crap.
The Price
: $20.00 per month