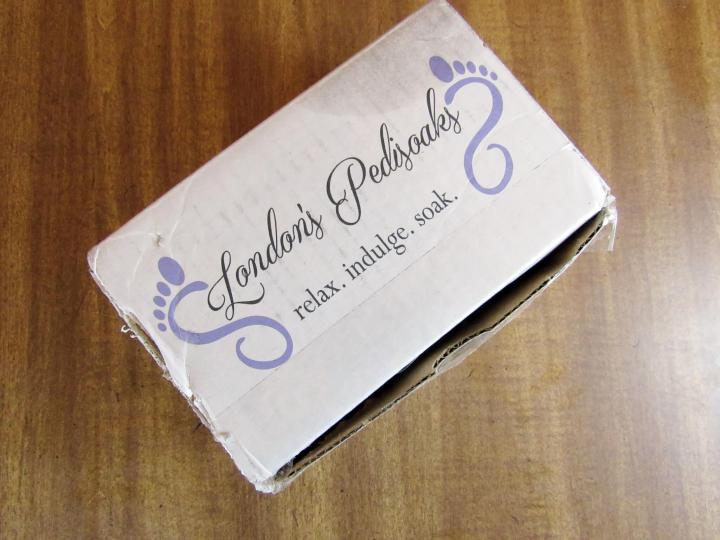 London's Pedisoaks is an indulgent way to pamper your feet! Each box contains 4 foot soaks, a foot butter, foot polish, and a few extra goodies! Soak your feet after a rough day in heels or running that marathon! The soaks can help with dry skin, calluses, athlete's foot, swollen & tired feet! The best part is the ingredients are all natural meaning that you could eat it although it is not recommended. There are no artificial colors, fragrances, parabens, or toxins in these products.
It seems all my boxes have a rough trip through the USPS system! I'm not sure what caused the stain in the first picture. Nothing leaked in the box.
 Ooh! All kinds of lovelies to pamper my feet! I can't wait to try it out.
The information card shows all the wonderful items that are in the box. It also describes the incredible benefits making me want to take care of my feet better!
The London's Pedisoaks box offers customization. Scent choices are Jazz Me Up, Lavish Touch, Zest of Life, or Mix and Match. You can further customize the subscription by selecting 4 oz Butter & 2 oz polish for those that love moisturized feet, 4 oz Polish & 2 oz butter for those that want soft feet, or be surprised. I received the Mix and Match Surprise Me box!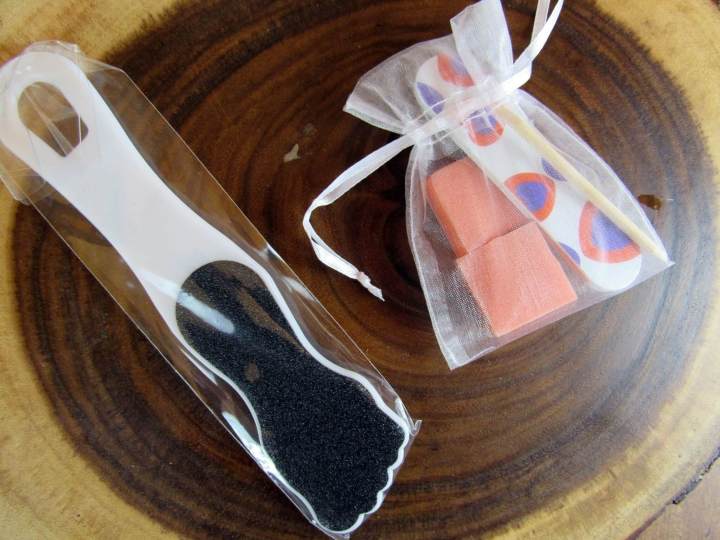 I did not use the extras on my feet for the review because I have not felt well. There was no way I would let my husband touch my feet with foot tools.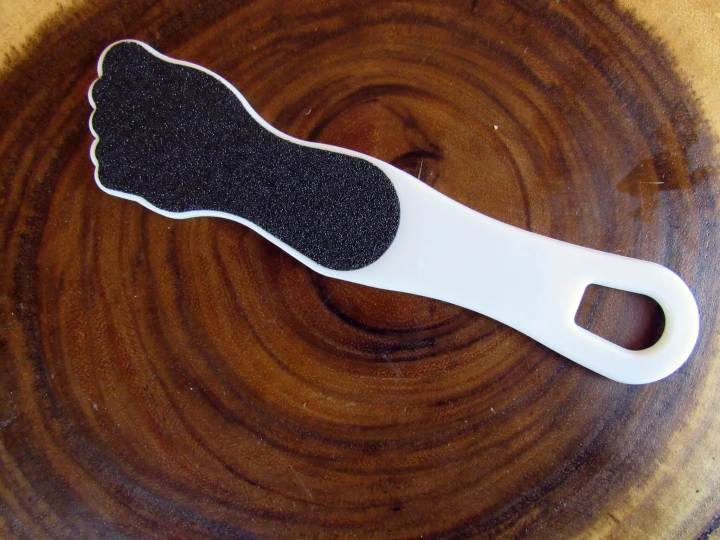 I love the shape of the foot callous remover. It's a excellent touch to the box.
The cuticle stick, emery board, and buffer squares provide for an excellent manicure. Still a no-no for my husband.
Are you ready for step 1? London Pedisoaks provides a choice of three scents or a mix and match. Click
here
to read more about the ingredients for all the products.
The Lavish Touch is a mixture of Eucalyptus and Lavender. I received 2 two ounce jars. I almost used it instead of the other foot soak because I love lavender and could actually use the eucalyptus for my congestion.
The Zest of Life foot soak is a blend of citrus and chamomile. The foot soak contains citrus essential oil, grapefruit essential oil, and chamomile florets. I received one jar of it. I decided to select this one to try something different than lavender. It has a delightful citrus scent.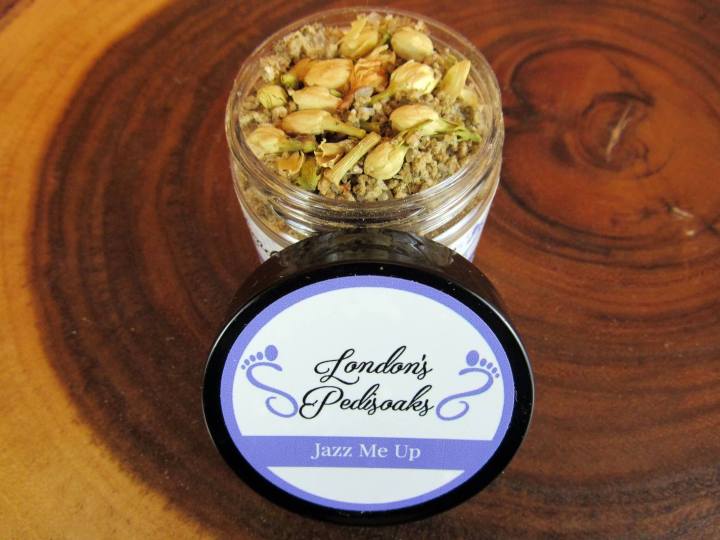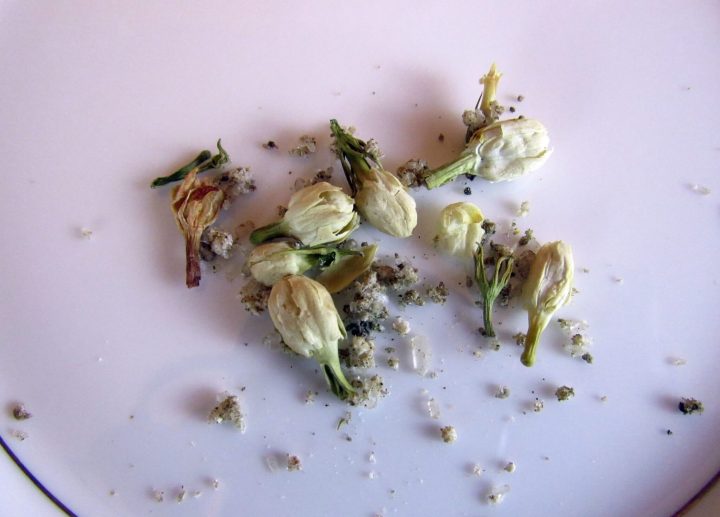 The Jazz Me Up is beautiful. It contains Jasmine florets, Jasmine essential oil, and sage. It has a light earthy smell to it. I love the scent!
My amazing husband filled up the tub with warm water for me after searching around for the foot bath. He also took the foot pictures for me.  It was wonderful to sit and relax, breathing in the fragrance while my feet were warm and toasty.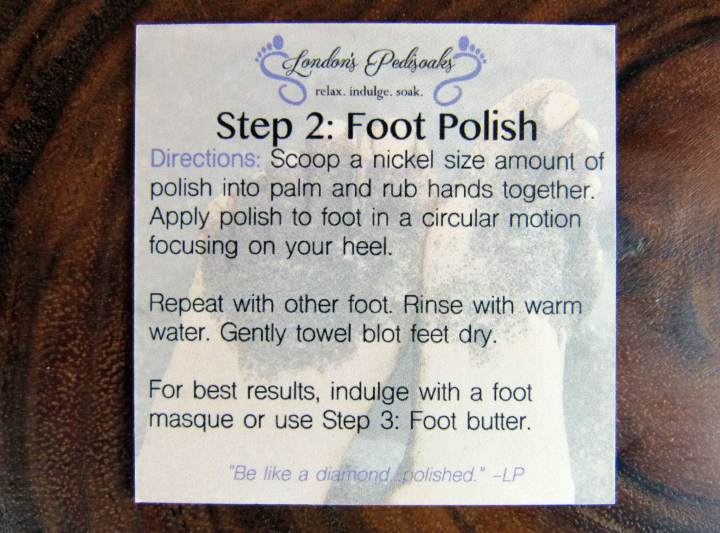 Time to polish up the feet!
There are three different types of foot polish -Blackened Peppermint, Blackened Java, and Blackened Lemongrass. All three sound amazing. Each polish contain dead sea salt, lava salt, citric acid, jojoba oil, and coconut oil.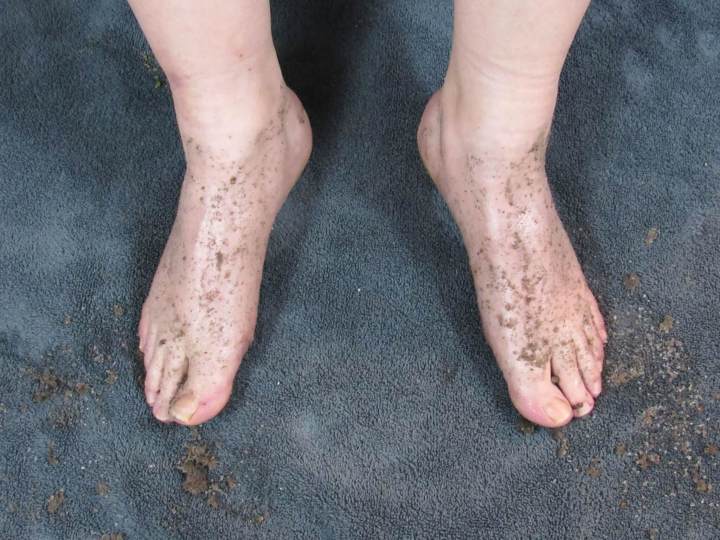 My husband kindly rubbed the polish on my feet and rinsed them off in the tub. It felt a little gritty, but not too gritty that it bothered my feet.The peppermint butter has both wintergreen essential oil and peppermint oil giving it a good amount of mint scent. It wasn't overpowering to us.
The Lavish Touch Foot Butter has a great lavender scent to it. The three foot butter scents match the three foot soak scents. I received one 2 oz jar which is plenty for three soaks.
My husband started to rub in the foot butter in this picture. He placed a large glop of it for illustrative purposes. It was easy to rub into the skin. I wore socks afterwards to lock in the moisture. I do wish my toes were painted, so it looks better in the pictures!
The London Pedisoaks is a wonderful way to pamper your feet and even my husband was able to follow the directions! I love that the product is natural and contains essential oils, not fragrances. I am impressed with the ingredients and how everything feels on my feet. It's a luxurious, pampering experience.
Visit London's Pedisoaks to subscribe or find out more! Save 15% on any subscription. Use coupon code HELLO15.
The Subscription
:
London's Pedisoaks
The Description
: Each pedibox includes four 2oz foot soaks in one of our aromatherapeutic signature scents paired with a foot butter and foot polish. Every quarter we surprise you with additional feet treats such as pedicure socks, foot pumice, toe separators, etc. All of our products are all natural, handmade and cruelty free. We want to put your feet on a PEDIstal!
The Price
: $39.50 per quarter