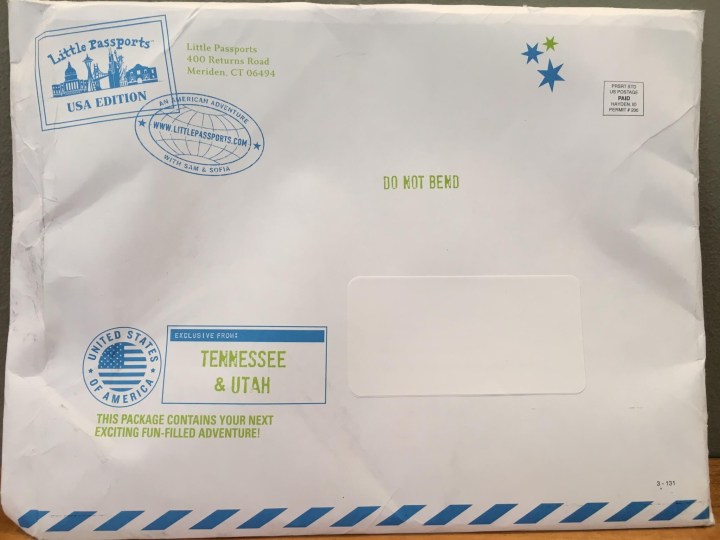 Little Passports (USA Edition) is a kids' educational subscription with crafts and fun activities about the fifty states.  This box is designed for children 7-12, but any bright kid 5+ would like it. Your kids will learn about the geography and culture of the United States with the USA Edition.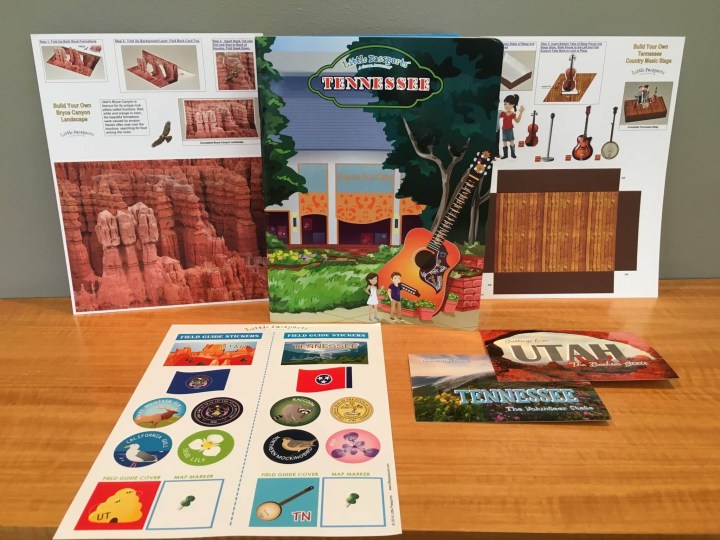 This month, Sofia and Sam visit Tennessee and Utah.  The box contains a cute double-sided activity book, postcards from each state, stickers for your field guide, and two stand-up models.
The postcards, stickers, and models are brightly colored and fun.  One could go for a 20th Century retro vibe and actually mail the postcards–"Hey, I've been really enjoying this Osmonds band; check them out!"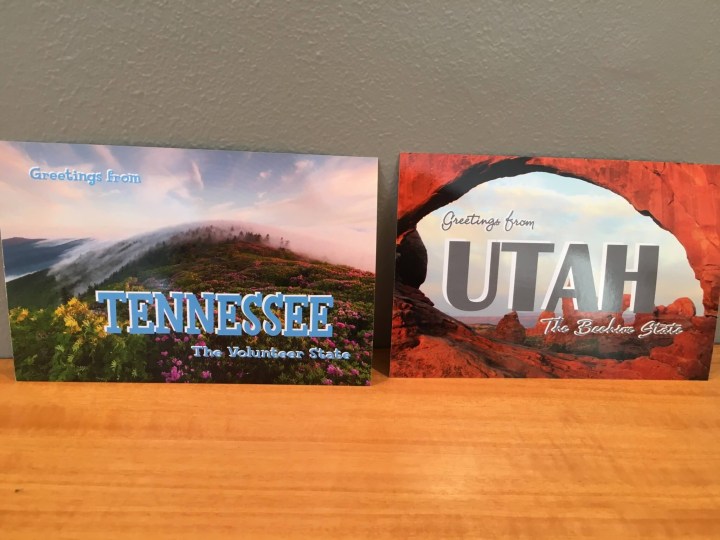 The stickers are for the Field Guide (you DID save the Field Guide, right?) and cover the state bird (the California Gull?  No native Utah birds, really?) and so on.  There are even "pushpin" stickers to mark the map poster (which you also saved?).  Nice, quality stickers.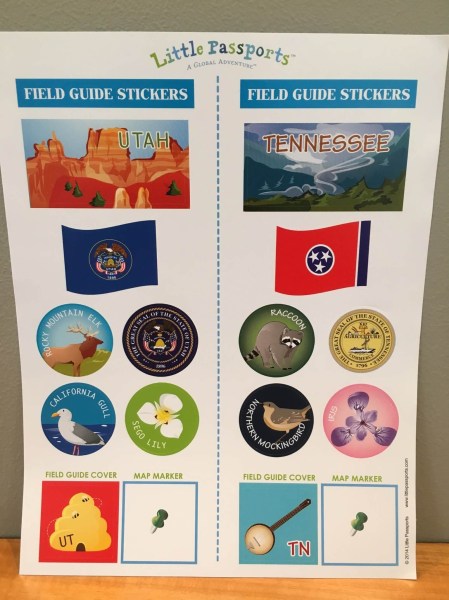 The models are punch-out coated paper and fold nicely to make a stand-up country music stage and landscape.  These were easier to build by far than the Virginia and Wisconsin models.
The activity book flips over and upside down to cover both Tennessee and Utah.  It's a glossy, colorful, 32-page activity book with fun facts and games about the states.
Some of the highlights of Tennessee include Sofia's note and map, a cool rubber band guitar (plus science-based explanation of how it works!), and a recipe for moon pies that I am certain would not look like the picture, lacking yeast.  The kids still want to make it, of course, because SUGAR.
Highlights of Utah include the letter and map, an interesting cave-themed pattern game, and a hard and giant word search.  Obviously, the ability to read is helpful here.
Another quality box!  The activities are fun and age-appropriate, and they do a good job highlighting some interesting aspects of the states.  Nonreaders will need help but older kids can do everything on their own.  We can't wait to see where they go next month!
This would be a great grandparent or aunt/uncle gift, or a supplement to a homeschool curriculum, especially ahead of a roadtrip or visit to another part of the country.
Visit Little Passports to subscribe or find out more! Save $15 on annual subscriptions! Use coupon code WELCOME15.