LaRitzy is a monthly vegan beauty subscription box. You'll get 4-5 full and luxury size cruelty-free beauty products in every month's box.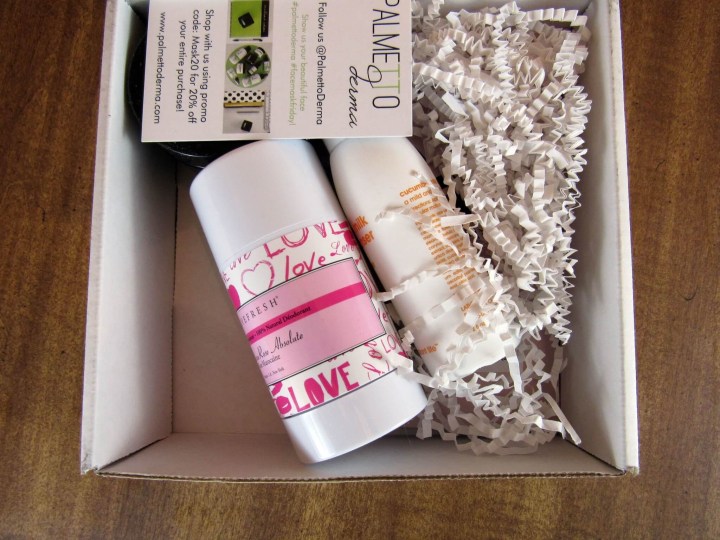 The information card is now digital. I noticed a few boxes that use digital cards and wonder if the trend will continue. I can see why subscription boxes like using the digital cards. I wonder how subscribers feel about it. I have horrible internet when on our farm property.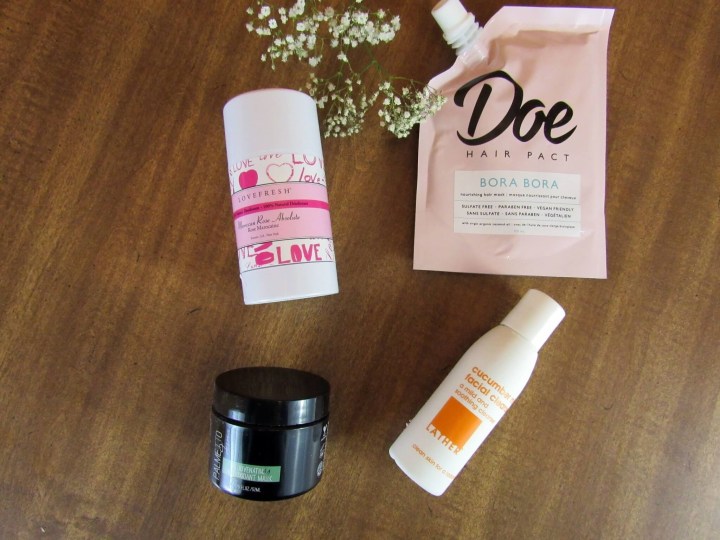 I'm loving the pink items for February. How did LaRitzy find a product with Love on it??? Excellent find!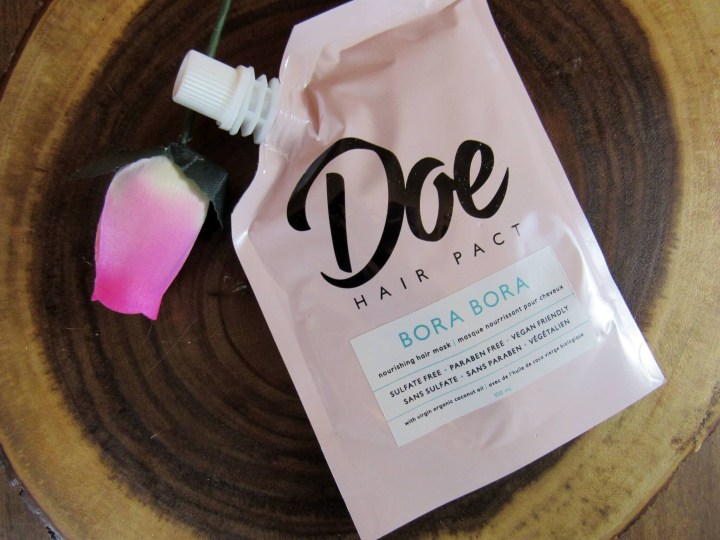 The Doe Hair Pact – Bora Bora ($17.00) is the first February Spoiler. The Bora Bora has a pleasant coconut scent. The package says it provides 4-5 uses on shoulder length hair. My hair is longer and is super thick. I used about 90% of the package on my hair. I let it sit for about 45 minutes before washing and conditioning my hair.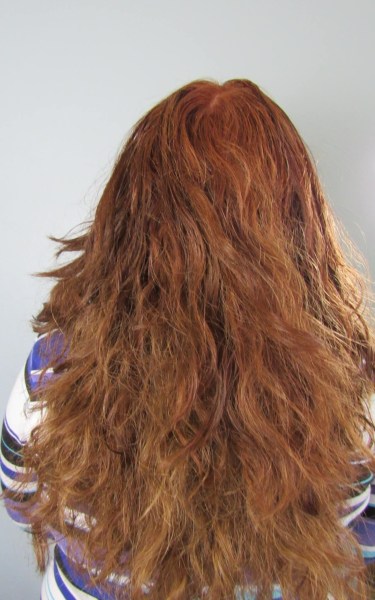 Now you can see why I used 90% of the package! You can see most of my hair in the photo. It's almost air dried, and I did not add anything to style my hair and felt it did an excellent job in nourishing my hair. It feels soft and manageable. It did not strip my color either!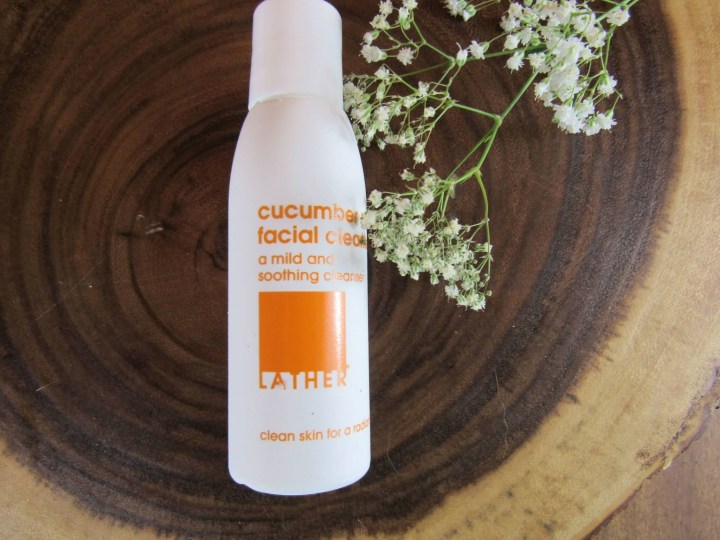 The Lather Cucumber Milk Facial Cleanser is a non-foaming gentle cleanser designed for dry, combination or mature skin.  It tightens pores and helps prevent sun damage. The paraben-free and sulfate-free cleanser has a cucumber scent that I could smell as soon as I twisted the cap off despite the bottle being sealed. It sounds amazing!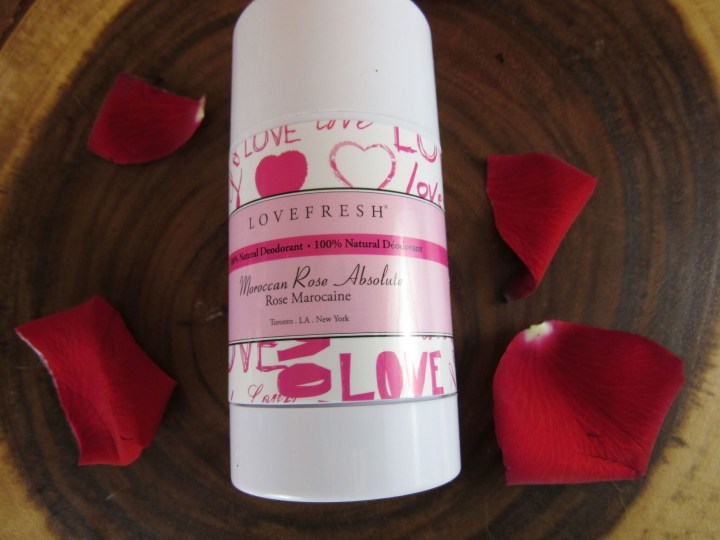 The Lovefresh Moroccan Rose Absolute Natural Deodorant ($24.00) is perfect for a February box. The Made in Canada roll on deodorant has a sweet, gentle rose scent. I'm impressed!
The Palmetto Derma Rejuvenating Antioxidant Mask ($64.00) is the second February Spoiler! It has a light spa scent and is super easy to use. Apply it to your face, let it sit for 5-30 minutes, and then wipe off.  It's easy peasy!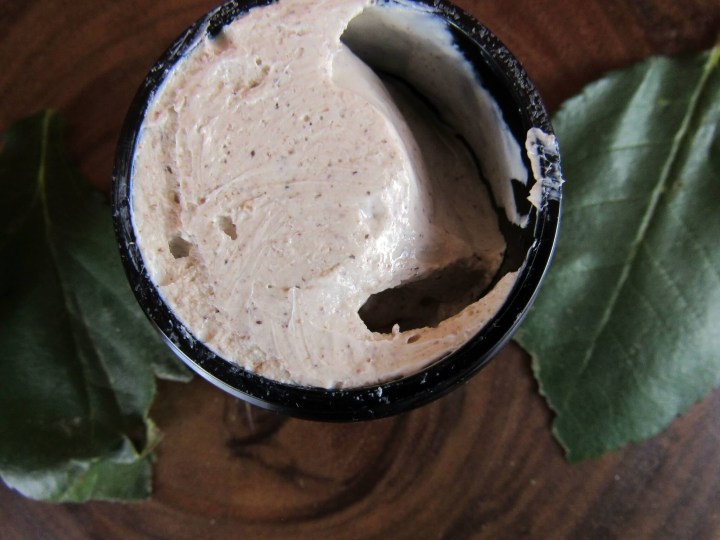 The mask purifies the skin, cleans pores, and reverse daily skin damage.  It is 70% organic and 99% naturally derived. Some of the incredible ingredients in the mask are aloe barbardensis leaf, kaolin clay, and hyaluronic acid. I need to do a test patch to see if I can use the mask without irritating my rosacea!
[Note from Brandy:  this mask may act more as a mini-peel (I've used it before and I was fine) – everyone should do a patch test before using on your face]
It's an epic month for LaRitz with a value over $100.00 which is high for a natural vegan box.  I also like that the box contains items that people want, but don't often receive such as luxe hair products and roll on natural deodorants. The February box is fantastic!
What do you think of the February LaRitzy box? Do you have a favorite item? Share below and let us know!
For a limited time save 15% on your entire orderwith coupon MYVALENTINE
Visit LaRitzy to subscribe or find out more. Use coupon code HELLO10 to save 10% off the monthly or annual subscription.
The Subscription
:
LaRitzy
The Description
: Pampering just got a lot easier! Receive 4-5 vegan products every month – everything from luxurious skincare to exceptional beauty products.
The Price
: $24.99 per month