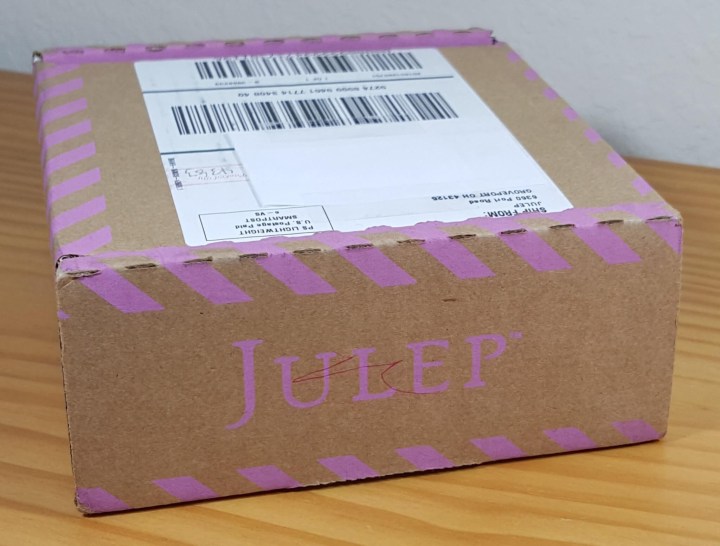 February's Julep Maven theme was…  For those that know Julep, they've actually stopped creating themes and are going more for collections, so this is the February collection. (They finally begrudgingly called it Modern Smolder in a few places).  The site mentioned that these were colors that leap.  Get it?  Bold colors that jump out at you during a leap year!  Cheesy puns aside, Julep Maven is Julep's monthly beauty subscription – nails and more!  This subscription is great because it's customizable – swap out products and colors from a set box and choose from Julep's best sellers, or choose a pre-curated box.  If you're not a subscriber, you can get a free welcome box with a prepaid subscription (or 50% off if you choose a month to month subscription).  Choose between My Maven and Maven Luxe subscriptions starting at $24.99 per month.  Get a savings of $5 per month if you prepay for 3 months!  Julep is skippable and giftable, so I'd recommend the longer term.
See all of February's colors here.  While I really like nail polish, my sister LOVES them!  So much so, that she even has a wall rack like you'd find in a salon and needs another one since hers is overflowing (she has a serious habit).  Knowing her obsession, I had her collaborate on this review; you'll see her comments noted as J.

If you're a current Julep Maven you can use these codes when you shop at Julep (and of course you have free shipping!)
 And here's my box.  As you can see, it's pretty full!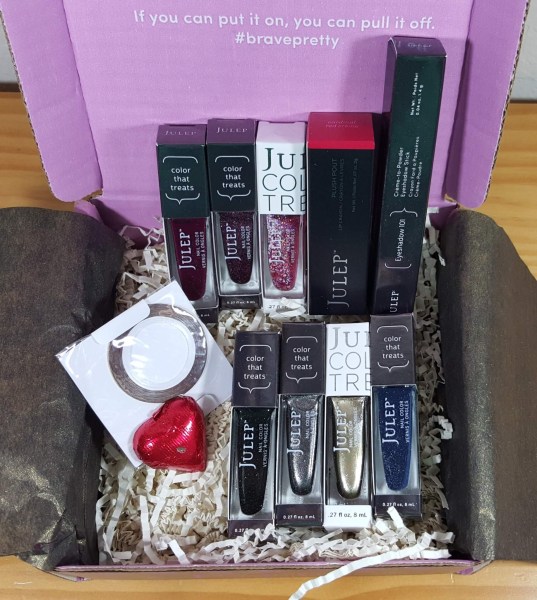 Everything unpacked!  Pretty good haul.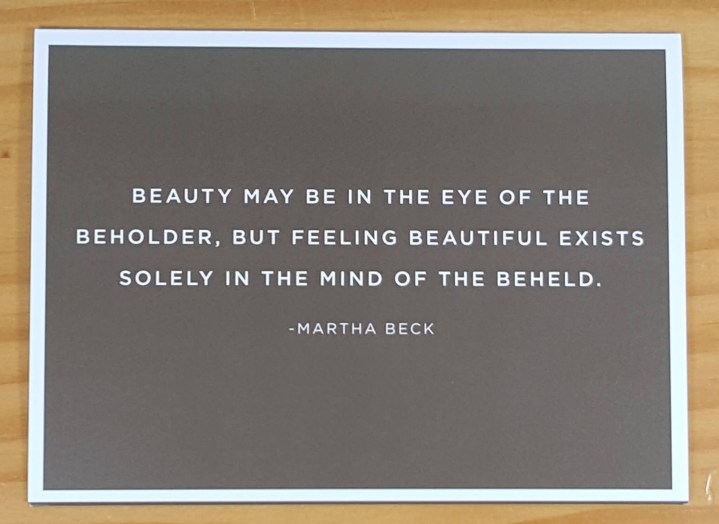 I always look forward to the beauty quotes in the Julep boxes.  They're one of my favorite things about the box.  Am I the only one?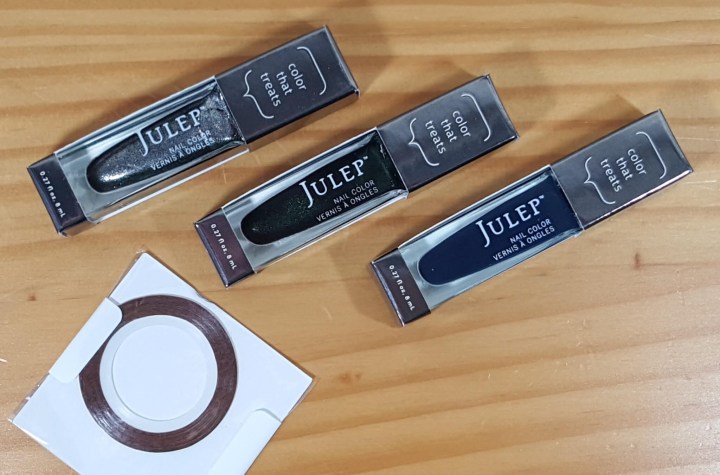 This month I switched up my regular Classic with a Twist for the It Girl box.  I love that I can customize my box to get exactly what I want.  Contents of this month's box:  
Thin Gold Line Nail Tape:  J used this on my nails and liked that it was easy to remove from the roll and had good sticking power.  First we tried cutting after application, and then we tried using precut pieces.  Both methods had similar results.  J's tip – use tweezers since this is so fine.
Jenica (Bombshell):  Wrought iron metallic.  J really liked this color because it had good coverage in a single coat and didn't streak like some metallics.
Giselle (It Girl):  Midnight forest shimmer.  This had a light shimmer effect and swatches more as forest green.
Finley (Bombshell):  Navy smoke creme.  I really wanted this color and swapped it into my box.  I'll explain in a sec.  J liked its opacity with a single coat when swatched.
My add-ons for the month: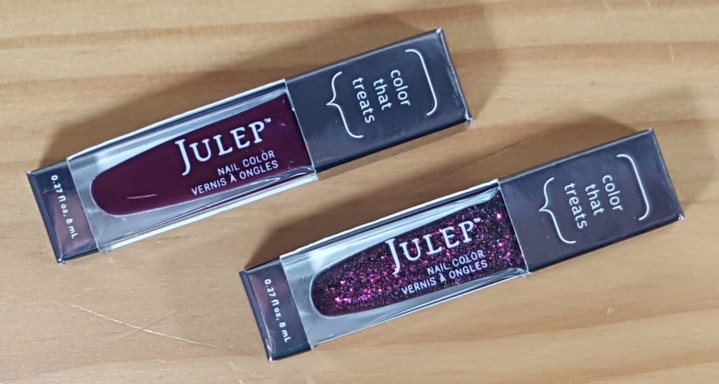 Beet It Duo:  
Hayley (Boho Glam):  Beetroot creme.  This was originally part of the February It Girl box and got swapped out since I could get it in the duo as an add-on.  I thought this would be a fun color for the upcoming Galentines/Valentines days.  Plus, I have a thing for red shades.
Rosie (It Girl):  Charcoal grey with magenta glitter.  According to J, this would be good to use over a dark base as an accent.  If worn as is, she recommends a minimum of 2 coats.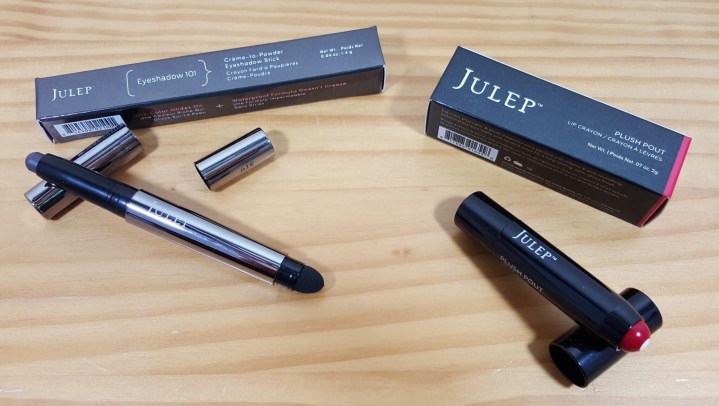 Eyeshadow 101 (shown in Charcoal):  A creme-to-powder shadow stick on top with a smudger on the other end.  I got this in Plum Shimmer a couple of boxes ago and really liked it, so I was excited to see the new line up of colors.  This did not disappoint.  These go on smooth, and the stick gives you more control when applying the color.  The smudger makes creating a smoky eye so much easier for me, especially when applying shadow under my lower lashes.
Plush Pout (shown in Cardinal Red):  A full-coverage lip crayon with a moisturizing treatment core in the middle.  When I ordered this, it was called It's Balm which was a confusing name for a lipstick.  Anyway, red lips were my mom's signature, and I'm testing colors to find my perfect shade – this one is close to what I'm looking for and will definitely get some wear.  It went on "like buttah" and has buildable color.  The moisturizing core helped soothe my chapped lips.
My free gifts:
Hartleigh (Classic with a Twist):  Holographic heart glitter top coat.  This was my free gift for being a Maven.  How much fun is this for V-day!?!?  J says that this is more of a jelly base, so apply lightly or it may pool.  Her tip, use the brush to dab glitter/hearts into place (or use a dotting tool to pick up pieces) for a scattered look.
Sienna (Classic with a Twist):  Sophisticated, shimmery gold.  This was my gift for having 3 or more add-ons.  I pays to stock up!  Another one of J's favorites – she's into metallics right now.  Her feedback was the same as with Jenica.  This looks more gold when dried than in the bottle or my picture.
Chocolate Heart – My niece immediately stole this after the picture was taken.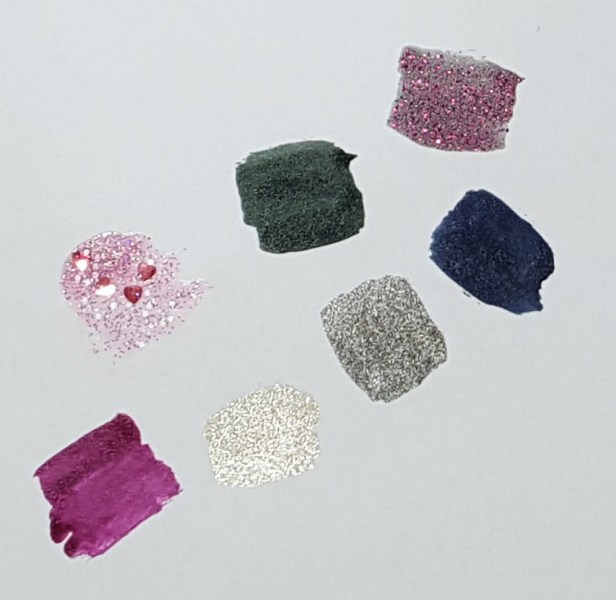 Final tip from J – if you want to see how a color will look when applied, swatch onto a sheet of white paper and let dry (sometimes the swatch strip isn't big enough).  Then apply your top coat of choice on the swatch to see what your finished nail will look like.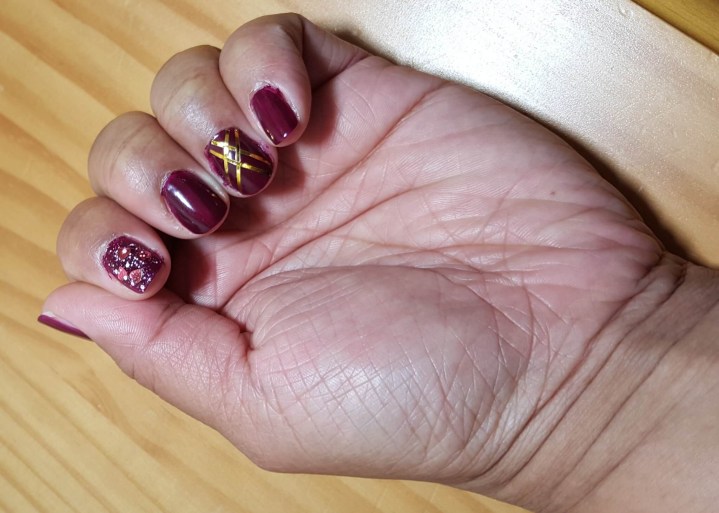 Please ignore the bad application of Hayley; I'm left handed and always have to clean up whatever my spastic right hand paints.  J wanted to make it very clear that she did not apply that color and is appalled that I didn't clean up the excess polish before photographing.  She applied the Hartleigh and nail tape for me.  Maybe next review I can get her to do one of her intricate and fun designs (yes, she's THAT into polish).
Visit Julep to subscribe or find out more (and don't forget to check out the free welcome boxes above!).
The Subscription
: 
Julep Maven
The Description
: Nail polish box and a beauty box. Get either 3 polishes, 2 polishes and a beauty product, or 2 beauty products per month. All polishes are 5-free with no harmful toxins, never tested on animals. Polishes are nail strengthening and all named after cool women! Totally customizable! You can swap out products, select add-ons, or upgrade your box (or skip!).
The Price
: $19.95 per month
See Julep Maven in the Hello Subscription Box Directory!
The Categories:Beauty Subscription Boxes,Nail & Nail Polish Subscriptions.Beauty Subscription Boxes with Full-Sized Items.
The Reviews: See all our Julep Maven Reviews.
The Spoilers: Check out Julep Maven Spoilers.