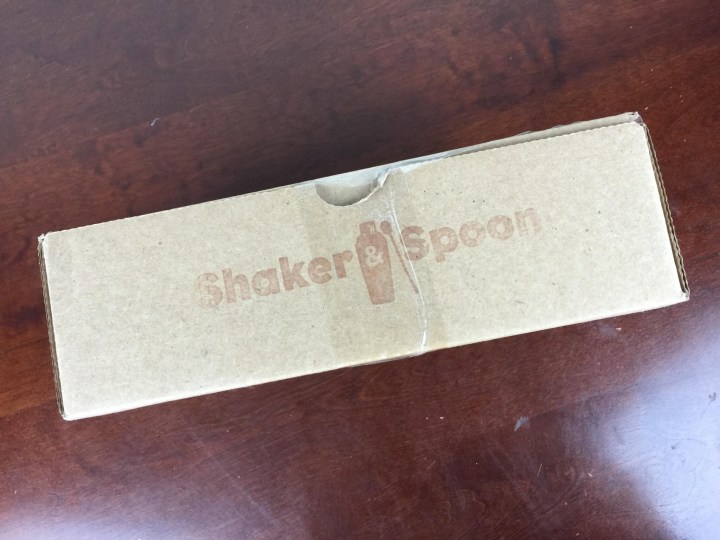 I like having a well-constructed cocktail, but i usually only get as far as soda and liquor — as much as I love a simple Cuba Libre or Jack & Ginger, sometimes you need to go classy and classic — this subscription gives me the extras and guidance to make something really tasty.  Shaker & Spoon Cocktail Club is a monthly subscription box that is a great way to discover new drinks.  It gives you all the ingredients you need (except the booze itself) to make high-caliber mixed drinks. This is a really awesome idea for people that prefer to procure their own liquor, or live in a state where it cannot be shipped to them!
This month was the Gin Lovers Box, featuring gin-based cocktails from three eras.
Everything in the box.  I loved the thoroughness of this box — it included the syrups, bitters, citrus, spices and flavorings — aside from ice and the gin itself, the box came with all the consumable ingredients.  Shaker & Spoon sends a handy email to let you know what spirit will be needed for the box, along with a value and mid-range option.  They recommended Bombay for the value option and Hendrick's for the mid-range —  I went with plain old Bombay (not Sapphire), though I don't know if I would call it a "value" gin, as I consider it a pretty decent spirit versus the motley assortment of plastic jugs on the lower shelves.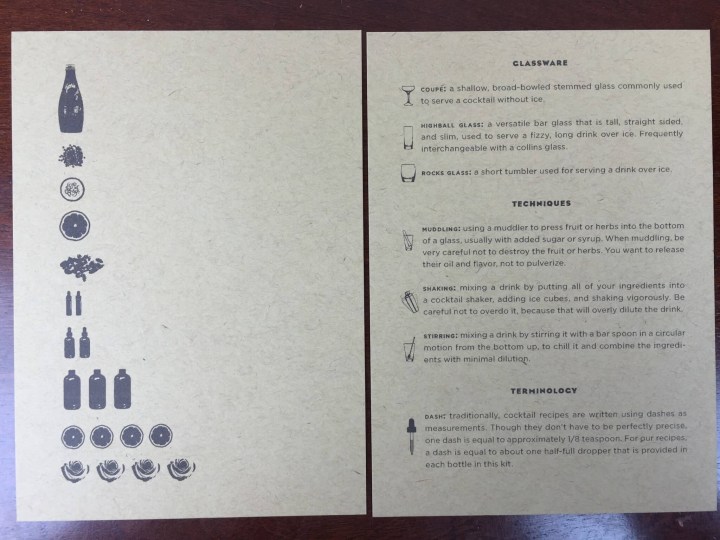 A visual inventory of the box allows a quick assessment of the contents, though everything is labeled, too! This card was super-helpful, describing the techniques and measurements peculiar to mixology.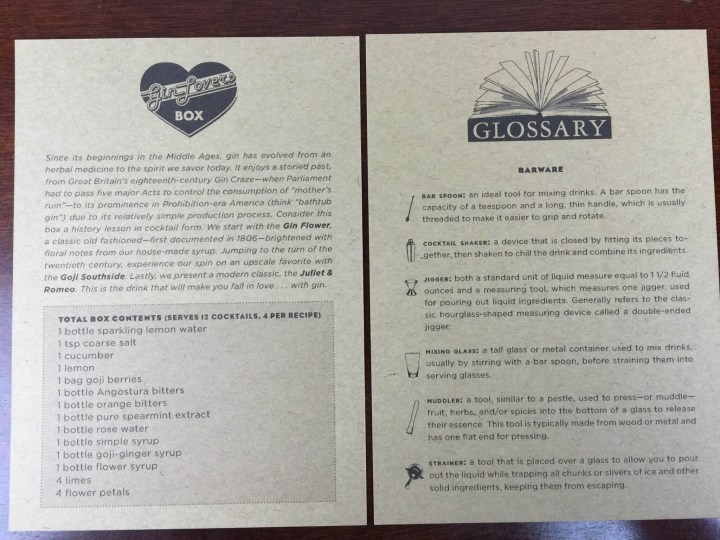 The card gives an inventory of the contents of the box and some information on the nature of the drink, as well as the recipes provided.  A useful glossary card introduces the novice barman to the tools and terminology that will be used in the recipes.
Pictures of the drink when served in the recommended glassware.  Except for the Winter bourbon box (which called for a mug for a hot drink), the recipes usually have one rocks glass, one highball, and one coupe-served recipe.  Since our cocktail-worthy glassware is limited to wine glasses and rocks glasses, we use the latter for most drinks.  We did just receive a set of pony glasses (quarter-pint glasses) in our Craft Beer Club subscription box, so I put one of those to use in place of the coupe.
The three gin recipes, each described in detail with recipe and instructions.  The trio included an update on what is perhaps the first recorded cocktail recipe, a twist on an early 20th-century classic, and an original new concoction from a James Beard Award winner.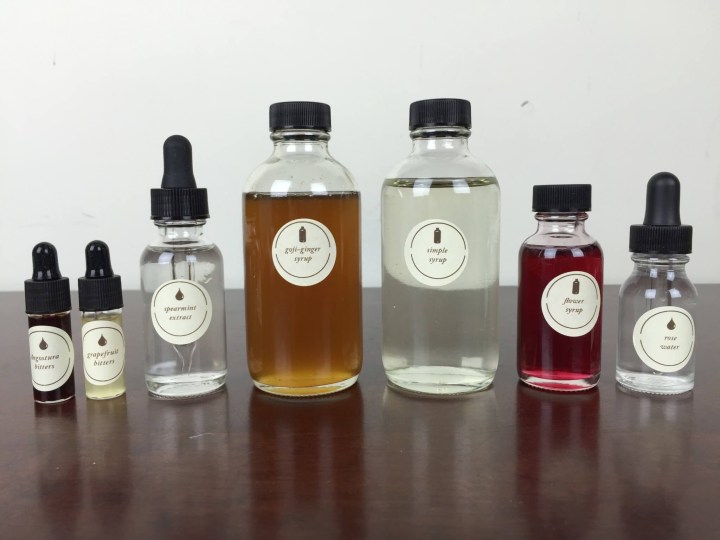 The syrups and bitters provided with the kit.  I love that the box usually has both staples you can use in tons of drinks (like simple syrup and Angostura bitters) and interesting flavors to experiment with (like grapefruit  otters and flower syrup) .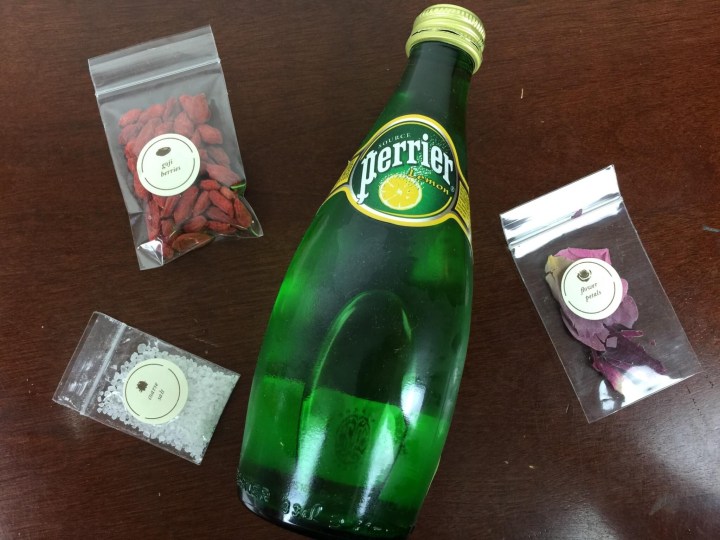 The peculiar ingredients and garnish.  The box included goji berries, flower petals, coarse salt, and lemon Perrier.
The perishables in the box — lemon, lime, and cucumber.
Here's what we made: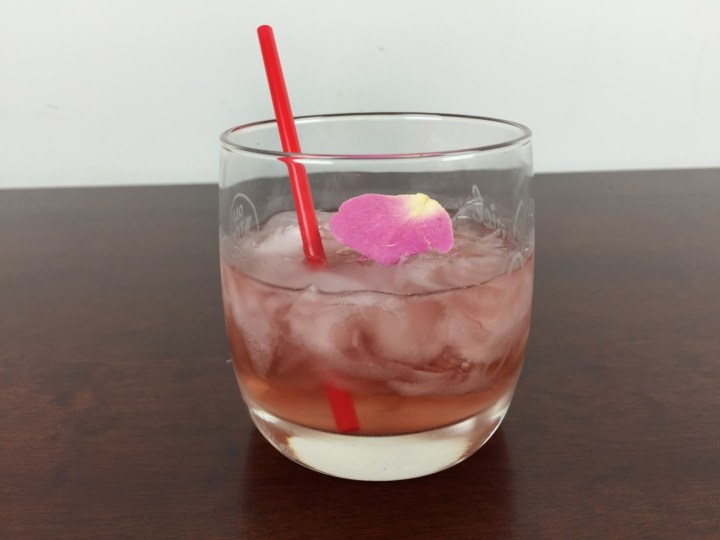 The Gin Flower:  Based on a Gin Old Fashioned (Though now commonly made with bourbon, the original recipe which eventually acquired the moniker did not specify a particular spirit to be used), but with flower syrup and grapefruit bitters adding a lots of floral and citrus interests.  Though unable to transform the potable into something that would be palatable to gin-haters, the new additions did highlight some of the great flavor notes in the spirit.  I think gin was particularly well suited for this recipe, due to the botanicals that can be teased out.  Even with the added flavor notes, this remained a very powerful drink.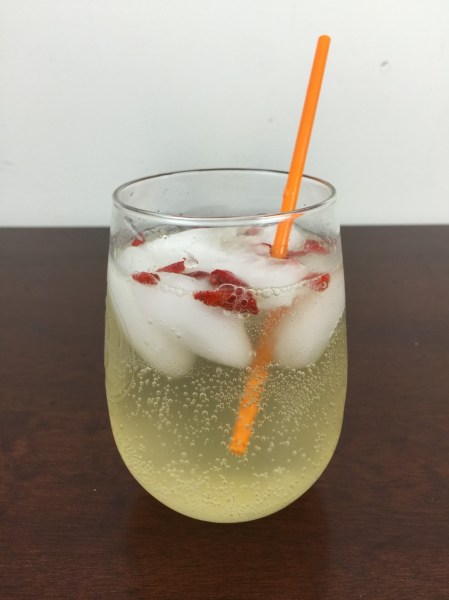 The Goji Southside:  Goji, ginger, lemon, and spearmint all battled for starring role in this concoction.  The odd mix of powerful flavors keep each other in check, creating an enigmatic canvas upon which the gin's own flavors unfold.  This was the most approachable drink for non-gin-aficionados, since the bartender is encouraged to lengthen the pour on the lemon soda as needed, limiting the intense impact of the gin.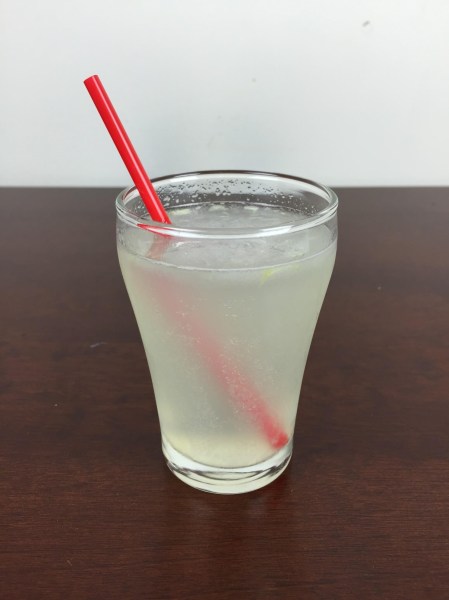 The Juliet & Romeo:  Cucumber, lime, rosewater, and spearmint are all part of this new invention.  Falling between the other two drinks in terms of potency, the cucumber and rosewater are surprisingly assertive when paired with presumably powerful lime and spearmint.  The unexpected freshness of the cucumber and rosewater make this a fun discovery to share.  I imagine this drink would be even more interesting if made with Hendrick's, a cucumber-infused gin.
I really appreciate that the recipes are built on a single, readily available liquor, and they did not expect me to acquire or have on hand several exotic liquors (too many drink recipes have a splash of something I've never heard of that costs $50 a bottle).  I love that all the syrups, bitters, and garnish are included.  Shaker & Spoon Cocktail Club fills a void in the drink prep world, and they do a great job!  Even when I don't fall in love with a  particular recipe, I end up with the ingredients to create a dialed-back, more classic version and can experiment with the exotic elements elsewhere — you had better believe that Goji-Ginger Syrup is going into my next bourbon-based Old Fashioned!  This is already one of my favorite subscriptions.  I haven't discovered my new all-time favorite cocktail yet, but the journey is so much fun!
Visit Shaker & Spoon Cocktail Club to subscribe or find out more!  Save 10% off your first box with coupon code HELLO10.
The Subscription
:
Shaker & Spoon Cocktail Club
The Description
: Every month you'll get a box with 3 recipes for 12 drinks (4 from each recipe) and everything you need to make them—syrups, bitters, garnishes, citrus—besides the alcohol. You'll be exposed to new flavors and combinations, inspiring you to see your liquor cabinet in a whole new way. Subscribe today and be your own bartender before you know it.
The Price
: $40.00 per month