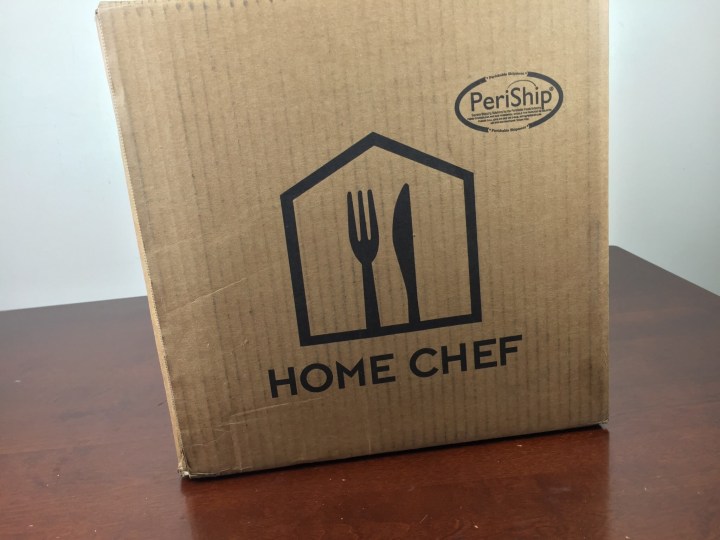 Home Chef is a meal in a box subscription – every week choose from a variety of recipes and have all the ingredients and preparation instruction delivered to your door.  It's similar in concept to other weekly meal delivery services, but it has its own unique features and perspectives.
When you sign up you fill out a mini profile of your family and tastes so Home Chef can automatically suggest a weekly menu for you, which you are welcome to change. The selections for this meal subscription are much larger than what is available for other meal kits.  While most meal kits focus on a handful of elegant dinner entrees and the occasional desert, with each designed for two people, Home Chef offers an incredible 10 selections available for 2, 4, or 6 people, a breakfast choice, a smoothie choice, and a fruit basket selection.  The plethora of great choices has us loving this subscription — currently this is the least expensive and has the most choice out of any similar major subscriptions (for 2 people).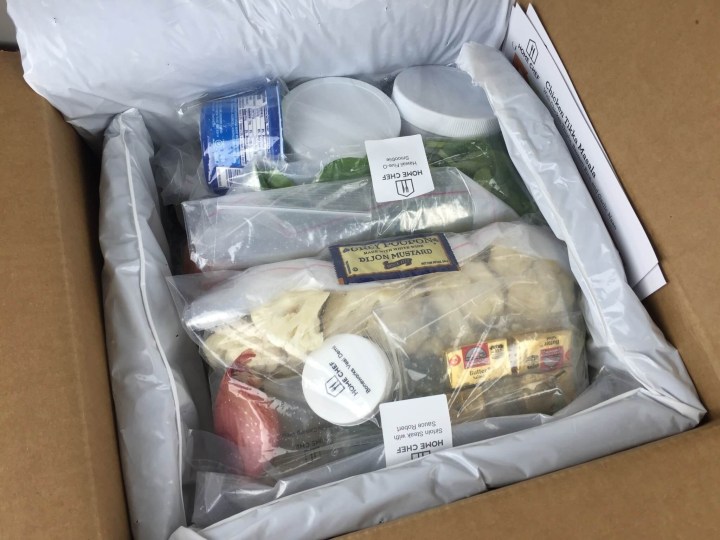 Your weekly parcel contains your recipe cards and all the ingredients for your meals, bundled inside insulated packaging with big ice packs to keep it cold.  Home Chef usually requires very little from your own pantry — while every box has you provide a couple tablespoons of cooking oil and salt and pepper, Home Chef has gone out of its way to provide everything else you need.  They usually include liquid egg when needed (other boxes expect you to have an egg or two on hand), and they even sent a bottle of oil when we were shallow-frying our hushpuppies in a previous box.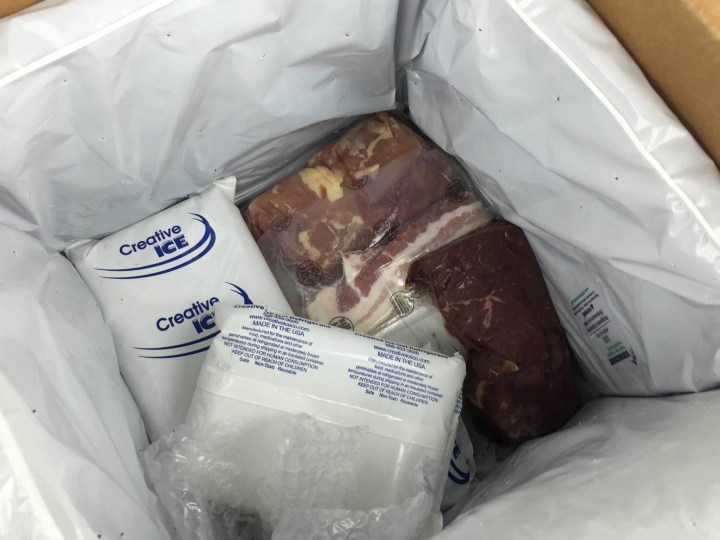 The meat is placed in the bottom of box and packed with several ice packs.  I suspect there are enough to keep it cold for a long time, even when summer arrives.
We have been impressed with the recipe choices — they have really tasty sounding recipes for offering so many options!  We also thought the meals were more accessible than the other meal kit subscription boxes, which tend to use lots of ancient grains, alternative greens, exotic spices, and likes to target the foodie crowd.  This subscription has plenty of flavor and variety, but it uses more familiar ingredients.
The recipe cards that come with each box have all the info we like to see — prep time, difficulty, and allergen and nutrition info.  They also included a drink pairing suggestion (something other boxes have dabbled in but not stuck with), and a "best cooked by" time frame.
The back of the card has the actual recipe guidance, complete with pictures and boldfacing of ingredients, and an inventory of everything provided.  The recipes had great hints littered throughout — either expanding your cooking vocabulary by explaining cooking terminology in layman's terms, or expounding on the benefits of specific techniques.  The only minor annoyance is the adherence to a standard prep order (i.e.:  preheat oven, chop veg, prep meat) — we switch the order a bit where it makes sense.  If you're an experienced cook we do recommend cooking in the most efficient order (e.g. not pre-heated your oven thirty minutes prior to warming a few tortillas), but for novices we recommend following the directions exactly so you don't get flustered or lose your place. The recipe cards have pre-punched holes so you can store them in a recipe binder.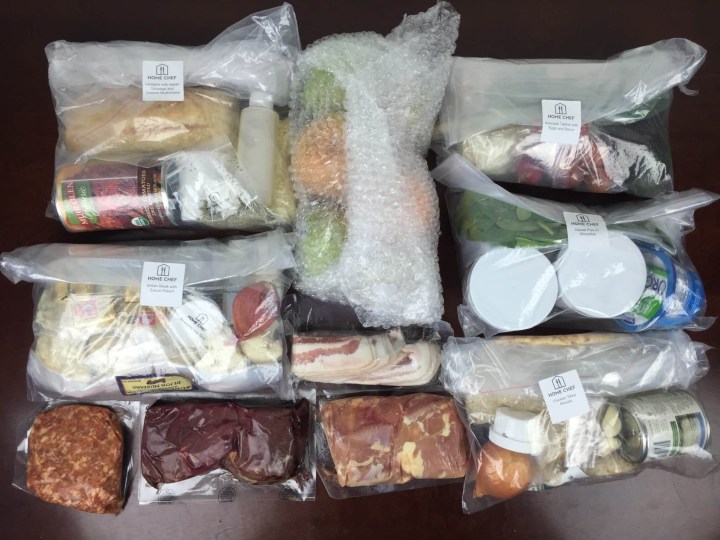 Each recipe was packed separately, and neatly, in its own bag.  We like to unpack a bit, separating the refrigeration-required and pantry-permissive items.   FYI, this box cost $99.40.  Unless otherwise stated, the pictures of prepared food show one of the two servings.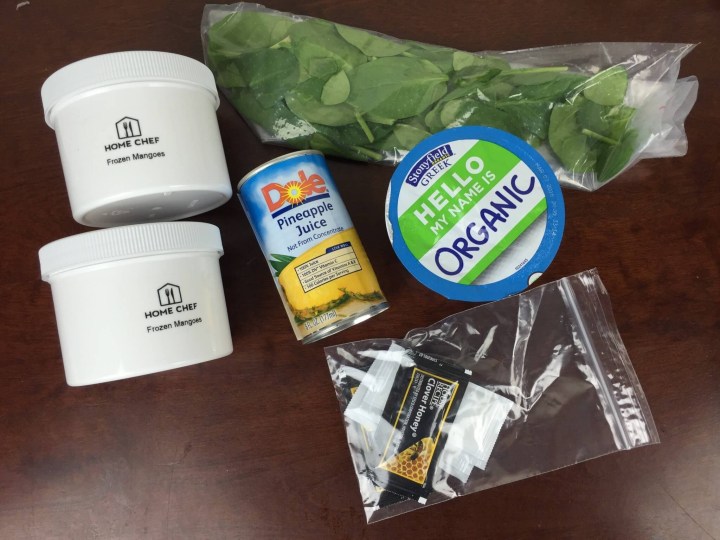 Hawaii Five-O Smoothie With Pineapple and Mango. 5 mins, easy, 226 cal.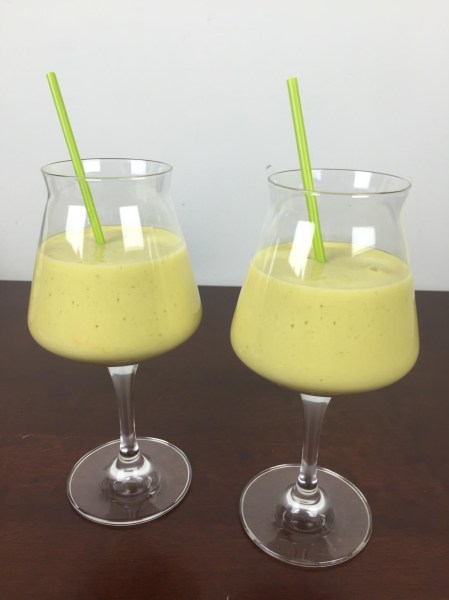 The prep for this took all of three minutes.  I used a little less spinach than was provided, since I got to this dish last and a few leaves had gone soft.  Alongside the yogurt, the spinach was a really great complement to the fruit, juice, and honey, balancing the sweetness of the drinks.  My kids loved these, and I had to share more than I wanted!  Both portions are shown.
Seasonal Winter Fruit Basket Apples, Pears, Orange, and Grapefruit (complete basket shown).  I've been very pleased with teh quality of the fruit we've received on the two occasions we've selected the basket.  They provide nice-tasting varietals, and it has been firm and ready-to-eat, but never over-ripened.
Chicken Tikka Masala With Chicken Thighs, Basmati Rice, and Garlic Naan. 40 mins, easy, 918 cal.
A delightful way to satisfy Indian food cravings.  The sauce was easily as good as that served in the majority of Indian restaurants in the U.S., and it had a really great flavor profile for such a simple dish to prepare.  I absolutely loved the use of chicken thighs in this dish!  I took a few extra minutes to trim them well, but the meat was so tender and flavorful — I much prefer it to chicken breast in this kind of dish.  Of course, few meals are as fun to eat as those you can spoon onto bread, like the very tasty naan in this meal.  This platter shows about 3/5 of the dish served up.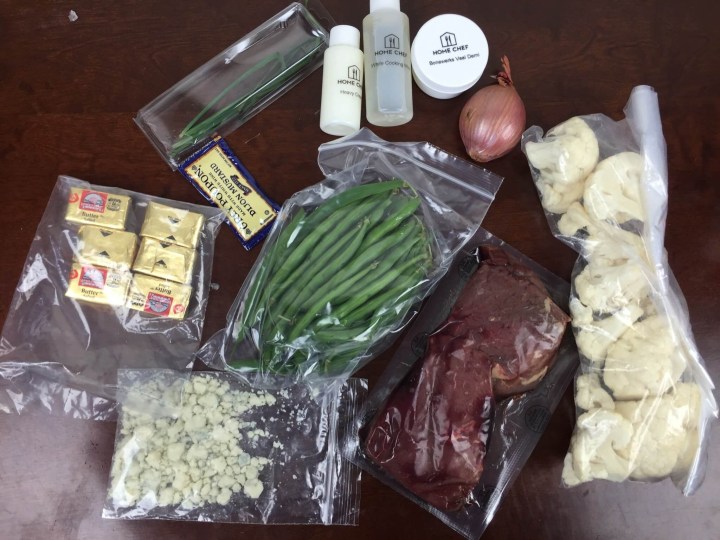 Sirloin Steak with Sauce Robert With Bleu Cheese Mashed Cauliflower and Green Beans. 40 mins, easy, 814 cal.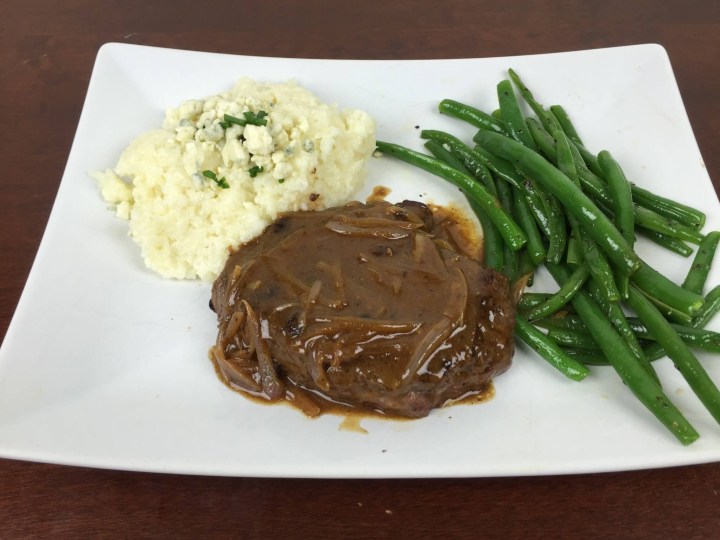 I was surprised that the cauliflower was so good — there was so much butter in it that I thought it would be total overkill.  I allocated one of the pats from the cauliflower to finishing the sauce, instead.  We truly enjoyed this meal, with its relatively simple sides and great, classic sauce.  My son really loves the sauces that Home chef has us make with our meals, and he now asks for some "gravy" whenever it is part of a dish.
Avocado Tartine with Eggs and Bacon With Cherry Tomatoes and Goat Cheese. 35 mins, easy, 625 cal.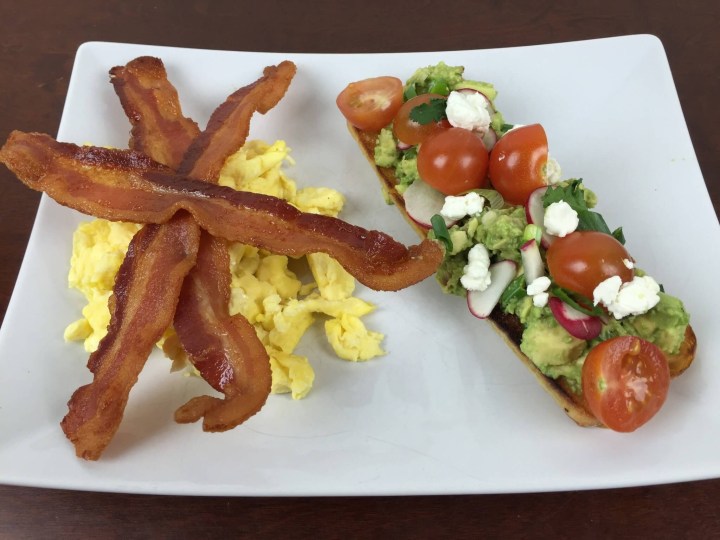 I liked this breakfast combination.  Eggs and thick bacon are accompanied by a creamy tartine loaded with texture and snappy, tart veggies.  This made for a well-balanced, and extremely hearty, breakfast.  The fully-loaded, chewy bread was a bit hard to eat, so a fork was handy for more than just the eggs.
Lasagna with Italian Sausage and Cremini Mushrooms With Ricotta, Mozzarella, and Garlic Bread. 45 mins, intermediate, 1150 cal.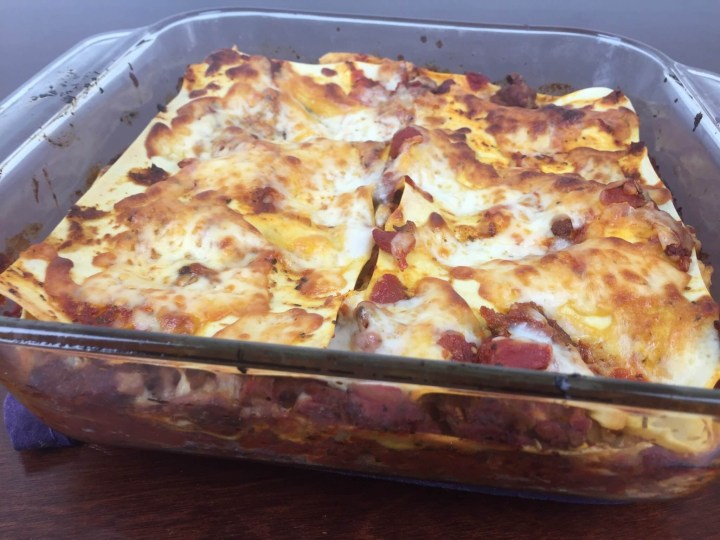 This pic shows the whole lasagna, which was more than enough food for two.  I also forget to reserve enough sauce for the top when building lasagna, so my top noodles remained a bit firm.  The ones below cooked very well in the sauce, with no need for pre-boiling them.  The sausage gave big flavor to this dish, and it made for a very substantial meal.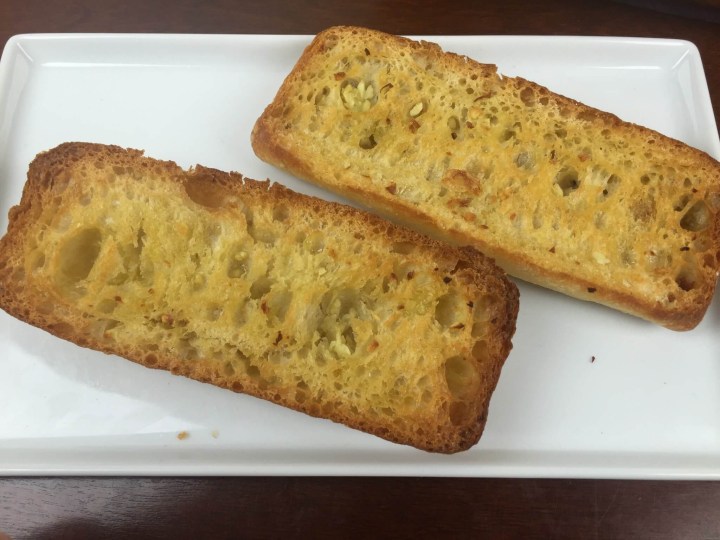 The garlic bread was wholly unnecessary, given the size of the lasagna, but it was really tasty and we completely devoured it!
Home Chef has been an incredibly enjoyable subscription for us — the food has been great, and relatively easy to prepare.  The hardest part is picking out our meals from so many delicious options, and not overeating, because the portions are very generous!  We are also loving that they offer breakfast selections (we grab one for a weekend breakfast) and a fruit basket, since we are often too busy to spend much time shopping for those, either.
Visit Home Chef to subscribe or find out more! Get $30 of free food when you sign up – just use this link to get the deal.
The Subscription
:
Home Chef
The Description
: Receive fresh ingredients and visual, step-by-step recipe cards on your selected delivery day every week. Cook like a seasoned chef in your own kitchen with ease.
The Price
: $60.00 every week