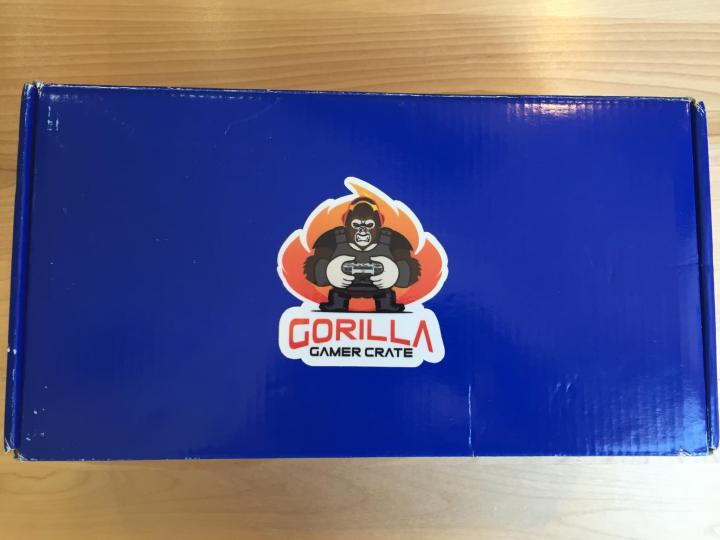 Gorilla Gamer Crate is a console-specific monthly subscription box for PS4 and XBox One users curated around a monthly theme.  Each box contains items of interest to gamers including gaming gear and console accessories.
All of our PS4 gaming gear arrived wrapped in attractive blue tissue paper. February's theme was Star Wars!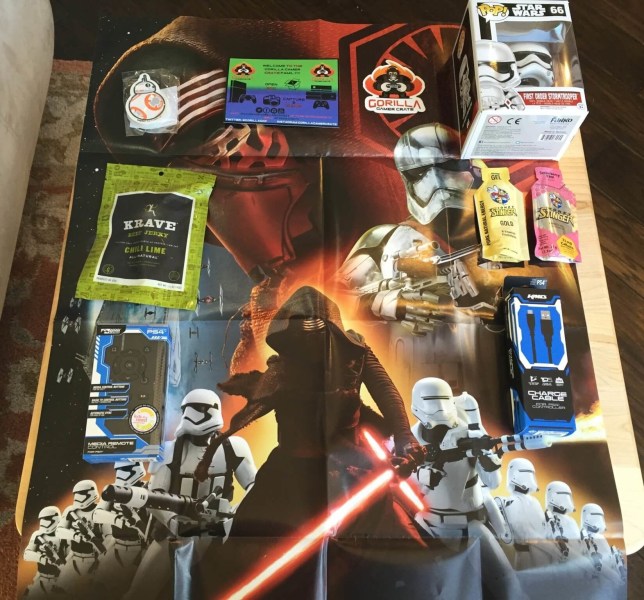 This month's PS4 box contained an array of items for the gaming enthusiast: a welcome note, a Gorilla Gamer Crate sticker, a remote control, a controller charging cable,  a Star Wars poster, a Star Wars Stormtrooper bobblehead, a Star Wars Droid eraser, beef jerky and two energy gel pouches. In other words, there were four components: Gorilla Gamer Crate gear, gaming accessories, Star Wars paraphernalia and food.
Gorilla Gamer Crate Gear: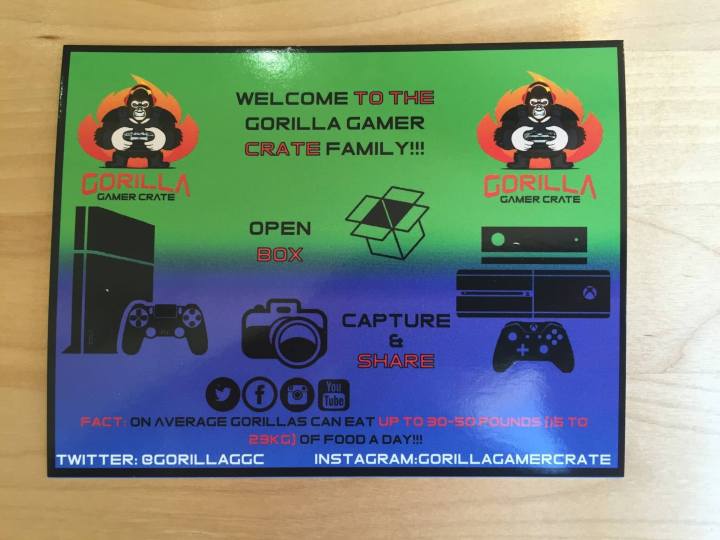 I like that by joining Gorilla Gamer Crate you're joining a community of like-minded gamers who share their experiences with their monthly boxes.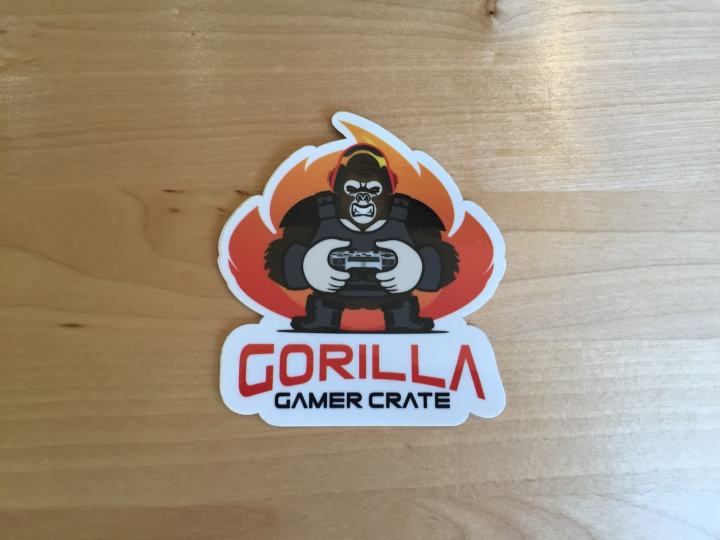 They even included a sticker! I'm sure my kids will enjoy it.
Gaming Accessories: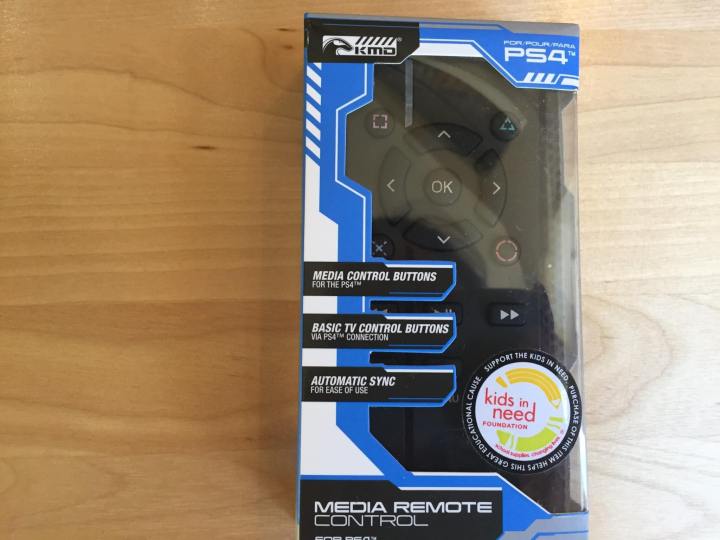 I am really excited about this KMD Media Remote Control for the PS4 ($17.99)! My husband is the real gamer in the family (were there a game to review, he'd happily review it!), but I like using our PS4 for movie watching. The only problem is that I have trouble using the controller. Once, I ended up watching a movie at 1.5 speed bewildered as to why the director had made such a strange stylistic decision, only to realize later, thanks to my husband, that I had messed something up. Never again! This remote is sure to bring happy movie watching into my life. Yay!
My husband is especially excited about this KMD PS4 Controller Charge Cable ($9.99). Evidently, when I purchased the PS4 for his birthday, I included a headset and a wireless controller, but only one charge cable. When he uses both accessories to play a game, he has had to alternate which one he charges on a given day. Not any longer! Thanks to Gorilla Gamer Crate, he can now charge both simultaneously!
Star Wars Paraphernalia: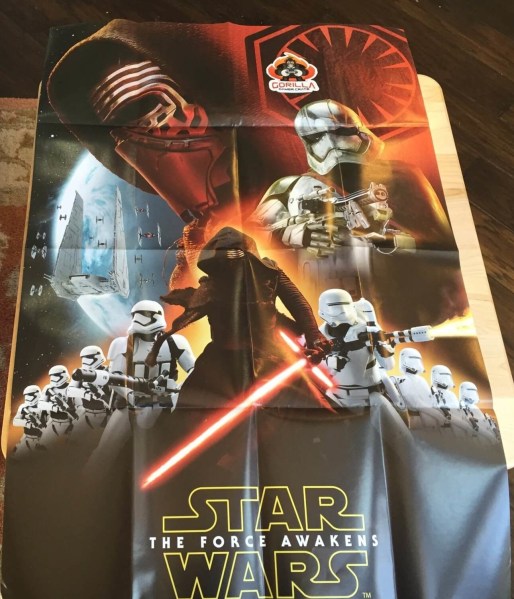 This month's box also included a number of Star Wars: The Force Awakens accessories including this large movie poster ($18.99). While we're fans of the movie, the poster doesn't go with our decor, so I'm not quite sure what we're going to do with this. Perhaps we'll save it just in case our son would like to redecorate his room in a Star Wars theme some day.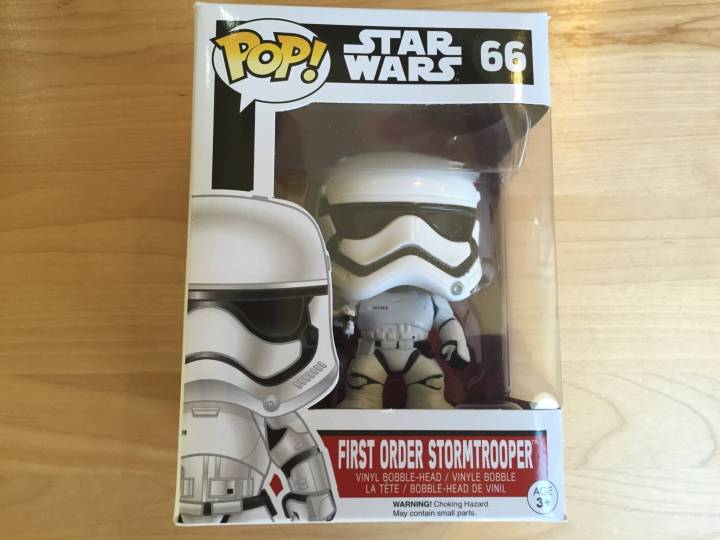 Also in accordance with this month's theme was a First Order Stormtrooper Bobblehead ($10.99). We gave it to my son who liked it a lot. He's been asking about Star Wars a lot lately, and we've been trying to explain the plot line of Episode IV to him, focusing on the Rebels. Needless to say he didn't know what a Stormtrooper was when I gave it to him, but he thought it was cute and the toy prompted more questions, which is always good. For those who collect bobbleheads, please not that the head of the storm trooper does not bobble as much as others.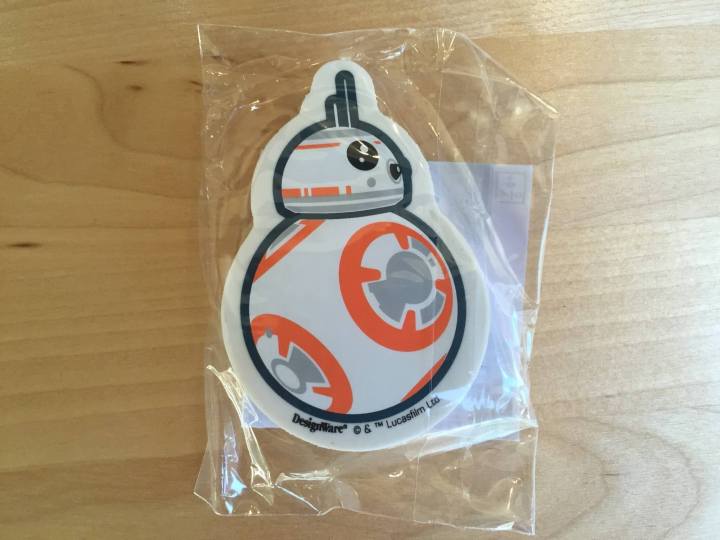 The final Star Wars element was this large droid eraser ($7.99 for 12). I'm sure my son will appreciate using this at school when he gets older.
Food: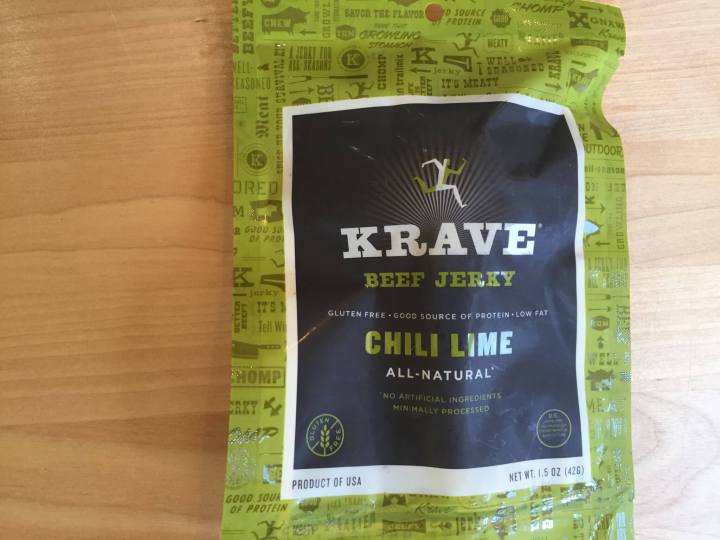 To accommodate the gamer who prefers to eat while remaining seated at his or her console, Gorilla Gamer Crate included food items packed with energy and nutrients. This chili lime flavored beef jerky from Krave ($7) promises to provide a protein punch while gaming. While I plan to take it with me this weekend on my tracking adventure, it will provide long-lasting energy for any situation.
Finally, Gorilla Gamer Crate included two energy pouches to keep you gaming as you're fading. Forbidden from my doctors from ingesting caffeine, all I'm going to do is look at these. I like how one of the pouches provides electrolytes and B vitamins.
Gorilla Gamer Crate is clearly geared toward those hard-core gamers who would appreciate geek-themed boxes and who would prefer not to put their consoles down to eat! While neither my husband nor I fit the target audience, my husband does love gaming on his PS4, and the accessories included in this month's box will be a welcome addition to our console. My son appreciated the Star Wars-themed add-ons but his interest in other upcoming themes may not be as strong (he's 4!).
March's theme will be Heroes. What do you think of this box?
Visit Gorilla Gamer Crate to subscribe or find out more! Save 5% on your first box. Use coupon code  5OFF.
The Subscription
:
Gorilla Gamer Crate
The Description
: The most elite subscription box focused on Playstation 4 and Xbox One gamers. Every month we curate only the most epic gaming accessories, swag and snacks to deliver the most unique and valuable experience any gamer will enjoy!
The Price
: $39.99 per month