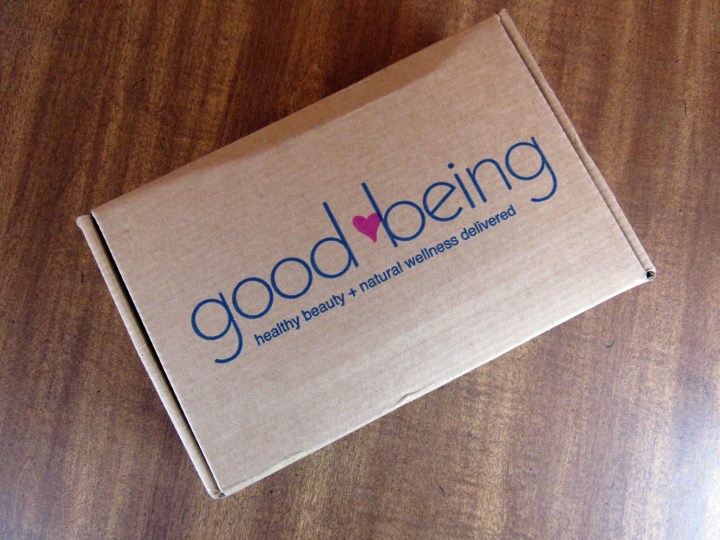 Goodbeing, formerly Goodebox, is now using their Goodbeing boxes! Goodbeing is a little different than the standard beauty subscription box because it is a discovery service. You may receive beauty products, cosmetics, wellness and sustainable, toxin-free living goods. Each box will contain 4-5 products ranging from trial-size to full-size.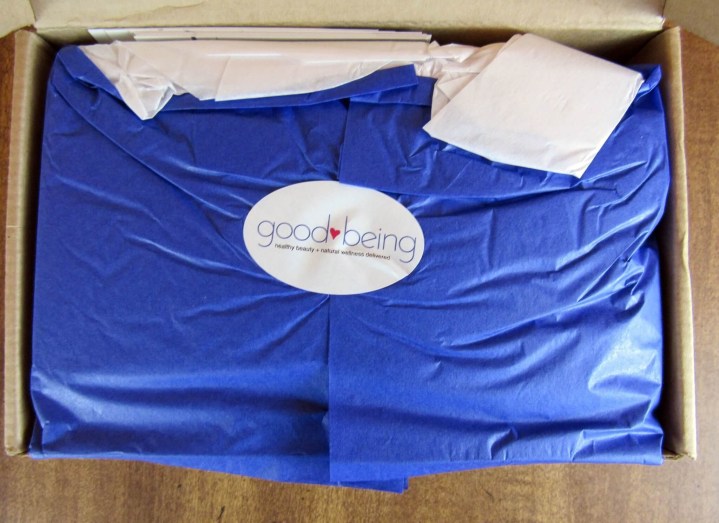 I love Goodbeing because it has a profile that you fill out upon joining.  The profile is comprehensive and took me about 15 minutes to fill out. It's worth the time because the box is customized based upon your answers. It's ideal for people like me that have specific skincare needs. My box may not look like your box. I would love to hear what is in your box!
I see a variety of items in my box including a couple favorite brands!
Goodebox has slowly been transitioning into Goodbeing since around October 2015. The above card describes how there will now be a monthly theme and corresponding Me to We Rafiki.
Goodbeing provides information cards for the products in the box. I keep the product cards that interest me and also log them on an Excel spreadsheet. I do order products that I love.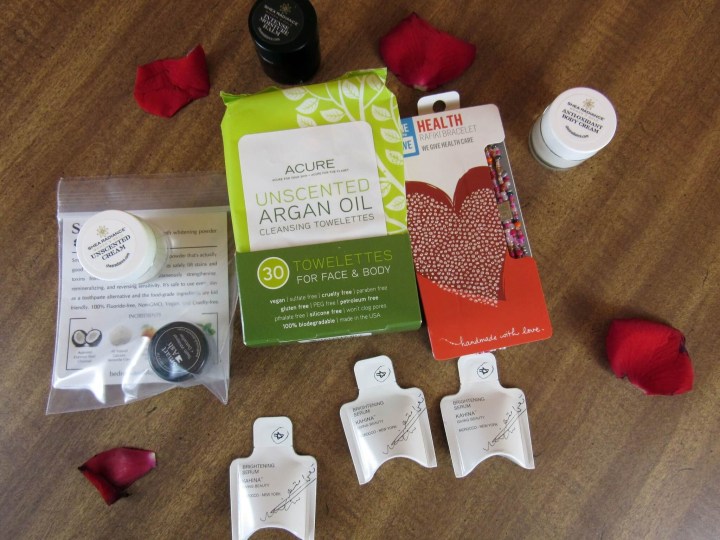 I am happy to see a few travel-size items along with a full-size item, I enjoy travel-size items because I can finish them easily before receiving the next box!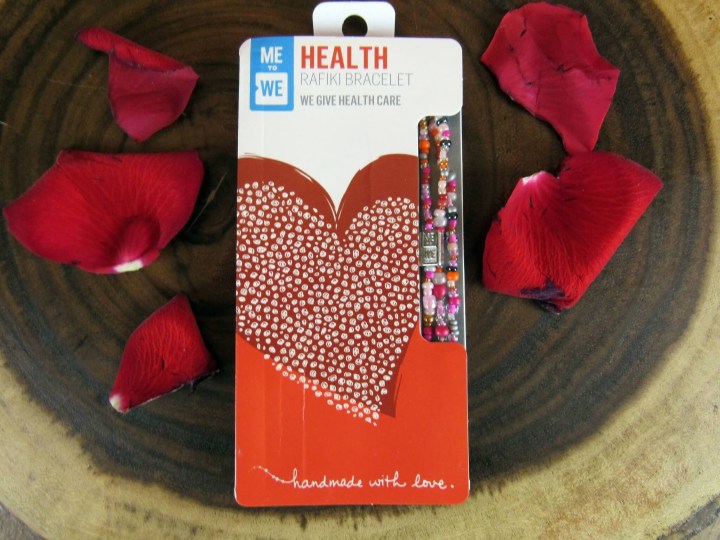 The February theme is Love Thyself and Others. What better way to show your love for others than a Me to We Rafiki Health Bracelet?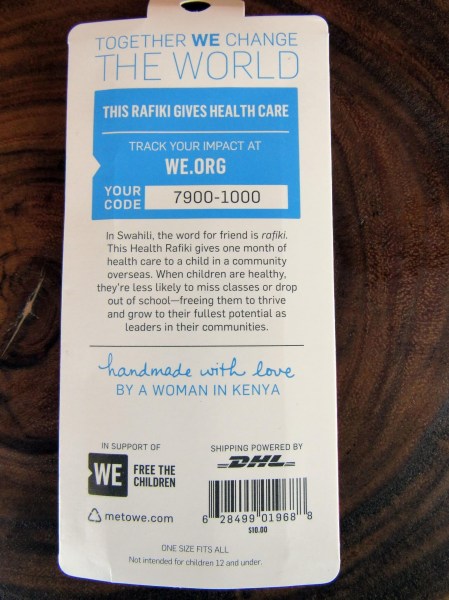 I encourage you to track your impact. Click on the link and entered the code listed above – 7900-1000. It's the readers that are making this code having an impact. Thank you, wonderful readers!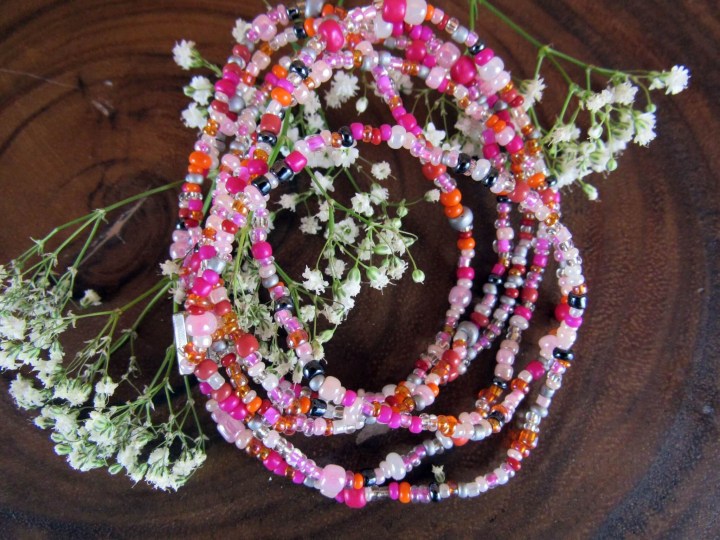 The bracelet is handmade by a woman in Kenya. The bracelet can be worn as a bracelet, necklace, headband or anklet.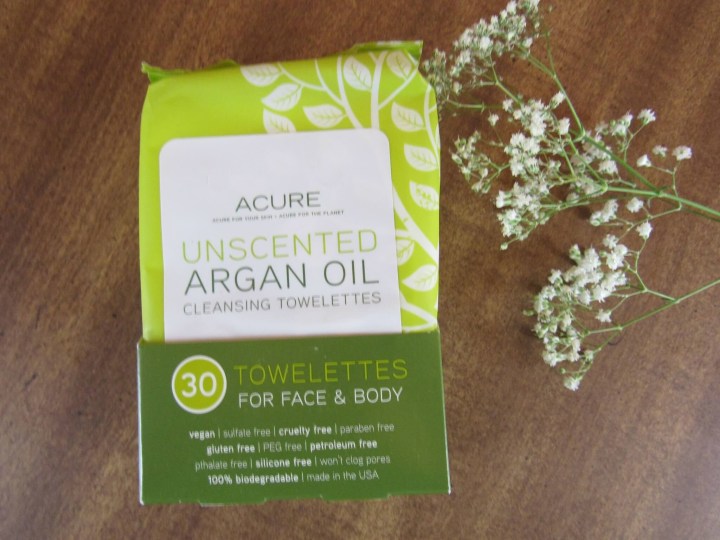 The Acure Argan Towelettes ($6.99) is a favorite of mine. They are unscented and free of all the nasty things that you do not want to put on your body. Unscented is good too because I think Argan oil smells like dirty diapers even though I use it in my hair. It's the perfect item to throw in my tote while traveling this month.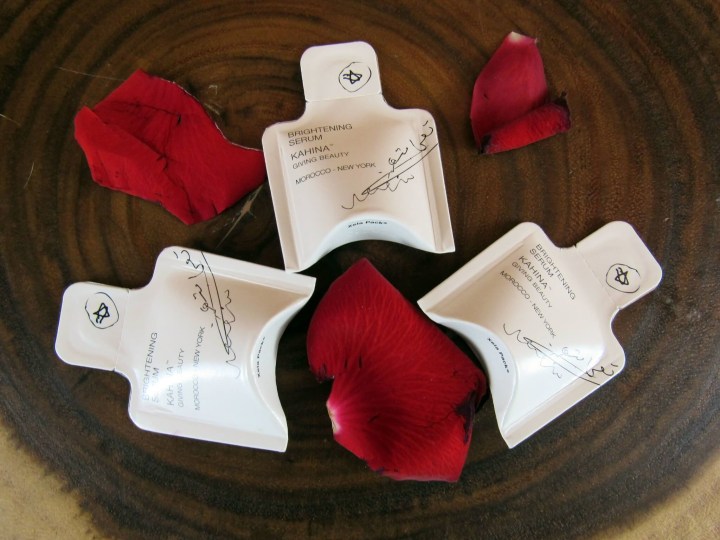 The Kahina Brightening Serum ($24.00) is an organic serum that works on refining skin tone. I use it on my neck because the ingredients sometimes irritate my rosacea.  It smells great and feels luxurious. I loved everything that I tried from Kahina!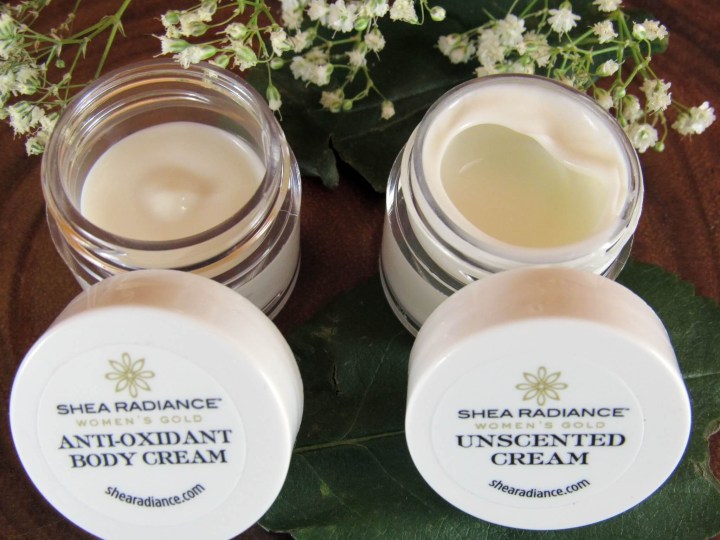 The Shea Radiance Anti-Oxidant Body Cream ($3.50) has 30% Unrefined Bio-Active Shea Butter. It has a light pleasant scent and rubs in easily. It's a hard working cream that keeps your skin protected and moisturized for 24 hours.
The Shea Radiance Unscented Cream ($3.50) also has 30% Unrefined Bio-Active Shea Butter. It does have a light shea scent that is not detected the Anti-Oxidant because of the essential oils used.  It's great for sensitive skin and rubs in easily. This cream also works hard for 24 hours!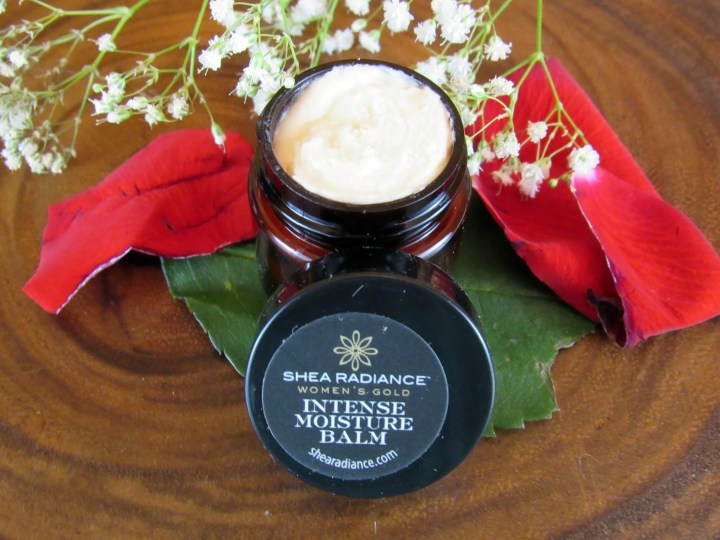 The Shea Radiance Intense Body Balm ($5.00) feels luxurious. The balm is not a hard balm, but a softer balm that melts into your skin. It contains 50% shea butter and has a slight shea butter scent.  It calms irritated and chapped skin. It's a workhorse that protects and moisturizes your skin for 24 hours.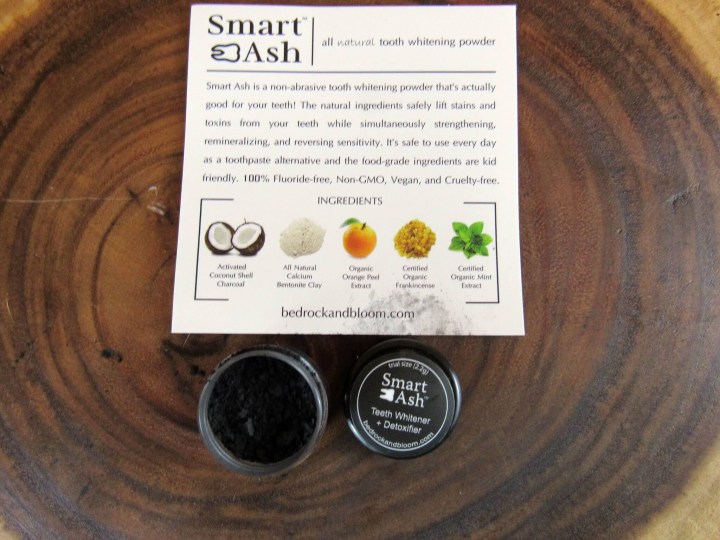 I need to stop being a chicken and try the Smart Ash ($5.00).  This will mark the third time I received it in a subscription box! It whitens the teeth by using Wildcrafted Activated Coconut Charcoal. I'm in my 40s and noticed my teeth do not look as white as they once did. I must give it a try!
It's simple. Put some ash on your toothpaste, add water, brush your teeth, spit, brush again with water to remove any residue, spit, and that is it. Why is this so hard for me?
I'm happy with the selection of items in my the February 2016 Goodbeing box. My box may differ from yours because of the customization involved in curating the box. It has a great mix of affordable organic products and luxury beauty. I'm glad to see that Goodbeing is moving forward in its rebranding with a monthly theme and corresponding Me to We Rafiki. Goodbeing keeps getting better and better!
Visit Goodbeing to subscribe or find out more!
The Subscription
:
Goodbeing
The Description
: Goodbeing (formerly Goodebox) is a premium discovery & trial service providing expertly curated, healthy beauty products, non-toxic cosmetics, natural wellness & sustainable, toxin-free living goods.
The Price
: $21.00 per month