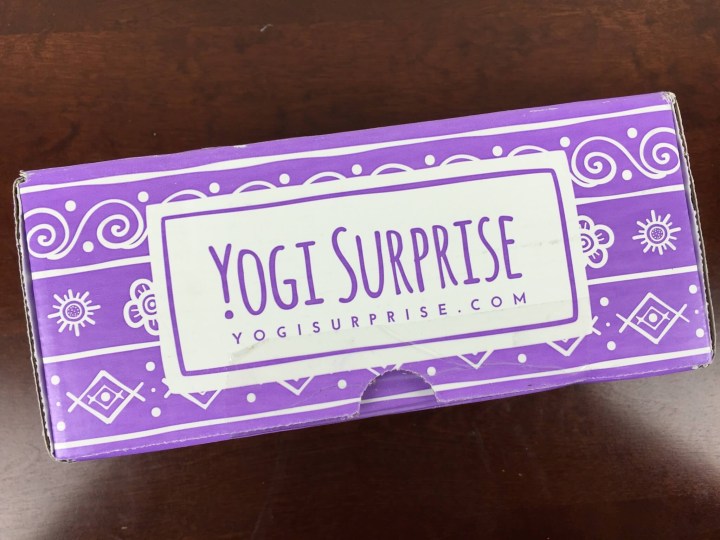 Yogi Surprise is a subscription box for a healthy centered lifestyle. Each monthly box contains 6-8 products picked by experienced yogis to complement your yoga practice and your life!
Love the fun art on the box!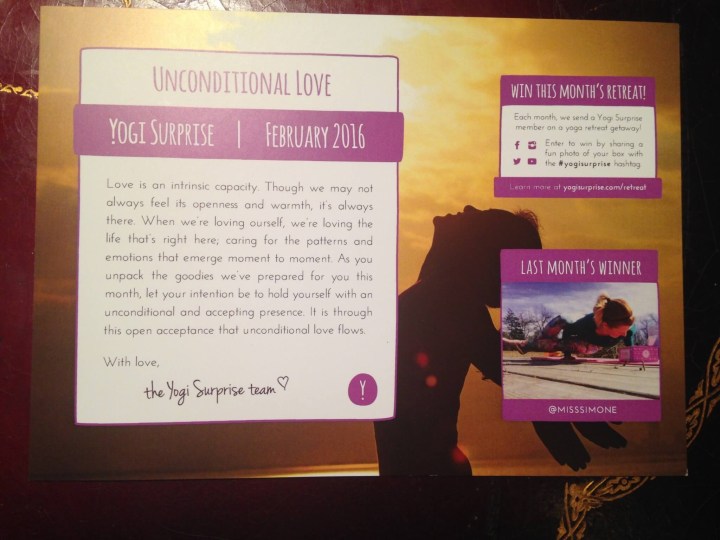 The February 2016 theme is "Unconditional Love." This month is focused on holding yourself with an unconditional and accepting presence during each moment of life so that unconditional love will continue to flow throughout.  – check it out!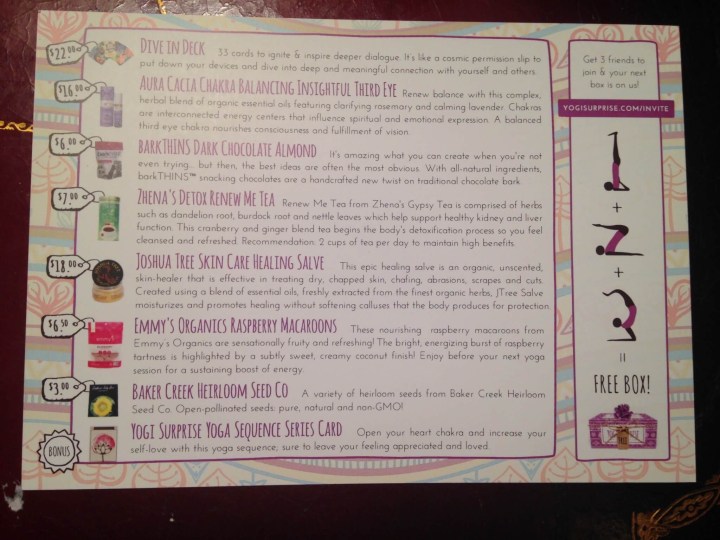 The information card gives details on each item and how they might be used!
All the items in the February 2016 Yogi Surprise box.
Dive In Deck ($22)  This 33 cards are meant to ignite and inspire deeper dialogue.  There are questions or quotes to answer that I think are quite meaningful to assist one in the process of discovering or rediscovering the self .  The artwork is pretty cool too!  There is also a 10% Off Coupon for your first offer.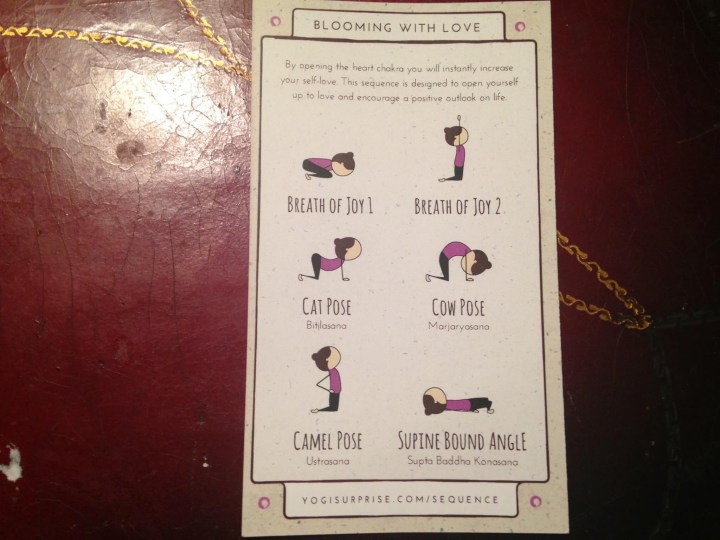 Yogi Surprise Yoga Sequence Series Card – This is a really nice bonus! Yogi Surprise includes a new sequence monthly to match the theme. This is a great way to try a new move or rediscover a new favorite.  It gives both the English and the Sanskrit names of the postures as well.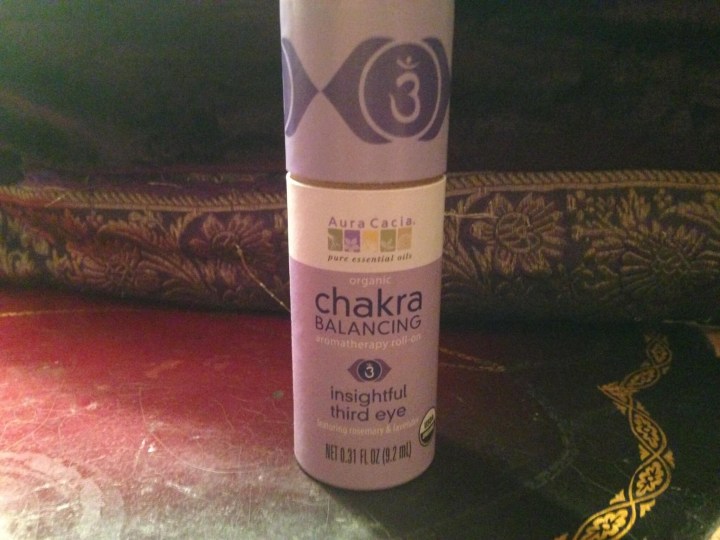 Aura Cacia Chakra Balancing Insightful Third Eye ($16)  This complex herbal blend of organic essential oils features clarifying rosemary and calming lavender to help balance the third eye chakra.  I love this brand!
Bark Thins Dark Chocolate Almond ($6.) This all-natural snacking chocolate is handcrafted and sooooo delicious.
Zhena's Detox Renew Me Tea  ($7)  This tea is made of dandelion root, burdock root and nettle leaves to help support healthy kidney and liver function.  The cranberry and ginger aids the body's detoxification process.  I'm looking forward to tasting this.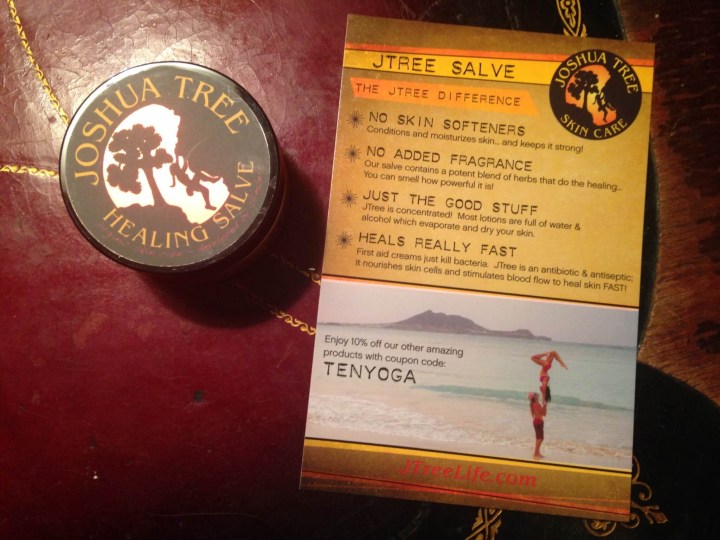 Joshua Tree Skin Care Healing Salve ($18).  This organic, unscented skin healer conditions and moisturizes skin and also acts as an antibiotic and antiseptic, nourishing skin cells and stimulating blood flow to heal skin.  There is a 10% off coupon as well.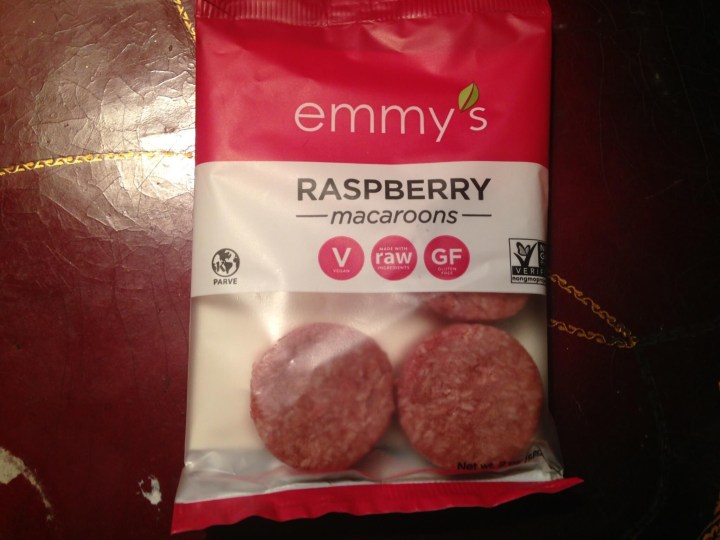 Emmy's Organics Rasberry Macaroons ($6.5)  These organic, vegan, gluten free, non GMO verified macaroons are made with raw ingredients.  They are a perfect less guilty snack.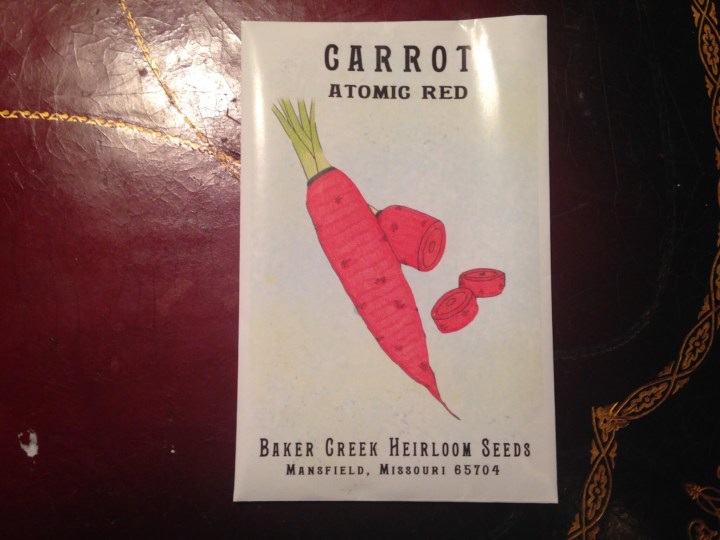 Baker Creek Heirloom Seed Co ($3):  Even though we are far from Spring, it lifted my spirits to see these seeds.  They are pure, natural, non-GMO and open-pollinated Atomic Red Carrot seeds.  The company has so many cool vegetable seeds to check out.  This is going on my favorites list!  (I just need time and a plot of land to plant everything!)
This is a pretty well balanced box.  The Yogi Surprise Team was mindful in curating a bunch of intention inspiring items that cover what you put into and onto your body, to what you put into the environment, and items that promote the flow of unconditional love.  The value for this month was around $78.50!
Visit Yogi Surprise to subscribe or find out more! Use coupon code YOGIFRIEND at checkout to get 20% off your membership.
The Subscription
:
Yogi Surprise
The Description
: Receive a box full of Yoga inspired goodies. Yogi Surprise is the perfect complement to your healthy lifestyle. Each box is packed with love and positive intention, e, ranging from handcrafted yoga accessories to decadent superfood treats.
The Price
: $44.95 per month