Loot Crate's theme for February was DEAD.    Loot Crate is the original subscription box for geeks & gamers. Every month you'll get awesome geeky items curated around a central theme. One of the things I love about this box is that it's only $20 per month – a super affordable geeky fix with a subscriber base so gigantic that every box is full of really awesome geeky items – many of which are exclusive to this subscription (and not just oh, it will be released later – actual exclusive items you'll only get in this box!). Every Loot Crate box in 2016 will have a shirt!
You can turn the box inside out.
 
 
All the items in the February box!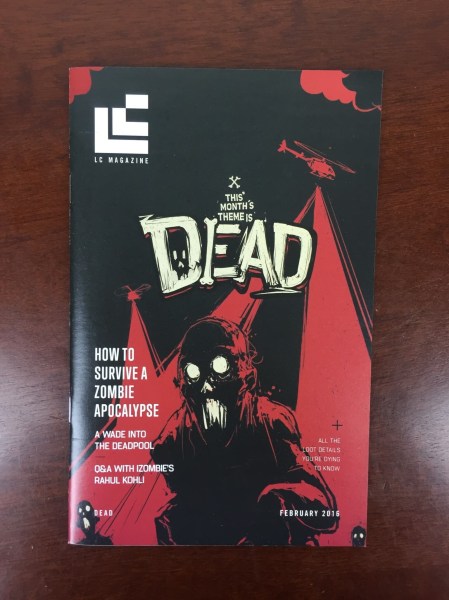 Every Loot Crate box comes with the mini mag!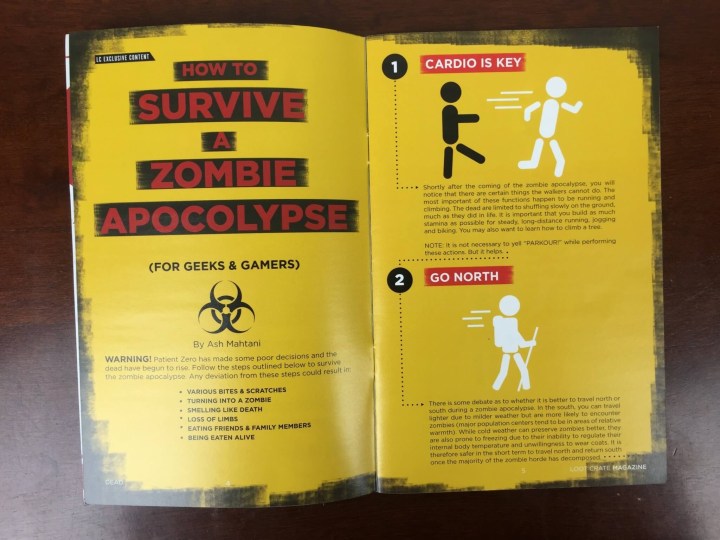 (spellcheck please!)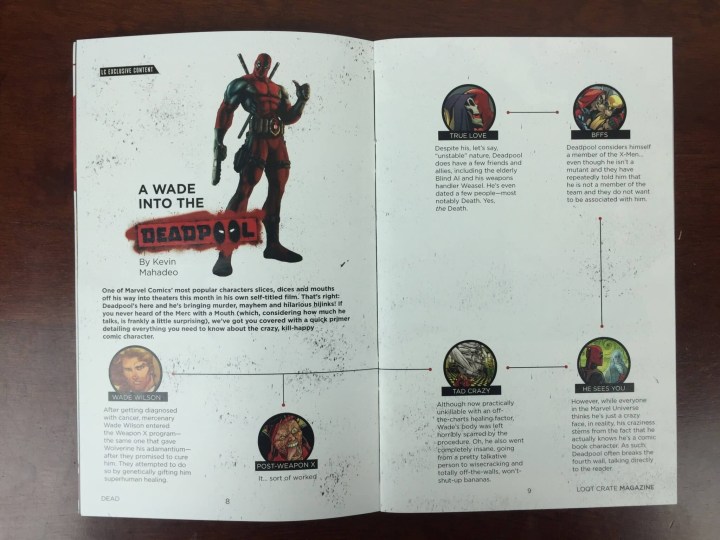 There are interviews and fan stories inside the magazine, as well as details on all the products.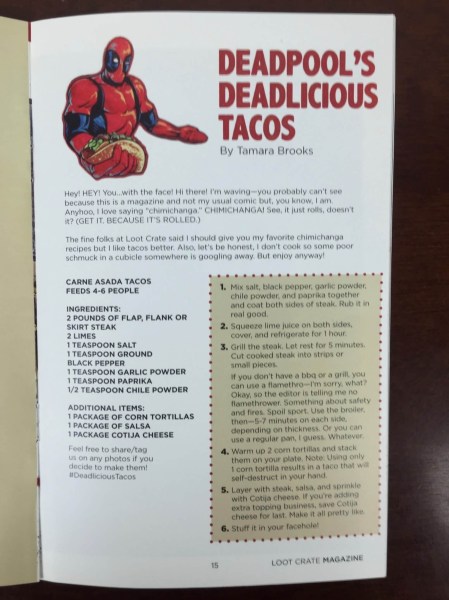 And tacos!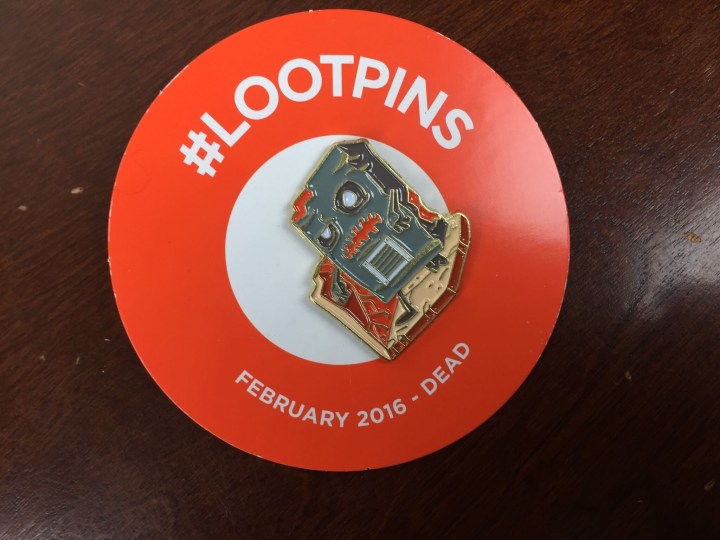 Zombie Lootcrate box! Great enamel design, I love it! FYI, the bonus content this month is The Walking Dead: Road to Survival ($10).
Deadpool Tacos?! T-Shirt (LootCrate Exclusive) This is a GREAT shirt! It's an actual Marvel shirt and super soft. My husband and I will be fighting over this one. I can't wait to get our Loot Pets box so Lindy and I can match!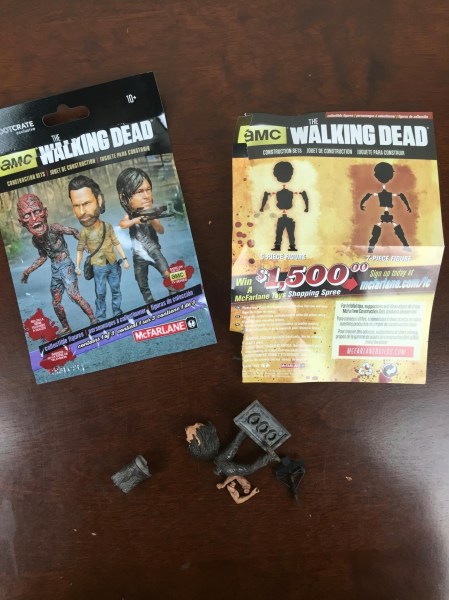 The Walking Dead Big Head Construction Sets  (LootCrate Exclusive) McFarlane's Toys had a Loot Crate exclusive release this month – one of their big head construction sets.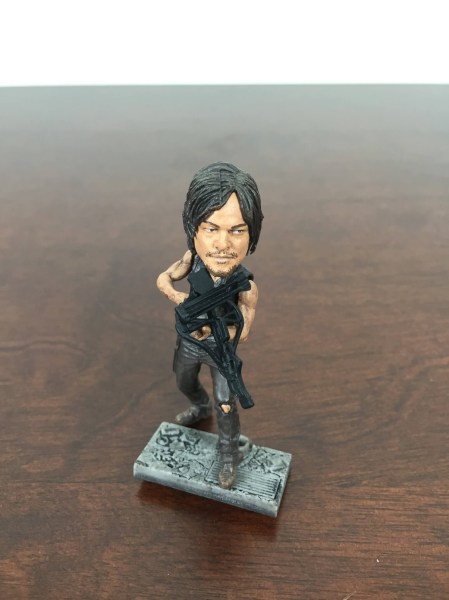 Daryl was tricky to assemble, but loaded with details. And he really does have a big head! As you guys know, I don't watch this show, but this is what Jenny had to say about Daryl in my Super Geek Box review comments:
OMG I love the Daryl. He is so cute. You really need to watch the WD just to watch for him. He is so hot and I swear the dirtier he gets the hotter he is. ?
I can get behind that. I do, however, wish this figure wasn't quite so delicate – he tends to fall apart!

Deadpool Q-Fig Figure (LootCrate Exclusive) Quantum Mechanix partners with Loot Crate on many of the higher end items in their boxes and limited edition crates. This Deadpool one is just rad, hefty, and perfect for display.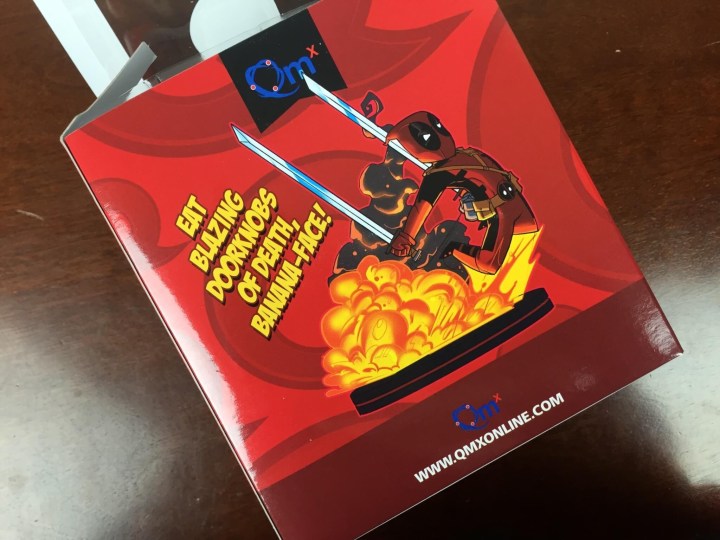 But I also loved the back of the box!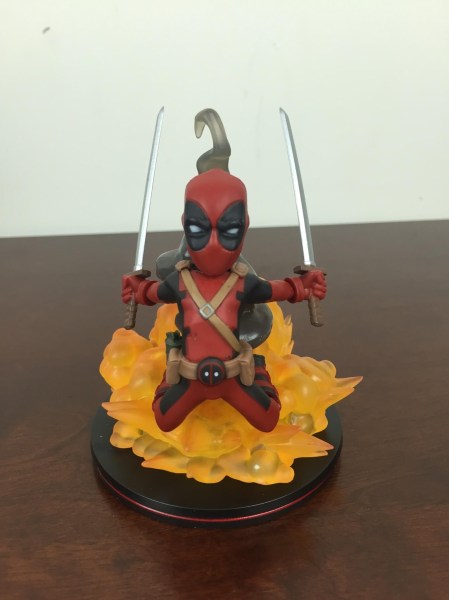 Deadpool is blazing on past a pillar of smoke and fire!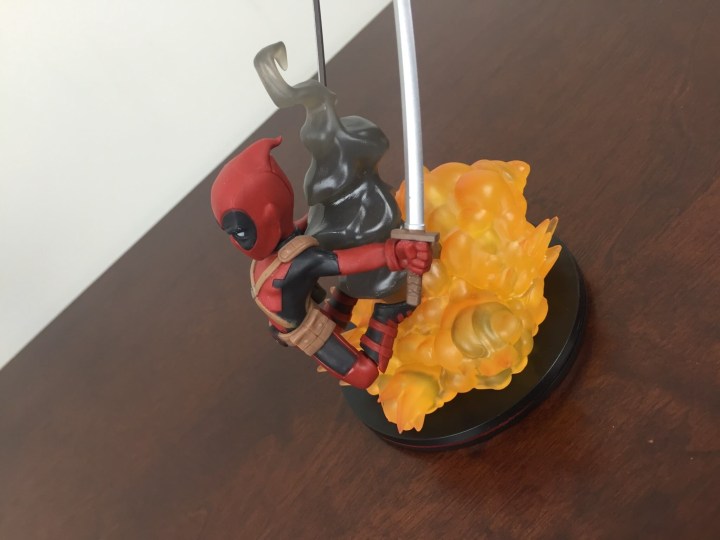 The details and quality on this piece are pretty incredible. I feel like it needs a custom LED base to light it up or something. I'll figure something out (I feel tinkering coming on!).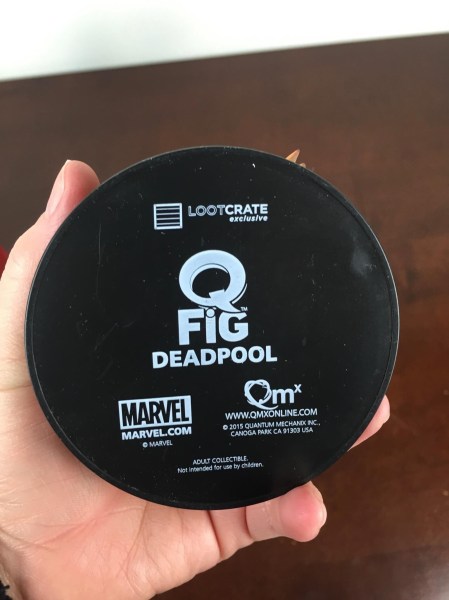 Some subscribers received this awesome X-Force variant!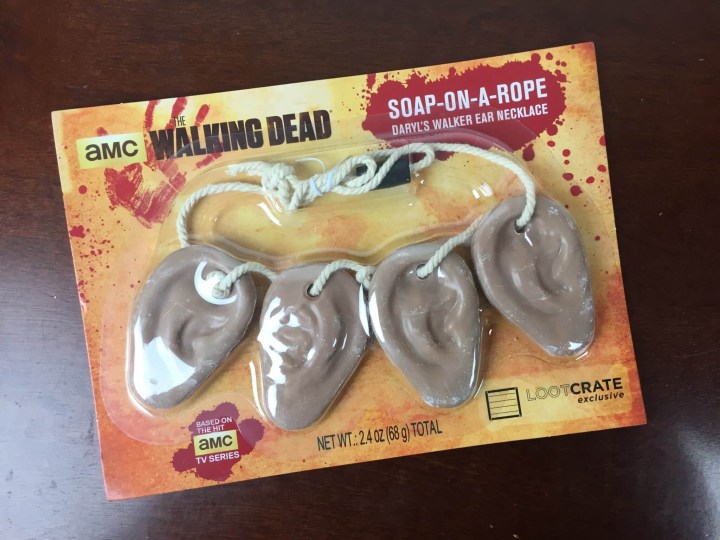 The Walking Dead Soap-On-A-Rope (LootCrate Exclusive) Loot Crate loves to include what I'll call the "selfie item" in the box, and this is definitely it – I've seen loads of photos of people showing off their walker ears! Daryl collects the ears of walkers, strings them up, and wears them. This is both funny and useful (and makes for hilarious showers).
I loved that this box was 100% exclusive! It was a win for me with the figure and the shirt, but I'll regift the ears & the big head to a TWD fan. It was curated perfectly on theme (I'm never a huge fan of the dead/villain/zombie boxes but the soap on a rope was a really hilarious item nonetheless) and I loved the extra-nice quality of the shirt and figure this month. I'm really excited to see my Level Up items and the March box spoilers!!
Visit Loot Crate if you'd like to subscribe or find out more! Save 15% on any subscription when you use this link and coupon code HELLOSUBSCRIPTION15.
The Subscription
:
Loot Crate
The Description
: Lootcrate is a subscription box full of gamer-ific loot for geeks and gamers. Past crates have included figurines, candy, stickers, gift cards, accessories, more figurines, buttons, books, postcards, shirts, stickers, games, you name it, all with a geeky, game-y flair.
The Price
: $19.95 per month
.