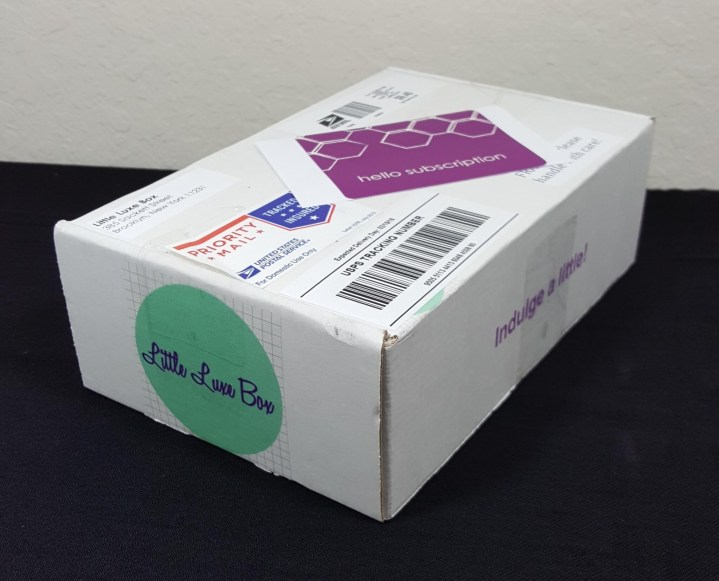 Little Luxe Box is a monthly subscription bringing you tiny indulgences from small businesses in food, bath and beauty products, housewares, and accessories.  Each box contains 4-6 full size products, and subscriptions start at $24.99/mo. plus shipping.  Prepay for 3 or 6 month subscriptions and save 10-15% of the single month cost.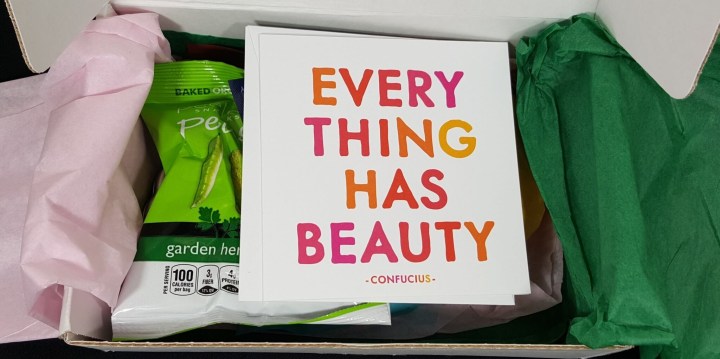 I have my own theories as to why there was no information note or card in this month's box.  This was my first peek inside.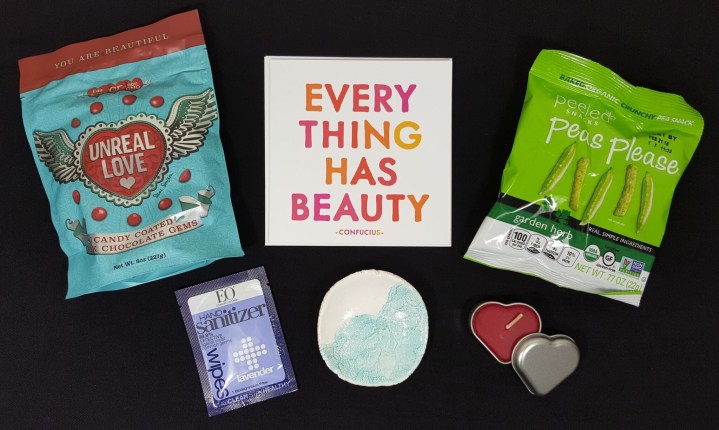 Everything in February's box.  Definitely feel a romantic theme.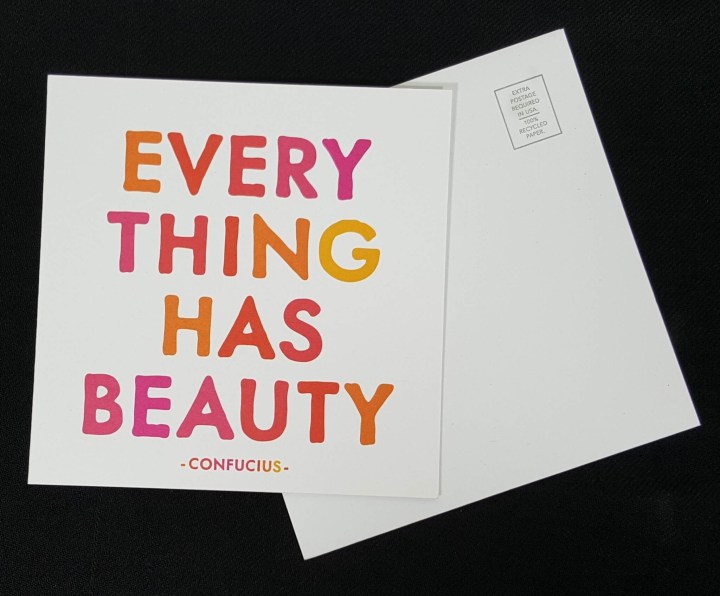 quotable cards "Everything Has Beauty" Notecard ($3.50 est.):  I liked the quote on this card and haven't decided whether to send it or frame it.  Pricing for this varied online, and you cannot buy directly from their website, unless you are a wholesaler (you can use the store locator to find these near you).  It is a 5″ square card with a blank inside, made from 100% post-consumer recycled paper.  The back of each quotable card also contains a factoid with a bit of information related to the quote or author that is guaranteed to make you think, smile, or learn something new.  Here's my factoid:
Venus, the glittering planet named after the Roman god of beauty, passes in front of the sun only twice every century.  The next time it will happen is in 2117.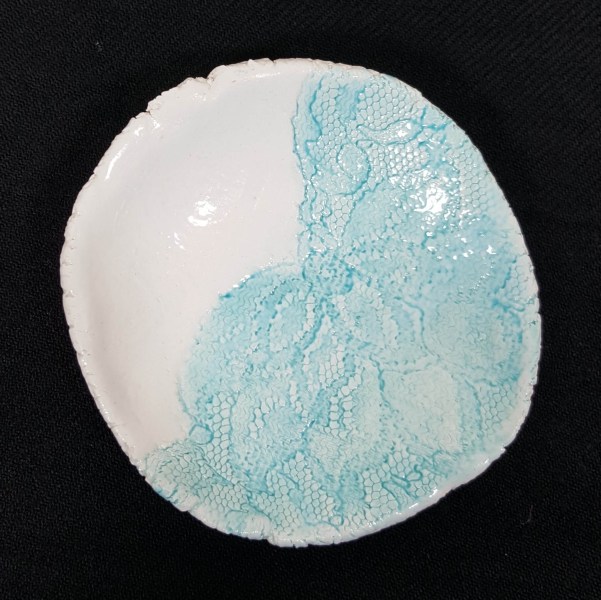 Small jewelry dish ($?):  This has a definite handmade feel and reminded me of something my niece made for me in an art class.  It is a shallow ceramic dish with a lace imprint.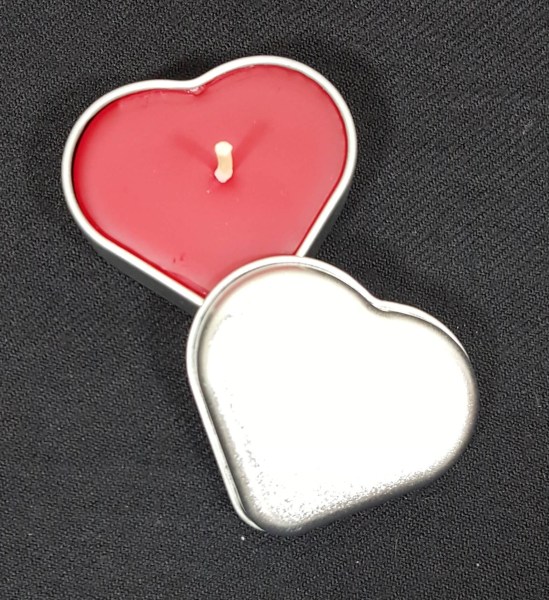 Big Dipper Wax Works Aromatherapy Heart Tin ($3.00):  This is a 100% beeswax candle, scented with essential oils.  The tealight-sized tin is cute for Valentine's day and the scent made me crave those little cinnamon heart candies.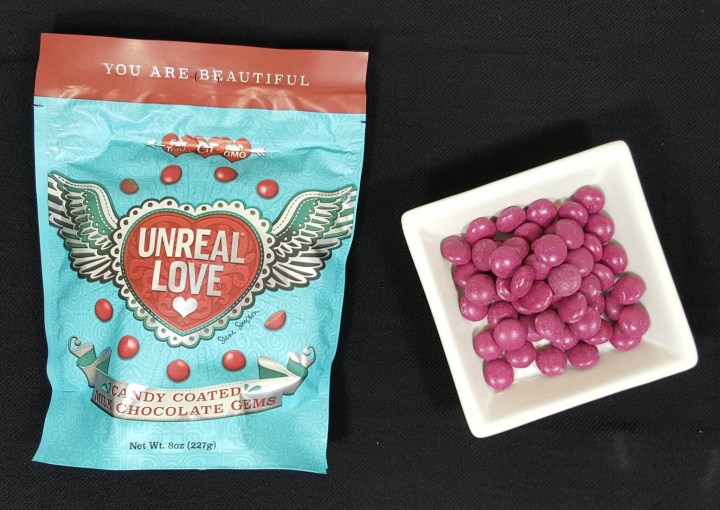 Unreal Candy Coated Milk Chocolate Gems ($5.99):  Unreal offered this limited edition packaging  for Valentine's Day.  I love that it's pretty and edgy at the same time. These are a better for you M&M-like treat.  The chocolate is very smooth and creamy, and this is not an overly sweet milk chocolate (the candy coating makes up for the sweetness you may miss in the chocolate), but it is a very smooth and creamy chocolate.  I didn't feel as guilty for devouring these.
Red is the color of love.  It's bold.  The flame of desire.  The beat in our heart.  So when we lovingly made these delicious, candy coated chocolate gems, the color was never in doubt.  Our red gems are carefully crafted in small batches using only the finest, non-GMO, sustainably sourced and fair trade ingredients.  And though love isn't listed, it's what makes them taste UnReal.
Peeled Snacks Peas Please in garden herb ($1.49):  This is a baked, organic pea snack.  There's a similar product that I'm addicted to, so I can't wait to get into these.  However, after eating all those chocolate gems, these will go into my lunch bag for later.
EO Hand Sanitizer Wipe in lavender ($0.58):  I love hand sanitizer wipes.  They are more effective than the gels because you can wipe off the dirt and grime while sanitizing your hands.  These are great to have handy in my purse or car for little messes.  Although I wished they'd included more than one.
Honestly, this month's Little Luxe Box was underwhelming.  I couldn't find a value for the jewelry dish, but everything else came in under $15.  The big item was a bag of chocolate candies.  While good, not great for the big ticket.  I hope next month is better.
Visit Little Luxe Box to subscribe or find out more!  Use coupon HELLO10 to save 10% on your first month!
The Subscription
:
Little Luxe Box
The Description
: Little Luxe Box is a monthly subscription box featuring tiny indulgences in eatables, wearables and fine goods, all supporting small businesses. We seek out the highest quality food products, body products, housewares and accessories from small businesses, and bring them straight to your doorstep. Every month you receive Little Luxe Box, you will receive a gift package of 4-6 products curated around a theme, all geared toward bringing a little bit of luxury in your everyday life. Indulge a little- you deserve it!
The Price
: $31.99 per month