eSalon Custom Hair Color is an at home custom color subscription.  I have been talking about getting some color for my hair for awhile now to help cover up the glitter strands that are starting to work in there.  I've looked a bit at the stores but there are so many options and I have no idea where to start so this is a great subscription for me.  When you first log in you fill out a survey and answer questions about what you are looking for in a color and what color your currently are etc. They then had a chart showing where you are and what would work for you. From this they will send a custom blended color right to your door.  I was very excited and a little nervous to do this one but I am very happy with the results.
Everything that came in my eSalon box.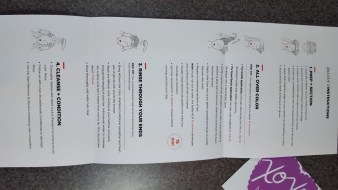 The subscription comes with easy to follow instructions.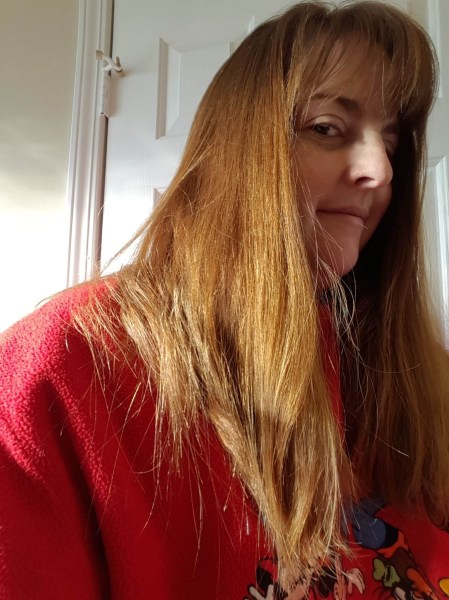 So this is me and my hair before I started the process. I have pretty long hair and I haven't had color on my hair in over 5 years so it is pretty natural and many different colors. I say the base is a dark blonde but I definitely have some natural red highlights in it.
The instructions said to section my hair into four sections which is what I did however once I got going I think I will do more sections next time. I still felt like the sections were a lot of hair all at one time. I have pretty thick hair so that could be the reasoning.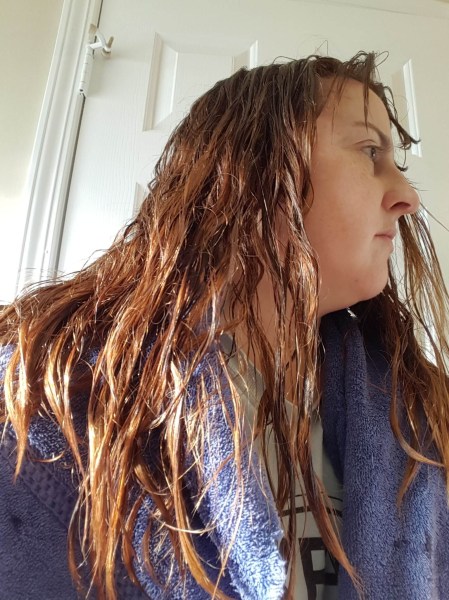 All dyed up.  Being my first time I've done this I don't think I used enough of the solution.  Next time I will be a little more heavy handed with my application.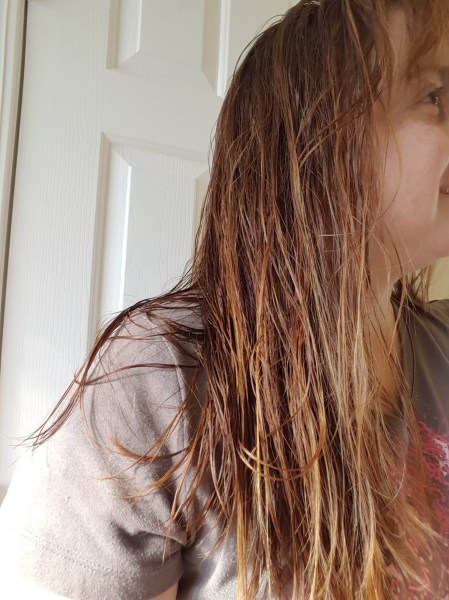 Fresh out of the shower and combed out.  You can see some of the red in this picture. I went up a shade and added more red in my color selection.  It kit came with a conditioner that was awesome. I NEED to get me some more of that as my hair felt so great after using it. eSalon has another subscription called The Matchup for purchasing their hair care products (50% off first box!).
Here it is all dried and ready to go.  It really isn't a huge difference from my natural color but I wasn't going for a big change. I was hoping to cover some of the grey and to give some oomph to my hair which has been looking a little dull and did all of that.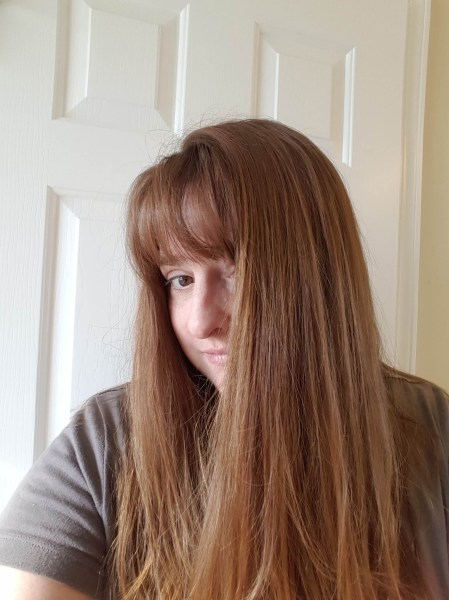 I did my color a couple days ago and people that I see that didn't know I was doing it have noticed a difference so while subtle it is noticeable.  I'm thinking next time I might do a little more red and see how it goes.  My mom, sister and son all have red hair so I have the complexion for it.  I won't go all red but more to pull out the redtones I already have in my hair.
I loved eSalon and the ease in which they  made selecting my color and then the easy to follow instructions. I need to look around their site as I just used a towel around my shoulders when applying the dye but I think a gown or cover would be more manageable and I loved the conditioner so I need to get some of that for sure – I will definitely test out eSalon's The Matchup next.  I'm curious to see how the color lasts in my hair and for how long it will go before I want to refresh it. They did send a second bottle for free with my first box so I'll be able to redo this shade one more time before I up to the new one.  I'll comment next time with the duration of the color and how it lasts.
Visit eSalon Custom Hair Color to subscribe or find out more!
The Subscription
:
eSalon Custom Hair Color
The Description
: Get individually blended hair color crafted just for you by professional colorists. Individual hair color, crafted just for you, with personalized instructions for an easy at-home application. Advanced formula with high-quality ingredients for rich, long-lasting color and superior gray coverage. Our hair colors are not pre-stocked. Every order is custom blended, bottled and packaged, then sent to the client as soon as it's completed.
The Price
: $19.99 per month