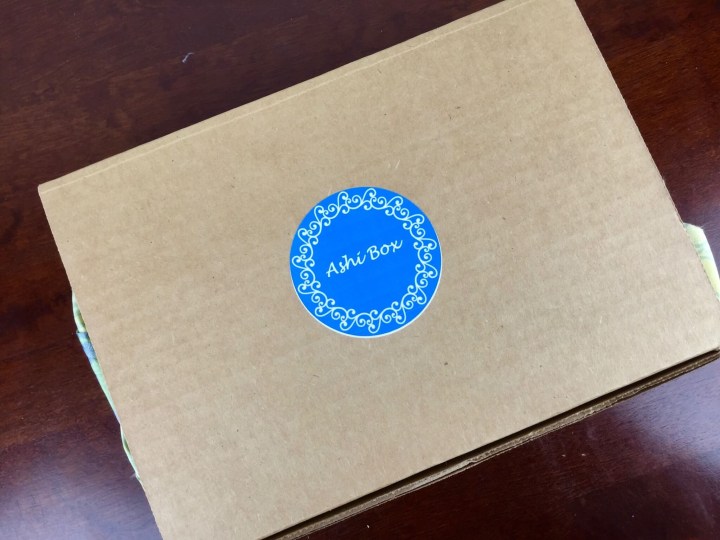 Ashi Box is a new monthly Yoga subscription box. Ashi Box is curated by a yoga practitioner and India lover. Each Ashi box is designed to deepen your holistic yoga practice, and will include Yoga Love, India Love, and Life Love.
Yoga Love: Yoga love includes products and teachings that will support and deepen your yoga practice (perhaps a yoga book or strap)
India Love: India Love includes teachings from India, and unique findings procured in India (think Ganga-dipped mala or brass statue)
Life Love: Life Love includes life-enriching and joy-inducing products from smaller companies that are doing awesome things (possibly organic teas or essential oils)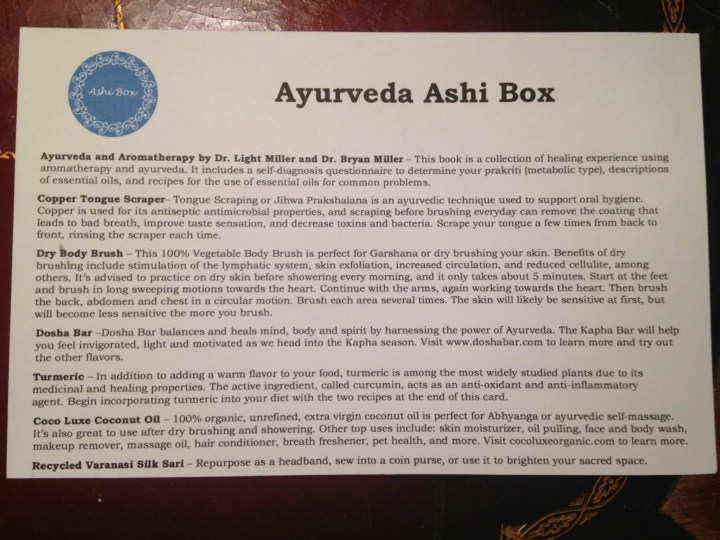 When I opened the box I was surprised to find such unique packaging (see it at the bottom of the review)! The theme for January was the "Ayurveda."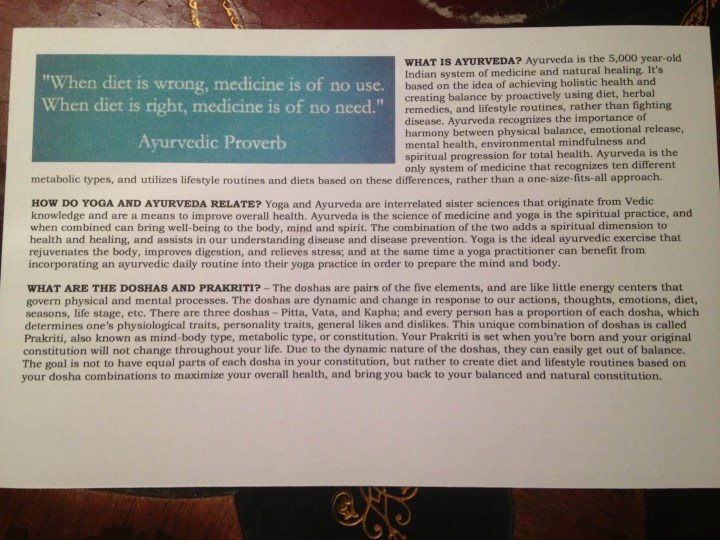 Along with the product information card were cards on Ayurveda and yoga practice.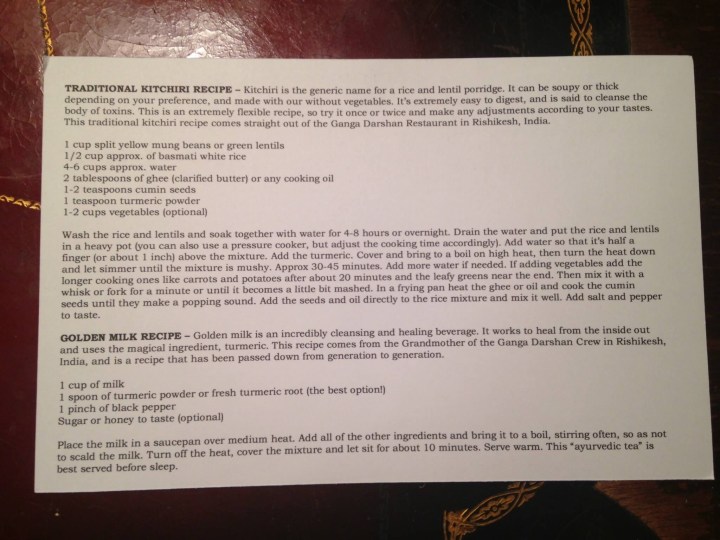 Traditional Kitchiri Recipe.  Whenever I was sick while I was living in India, I would make or friends would bring me Kitchiri.  And even now, back in the US, if I don't feel well, I will make it or order it delivery!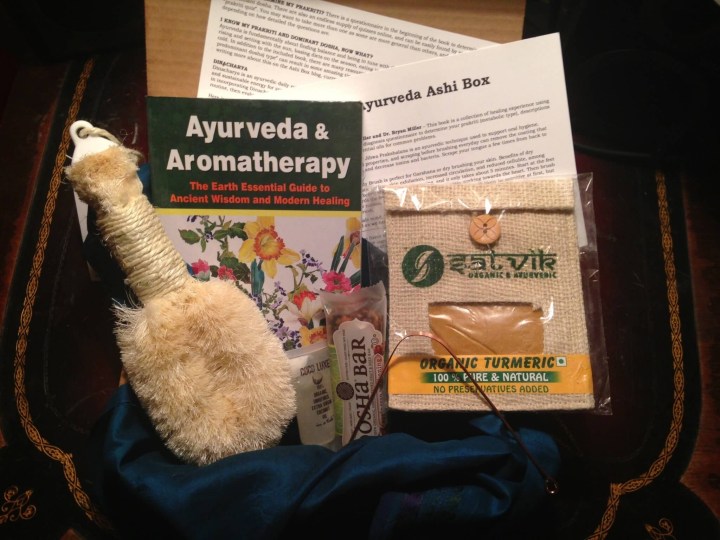 Everything in the box!
Ayurveda & Aromatherapy Book by Dr. Light Miller & Dr. Bryan Miller:  This book provides a look at healing experiences using aromatherapy and ayurveda.  Am looking forward to reading this one.  It also includes a self diagnosis questionnaire to determine your prakriti (metabolic type), descriptions of essential oils and recipes for the use of the essential oils for common ailments.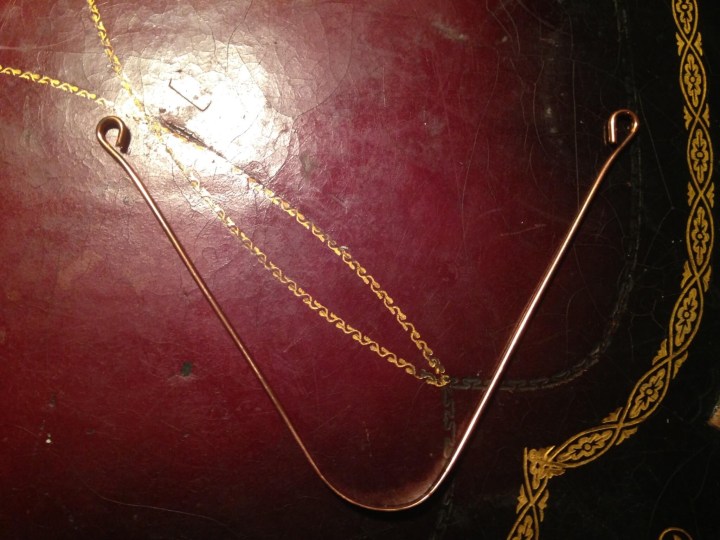 Copper Tongue Scraper: Jihwa Prakshalana (Tongue Scraping) is an ayurvedic technique to support oral hygiene.  Copper is used for its antiseptic antimicrobial properties.  The information card provides information on how and when to scrape the tongue.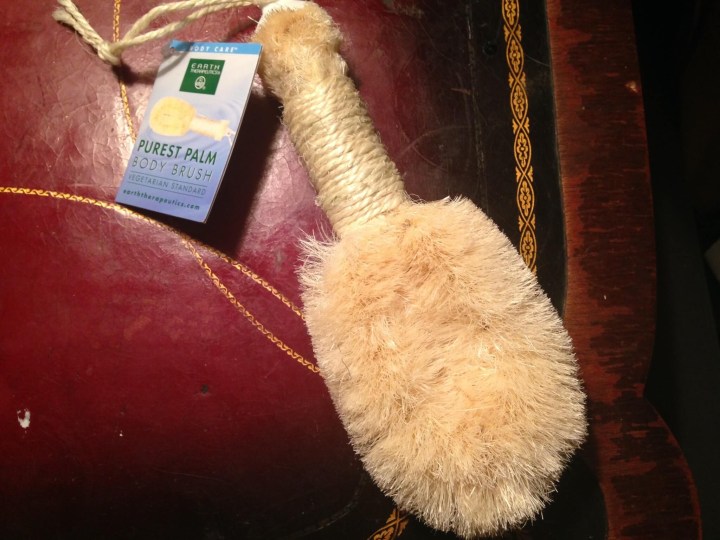 Earth Therapeutics Dry Body Brush:  This 100% Vegetable Body Brush can be used for Garshana (dry brushing your skin).  Dry brushing stimulates the lymphatic system, exfoliates the skin, increases circulation and reduces cellulite.  The information card gives specific instructions on how to dry brush.  At first, I thought it would hurt, but it actually feels really good.
Dosha Bar: It's delicious!  This is a 100% organic Kapha Bar, appropriately included in this box as we head into the kapha season.  It was created to harness the power of Ayurveda and balance and heal the mind, body and spirit.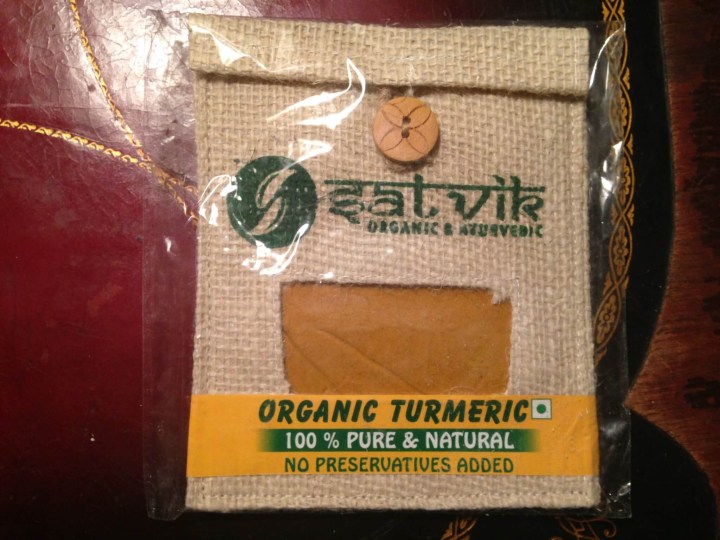 Satvik Tumeric:  This organic and ayurvedic tumeric is a wonder spice.  I love tumeric, and I took it on the road with me.  Tumeric acts as an antioxidant and anti-inflammatory agent and adds a warm flavor to your food.  I add it to my tea in addition to my food.  If you are a vocalist, you will love this!
Coco Luxe Coconut Oil:  This is a 100% organic, unrefined extra virgin coconut oil.  It can be used for so many things, including: Abhyanga (ayurvedic self massage), dry brushing, showering, moisturizing, oil pulling, makeup remover, hair conditioner, breath freshener or teeth whitener.  My friend uses it on her face and it is so super smooth.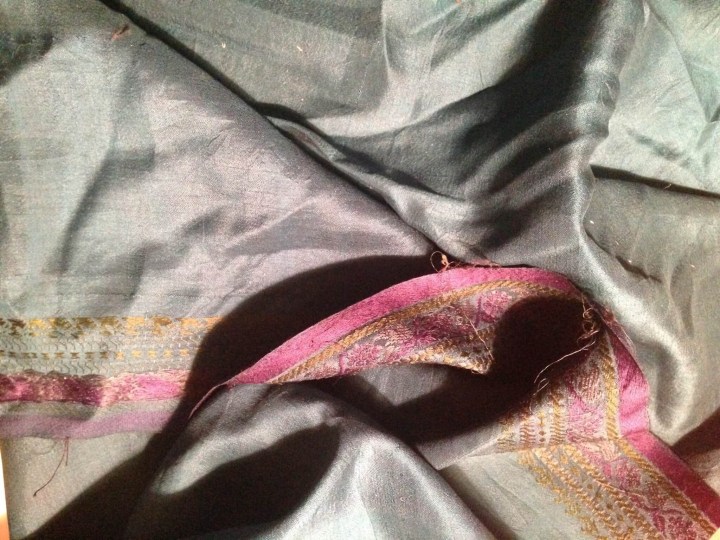 Recycled Varanasi Silk Scarf: I absolutely love this.  I have to find a way for it to make its way on my prayer table.
This was a very cool box!  I used to see an ayurvedic doctor when I was living in India, and this box is a reminder to come back to this practice.  The items in the box are basic staple items that if you don't already have in your household, you should!  It was really well curated for traditional yogis and yoga practitioners.  Further, a portion of the proceeds of the boxes go to women's groups in India.  I really enjoyed this box.  Get it!
Visit Ashi Box to subscribe or find out more!
The Subscription: Ashi Box
The Description: Ashi Box is yoga love (eg, yoga book or strap), India love (eg, Ganga-dipped mala or brass statue), and life love (eg, organic teas or soaps) – with a monthly theme and 5-7 items to support the theme, and a portion of the proceeds going to women's groups in India.
The Price: $40.00 per month