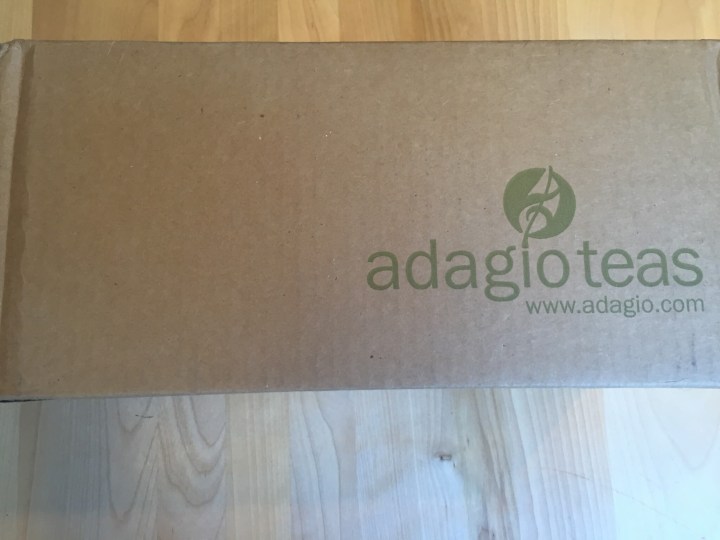 Adagio Teas Club is a bimonthly tea subscription service that sources its teas from the most delicious ingredients currently available. It allows you great flexibility in specifying what you would like for them to deliver: black, flavored, decaf, herbal or green/oolong teas. Once every two months, you will receive two bags of loose leaf teas that match the general type of tea that you select. I selected herbal teas.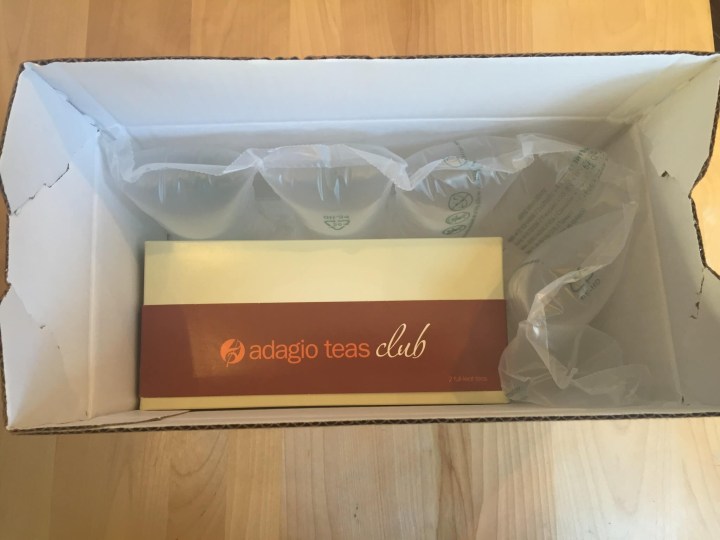 My two teas arrived in a lovely box inside another box. Clearly the people behind Adagio Teas put some thought into presentation.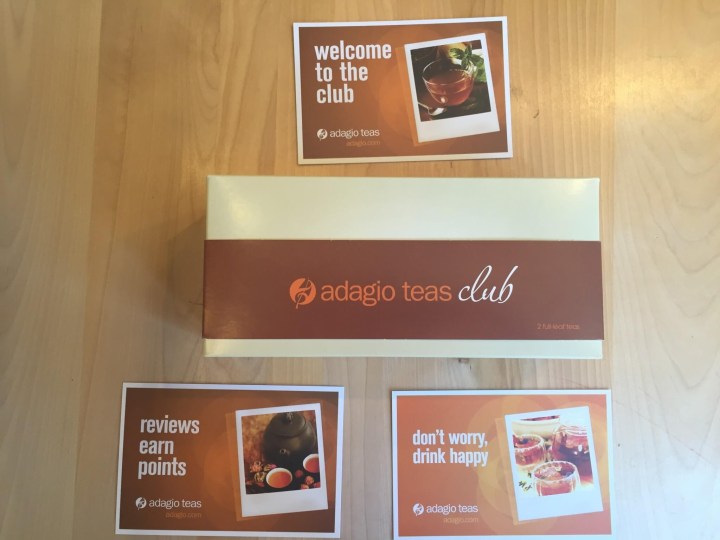 In addition to the box of teas itself, I was delighted to find cards welcoming me to the club and inviting me to "don't worry, drink happy"–after all, drinking tea has been correlated with lowered incidences of depression.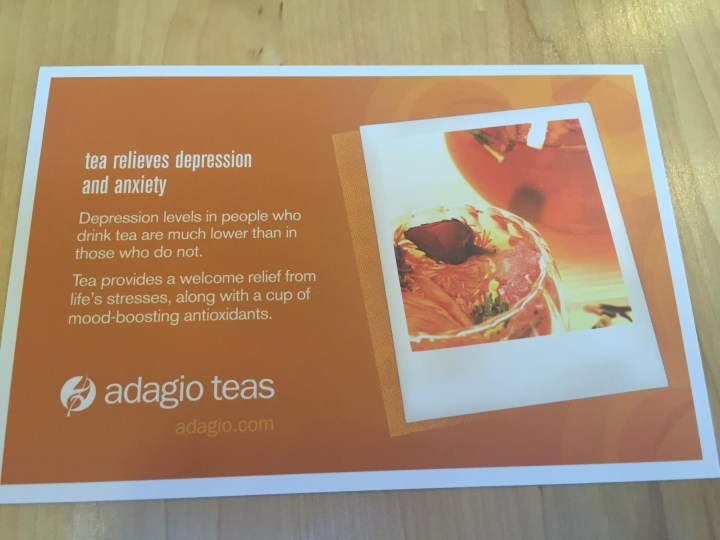 I was excited to try the two teas contained in this shipment: rooibos vanilla and raspberry patch. Each tea arrived in a 3 oz bag, each of which makes approximately 38 cups of tea. Since I drink roughly 4 cups of herbal tea each day, these two bags put together should last me about 19 days.
Adagio's rooibos vanilla tea is a decadent crowd pleaser produced with organic rooibos. It's a full bodied yet mellow tea with a long vanilla finish. It's delicious! Its vanilla accents make it an ideal after-dinner beverage. While I love how this tea tastes, it's also nice to know that rooibos is especially high in antioxidants. For addional information on the health benefits of rooibos, click here.
I was surprised that this loose leaf herbal tea was ground so finely; some of the tea came through my tea pot's strainer and out into the tea itself.
Adagio's raspberry patch tea was also delicious. I appreciated its ability to display raspberry's contrasts well. While its aroma embodied the sweetness of raspberries, its taste accentuated raspberry's more refreshing citrusy notes. I could enjoy this tea most any time, whether hot or cold.
By prioritizing taste above all else, Adagio has produced wonderful teas that I would be happy to enjoy daily. I look forward to exploring more of their herbal offerings as the year progresses. Adagio Teas Club is one of the least expensive tea subscriptions – $59 for 6 months of herbal tea or $99 for the entire year (the black, decaf, and green tea subscriptions cost a tad bit more).
Visit Adagio Teas to subscribe or find out more!
The Subscription
:
Adagio Teas
The Description
: Twelve months of healthy living through tea is surprisingly affordable. Fresh loose teas will arrive at your doorstep like clockwork, inviting you on a journey of discovery with each shipment.
The Price
: $59 per half-year