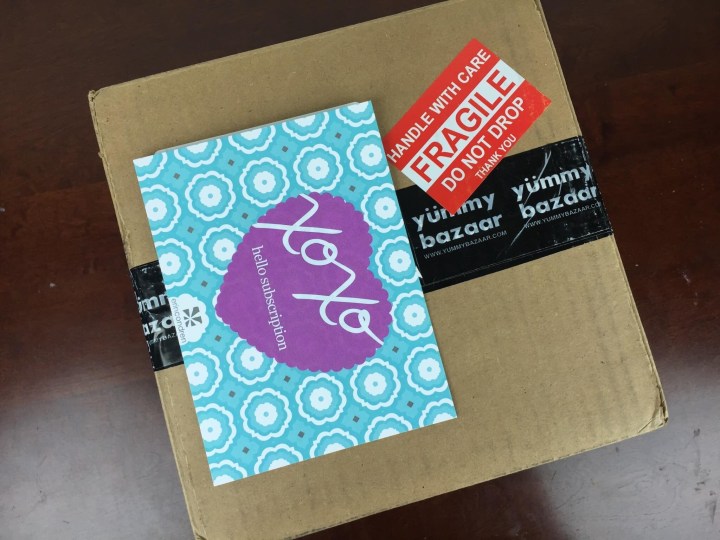 Yummy Bazaar is kicking off the New Year close to home!  Yummy Bazaar delivers gourmet food items to your door monthly.  The items for the Destination Food Club are carefully selected from a different single country every month.  With the Full Experience you'll get 6-8 full sized gourmet items from your destination for $35.95.  There is also a Sampler subscription that sends 6-8 sample sizes for $9.95.  We received the Full Experience box.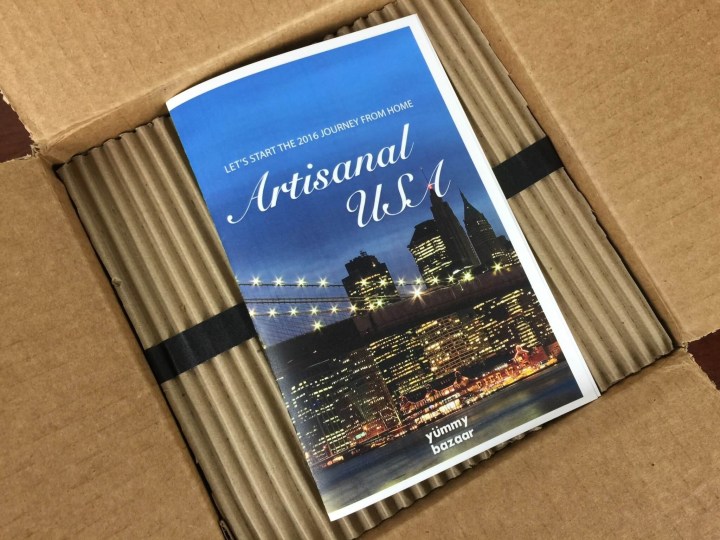 The box was packed with an attractive, but utilitarian, corrugated, brown paper, and tape combo.  It is a very clever packing scheme — the materials are modern and somewhat industrial, yet they seem to project a very traditional, East Asian sensibility.   The booklet is pretty basic, as they dropped the postcards in favor of a folded-paper booklet.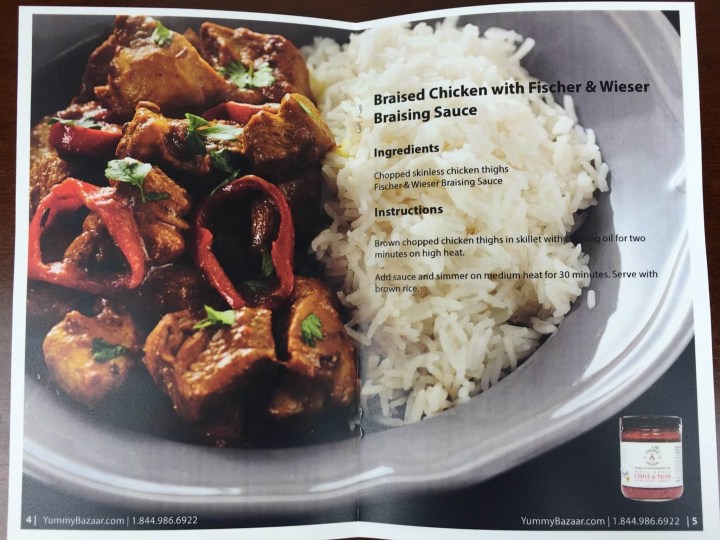 The booklet included a couple recipe ideas using the products in the box.  This one amounted to "use this braising sauce to braise chicken."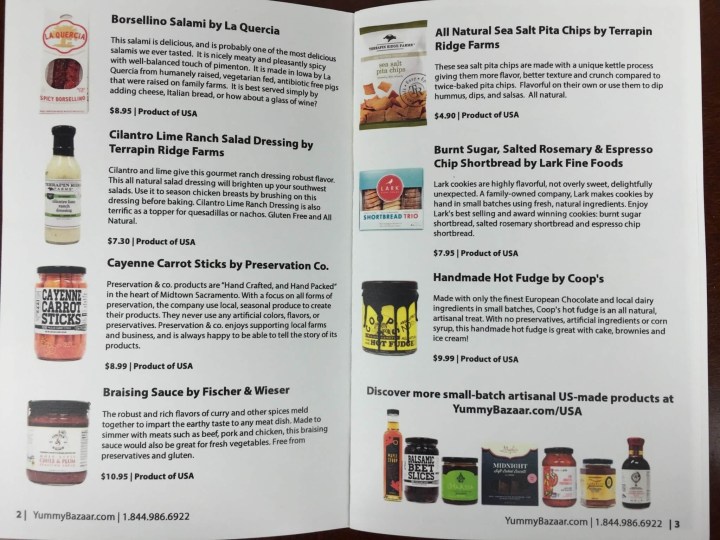 The product description pages were more useful, giving a brief description of each item, along with several suggested uses, the retail price, and the origin (all USA in this box).
The contents were lovingly packed to stand up to shipping — ours arrived in superb condition.  I can't recall ever having real issues with anything we've received.  The jars are tightly wrapped in a cushiony paper, with items when appropriate, just in case something were to break.  They are nestled together well, and the corrugated interior lid prevents shifting in transit.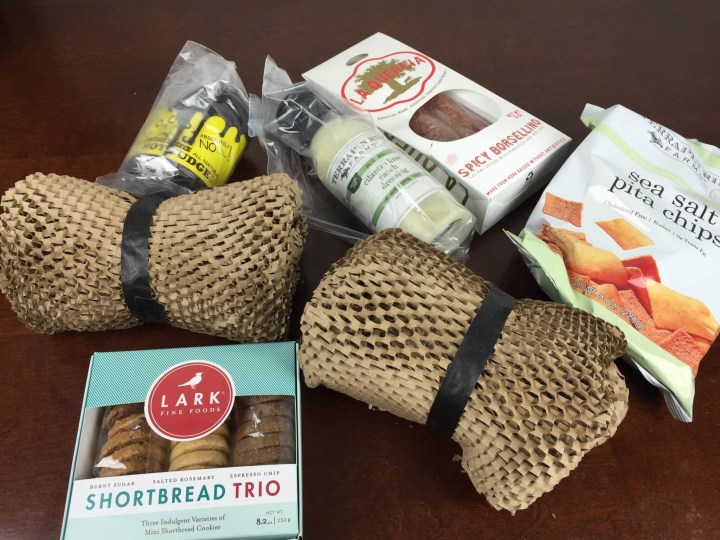 Love the packaging for all the items!  The perforated paper is really effective as padding jars, but it also looks really cool when taped up like it is.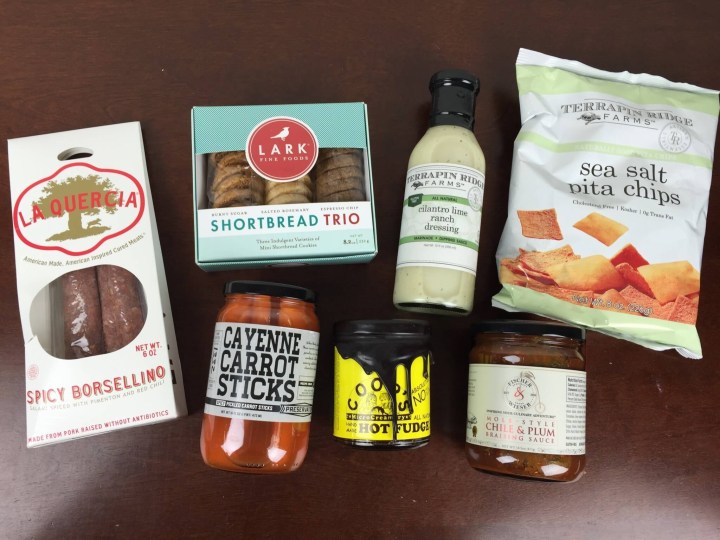 All the products in this month's box.  The Holiday Box had several items that wanted to be eaten right away (baked goods) — this assortment had a more shelf-stable items that could hang in the pantry for a while.  As much as I love having to eat half the box immediately, it is nice to be able to work the items into the month's menu at our own pace.
Lark Fine Foods Shortbread Trio ($8):  A trio of crunchy style buttery shortbread.  The salted rosemary had the most classic taste and texture, with a light seasoning that complemented the cookie without compromising the buttery flavor.  The espresso chip had a lovely, completely un-bitter coffee flavor, accentuated with chocolate chips. The burnt sugar was the most interesting, as the shortbread itself had a harder, more caramelized texture, and fennel seeds added a clever twist.
Coop's Hot Fudge ($10):  This stuff is dangerous.  The wax seal tells you it is gourmet.  This fudge is thick — you may need to heat it up to serve properly.  The cocoa flavor really shines through — this is not a waxy drizzle, it is a dense crush of melty fudge.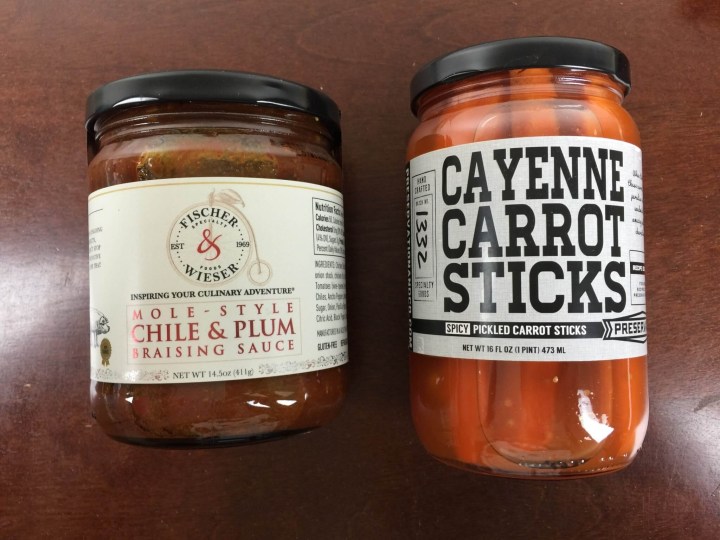 Fischer & Wieser Mole-Style Chile & Plum Braising Sauce ($10.95):  I don't see how you could go wrong braising anything in this sauce — though it states mole as its inspiration, it reminds me of a Korean sauce for meats, combining heat with sweet plum.  Spicy and a little sweet, this thick sauce combines chicken, a variety of peppers and aromatics, plums, and even almonds, pumpkin seeds, and raisins, into a complex and elegant sauce.  It is suggested for use on pork, but would complement any meat, especially if rich and fatty.
Cayenne Carrot Sticks by Preservation Co. ($9):  A heavy dose of cayenne and sweet, firm carrots are the noted innovations on this otherwise extremely classic pickle.  The carrot base lends a new dimension of texture and sweetness, replacing the earthy blank palate of cucumber.  A superb addition to any platter — pickled veg, a twist to antipasto, charcuterie, or even a cheese plate.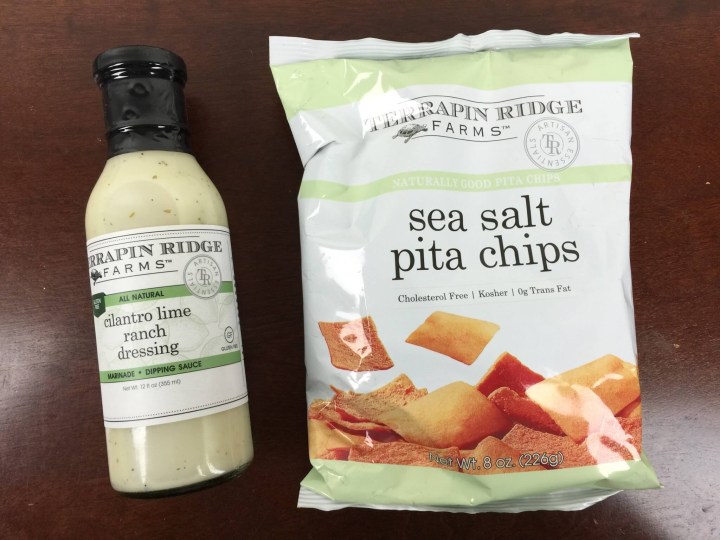 Terrapin Ridge Farms Cilantro Lime Ranch Dressing ($7.30):  This is the dressing we've been waiting for — most of our favorite foods and snacks are Americanized-Mexican food, Southwestern and Tex-Mex type dishes.  Before we became hooked on the great meal kit subscriptions, our go-to meal was homemade taco salad.  This dressing is all-natural and combines the flavors that define fresh-Mex — cilantro and lime, with the king of all-purpose dressings.  I like that this dressing is not overly thick, so you get great flavor distribution without emptying the bottle.
Terrapin Ridge Farms Sea Salt Pita Chips ($4.90):  These very crunchy pita chips, are cholesterol free and have 0 grams of trans fat.  They absolutely blow away the other brands of pita chips you see at the club stores.  Kettle-cooked instead of baked, they have a superior crunch and flavor, with an indulgent bit of greasiness.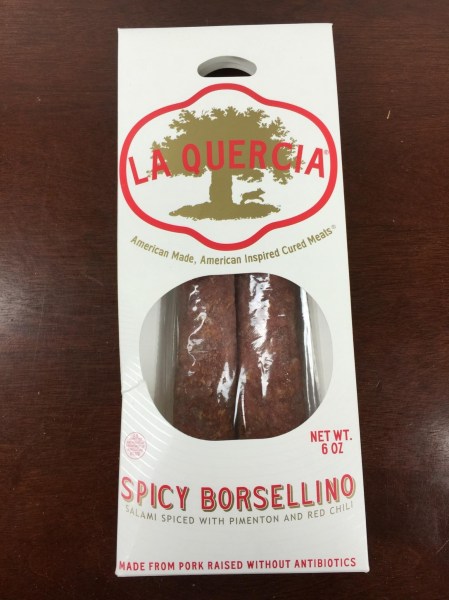 La Quercia Spicy Borsellino ($11.50):  A firm and spicy salami that is perfect for casual snacking.  The sausage is smaller around diameter than pepperoni, making it ideal for slicing and pairing on a simple platter.
This edition of Yummy Bazaar was nicely balanced, providing opportunities for both immediate snacking and thoughtful meal planning.  All of the individual components are high-quality and crave-worthy, and the curators do a great job of providing a sampling of everyday snacks, meal starters, indulgent desserts, and fine items for entertaining.
The total value was about $61.65, and this is the exact box you'll receive as a subscriber this month, shipping between the 15th and the 18th. All the items can be found individually at Yummy Bazaar.
Visit Yümmy Bazaar to subscribe or find out more!
The Subscription
:
Yummy Bazaar
The Description
: Discover some of the most authentic and delicious foods from around the world, delivered to your doorstep. Each month receive 6-8 full size products from a delicious country (each month is different!)
The Price
: $35.95 per month