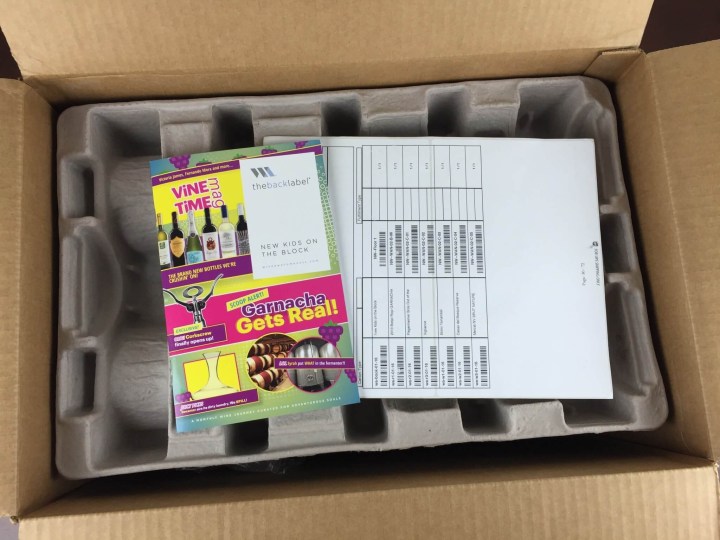 NKOTB Wine Time! Excuse me while I fish out a Tiger Beat to read while we drink some wine! Wine Awesomeness is a wine club that's  like a subscription box  – the wines are really well curated around a cool theme. We had been subscribing to the 3 bottle box but we upgraded to the six bottle box. . Every month you'll get themed, wine-fueled adventure complete with 3 (or 6!) excellent wines and "The Back Label" mini-mag! You can choose reds, whites, or mixed. One of the things that we like about this subscription is that they include rosé in with the whites.
You'll get 3 (or 6, depending on your choice) wines every month or every quarter, depending on how often you'd like to receive it. The 3 bottle box costs $45, and the 6 bottle box is $75. 
The six bottle box doesn't ship in the rad Wine Awesomeness boxes. Guess that's where the savings are! When you get a 3 bottle box this is what the box looks like – it's really neat!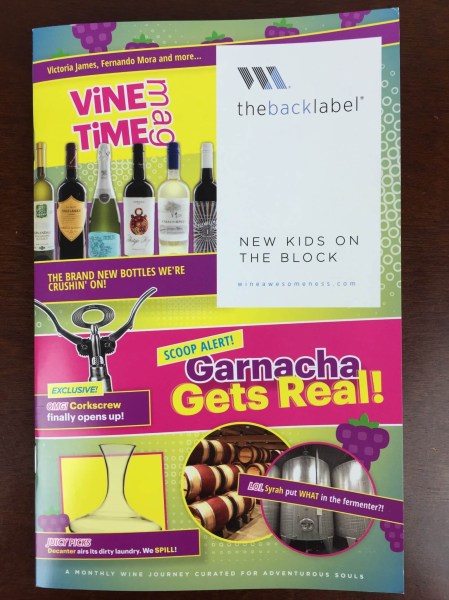 The January Wine Awesomeness theme was New Kids on the Block. Every month you don't just get 3 "really good" bottles of wine, you got 3 really good bottles curated around a specific theme along with an introduction to the theme, very readable educational materials about all the grapes in this region or the theme, and page by page introductions to each wine.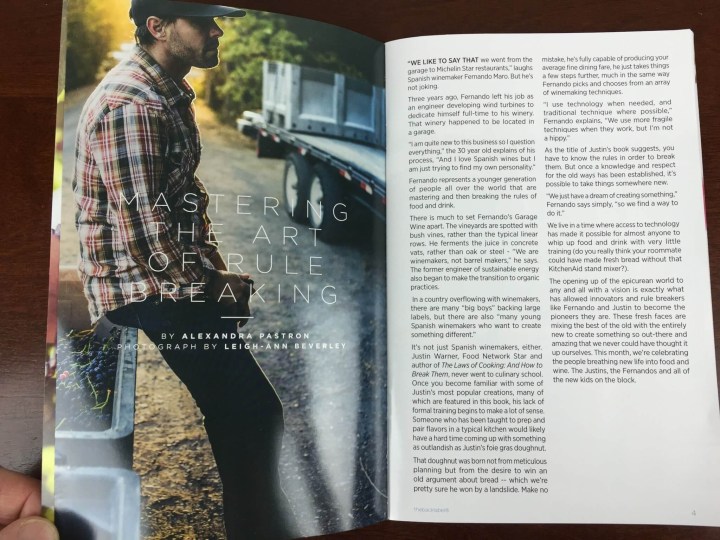 This is such a great, accessible mini-mag. This is my favorite wine subscription because of the theme and the magazine (and the great wine!). The Wine Editor's letter was about the new masters of food and drink who break and make new rules and creations as they go!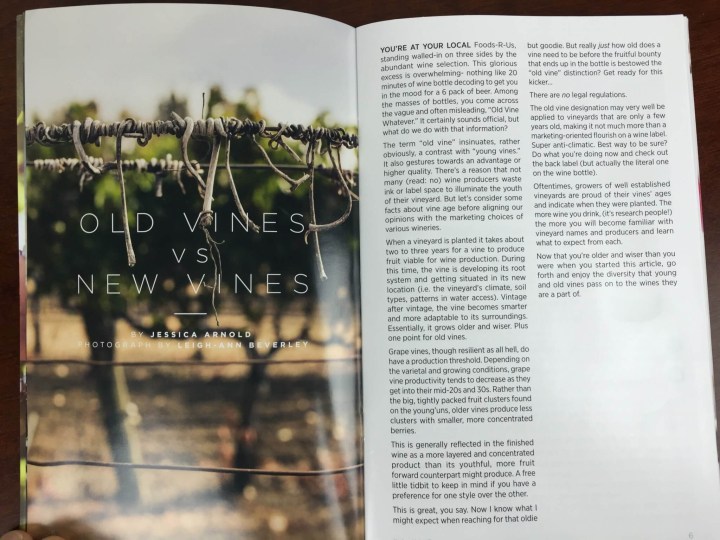 There are stories and other features in the magazine as well.
Each wine information page includes the following:
Wine Name
Grape
Location
What you should do while drinking this wine (many tongue in cheek)
What to eat with the wine
What to listen to while you drink the wine
A cool chart showing a visual on the Acid, Body, Tannin, and Fruit of the wine (this is new!)
Wine Bouquet
Tasting Notes
Description
The recipes appear facing the wines, which you can make to eat with, or use to guide your selections. We usually pick whatever is closest to what we're already eating!
Not only was this super informational, it helps you learn about wine in a really low key way.
December Wine Awesomeness: Whites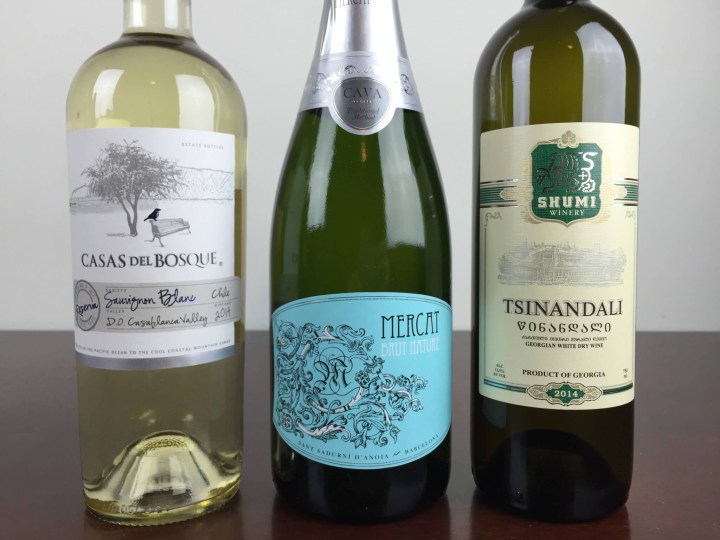 2014 Casas del Bosque Reserva Sauvignon Blanc: This was a great SB, very fruity that leaned towards tropical and citrus flavors. Extremely crisp.
NV Mercat Brut Nature: I love that this box sends bubbly – and even more this one was super dry with a hint of crisp apple! I love dry fizz!
2014 Shumi Tsinandali: This was an exciting wine to try! It's a Georgian (country, not state) wine that was sweetish, big, and sort of almondy! It went well with a poultry-based dinner.
December Wine Awesomeness: Reds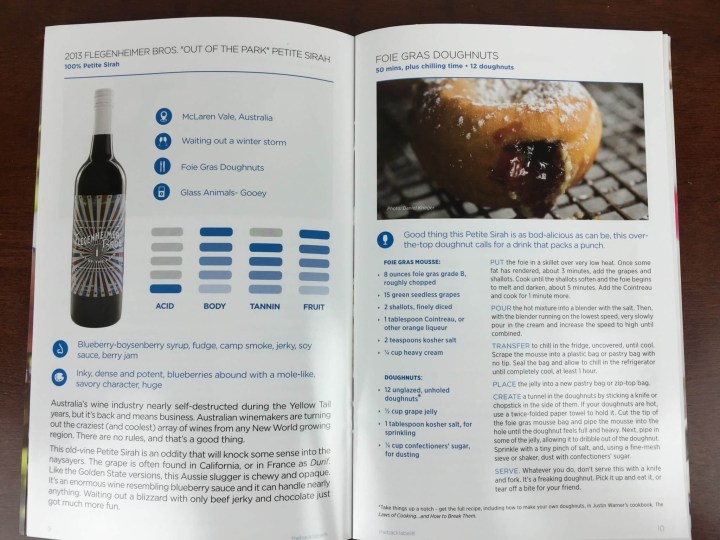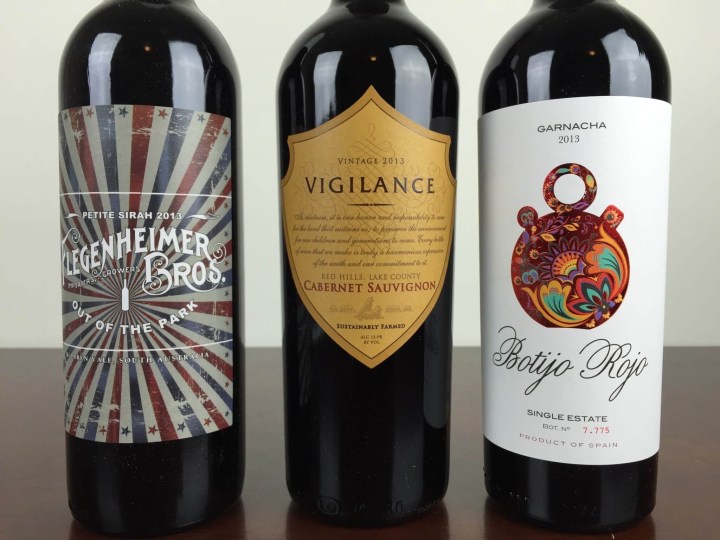 2013 Flegenheim Bros. "Out of the Park" Petite Sirah: The booklet talked about old and new vines, and this Australian wine is an old-vine Petite Sirah! It was all blueberry jam for me and fantastic. It was like blueberry buckle dunked in blueberry syrup and covered with blueberry sauce. As you can see, the book gave foie gras donuts as a pairing!
2013 Vigilance Cabernet Sauvignon: With two very fruity reds, this was a nice break from blueberry flavors with a wine grown in red soil. Maybe it was just the book but I could taste the dry dustiness!
2013 Botijo Rojo Garnacha: This made in a garage (!) wine was a fun, drinkable bottle that had a ton of berry flavors with a smokey background!
This is one of my favorite subscriptions – and not just because it's one of the few wine boxes that actually ships to Pennsylvania! I love the selections, which are always really fun, and I especially love drinking them and reading about the type of wine and the producer, just like any other box. The booklet is super accessible so it's a great subscription if you're an "I LIKE WINE" type of person like me!
Visit Wine Awesomeness to find out more or to subscribe. You can get your first month (3 bottles) free, just pay $22.50 shipping and handling – click here to activate the offer – no code necessary!
The Subscription
:
Wine Awesomeness
The Description
: Get 3 or 6 bottles of red, white, or mixed, curated monthly. WA membership comes with tasting notes, recipes, and music suggestions. Awesomeness!
The Price
: $45 per month
The Coupon
: Get $10 off your first club 6-pack box!
Use this link
and coupon code
YAY10
to get the deal.
Ships to
: All states except Alaska, Hawaii, South Dakota, and Utah. Yep, this wine club ships to Pennsylvania.