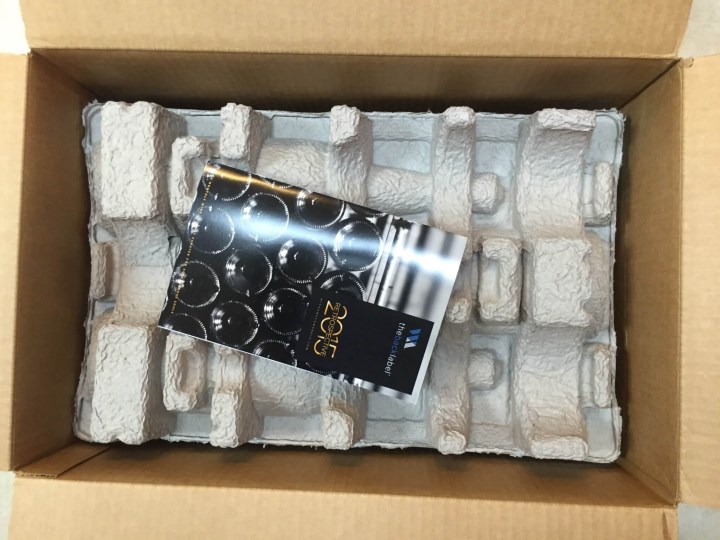 The December 2015 Wine Awesomeness box was all about the best wines of 2015! Wine Awesomeness is a wine club that's  like a subscription box  – the wines are really well curated around a cool theme. We had been subscribing to the 3 bottle box but we upgraded to the six bottle box. . Every month you'll get themed, wine-fueled adventure complete with 3 (or 6!) excellent wines and "The Back Label" mini-mag! You can choose reds, whites, or mixed. One of the things that we like about this subscription is that they include rosé in with the whites.
You'll get 3 (or 6, depending on your choice) wines every month or every quarter, depending on how often you'd like to receive it. The 3 bottle box costs $45, and the 6 bottle box is $75. 
The six bottle box doesn't ship in the rad Wine Awesomeness boxes. Guess that's where the savings are! When you get a 3 bottle box this is what the box looks like – it's really neat!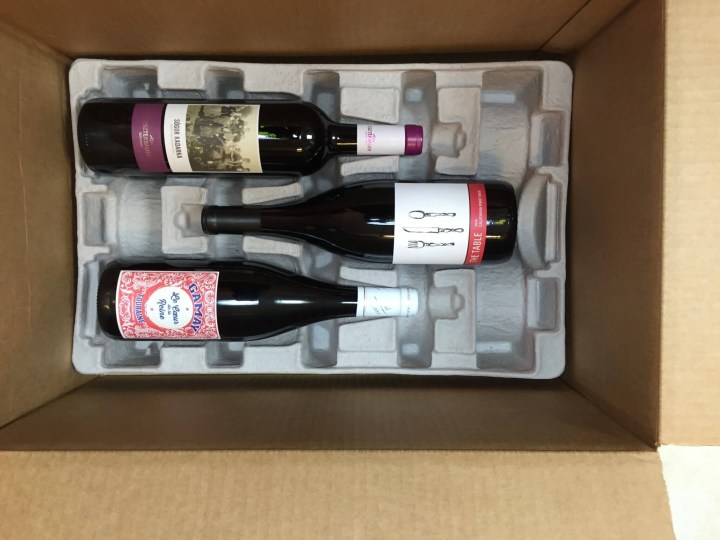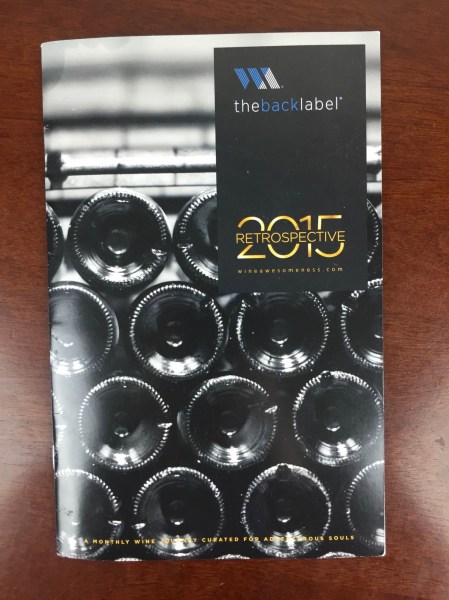 The December Wine Awesomeness theme was 2015 Retrospective. Every month you don't just get 3 "really good" bottles of wine, you got 3 really good bottles curated around a specific theme along with an introduction to the theme, very readable educational materials about all the grapes in this region or the theme, and page by page introductions to each wine.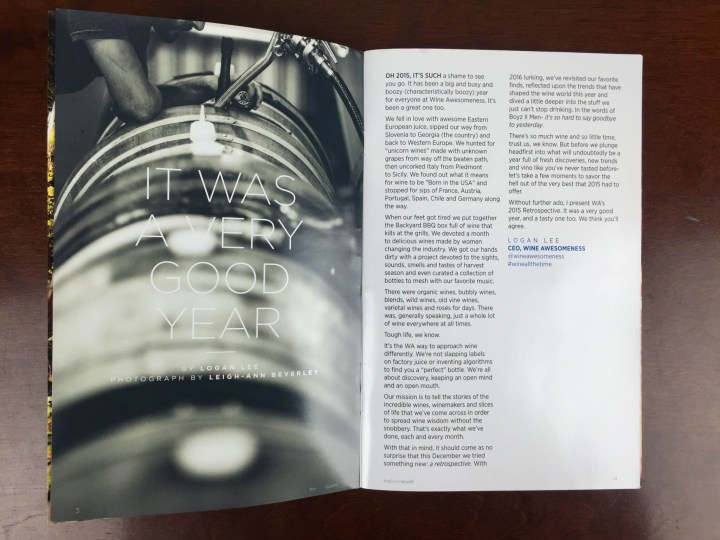 This is such a great, accessible mini-mag. This is my favorite wine subscription because of the theme and the magazine (and the great wine!). The Wine Editor's letter was about this past year of awesomeness in wine!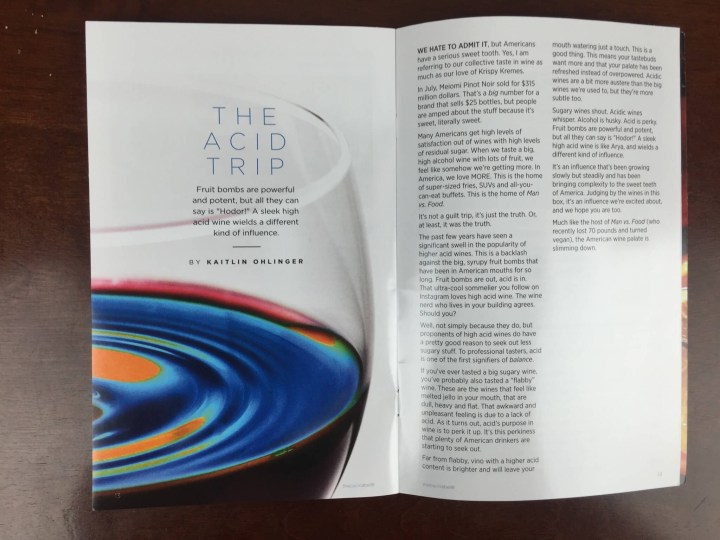 There are stories and other features in the magazine as well.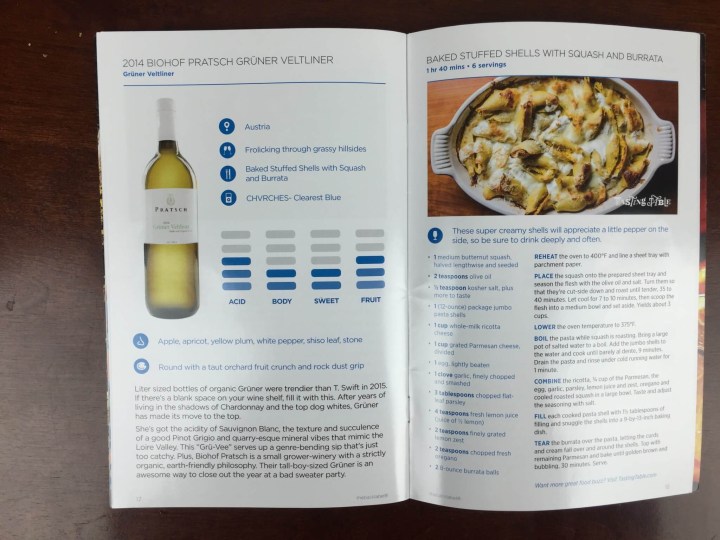 Each wine information page includes the following:
Wine Name
Grape
Location
What you should do while drinking this wine (many tongue in cheek)
What to eat with the wine
What to listen to while you drink the wine
A cool chart showing a visual on the Acid, Body, Tannin, and Fruit of the wine (this is new!)
Wine Bouquet
Tasting Notes
Description
The recipes appear facing the wines, which you can make to eat with, or use to guide your selections. We usually pick whatever is closest to what we're already eating!
Not only was this super informational, it helps you learn about wine in a really low key way.
December Wine Awesomeness: Whites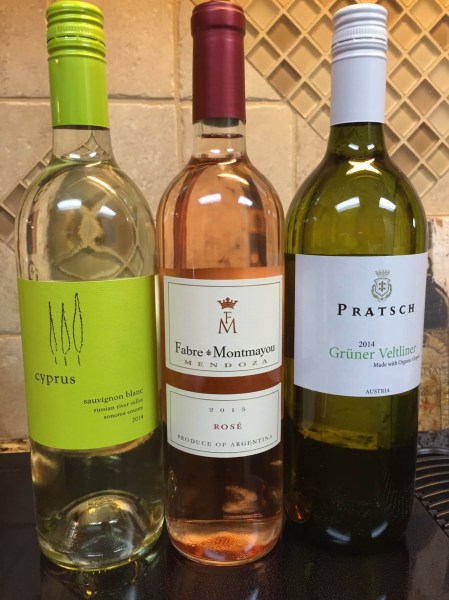 When I opened the box and saw the booklet, I thought I'd be drinking wines I'd had before, but I don't believe we drank any of the wines in the box at all, so I'm not 100% clear on what exactly the theme is – and who would be after you drink all the wine? Speaking of which, we used this box for holiday wine, so forgive any shortness of notes – it was all great!
2014 Cyprus Sauvignon Blanc – Pairs great with fish, herbs, and veggies, fruity and acidic with a bit of citrus and tropical flavors lurking in the nose!
2014 Biohof Pratsch Grüner Veltliner: I for sure recognized the grape, so that's perhaps where Wine Awesomeness was going with this box. This was a fun fruity and mineralish about half-acid wine that was like almost ripe orchard fruits.
2015 Fabre Montmayou Rosé: A blend of syrah and grenache from Argentina, we have several rosé drinkers in the fam and they were excited by the pink stuff for sure.
December Wine Awesomeness: Reds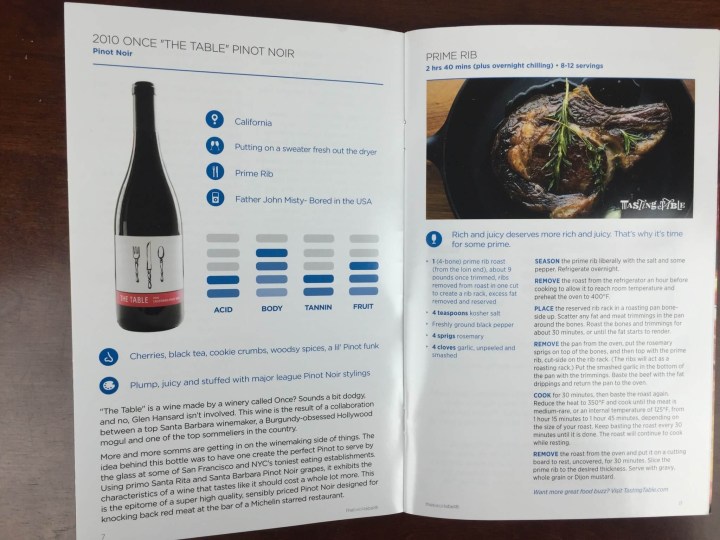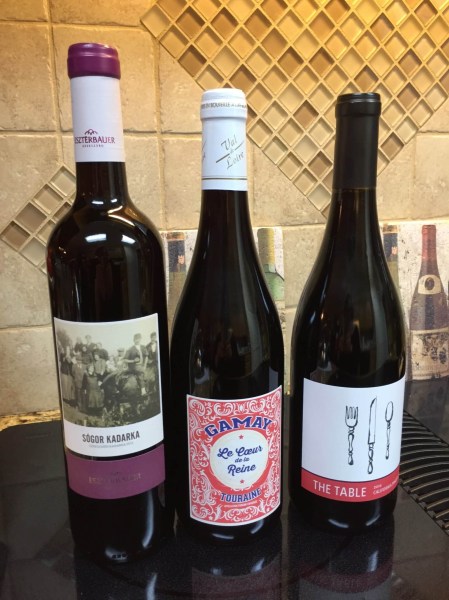 2013 Eszterbauer Sogor Kadarka: A heavily fruity Hungarian wine, this was an awesome party beverage and I would drink a lot of it quickly – low in tannins. Definitely a party in a bottle. My aunt got a major kick out of the song pairing for this one – "Can't Feel My Face." So true.
2014 Le Coeur de la Reine Gamay: Another fruity wine that's a bit smooth and thin, and full of berry flavor, right from France.
2010 Once "The Table" Pinot Noir – Full of body and juicy, this is your steak and potatoes pairing right here!
As always, a big box of wine selected and delivered to your door with food and tunes pairings is a total delight. We love reading the book while drinking the wine, or just drinking it. It's up to you!
Visit Wine Awesomeness to find out more or to subscribe. You can get your first month (3 bottles) free, just pay $22.50 shipping and handling – click here to activate the offer – no code necessary!
The Subscription
:
Wine Awesomeness
The Description
: Get 3 or 6 bottles of red, white, or mixed, curated monthly. WA membership comes with tasting notes, recipes, and music suggestions. Awesomeness!
The Price
: $45 per month
The Coupon
: Get $10 off your first club 6-pack box!
Use this link
and coupon code
YAY10
to get the deal.
Ships to
: All states except Alaska, Hawaii, South Dakota, and Utah. Yep, this wine club ships to Pennsylvania.