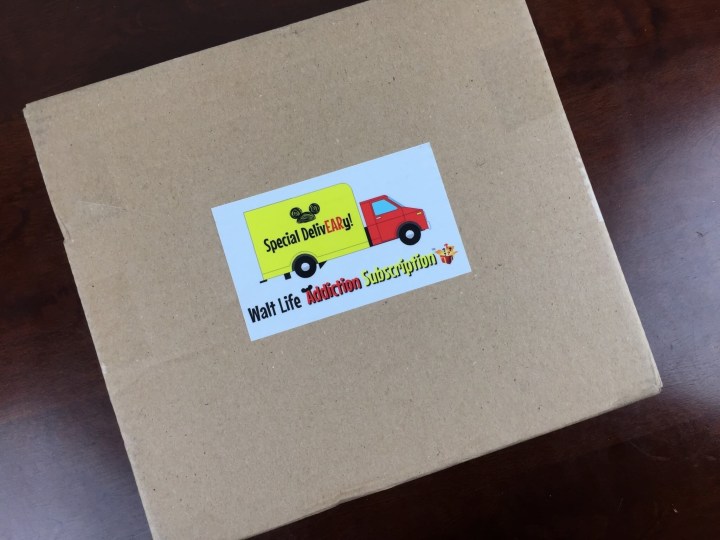 Walt Life Addiction Subscription is a monthly Disney-themed subscription box. Every month you'll receive 3-4 pieces of authentic Disney Parks merchandise. While boxes aren't themed to allow for the best variety of merchandise, the October and December boxes will have the appropriate holiday themes!
I love the colorful rainbow squiggles – they're really fun for this subscription.
Everything in the box! Hello 2016!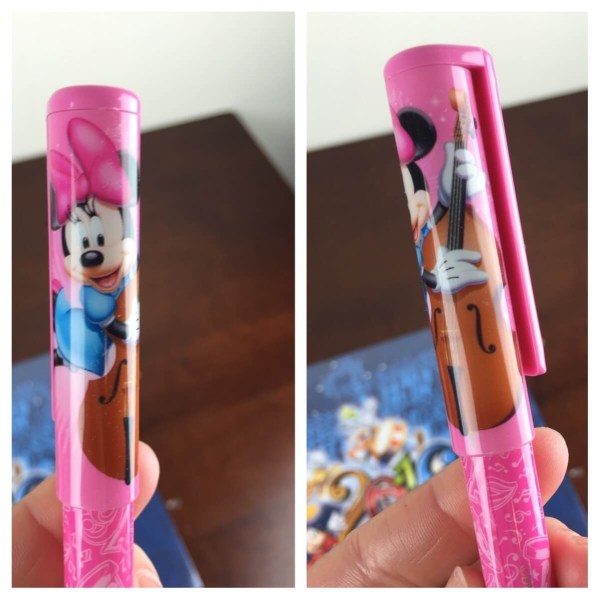 Minnie Autograph Pen (probably sells in the parks for $5.95) Minnie is playing a bass guitar! This is really cute and I slipped it in my pen cup as a surprise for my daughter (she raids it on a daily basis so she'll discover it tomorrow!).
Rapunzel 2016 Pin ($5) I was super excited to get the 2016 Rapunzel pin! As you might know we have been doing the pin thing and have amassed quite a collection. Whether you are pin crazy or not this is a fun commemorative item (and also super exciting if you happen to be planning a trip this year!).
Walt Disney World 2016 16 Month Calendar ($12.95) This is the only regular wall calendar we have received and we were really happy about it because we really needed a kitchen calendar, and of course my kids were excited about this one!
A few months on it have passed already but I just turned to January and hung it up. I thought the Epcot globe was nicely themed for this month.
Love Mickey and the gang as Star Wars characters!
This was a great themed box for January! I have already seen a few Disney themed subscription boxes come and go but this one has been solid. The total value of the box was about $24, so that was ok. This box includes shipping in the price and for a Disney box, I think it's a decent deal for anyone who wants a monthly Disney surprise (or to gift a surprise!).  There's a 15% discount on 3 month subscriptions (no codes required) and that's what I recommend if you'd like to subscribe – I switched my subscription to that right from my account.
See our note about the value of Disney-themed boxes specifically – it perfectly acceptable for a Disney themed box to have a lower value than the cost and nobody should expect to receive tons of retail value in this type of box because the items cannot generally be sourced as a discount. You are really paying for the items, the service, and the shipping.
Visit Walt Life Addiction Subscription to subscribe or find out more!
The Subscription
:
Walt Life Addiction Subscription
The Description
: A monthly box of hand picked goodies from the most magical place on earth, Walt Disney World! It's like a trip down Main Street in a box!
The Price
: $34.95 per month
The Coupon
: No coupon codes, but you can save 15% with a 3 month subscription!