For 2016 POPSUGAR and Target collaborated to build a box to get you motivated to make this year your healthiest yet.
POPSUGAR Must Have Box is a monthly women's subscription box (and Target is Target. Obvs. But they don't have anything to do with the regular monthly box!). In the regular subscription you'll receive items from a mix of categories like beauty, home, accessories, jewelry, etc. It's one ofthe most popular subscription boxes around!
DEAL: Save $20 on your first box with this link and coupon code MSA20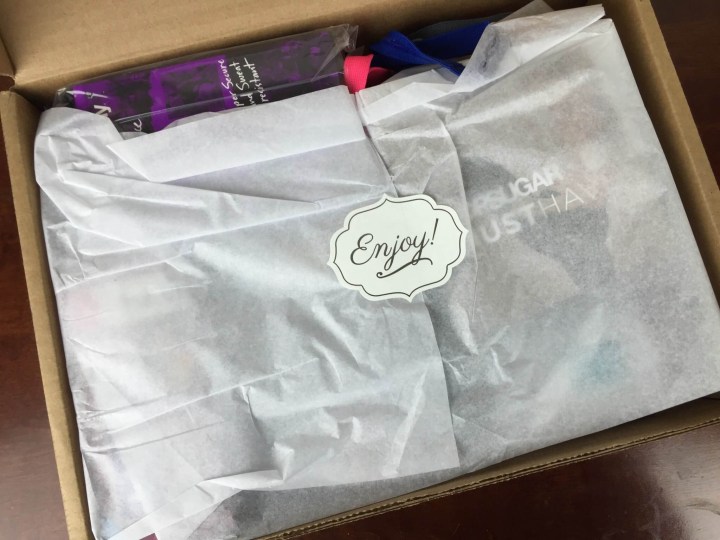 This was a funny mix of the special edition sticker and the regular monthly box tissue.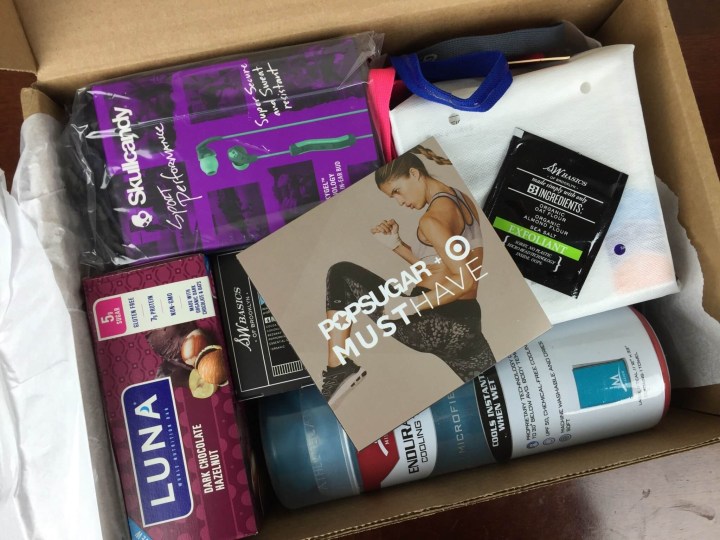 This box is really full – since it was only $75 and the spoiler item was $100 I didn't see how they could go wrong!
The information card lists all the items.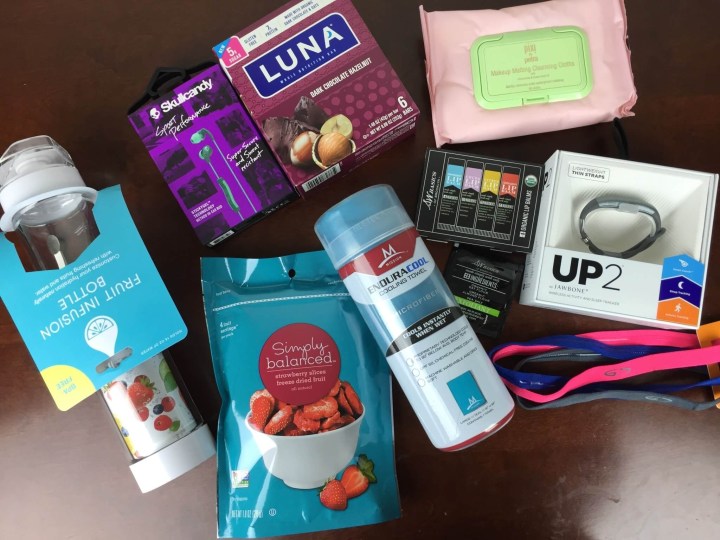 And everything in the box!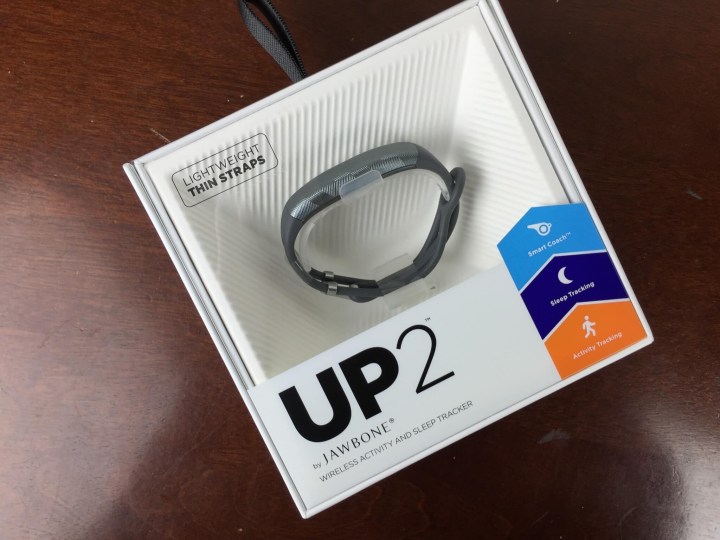 Jawbone UP2 Gunmetal Hex Lightweight Thin Strap fitness tracker ($91.79) It's a little hard not to get excited about a full-value fitness tracker in a box that is more than you paid for the box! It has activity tracking, sleep tracking, and food tracking features with a nice slim style! I have a Fitbit, which isn't a dealbreaker for me, but I also have a FitBit Aria (which I am way more devoted to than my Fitbit. If I can get them to work together I'll test out the Jawbone, otherwise I will gift it to my husband, who admittedly gets all my tech stuff eventually.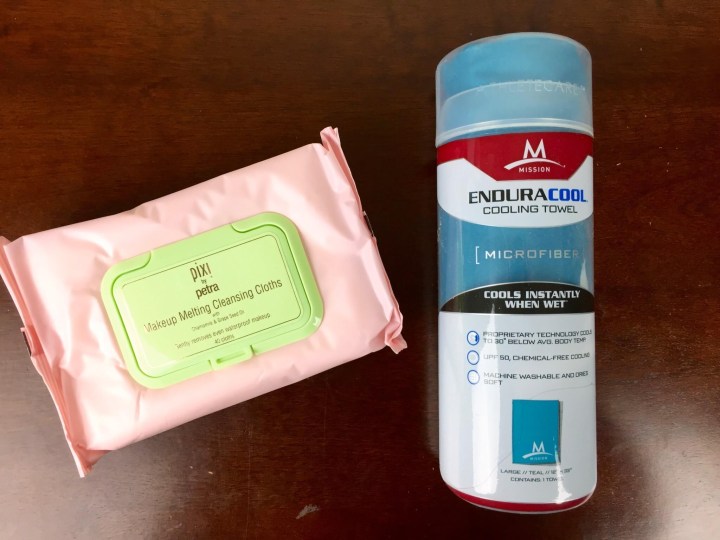 Pixi by Petra Makeup Melting Cleansing Cloths ($10) I was happy to see a beauty-ish non-cosmetic product in the box! They dissolve makeup but also contain chamomile and grape seed oil, which can help calm your face if it's irritated from working out (or just clean up afterwards).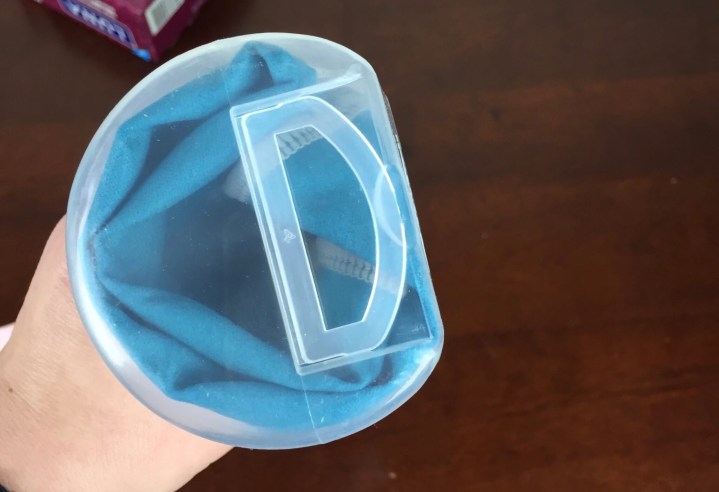 Can I just say I was so excited about this packaging that I snapped a photo of it? The tube didn't roll around on the table. I know you don't care, but I needed to share.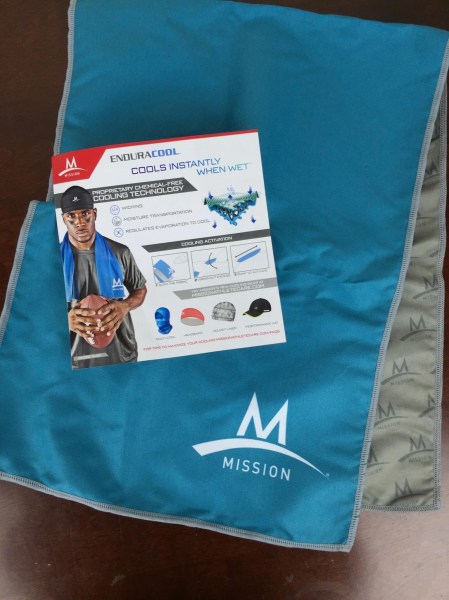 Mission EnduraCool Cooling Microfiber Towel ($14.99) I use microfiber everywhere but have never testing the cooling action – you get the towel wet, wring it out, and then drape it around your shoulders. This is an awesome multi-purpose tool and totally also cleans your glasses.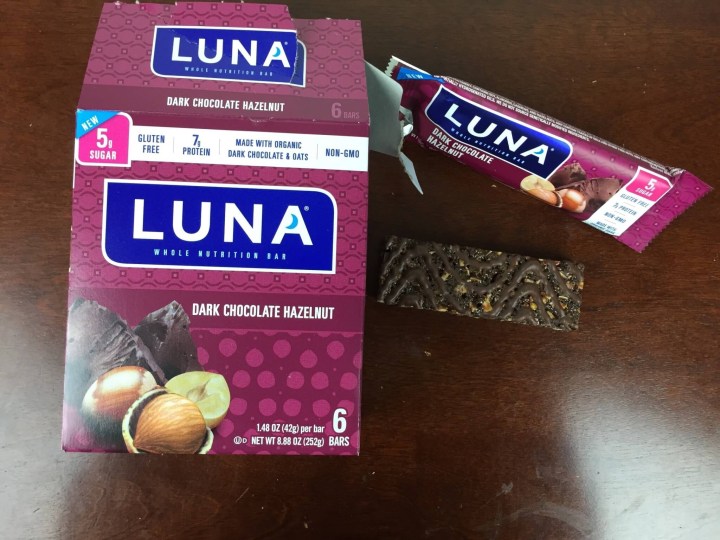 Luna Bar Dark Chocolate Hazelnut ($5.79) I love Luna bars and was excited to see a whole box! I taste-tested this one right away and it's delicious as the rest of them.
C9 by Champion 3-Pack Headbands ($4.99) These are grippy, and do hold your hair down, but a teeny bit small for my big head. I'll use them for face washing and makeup because they'll pop off if I work out with them.
I also received an SW Basics Exfoliant sample!
S.W. Basics Organic Lip Balm Flight ($15) Four organic full-size lip balms, and you can see the ingredients right on the front. Included were Peppermint, Cocoa, Citrus, and Cinnamon. I'm picky about my lipbalms, so I'm taking the cocoa and distributing the rest to the family, which is fine by me!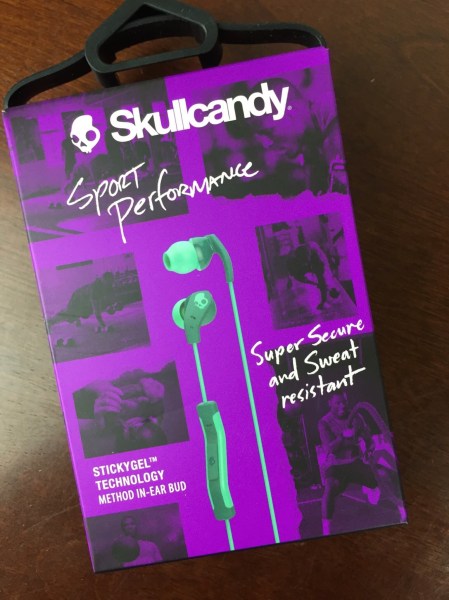 Skullcandy Method Earbuds ($28.99) Even though I get a ton of them I'm always happy for new earbuds. I had to test these out because of the "stickygel" technology. I'm not sure if it performed any better. The large size was too big, so I have to swap the tips out for the included smaller buds.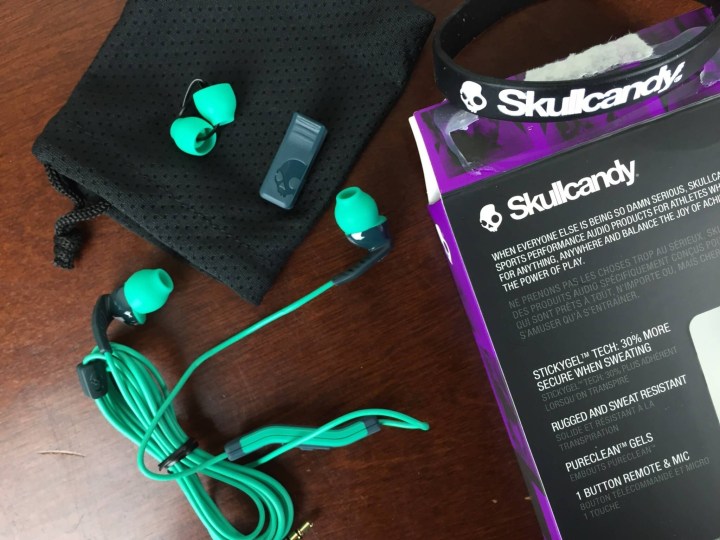 Define Bottle Sport Flip Top ($19.99) I own one of these and to be honest – it's not my favorite fruit infuser (there are multiple parts and it's really too fiddly for my tastes), but I'm happy to have another one, so my big kids can both have exactly the same thing. And if it gets them to drink more water, I'm happy with that!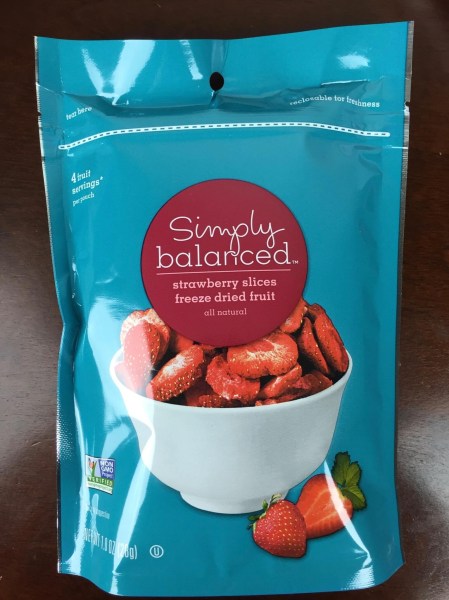 Simply Balanced Freeze Dried Strawberry Slices ($3.49) And a nice big bag of non-GMO freeze-dried strawberry slices!  These are a healthy and fun snack and I loved that it comes with a zipper, although we'll probably gobble them all immediately.
All told, this box had a $195 value and totally delivered on its promise to provide items to help inspire and motivate you. Not every item was a hit for me, and I wasn't a big fan of the superquick selling out of the boxes (maximum half an hour). Many purchasers were later told that their orders couldn't be fulfilled, and are being sent the Today Show Box for free, which is pretty nice. This was a solid box and most purchasers picked it up because it offered the Jawbone Up2 far lower than retail, so I don't know if anyone was truly unhappy with this year's Target+Popsugar Box, but I'm hoping that POPSUGAR straightens everything out with its ordering system.
I'll post a giveaway for one of these boxes soon. Subscribe to the newsletter to hear about it! Here it is!