Sun Basket is a meal kit delivery subscription box. Sun Basket's focus is on delivering delicious easy to prepare healthy meals – all non-GMO and sustainable produced from West Coast farms with grass-fed, antibiotic-free pastured meats & sustainable seafood. They offer a standard menu (Chef's Choice), plus paleo, gluten-free & vegetarian menus every week – you can pick and choose between all the options or substitute in another of their offerings (next week's menu includes breakfast). Like other dinner subscription boxes, the ingredients are pre-measured and ready to cook for your gourmet meal designed by Chef Justine Kelly (who used to head The Slanted Door – a super famous restaurant in the SF Ferry Building). SunBasket currently delivers to the West Coast – California, Oregon, Washington, Nevada, Colorado, Idaho, Arizona, and Utah.
This was my first time trying this service, although I have tried similar subscription boxes in the past. We received our box the day before Christmas Eve, and I planned to cook the meals for our Christmas dinner and the days following.
Sun Basket sends everything in a nice and friendly looking box. I was super excited to find out that they will take back the box and ice packs using a pre-paid USPS shipping label.  I cannot tell you how many boxes from previous similar services I used to have piled in my garage.  Alas, my box was missing the pre-paid shipping label (the label to return your items comes biweekly to reduce shipping – find more information about SunBasket's recycling program here – all their packaging is recyclable and they will even sanitize and reuse the ice packs).  However, it's still a great feature and probably the one I'd mention the most to others considering trying Sun Basket, besides the specialty menus – finding a Paleo dinner subscription isn't easy! 

A warm welcome letter was included along with two samples of some very fancy dark chocolate. I will admit I enjoyed these by myself and did not share them with my husband. TCHO chocolates from San Francisco and Michael Cluziel Chocolate from New Jersey have earned a new fan!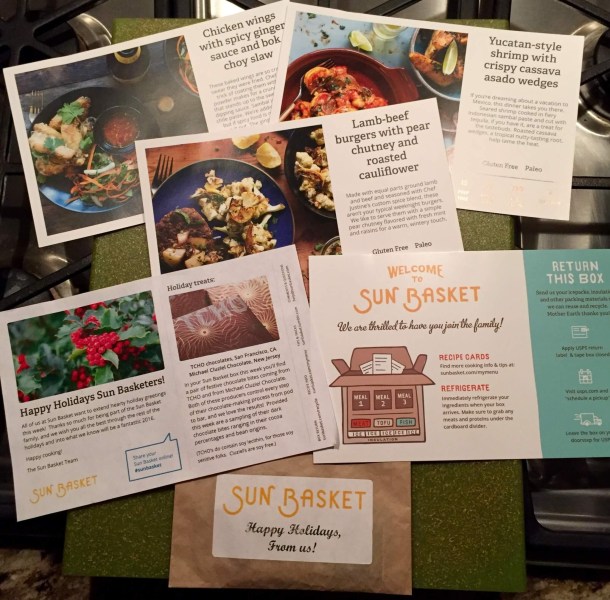 Everything was packaged well. It was very helpful to have all of the ingredients bagged separately for each recipe. I have accidentally mixed up similar ingredients in the past, so this made things nearly fool proof.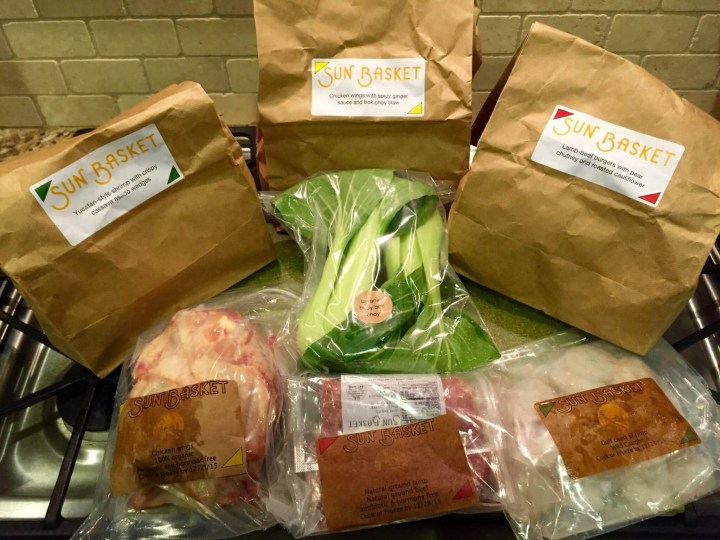 Sun Basket meals include everything you need to cook the meal, except for olive oil, grapeseed or sunflower oil, and salt & pepper. Some meals call for optional wine and/or butter additions.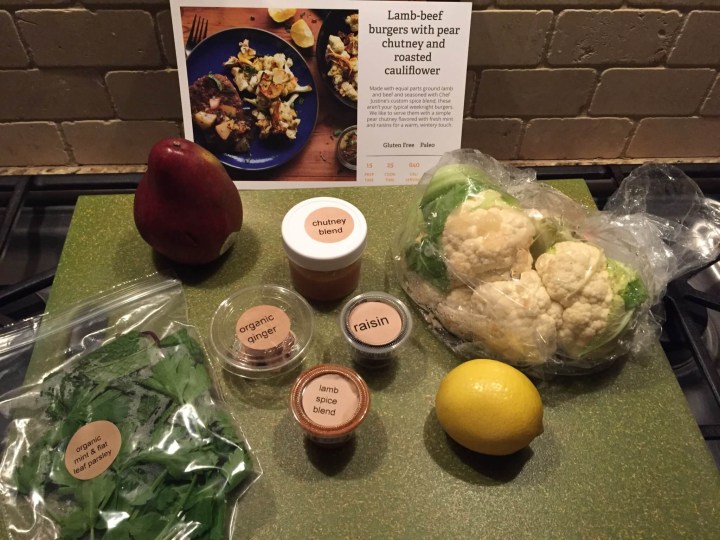 The first recipe I cooked was the Lamb-Beef Burgers With Pear Chutney And Roasted Cauliflower (640 calories, 45 minutes). I should advise that I am not a cook. These meal kits really are the closest I get to cooking real meals for myself and my husband.  This recipe was very easy to follow and not complicated at all.  The lamb and beef were packaged separately, so it was a bit different to combine them both to make the burgers.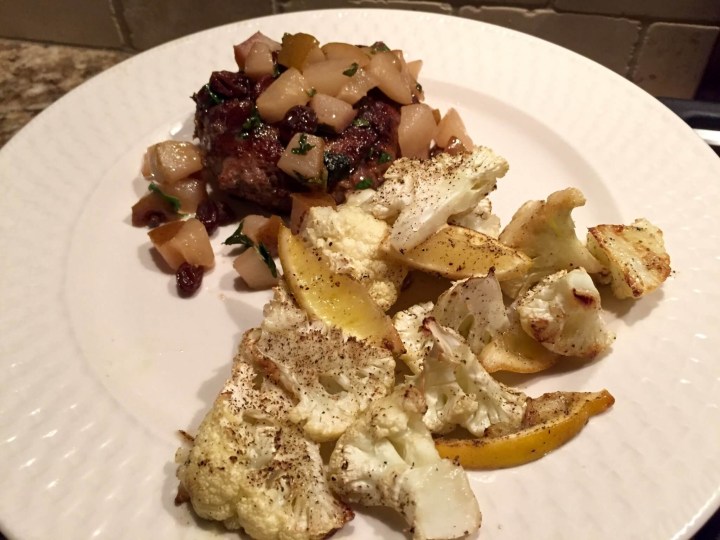 I did make the burgers a bit thicker than instructed and that threw off the cooking time, but they still turned out great. Overall, I enjoyed this meal a lot, but the husband was not a big fan of the chutney flavor.
Next up, was the Chicken Wings With Spicy Ginger Sauce And Bok Choy Slaw (630 calories, 45 minutes). So this recipe stepped it up a bit in the difficulty department for me. I hate peeling ginger. It's super annoying, and this recipe needed it peeled and chopped into tiny pieces. I also hate chopping. My frustration level rose quickly. Using a vegetable peeler to slice the carrots into ribbons for the slaw was challenging and a bit time consuming. It was also complicated by the fact I was only given one full sized and one half sized carrot, so the half sized carrot was pretty much useless when trying to make "ribbons" out of it. This was also my first experience with bok choy and I was pretty clueless.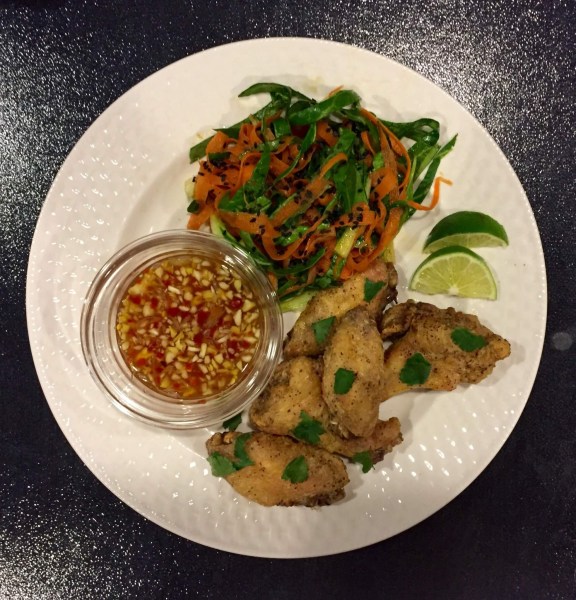 It would be nice if the recipe cards could include a bit more detail for us inexperienced chefs, as I had to google the proper way to cut and slice bok choy for the slaw. Prepping the chicken wings was probably the easiest and most fun part. Dumped them in a bag with the baking powder and some salt and pepper and shake. Done! The portion of wings was nice, 16 total. However, my husband is a big eater, so I did give him some of my share. The dipping sauce was tasty, and I was thankful I didn't need to prep any of that, outside of mixing in some of the sambal. This meal was probably just okay for me. Husband wasn't a super fan but did clear his plate of all the wings!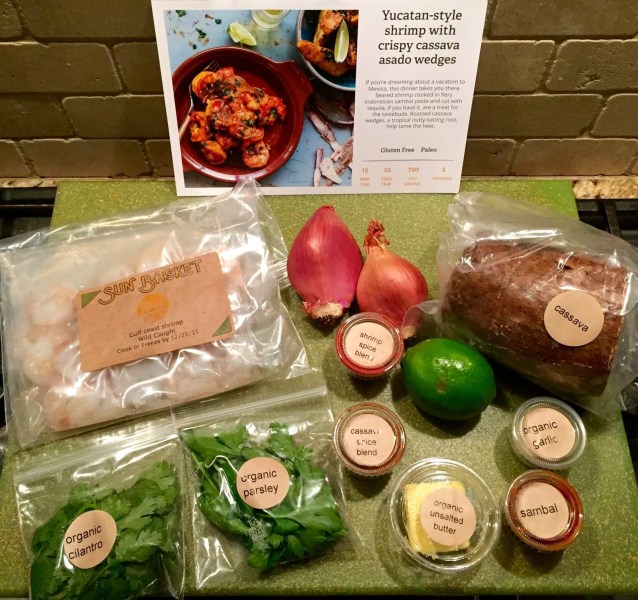 The last recipe for this delivery was Yucatan-Style Shrimp With Crispy Cassava Asado Wedges (720 calories,40 minutes). Oh boy. I love shrimp. Easy to cook, and this recipe was no exception. However, the cassava was super hard to cut. I nearly gave up after just a couple of minutes of cutting. I wasn't convinced this was going to be worth all of the effort whatsoever. I powered through and ended up cutting about 3/4 of it into "wedges" the best I could. Again, I definitely could have used some additional detailed instructions on this. Same goes for the shallots. I am just not a chef, and I had to google shallots and how to properly cut them for this recipe.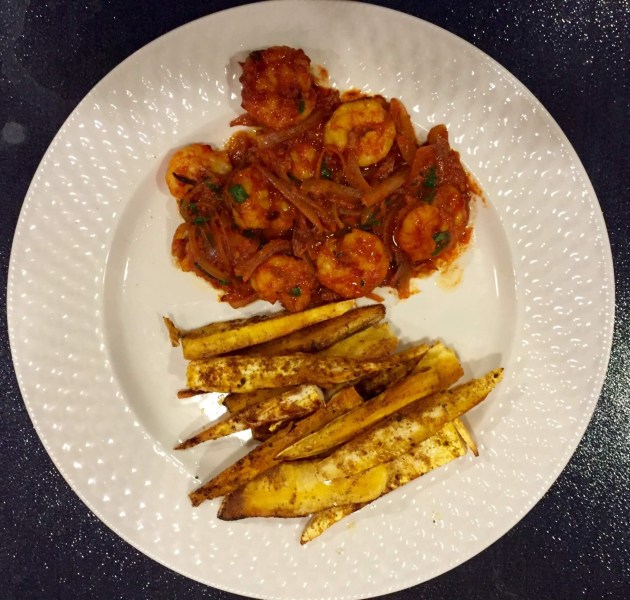 Those two difficulties aside, I did successfully cook everything and ended up with a nice meal. The shrimp was by far my favorite. Adding the tequila as suggested gave it that extra oomph that it needed.  Unfortunately, I was still not a fan of the cassava wedges even after adding some spices and sticking them in the oven. Just too "rooty" of a taste for me.
I was excited to be able to get paleo-specific recipes and noticed that the calorie counts and the preparation time for the recipes I received were all pretty standard, which is not true of other meal subscriptions. All meals are between 500-800 calories. SunBasket's meals are $11.49 per person, and you can cancel or skip at any time.
All in all, I was happy with Sun Basket and would definitely recommend it to friends.  These recipes were easier overall than other services I've tried previously, and that makes me very happy!!
Visit Sun Basket to subscribe or find out more! Save $30 on your first box – about half off! Use this link to get the deal.
The Subscription
:
Sun Basket
The Description
: Sun Basket is a new healthy meal kit service that delivers organic ingredients and delicious, easy-to-make recipes for cooking at home. Sun Basket makes it easy to cook healthy, with Paleo, Gluten-free and Vegetarian options, plus healthy breakfasts. Get 3 recipes per week for 2, 4 or 6 people, delivered to your door in recyclable packaging that can be shipped back – free- for reuse.
The Price
: $68.94 every week