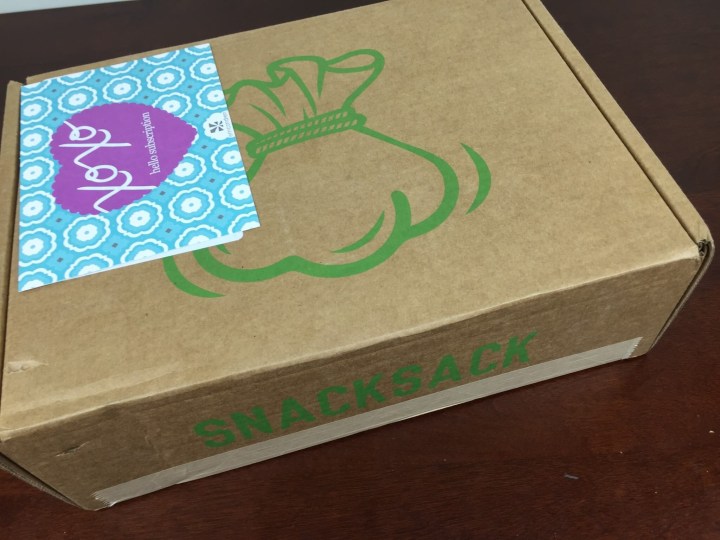 SnackSack is a monthly snacking subscription box that aims to bring high nutritional value natural snacks to your door every month.  Snack Sack comes loaded with a variety of health-conscious snacks that leverage fruits, vegetables, and other natural ingredients to provide you with a more nutritious and balanced snack pantry.  Snacks are organic or all-natural, non-GMO, vegan, fair-trade, or gluten-free.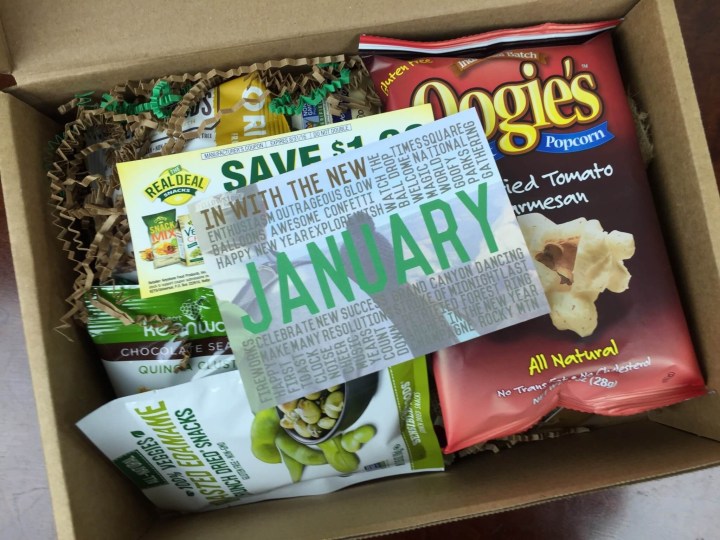 We are always amused that the snacks still come with an actual burlap sack because they never all fit in – but we forgot the picture of the sack this month!
The information card gives you brief info on the many snacks packed into this box, plus a guide to which of the snacks are non-GMO, gluten free, and vegetarian.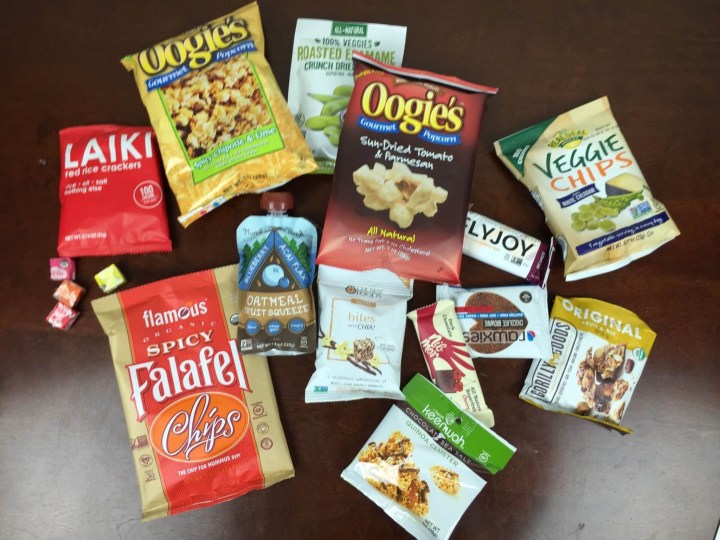 All the items in the box for January!  Lots of crispy, crunchy snacks this month!
Flamous Spicy Falafel Chips :  A healthy dose of cayenne gives these a nice kick.  Made from all organic ingredients, a blend of beans is combined with corn to give them a great crush and a healthier nutritional profile.
Real Deal Snacks Aged White Cheddar Veggie Chips:  Peas, corn, and rice are used to create a more crackly chip than often-greasy veggie straws.  Real aged cheddar provides a great complement to the mild pea flavor.  These were great and our baby loved them too!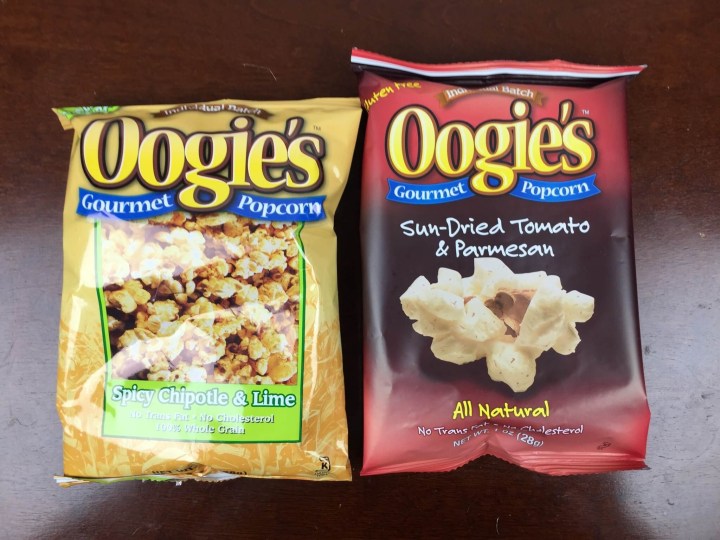 Oogie's Chipotle Lime Popcorn:  Gourmet popcorn made by the individual batch and seasoned with a liberal dose of chipotle pepper and zesty lime.
Oogie's Sun-Dried Tomato & Parmesan Popcorn:  Oogies's goes Italian with an all-natural sun-dried tomato and Parmesan offering.  The proprietary hybrid of corn used exclusively by Oogie's has a denser, chewier texture than common corn.
We loved the parmesan flavor best, but they were both great.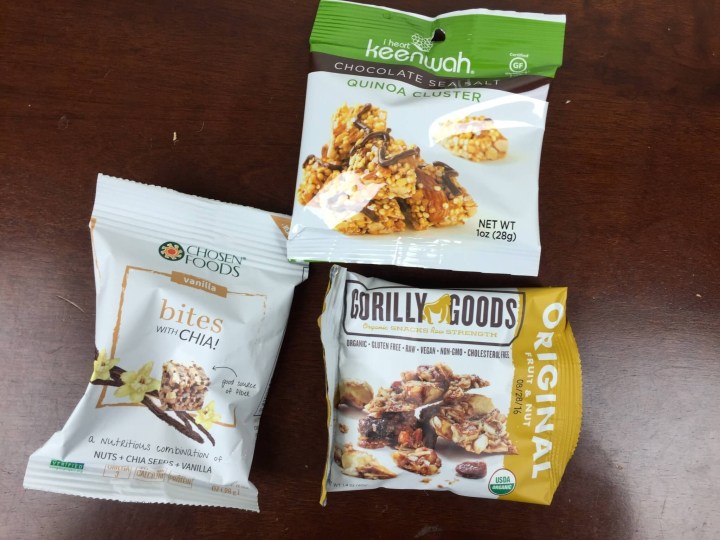 Chosen Foods Chia Bites:  Lots of rich vanilla flavor permeates these crisp squares.  The crispy little bits of chia are accompanied by big chunks of peanuts, almonds, and pecans and the smoky heartiness of sesame seeds.
Gorilly Goods Original Fruit & Nuts: I cannot believe this is raw, because it tastes baked and toasted – probably due to the bananas in this mix! It's organic, vegan, and made only with bananas, cashews, pecans, coconut, walnuts, raisins, coconut nectar, and sea salt, and we are buying more!
I Heart Keenwah Chocolate Sea Salt Quinoa Cluster:  A chewy and crunchy snack that incorporates quinoa beautifully.  The little bits of quinoa add chew and texture, but the flavor is all almond, chocolate, and a hint of sea salt.
Laiki Red Rice Crackers:  A nice, clean snack for when you are craving something crunchy.  these crisp little crackers are made from wholegrain red rice, palm oil, and sea salt.
Sensible Foods Roasted Edamame Crunch Dried Snacks:  Dried and roasted edamame with a hint of salt.  A great high-protein and high-fiber snack.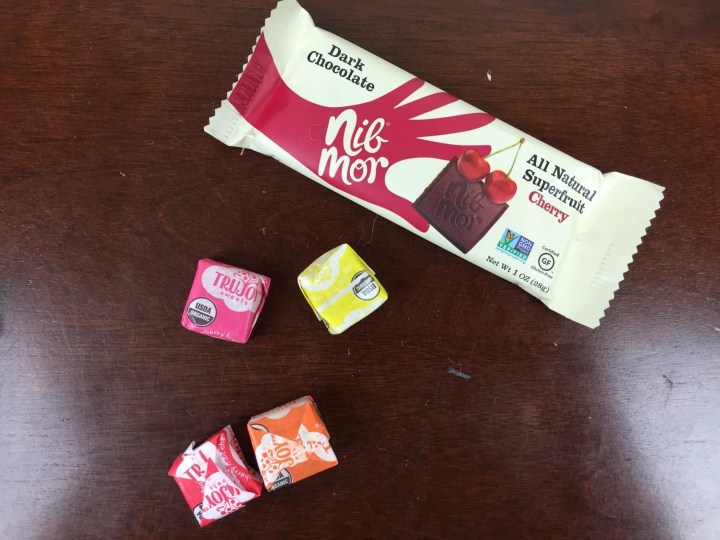 Nibmor Cherry Chocolate Bar:  An all-natural chocolate bar containing Rainforest Alliance Certified cocoa and natural cherries.    This one ounce bar comprises three big squares of chocolate.
TruJoy Fruit Chews:  A tiny bit more tender, and a whole lot more natural tasting version of a Starburst, these organic chews are bursting with natural fruit flavor.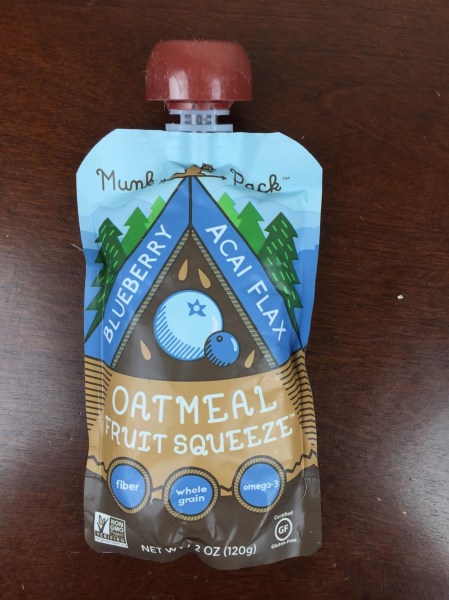 Munk Pack Blueberry Acai Flax Oatmeal Fruit Squeeze:  A perfect mobile breakfast or snack, this pouch combines fiber, healthy oils, and superfood nutrition in a single, tasty mix.
Flyjoy Peanut Butter Jelly Time Ancient Grain Energy Bar:  This bar combines ancient grains with peanut butter, flax and chicory fiber to create a healthier, natural alternative to artificially-flavored energy bars.
Rawxies Chocolate Brownie:  This raw delight is just the thing when you want a hefty dose of chewy chocolate goodness.  Surprisingly dense and rich, these will satisfy your hunger and your conscience.
This was a really awesome box! I'm always astonished at just how much they fit in here.  They somehow find snacks that incorporate alternative grains and healthier ingredients in a way that improves the taste of the snacks, and our kids plowed through half the snacks in here, so we'd say it was a real win this month.
Visit SnackSack to subscribe or find out more! Get 15% off the entire lifetime of your subscription! Use coupon code HELLO15.
The Subscription
:
SnackSack
The Description
: Monthly surprise delivery of delicious all-natural & organic snack foods. We curate a delicious assortment of gluten-free, non-gmo, & vegan goodies. Sent from beautiful Colorado directly to your doorstep.
The Price
: $23 per month