I reviewed this box a couple months back and I just couldn't stop thinking about it – I had to subscribe! The Pumpkin Batch is a monthly subscription box for pumpkin lovers – every month you'll receive 4-6 products for pumpkin and pumpkin spice lovers – all year round! Products are sourced from small businesses all across the US! It's time to #pumpkinallthethings!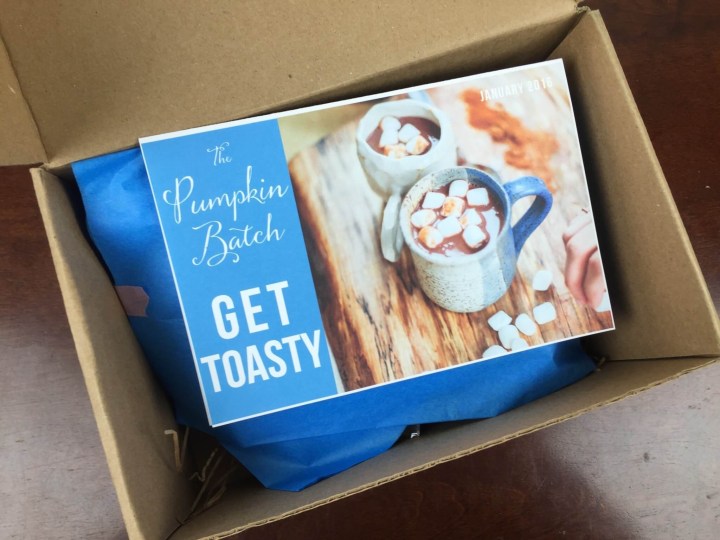 The theme for January is Get Toasty! With Pumpkin!
The information card has complete details on each item, including the value, the maker, and the ingredients or other necessary information.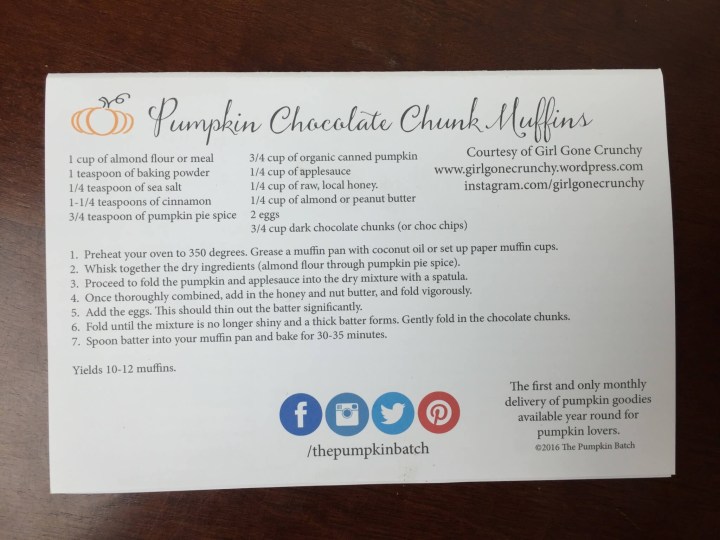 The back of the information book had a Pumpkin Chocolate Chunk Muffins recipe. Yummy!
I was really excited when I opened it and saw a batch full of hot chocolate supplies looking at me.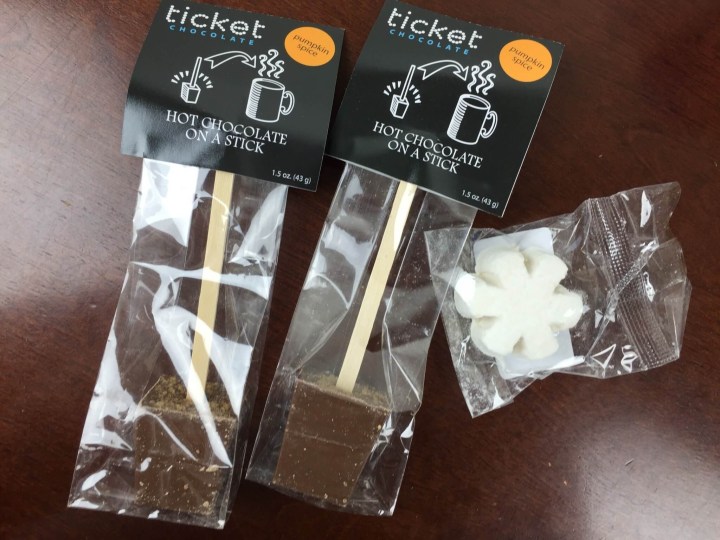 Ticket Chocolate Pumpkin Spice Hot Chocolate x2 ($10) This is just like popbar hot chocolate – you swirl it around a cup of hot milk and it turns into hot chocolate – and it was amazing! It was super creamy and delicious and definitely had pumpkin spice flavoring, but it wasn't overbearing. SO GOOD!
Madyson's Marshmallows Snowflake Marshmallow Melt ($1) This is cute and fun and lasted an extraordinarily long time – after I was done with my cup I still had snowflake!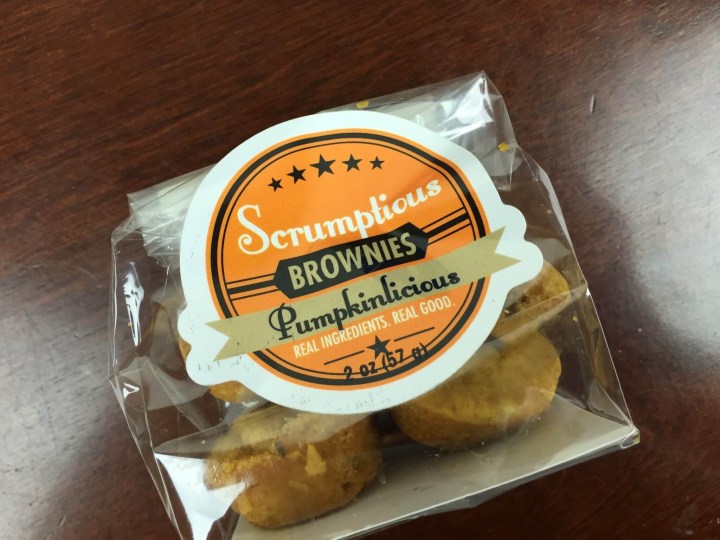 Scrumptious Brownies Pumpkinlicious Brownies ($5) There is a fresh goodie in every box and this month it was pumpkin blondies – they were super moist and delicious and although they were small, I was completely happy with just one! Super moist.
Our Pretty Lil Things Pumpkin Cozy ($9) I was super excited to get this – I wanted one so badly, got one in a box, and gifted it. Now I have one of my own! It keeps your hands from getting too hot on your cup but I admit, I'll probably mostly use it on my coke zero cans. But I can show off my pumpkin addiction year round.
Violet Serpentine Pumpkin Spice Organic Lip Balm ($6) This is a great blend of coconut oil, shea butter, beeswax, pumpkin seed oil, and fresh pumpkin spices. I loved the harvest flavor and this is one lip balm I will use quickly!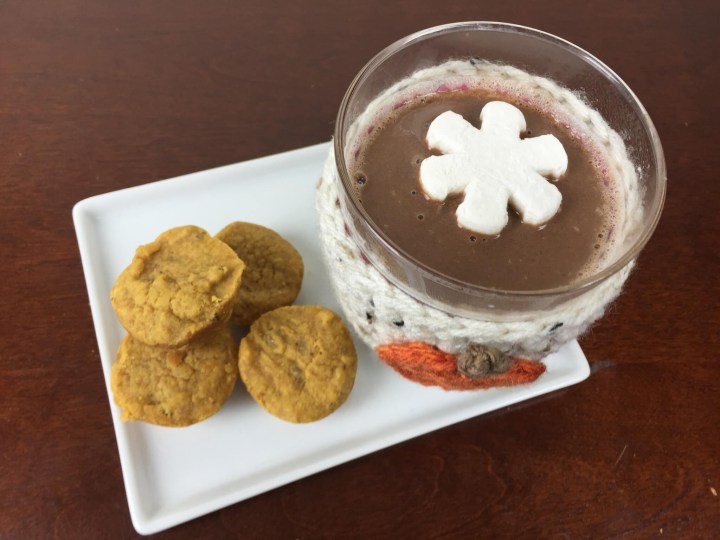 What a fun curated collection for keeping warm & cozy during the winter! I totally loved it and I really appreciated that there was a nice mix of use right away things as well as 2 items that would last longer. I feel super pumpkiny and happy right about now. The total value of this box isn't huge (it's about $32 according to the card values – I didn't recalculate off of bulk prices) but you get a great collection of pumpkin and pumpkin-spice related items each month and don't have to pay shipping (if you can find them – some of the items are exclusive) from the individual shops.
Visit The Pumpkin Batch to subscribe or find out more! Save 15% on your first month! Use coupon code hellopumpkinlovers16. Expires 02-14-2016
The Subscription
:
The Pumpkin Batch
The Description
: The Pumpkin Batch offers high quality, hard to find pumpkin products year round to pumpkin lovers. Each subscription box is full of delicious flavors and sweet aromas of pumpkin and pumpkin spice. Each month receive  4 – 6+ pumpkin or pumpkin spice inspired products curated from small businesses across America.
The Price
: $29.99 per month