Prepper Gear Box is a subscription box that delivers, on average, 2-3 items of practical survival gear plus an information card to help you learn and practice new survival-related skills each month. Prepper Gear Box wants its subscribers to be prepared for any situation or emergency that may arise. As such, it's an ideal subscription for outdoor enthusiasts, hunters, hikers, campers, backpackers and survivalists. As a company, they try not to waste money on fancy packaging so that your money goes as far as it can into what matters most: gear and information.
This month's box contained a knife, pocket stove, special paracord that doubles as tinder and information about the importance of chapstick and its uses.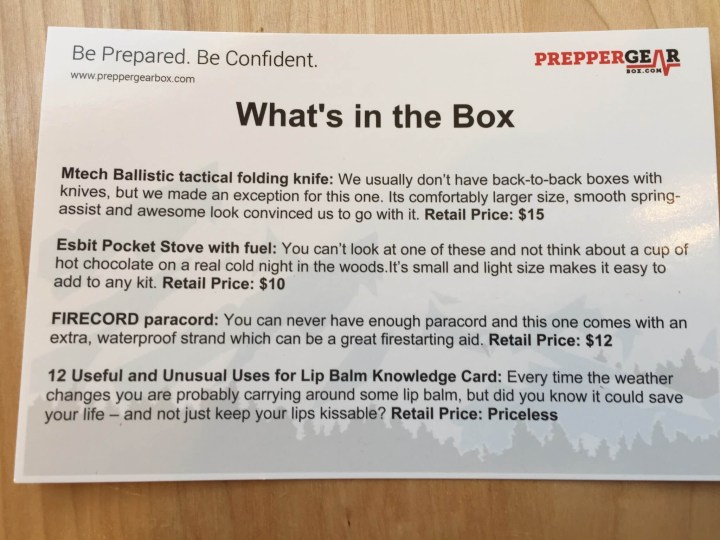 I love how the curators included notes as to the importance of each item in the box and why the items were included in this month's shipment.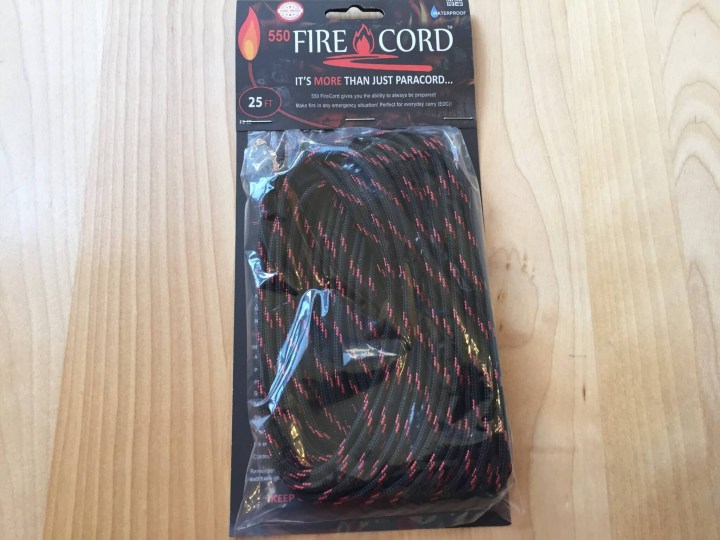 550 FireCord Paracord ($12) is a special paracord that doubles as fire tinder. If needed, just separate the inner strands. The one that is colored red is waterproof and easy to ignite; just light it as you would any other tinder. After it has been removed for tinder, just wrap up the other strands and continue to use what's left as you would any other paracord. This special strand is designed to ignite even in adverse conditions, making the 550 FireCord my new go-to paracord for all of my family's outdoor adventures.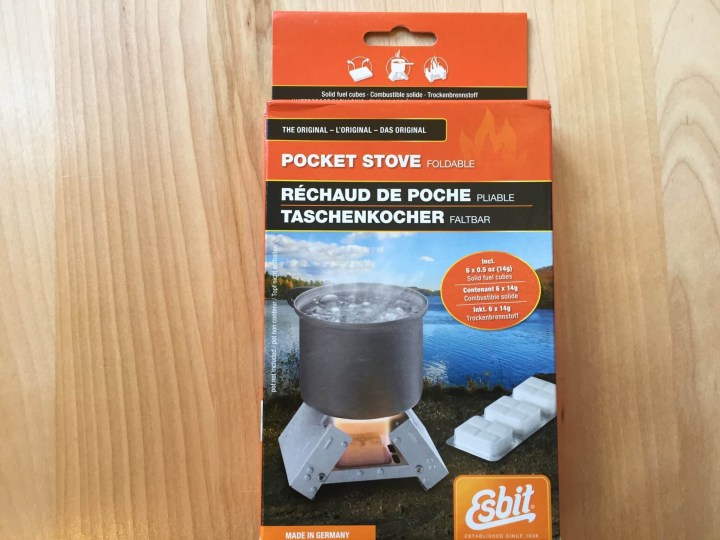 Esbit's Pocket Stove with fuel ($10) is a small convenient folding stove weighing in at 2.5 ounces. Each tablet of fuel (this starter package contains 6 tablets) weighs 0.5 ounces, bringing the total package to 5.5 ounces. The pot (pictured) is not included in the package; just use your stainless steel water bottle instead. With perforations between each solid fuel cubes, it's easy to use only what you need. Each cube will boil one pint of water in about 8 minutes. This is an ideal addition to an emergency kit or a backpacking pack.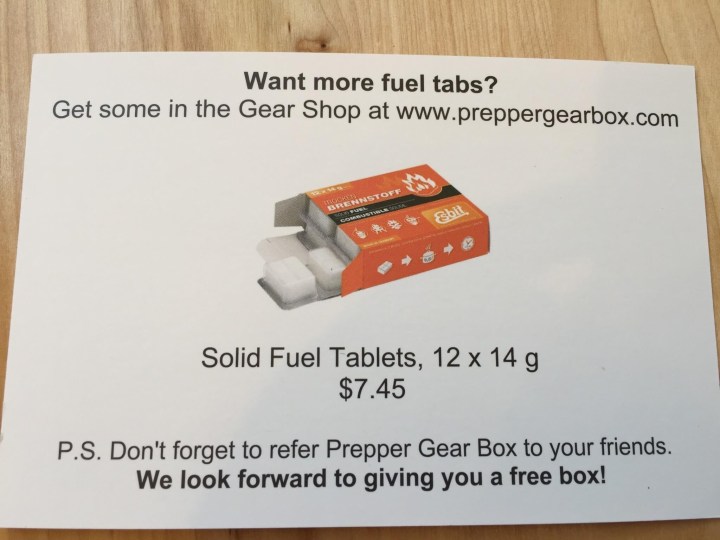 Prepper Gear includes information on how to order more solid fuel cubes.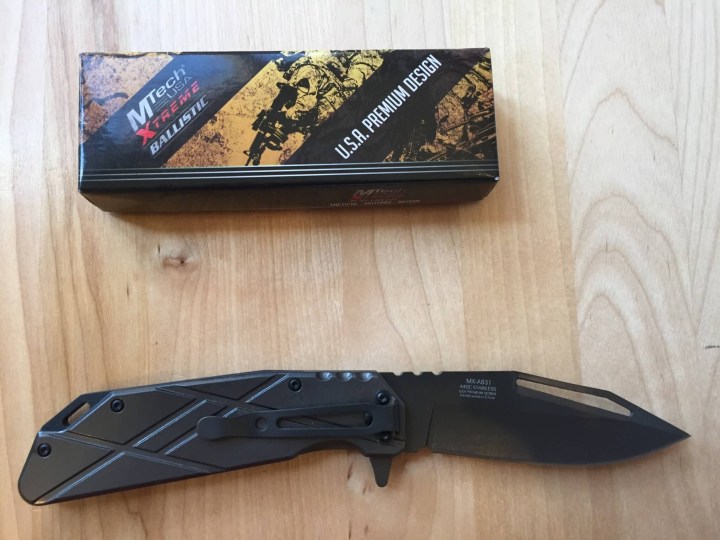 MTech USA Xtreme Ballistic tactical folding knife ($15 – estimated from wholesale price) is a large grey titanium and stainless steel folding knife complete with a belt clip. It measures 4.75 inches when closed. It has a built in spring that helps it open and prevents it from closing unintentionally. It is an excellent knife for the cost.
Finally, this month's Prepper Gear box included some cool, useful information about Lip Balm.
In addition to its usual use as a lip balm, the individuals behind Prepper Gear recommends using lip balm to stop bleeding; provide a barrier to keep dirt out of wounds; prevent blisters; act as a sunscreen replacement; reduce glare when combined with ashes and rubbed under eyes; make kindling; lubricate metal; bait an animal; lure fish; patch holes; protect leather and metal, rendering them somewhat water proof; and defog glasses. As if maintaining supple lips weren't incentive enough, now I'll be sure to always have some chapstick handy when I go on my outdoor adventures!
This month's Prepper Gear Box included loads of helpful tips and cool, useful gear. I can't wait to see what they have in store next month!
Visit Prepper Gear Box to subscribe or find out more! Save 10% on your first box with coupon code CRATE10
The Subscription
:
Prepper Gear Box
The Description
: A new monthly subscription box service for those who like survival gear and
education. Every
Prepper Gear Box contains 2-3 (or one very cool) carefully selected, high quality survival gear and preparedness items. Plus each box will have helpful tips, instructions and challenges to grow your survival skills and confidence in any situation.
The Price
: $25.00 per month