The Planner Addict Box is a monthly subscription box for planner nerds. The box is filled with planner products you can use for any type of planner. You can expect products from well-known designers such as Heidi Swapp, American Crafts, Amy Tangerine, and some Planner Addict Box exclusives. If you don't already know, decorating your planner is a "thing." It's sort of a cross between journaling, scrapbooking, and of course, keeping your schedule.
I really like when a company takes the time to wrap and package the contents of a box.  Opening it and seeing it so neat makes my heart happy.  This is my second box and they used a different color tissue paper that coordinates with the contents. That is a fun touch.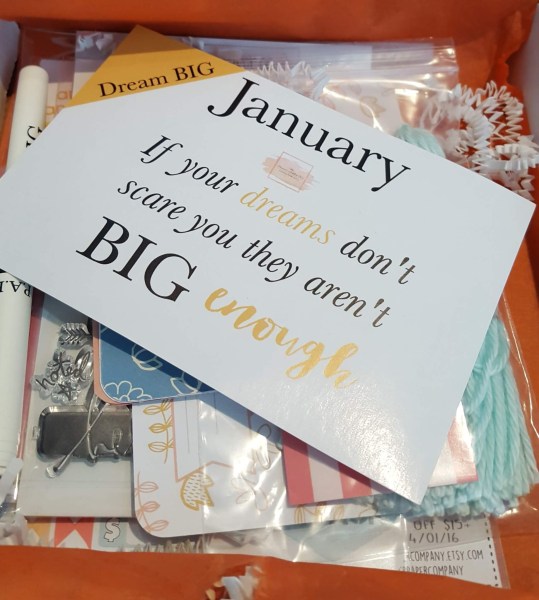 When you peel away the tissue paper you get to a little curator's note about the box.  I LOVE LOVE LOVE this quote.  This card might end up on my board once I finish with the contents.  It is scary to really dream big and is a great way to start the year off.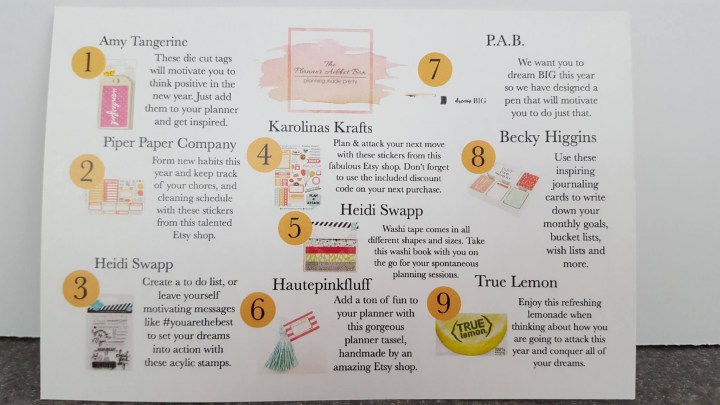 A  collage of each item. The items themselves are very journal-ish or "memory planner." The information card will help you figure out how to use them in your planner, instead of just regular papercrafting – although scrapbookers and other paper crafters will enjoy this box too.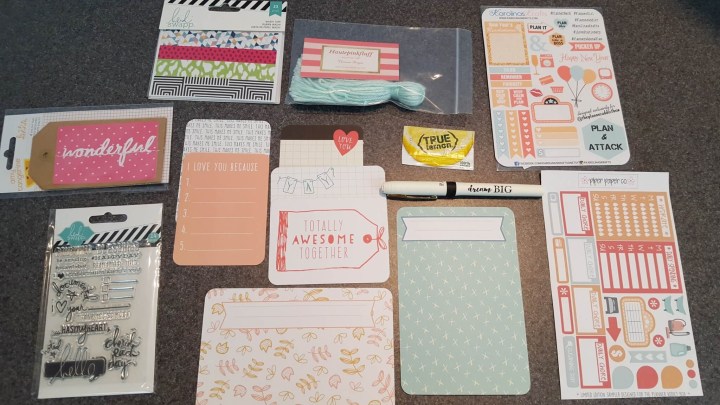 All of the contents in this month's box.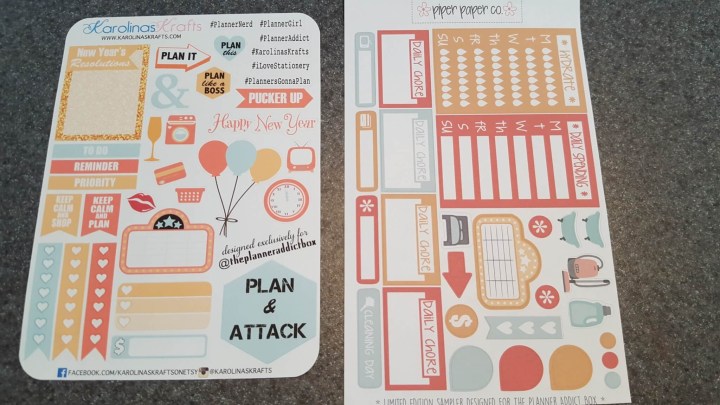 Karolinas Krafts stickers (These are exclusive to Planner Addict but similar ones go for $5.25) I love these colors and the variety. These will be cute in my planner.
Piper Paper Company stickers (These are also exclusive to Planner Addict but similar ones go for $4.50) The box had no way of knowing but I'm totally into baths right now and the cute little bathtub stickers have me way to excited.  I also do a monthly movie night with some other local moms so I'm loving the marquee sign. This is a total collection of stickers just for me.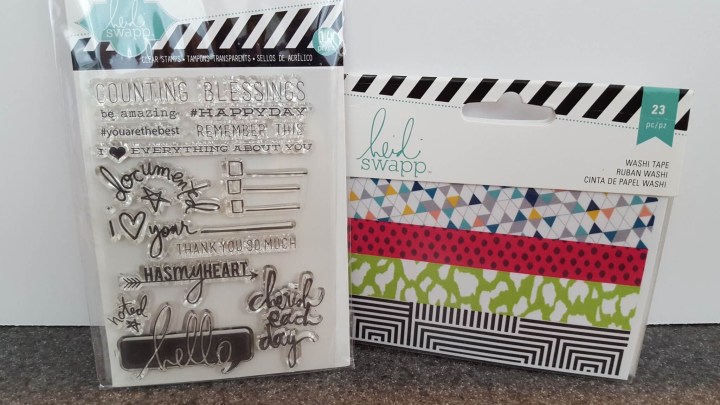 Heidi Swapp Clear Stamps ($1.99) These are some great basic planner and project life style clear stamps. I love rubber stamping and try to use it as much as possible in products so these will go in my planner box for adding some fun to pages.
Heidi Swapp Washi Strips  ($4.99) I'm a washi addict and have so many spools but I love these little strips. They are so easy to use and since there is only a little of it I don't get tired of it before it is gone.  I mean really has anyone ever used a whole spool of washi?  If so you are my hero. I even let my boys use mine and I still think it will be here for years.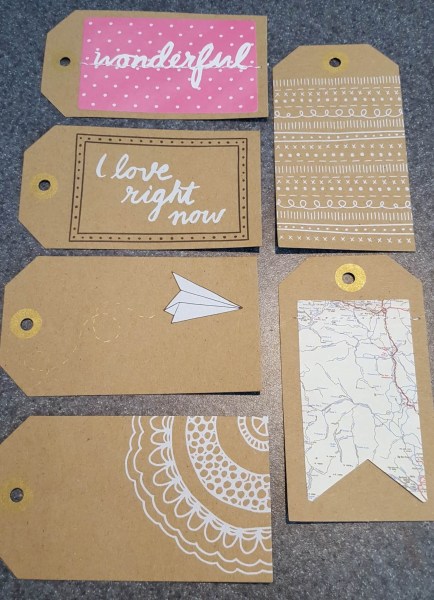 Amy Tangerine Die Cut Tags: ($6.32) These are a little big to use in my planner on a page but I could see maybe using some bakers twine and attaching it to the coils to hang loose but what I will probably do is use them on a scrapbook page. I love the kraft look and the detail on these are phenomenal.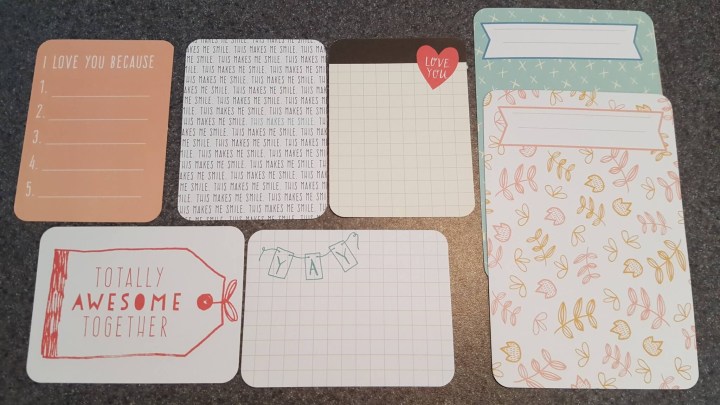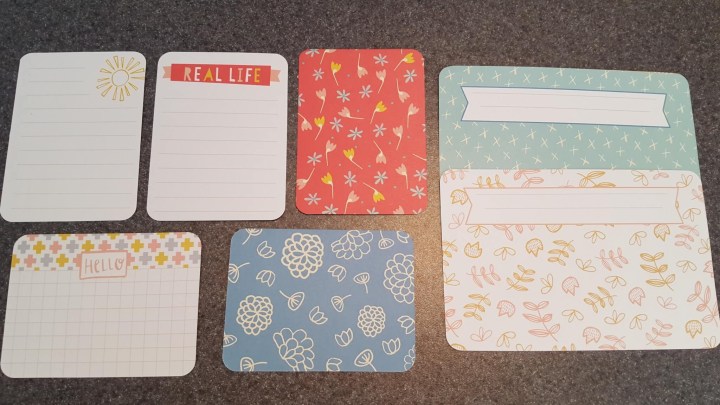 Becky Higgins Project Life cards: These are cards out of a kit and I just had to show you both sides.  I love all of these and they are a really think cardstock so they hold up well in pocket pages. If you don't know Becky Higgins was the creator of the Project Life line of products and she is the go to guru in all things pocket pages. Her products are top notch and so versatile.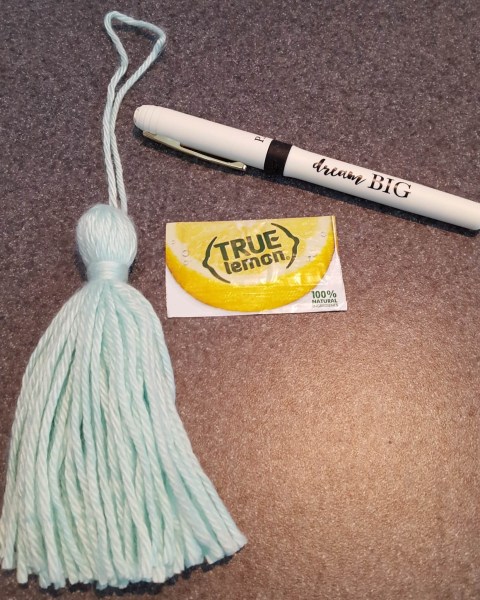 HautePinkFluff Tassle: ($2.75) I never think of adding things outside my planner but this has my mind working. It is a tassle and would be cute hanging off the side maybe with some ribbon or other tassle type items.
Product Addict Box pen: A nice addition with an exclusive pen so we can dream BIG this year.
True Lemon: A little drink to have while working on your week.
I love the contents of this box and the colors are something that I can get lots of use from. I love the mix of brands I know and then getting new to me Etsy shops in boxes since they are unique and I find great companies to keep buying from. The February box is currently on sale, but this box does sell out, so if you're interested in subscribing, you may want to get it now.
Visit Planner Addict Box to subscribe or find out more.
The Subscription
:
The Planner Addict Box
The Description
:Get the fun of "planning made pretty and get handpicked planning supplies sent straight to your door every month for you to enjoy! You can expect products from well-known designers such as Heidi Swapp, American Crafts, Amy Tangerine, and some Planner Addict Box exclusives.
The Price
: $15 per month + 3.75 shipping