Messy Box is a monthly subscription box from lifestyle blog A Beautiful Mess. It's really a scrapbook box and would be great to make some pocket pages with and keep up with monthly scrapping or if you are working on a yearly book.  I haven't started my 2016 book yet but I still plan to so hoping to get to that soon.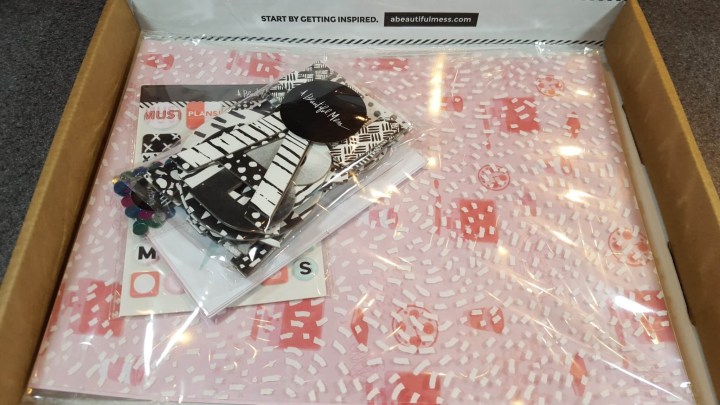 Everything is contained in a bag inside the box.  I also like the A Beautiful Mess Stickers used to seal the smaller bags. It looks great and gives a little added touch.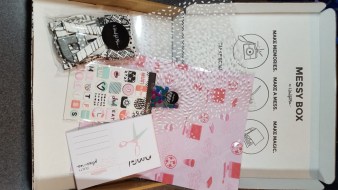 Everything in the box! This looks like a fun box right from the get go.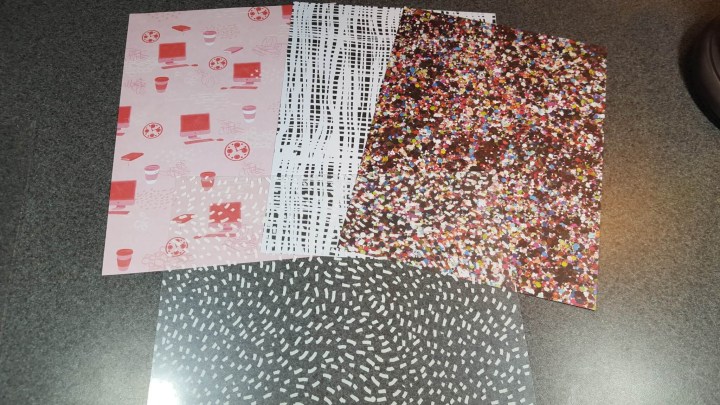 Scrapbooking papers 9″x12″ and one vellum sheet of white confetti.  These are single sided papers and I love the fun and funky feel of them.  
The journal cards came in three sizes this month. These are very start of the year inspired. They will be a great way to get a what is going on in my life right now feel to the pages. I'm thinking I will do them as a ME page instead of a kid page but they would work for that to.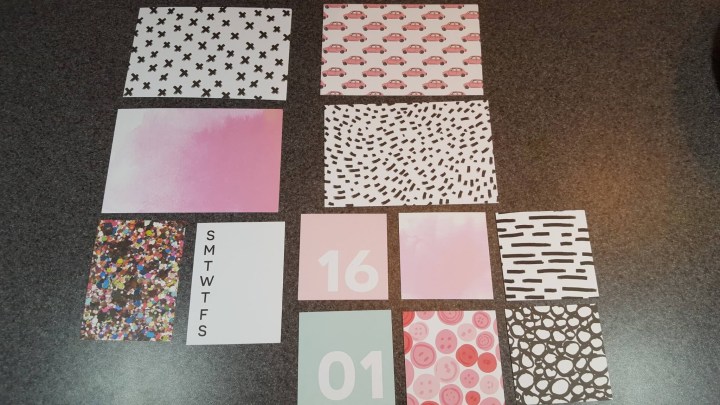 The back of the cards are really great too. I'm not sure which side I will use but if I do them as a pocket page I can have these show through and use them both.
The alphabet for this month. WOW these letters are big at about 3″ tall.  They are really fun and I need to think of something good to use them for.
The embellishments – Metallic confetti and stickers.  I still love confetti and these will look great with some New Years Pics.  The stickers match the colors of the papers and cards but look more like something for a planner then a scrapbook page for me so I think I'm going to add them to my planner stash and play with them.
I can't wait to do an about me page to kick off 2016 and this will be a great way to get that started.
FYI, they sell a "Messy Book" and pocket scrapbooking supplies, but you don't have to purchase their items, especially if you already use a different size scrapbook. We found these We R Memory Keepers pages and October Afternoon pages on Amazon (these are the 3×3 ones)!  We also found this site – Kanvess – that does Instagram prints for a quarter (3″ and 4″ squares) ! A Beautiful Mess recommends/is sponsored by Canon Pixma but you have to cut them up. You can also try the new Polaroid Zip (3″x4″, also needs cutting). Scrapbook.com also has a wide variety of page protectors!
I would love to hear what you would make with your Messy Box!
Visit Messy Box to subscribe or find out more!
The Subscription
:
Messy Box
The Description
: The Messy Box is meant to inspire you to learn new techniques, explore your artsy side and make beautiful, imperfect photo books. Each month is designed around a technique or certain artistic focus so you can take your photos out of your phone and into books in your own style. From the blog "A Beautiful Mess"
The Price
: $24.99 per month