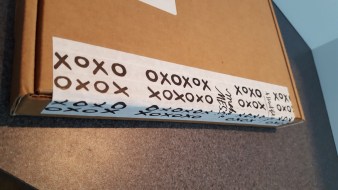 Messy Box is a monthly subscription box from lifestyle blog A Beautiful Mess. It's really a scrapbook box and would be great to make some pocket pages with and keep up with monthly scrapping or if you are working on a yearly book.  I still have plans for a yearly book in 2016 and I think these will make it so much fun and easier to keep up with.  I actually spent time today working on setting up my craft room so I am ready to play. 🙂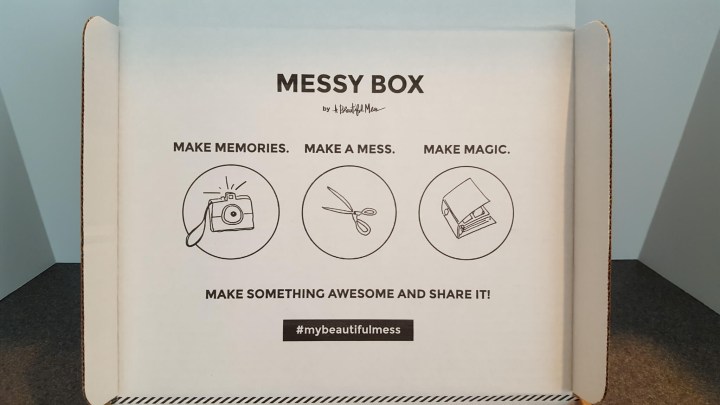 The top of the inside of the box tells you all you need to know.  Being a scrapbooker myself I take tons of pictures and with everyone's cell phones now it makes picture taking that much easier.  Everyone has so many pictures and this will help you get them printed and in albums.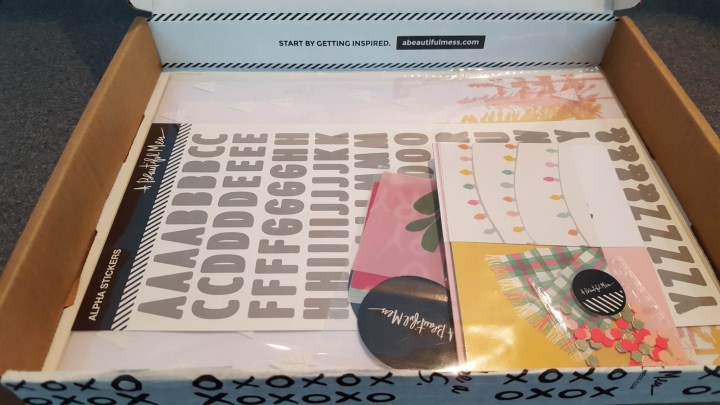 Everything is contained in a bag inside the box.  I love this and how it keeps everything from moving all around and getting smooshed corners.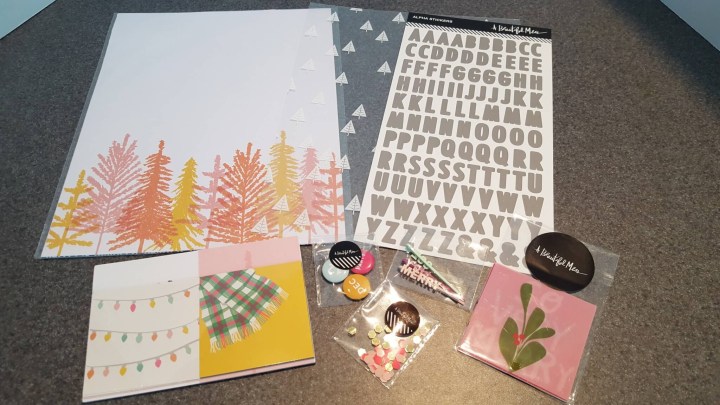 Everything in the box! I am loving this theme and color scheme better then last months.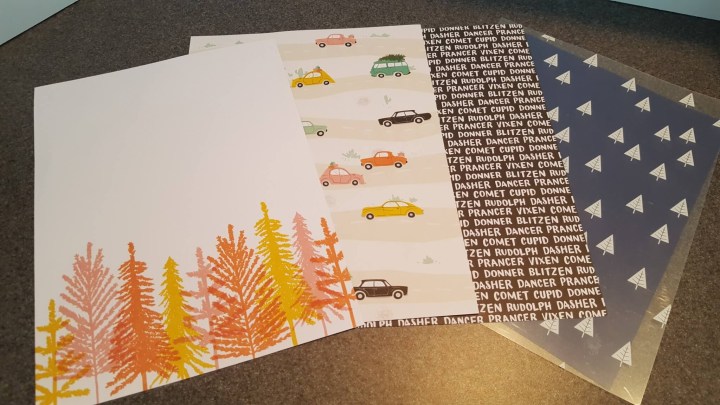 Scrapbooking papers 9″x12″ and one vellum sheet of white trees shown over a piece of cardstock so you can see better.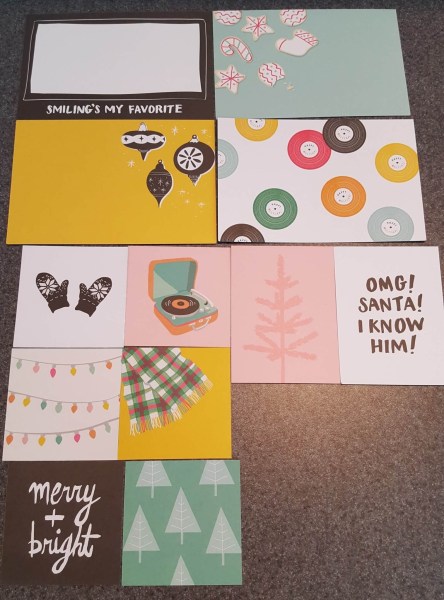 The journal cards came in three sizes this month. These are really great and are very Christmas without being the standard red and green. There are only so many years you can scrap red and green.
Vellum cards and tags. These are really cute and will look great added to some pictures are filled in some empty slots. They are a fun way to add some flair to a page.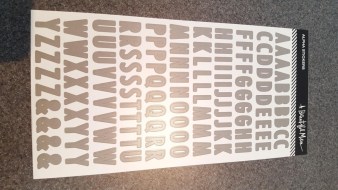 The alphabet for this month. I love the cool gray color and the size is good.  Bigger then last months so they will be more title size but they are very useful. It is a bit interesting that there are 4 of each letter instead of what I normally see of 2-6 of each letter depending on the letter. I'm not sure how I feel about it yet since I always run out of Es and As and really do I ever need 4 Qs?  If anyone wants to give me holiday words that work with that many Qs just leave a comment. I would love to know.
The embellishments – Confetti, dots, and clips.  Confetti is always a hoot and can be glued down or it can be loose in a pocket.  The colors match great.  The dots at first I thought were magnets which would have been odd but they are not just look like it.  I love that they will add a little dimension to a page.  So the clips have me baffled.  They are bobbypins with words on them and I've never used one like this in an album but I am up for the challenge and if using pocket pages they could slide in easily. We will see how it goes.
I really like the box this month and the color scheme. There are some new to me things which is always a plus and I can't wait to get crafty mind going and make some pages.
FYI, they sell a "Messy Book" and pocket scrapbooking supplies, but you don't have to purchase their items, especially if you already use a different size scrapbook. I found these We R Memory Keepers pages and October Afternoon pages on Amazon (these are the 3×3 ones)!  We also found this site – Kanvess – that does Instagram prints for a quarter (3″ and 4″ squares) ! A Beautiful Mess recommends/is sponsored by Canon Pixma but you have to cut them up. You can also try the new Polaroid Zip (3″x4″). Scrapbook.com also has a wide variety of page protectors!
I would love to hear what you would make with your Messy Box!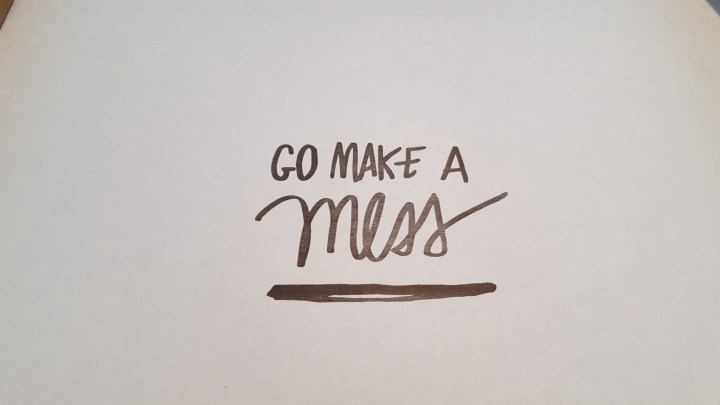 Visit Messy Box to subscribe or find out more!
The Subscription
:
Messy Box
The Description
: The Messy Box is meant to inspire you to learn new techniques, explore your artsy side and make beautiful, imperfect photo books. Each month is designed around a technique or certain artistic focus so you can take your photos out of your phone and into books in your own style. From the blog "A Beautiful Mess"
The Price
: $24.99 per month