Le Tote is a monthly subscription box that the company likes to describe as the "Netflix for clothes," as it offers rentals of women's clothing and accessories. For a $59 monthly subscription fee, subscribers receive unlimited customized boxes (one at a time), each containing 3 garments and 2 accessories. Le Tote represents that each shipment contains items that are collectively worth in excess of $250. Wear and keep the items as long as you like, and, when done, mail them back in a prepaid mailer, and a new tote will be sent to you within a few days. USPS Priority shipping each way is included.
The garments and accessories are chosen based on your style profile, which you create by answering a few questions (e.g., "what size was the last top you purchased?" "what about for your little black dress?"), and choosing a handful of your favorites from a small selection of Le Tote's closet. For an even more customized experience, spend a little time browsing through the full selection of Le Tote's offerings (organized by sections such as "New Arrivals," and clothing categories) and mark items you love by clicking the heart icon. Perhaps an even more useful feature, Le Tote has a special page where you can identify what does not fit your style, so you never receive certain items, colors, or prints. For example, I noted that I don't want maxi-dresses (being petite, I rarely wear them because most are way too long), or rings or scarves (I never wear those either). I also nixed a few clothing colors because they're unflattering on me. Each tote includes items selected for you by a stylist from your favorites as well as other pieces the stylist thinks you may like.
What about laundering the clothing before mailing them back? Don't worry about it! Seriously, don't. Le Tote takes care of laundering or dry cleaning clothing, and disinfecting jewelry, after you return them. What if you love something and want to keep it? That's another great aspect of Le Tote – you can permanently keep anything you like, and Le Tote will bill you a discounted price from retail, given its pre-worn nature. Le Tote states that items are discounted between 30-50%.
After completing my style profile, then marking favorites from the entirety of Le Tote's closet, I requested my first tote. Within a day, Le Tote sent me an email saying that a stylist had completed my tote, and – here's a great feature of the service – I had 24 hours to change any of the selections if I desired. Upon logging in to my account, I was pleased to see that the two accessories chosen, and two of the three clothing items (tops and sweaters), were ones I had marked as favorites.  To test the option of switching out selections, I changed two of the clothing selections, and one of the jewelry selections. Thereafter, I received another email explaining that one of the clothing items I had chosen "didn't make it past [Le Tote's] quality inspection team," so the stylist chose an alternate item, plus added a bonus item (a fourth clothing item) for me to enjoy. That was a nice touch!
A few days later, I received my tote. After seeing the stylish, beautifully packaged box shown in the video on Le Tote's website, opening my tote was a bit underwhelming. Of course the clothes and accessories are the important part, but I swoon for eye catching box colors and luxurious packaging. Opening the relatively plain box, I found the four clothing items packaged with white tissue paper and the two jewelry pieces packaged in bubble wrap.
Surprisingly, the box didn't include any information card or even an inventory list. It did include the prepaid mailer to return the items.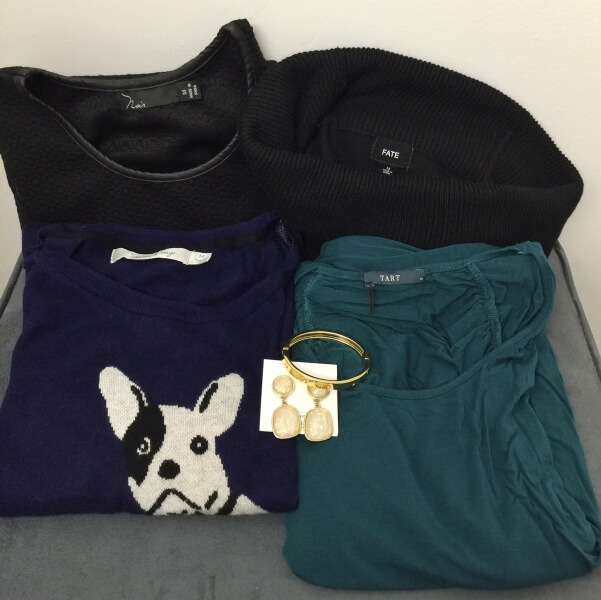 Summer & Sage, Puppy Pullover – Retail $72; LT "keep it" price $58 (worn with the Ava gold bangle received in my tote)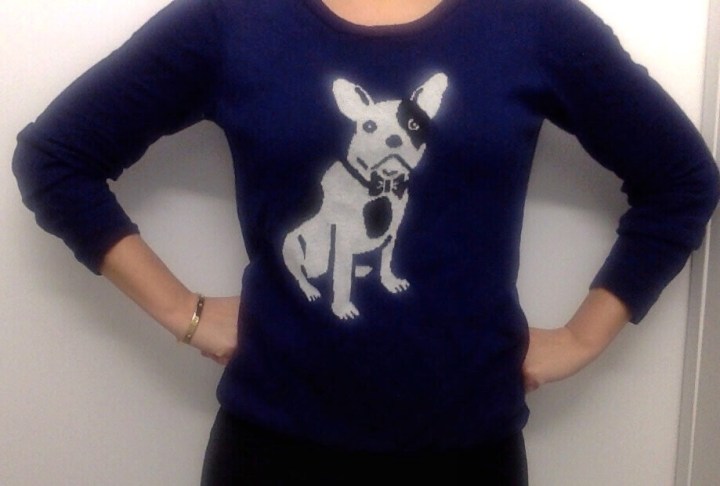 This was one of the clothing items I swapped in when given the 24 hour period given to make changes to your tote. Spotting it while browsing through the sweater section, I immediately knew it would be perfect for an upcoming dog holiday party (yes that's a thing!) that I would be attending. The dark blue sweater with a cute bulldog on front is 50% cotton, 45% viscose, and 5% cashmere. Although I wear XS, small, and medium sized tops, depending on the brand, I selected medium as my top size for Le Tote to make sure I didn't receive anything too small to wear. The medium was perfect for this sweater, so I could layer it over a t-shirt.  I received many compliments on the sweater at the party. While it was a cute design, the sweater was a bit flimsy. I wouldn't have paid the "retail" price of $72 if it was new, or the $58 Le Tote price for the used one I received in my tote. Based on its quality, I'd probably pay $50 maximum for it new, and only because I happen to love clothing with squishy face dog designs.
Fate, cowl neck sweater – Retail $58; LT "keep it" price $46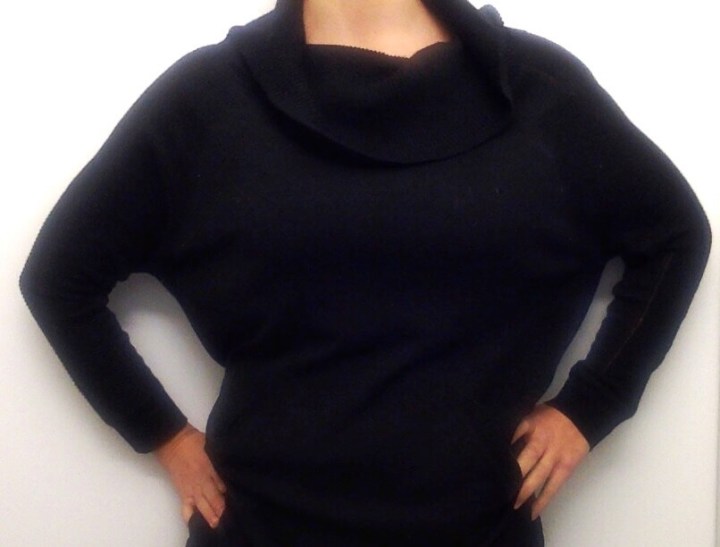 Although difficult to see the style of this black sweater in photographs, it is a cute design with dolman-type sleeves and two side pockets. It was also surprisingly lightweight, made of 40% polyester, 25% nylon, 18% wool, and 17% acrylic, so I wore a ¾ sleeve black shirt underneath. A medium was too large for me. Overall it was ok quality, but I wouldn't keep it.
Noir, textured zip sleeve pullover – Retail $75; LT "keep it" price $60 (worn with one of my own necklaces)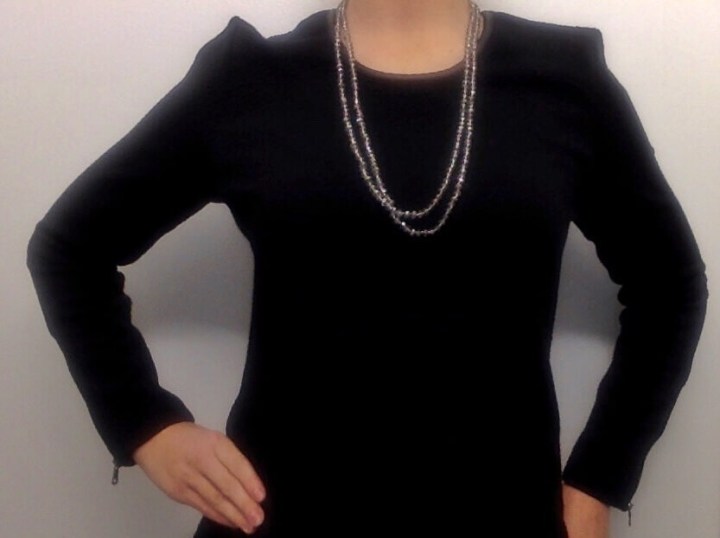 This black blouse, the "bonus item" added to my tote because one of my original selections was unavailable, was my favorite of everything in the tote. Of medium weight, it has slightly puffed shoulders, a subtle quilted pattern, and fun details of zippers on the sleeves. The blouse is 98% polyester and 2% viscose. While stylish, it also felt very comfortable.  Medium weight, it can be worn to work or casually.  Sizing ran small, so a medium was perfect.  Still, I wouldn't buy it new for $75, and likely wouldn't keep it for $60 pre-worn.  It was fun to wear to dinner with friends though!
Tart, ruched back top – Retail $75; LT "keep it" price $44 (worn with one of my own necklaces)
I was excited to try this top as I love wearing teal. Unfortunately, immediately upon inspecting it, I was disappointed. It had either been worn and laundered many times, or it is the type of shirt you don't wear much after the first wash because it never quite looks the same afterwards. It was very wrinkled and looked tired. It was made of extremely thin material – 94% modal and 6% spandex – and wasn't great quality. The cited retail price of $75 is a major stretch, as is the keep it price of $44 for one that is used.
Noir Luxe, moon stone earrings – Retail $38, LT "keep it" price $24
Ava, gold bangle – Retail $32, LT "keep it" price $26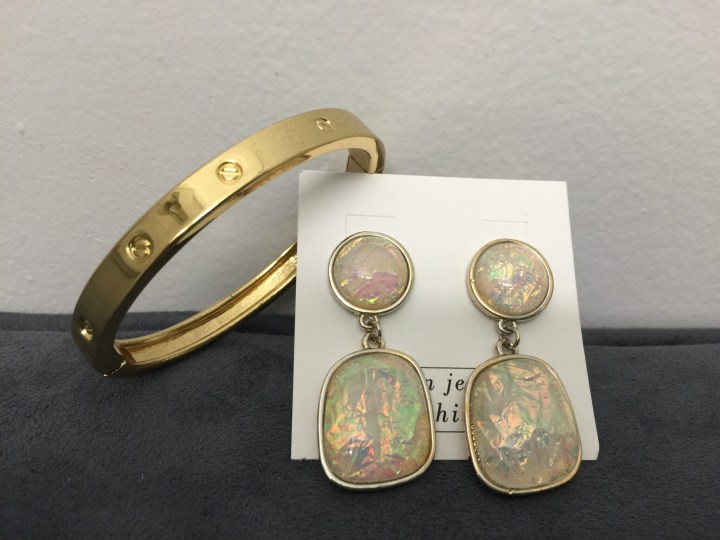 I was more pleased with the jewelry offerings than the clothing. But, then again, jewelry doesn't show signs of use like used clothing does. The moon stone earrings were in gold tone, with classic post backs. The gold tone bangle had screw like detailing and a simple hinge fastening. I didn't love either enough to keep, but they were perfectly acceptable for renting and sending back.
Overall, while I was excited about Le Tote's offerings, the quality of the clothing I received wasn't up to what I would like. Let Tote advertises that it carries clothing brands found at high-end retailers like Bloomingdales, Sakes Fifth Avenue, Anthropologie, and Nordstrom, but none of the clothing I received were such brands, nor were of similar quality. The clothing I received reminded me of brands sold at Nordstrom Rack, TJ Maxx, Marshalls, and other similar off-price retailers. Therefore, the stated retail prices of most items seem inaccurate to me, and thus the "keep it" prices overly inflated. Due to that, although the main purpose of Le Tote is to rent clothing and accessories (and not find clothing you love to buy), I would want to time things so that I received several boxes each month, to feel like I was getting my month's worth of the subscription price. It was great to have the freedom of wearing the clothing without having to decide to buy it, however, and knowing I wasn't responsible for laundering the items afterwards. Le Tote is adding more brands and items in 2016 (and just got a big boost of funding) so I expect the selections to improve!
This subscription is probably best for women who like trying out new clothing trends often, and aren't looking to purchase many of the items. For the same price as buying 2-3 tops from the offered brands at a retailer like Nordstrom Rack, for example, a subscriber can rent several of those tops in a month, without the hassle of laundering. Le Tote has recently started offering maternity clothes, which I think is perfect for their model, as pregnant women are far less likely to care about finding new clothing to permanently add to their wardrobe.
Visit Le Tote to subscribe or find out more! 25% off your first month of unlimited apparel and accessories! Use coupon code HELLOSUB25.
The Subscription
:
Le Tote
The Description
: Select the items you love. 3 garments and 2 accessories are delivered to your doorstep – wear everything for as long as you want. Send everything back and get your next tote immediately
The Price
: $59.00 per month