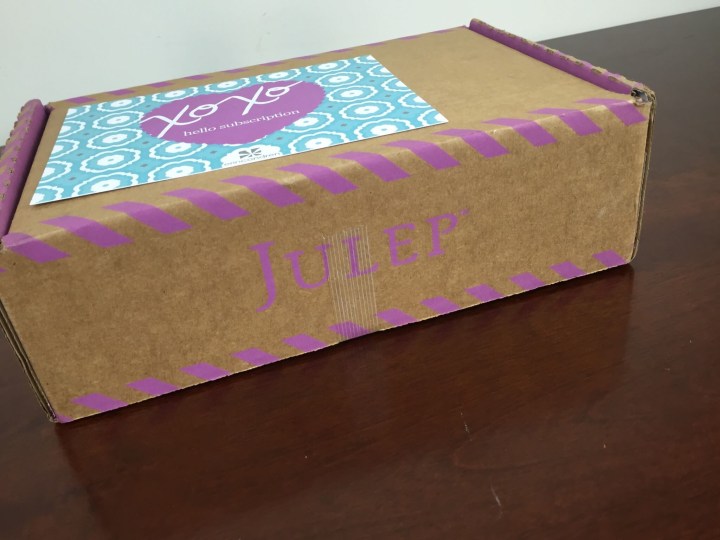 January's Julep Maven theme was the New Year Fresh Look Collection. Julep Maven is Julep's monthly beauty subscription – nails and more! This subscription is very neat because it's customizable – swap out products and colors from a set box and choose from Julep's best sellers, or choose a pre-curated box. I always prepay for 3 months – I save $5 per month that way!  If you're not a subscriber, you can get a free welcome box for free with a prepaid subscription (or 50% off if you choose a month to month sub). Julep is skippable so I really recommend the longer term.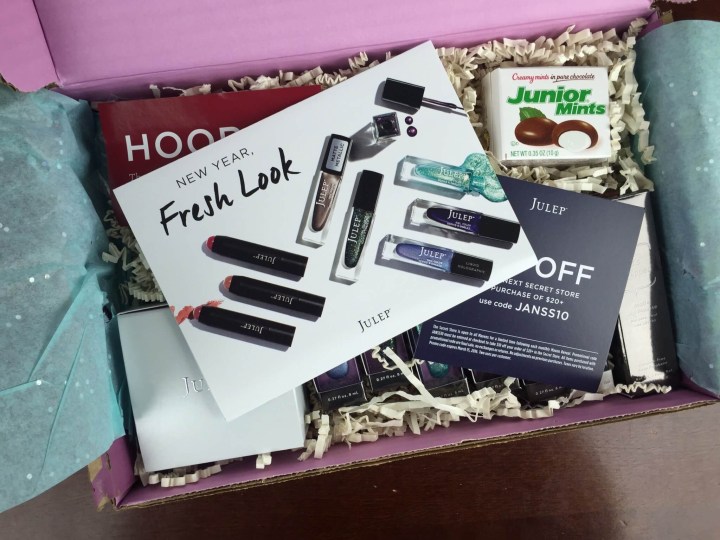 See all the colors available for January here (although I admittedly got quite a few).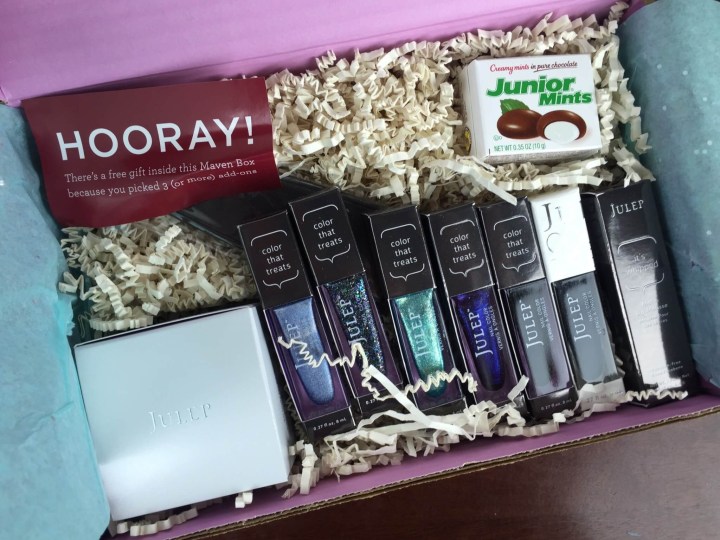 If you're a current Julep Maven you can use these codes when you shop at Julep (and of course you have free shipping!)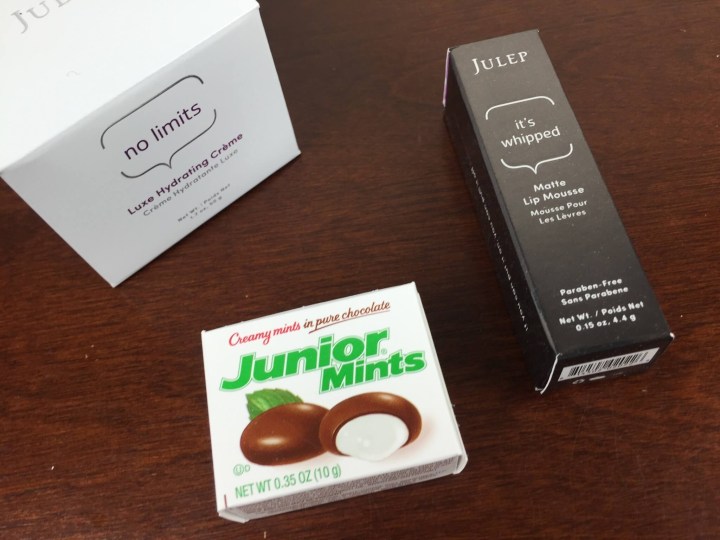 I ordered quite a few add-on products this month – but these were my actual box items. I customize my box each month and it makes me super happy to get exactly what I want.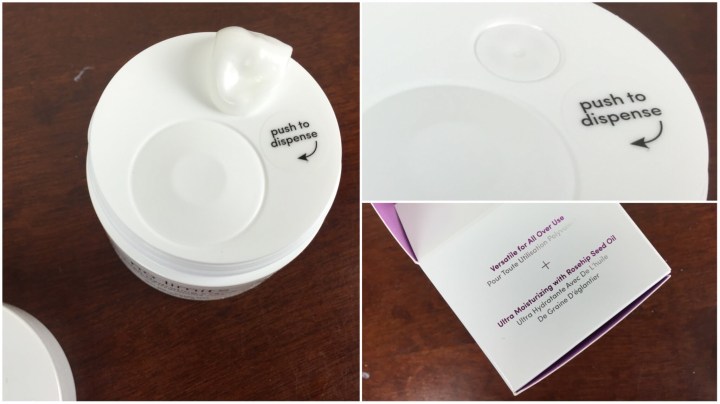 Julep's No Limits Luxe Hydrating Creme ($19.20) Well, I got this for my face, but I noticed the packaging really pushed the all over use. I loved the idea of the no-dip dispenser but it squoodged out quite a bit, and I don't like the scent of this product. I thought it was going to be a great luxe winter cream for my face, but I'll use it up (and quickly, it's not all that big) on my body. I might reuse the packaging for other body lotions (I didn't have any problems dispensing it). Take a pass on this one.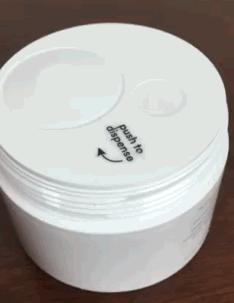 In case you're not sure how it works, here's how you do it (a lot of people have been prying off the tops – just pump to prime and it should be fine).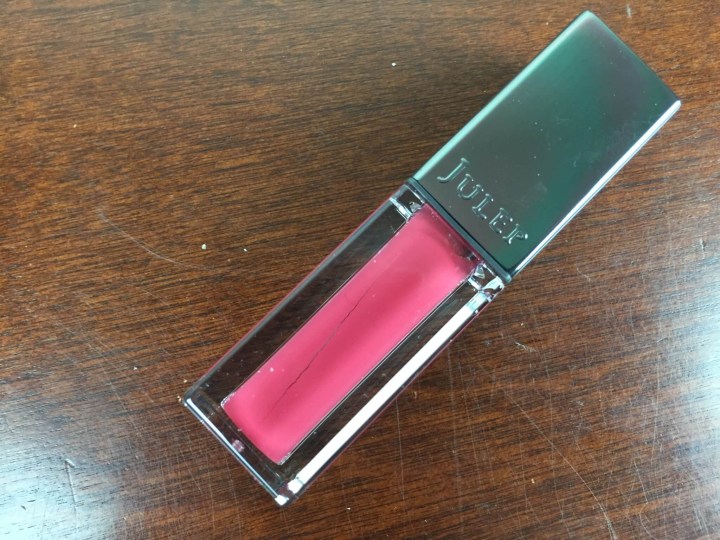 I tried out It's Whipped – Julep's new matte lip mousse – the other month and it's probably my fave Julep product ever. This month I got it in the shade XOXO and I love this one too. I'm so pleased with it's staying power – even through food and my intense coke zero habit.
The colors in this line also happen to really work with my skintone.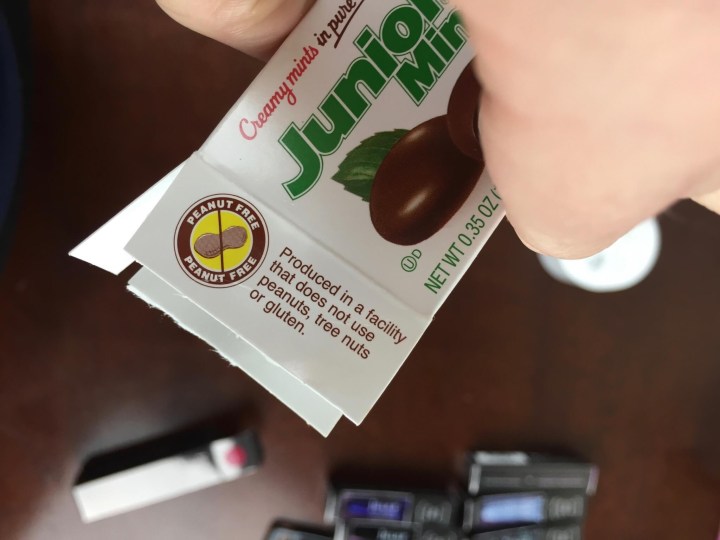 And that's all it let me buy in my box! There was also a pack of Junior Mints, which was great, because they are peanut, tree nut, and gluten-free.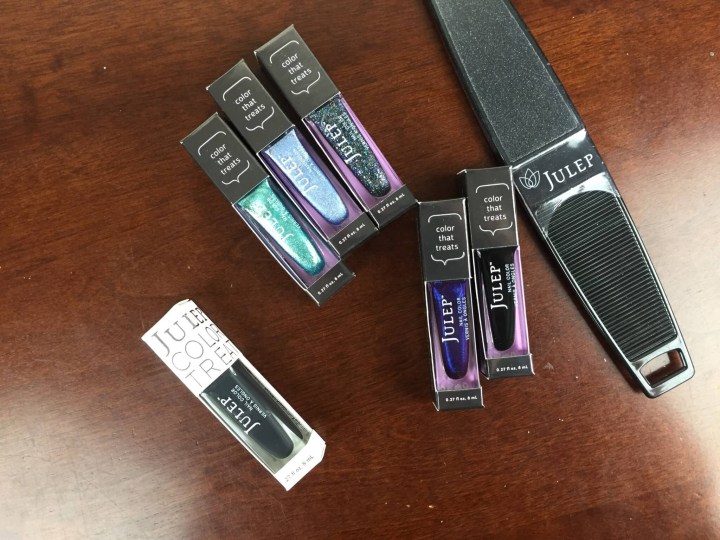 And all of my add-ons! I think I overcompensated for just getting two products in my main box. This is only THREE add-ons – one thing I've noticed is that you can really load up if you grab the duo and trio products, and they're much more affordable than adding on a bunch of singles.
From roughly left to right – Janae (bonus freebie for getting 3 add-ons), Out of This World Trio, Just Before Dawn Duo, and a foot file for my husband!
From top to bottom: Shay (Celadon iridescent chrome), Tali (Glacier breeze linear liquid holographic), Celeste (LOVE! Cosmic gray iridescent glitter ), Mariah (Plum eclipse microshimmer), Johnny (back from the vault, and a necessary purchase -True black crème), and Janae (Cool charcoal crème) again.
I love my colors! I'm still digging out from the December mess and need to find my base coat, but as soon as I do I'm doing some rad grey/black/glitter nail stuff.
Visit Julep to subscribe or find out more (and don't forget to check out the free welcome boxes above!).
The Subscription
: 
Julep Maven
The Description
: Nail polish box and a beauty box. Get either 3 polishes, 2 polishes and a beauty product, or 2 beauty products per month. All polishes are 5-free with no harmful toxins, never tested on animals. Polishes are nail strengthening and all named after cool women! Totally customizable! You can swap out products, select add-ons, or upgrade your box (or skip!).
The Price
: $19.95 per month
See Julep Maven in the Hello Subscription Box Directory!
The Categories:Beauty Subscription Boxes,Nail & Nail Polish Subscriptions.Beauty Subscription Boxes with Full-Sized Items.
The Reviews: See all our Julep Maven Reviews.
The Spoilers: Check out Julep Maven Spoilers.